Three Little Pigs & The Big Bad Wolf, Bangsar Village
A nice place that serves yummy pork dishes.
Three Little Pigs & The Big Bad Wolf in Bangsar Village.
They have several signature dishes that taste fantastic!
A very catchy name which makes you go curious over their menu.
A very nice setting with good food and good service!
We actually visited here twice to try different things and in this post I've compiled all the dishes that I've tried during both my visit to this place.
First of all, let me show you the interior of the shop before I get to the menu.
The brighter area which is facing the car park area.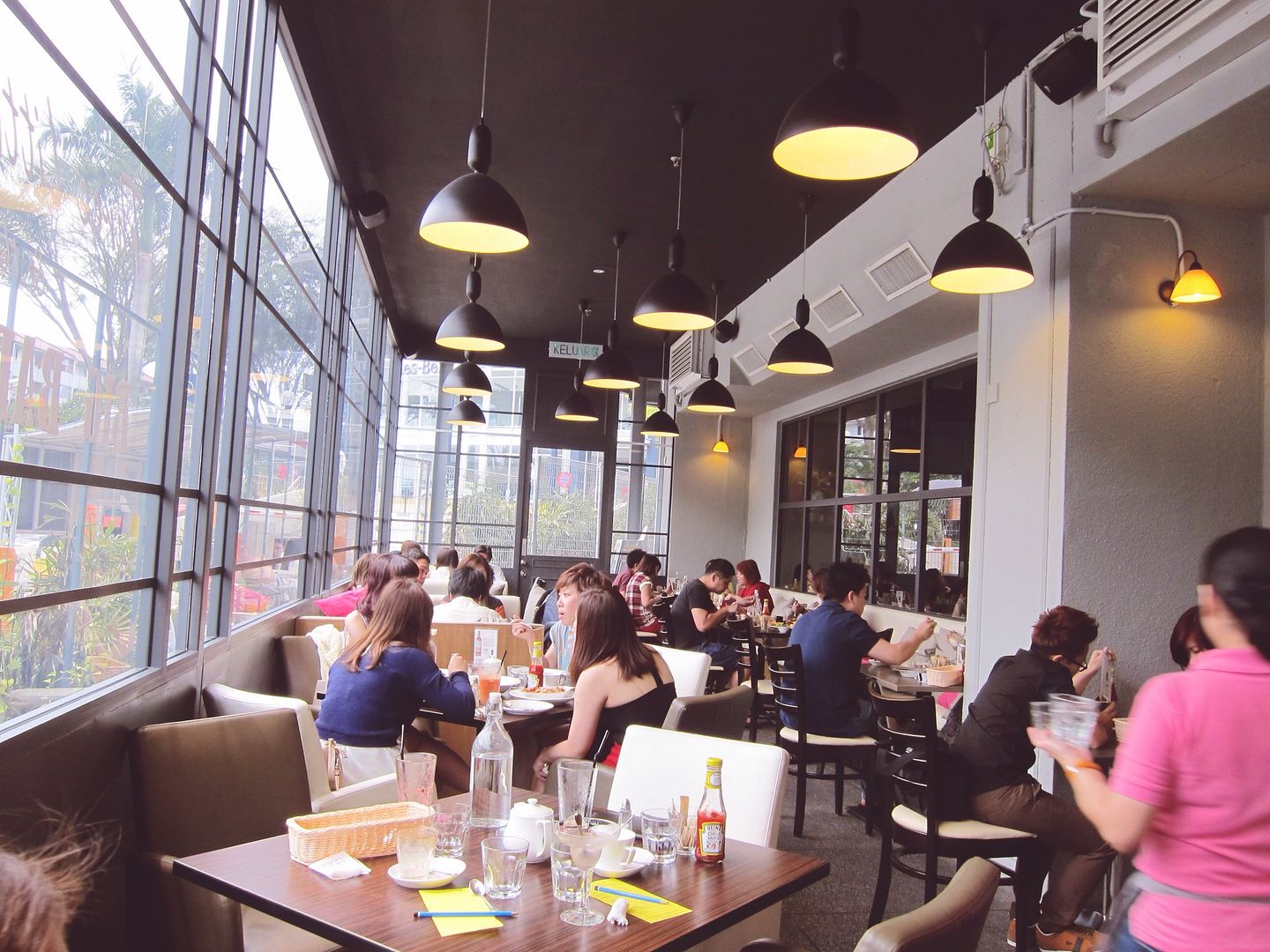 We sat here on our first visit.
During our 2nd visit, we requested for the seat inside with cozy ambiance.
A very interesting piece of drawing of the
THREE LITTLE PIGS & THE BIG BAD WOLF!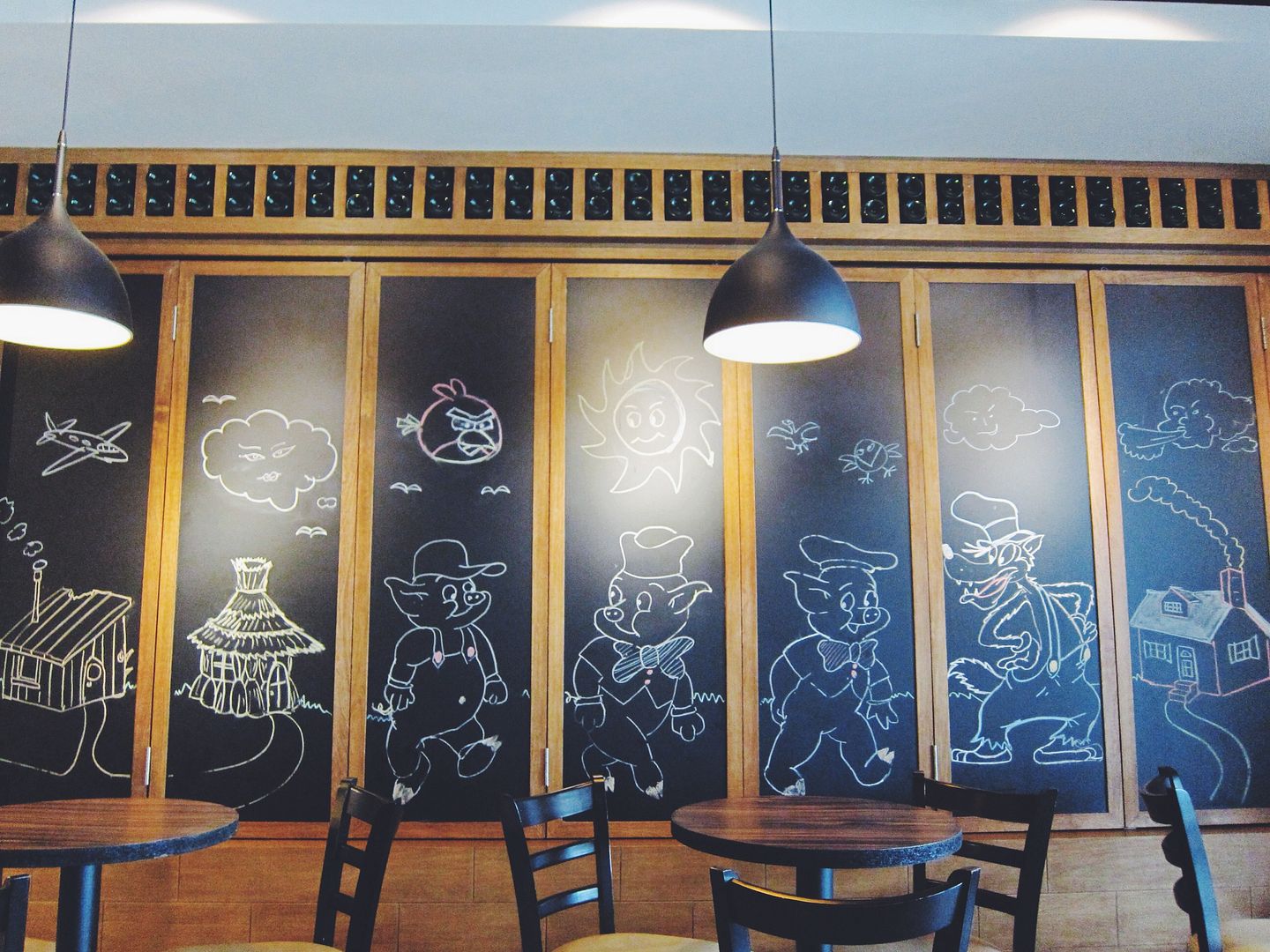 The menu board with the Three Little Pigs theme too.
This is the waiting area for the entrance connected to the supermarket or mall.
The lil' brother as the model.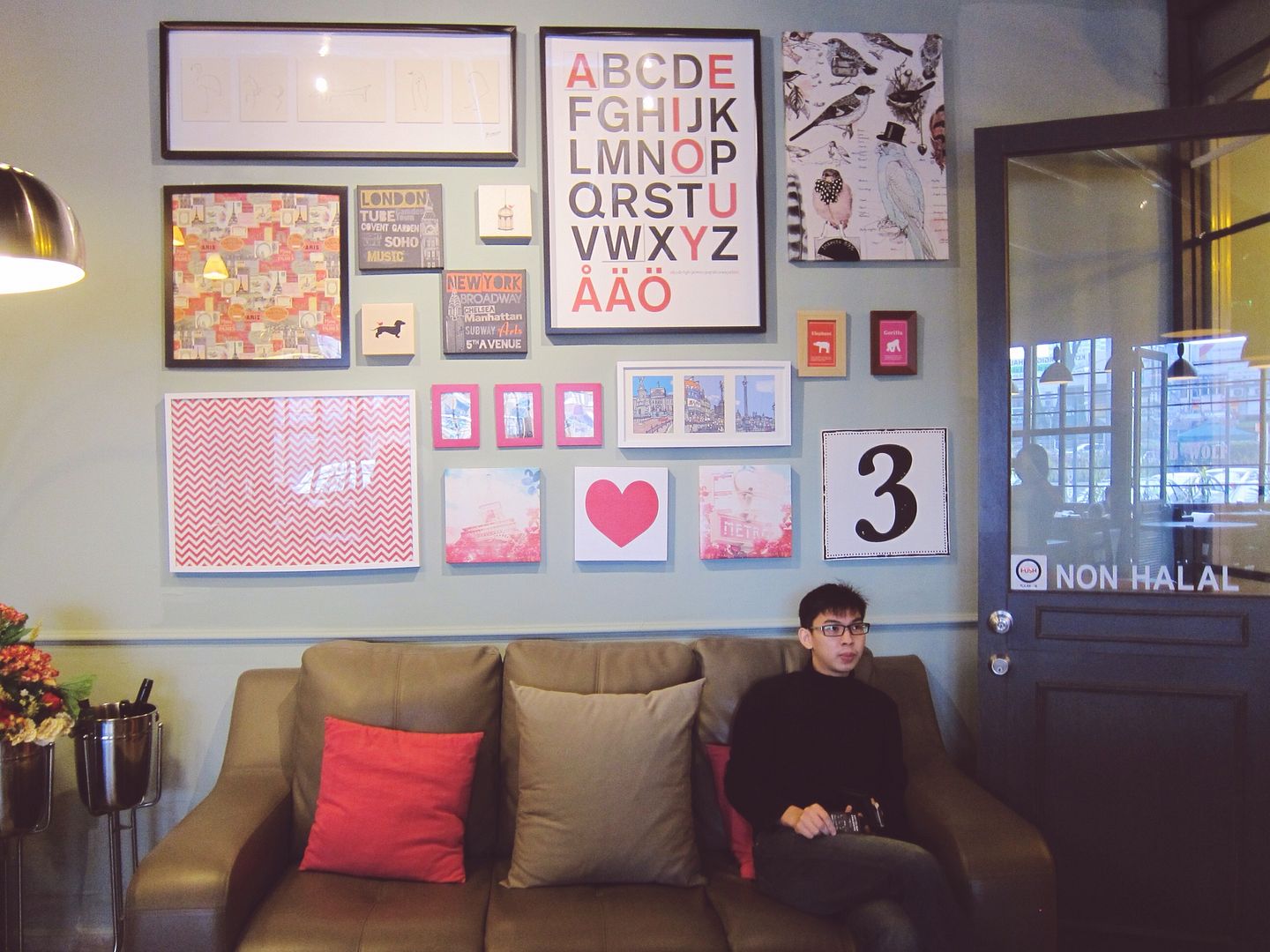 Here's the entrance which is from the supermarket.
Three Little Pigs Menu.
I was a little confused as I realized there are 2 menus where Big Bad Wolf is only served at night.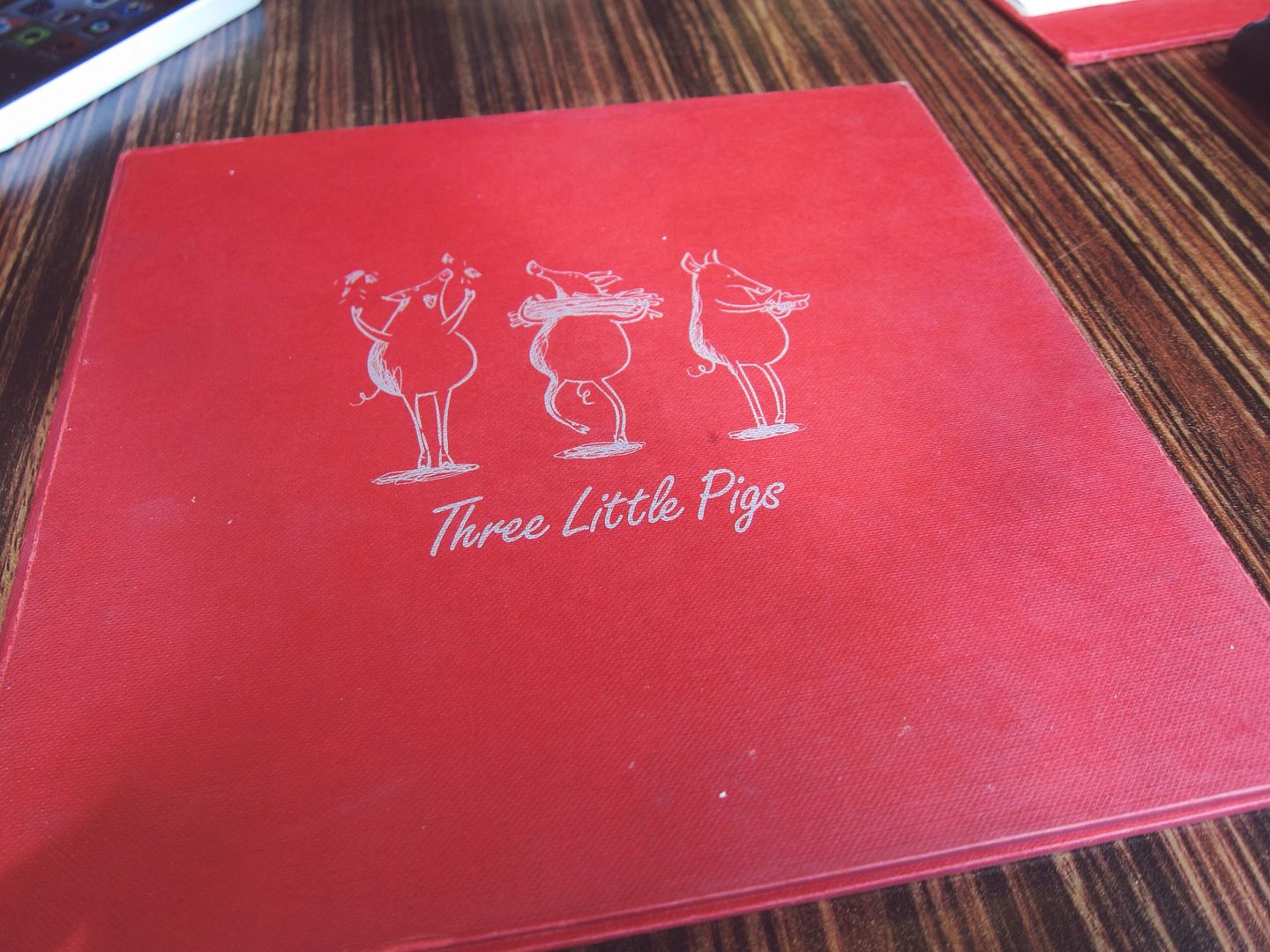 And… after looking at the operating time,
my guess is that Three Little Pigs is a restaurant which operates during day time and Big Bad Wolf is a bar which operates from 6~11pm.
Pretty interesting uh!
So during out first visit here, here's what we had.
Green Goodness RM12  & Lime Juice RM10
for me and the cousin.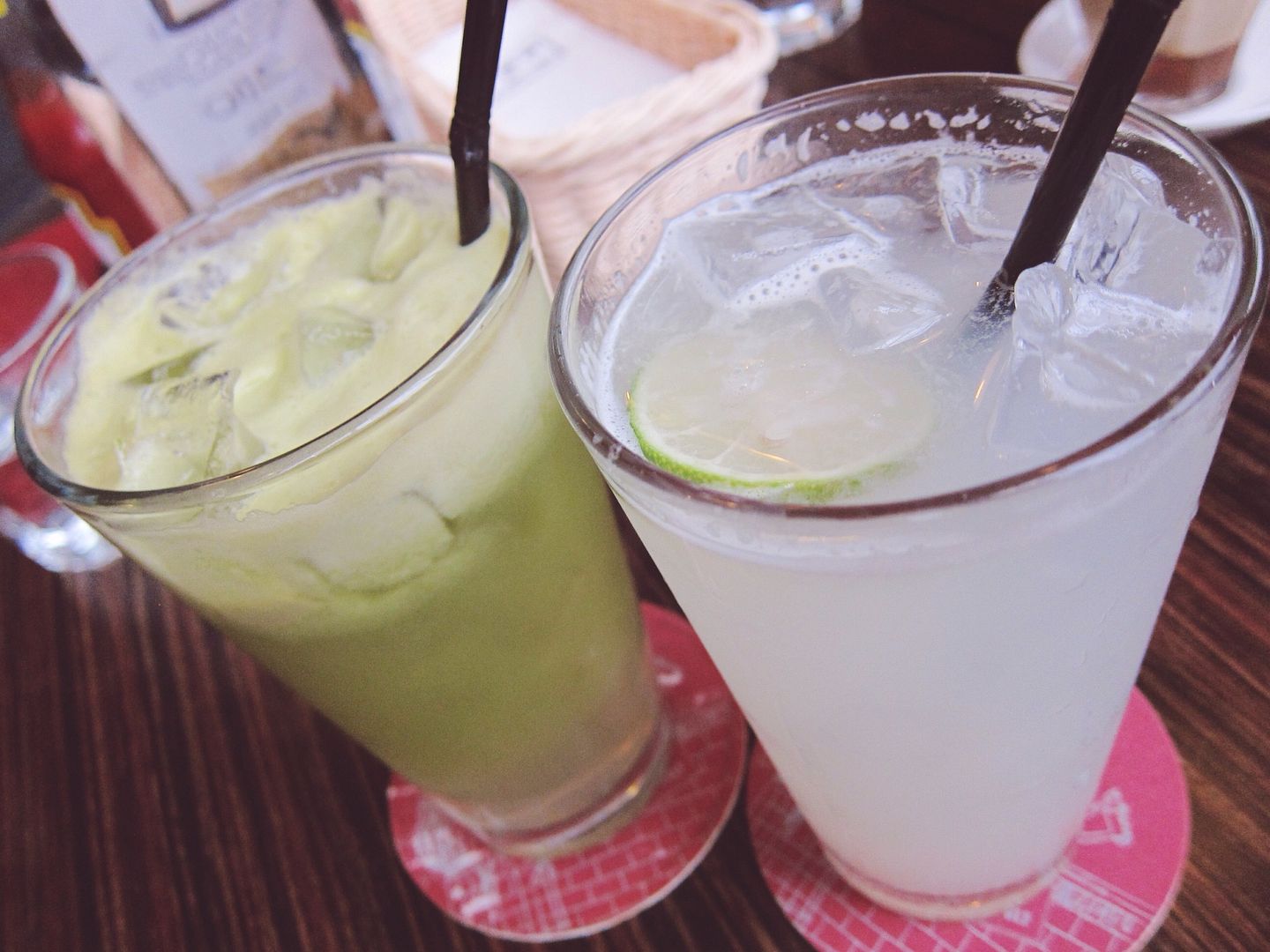 The coasters got my attention!
Oh Yeah! Did I mention that the menu book looks like a storybook?!
I actually took a few pictures of it but due to the lousy quality, I decided not to post it up here.
Go visit the shop and check it out for yourself.
Caramel Latte Rm10
for the coffee lover bro.
Caesar Salad Rm24
for the cousin who had actually had her lunch.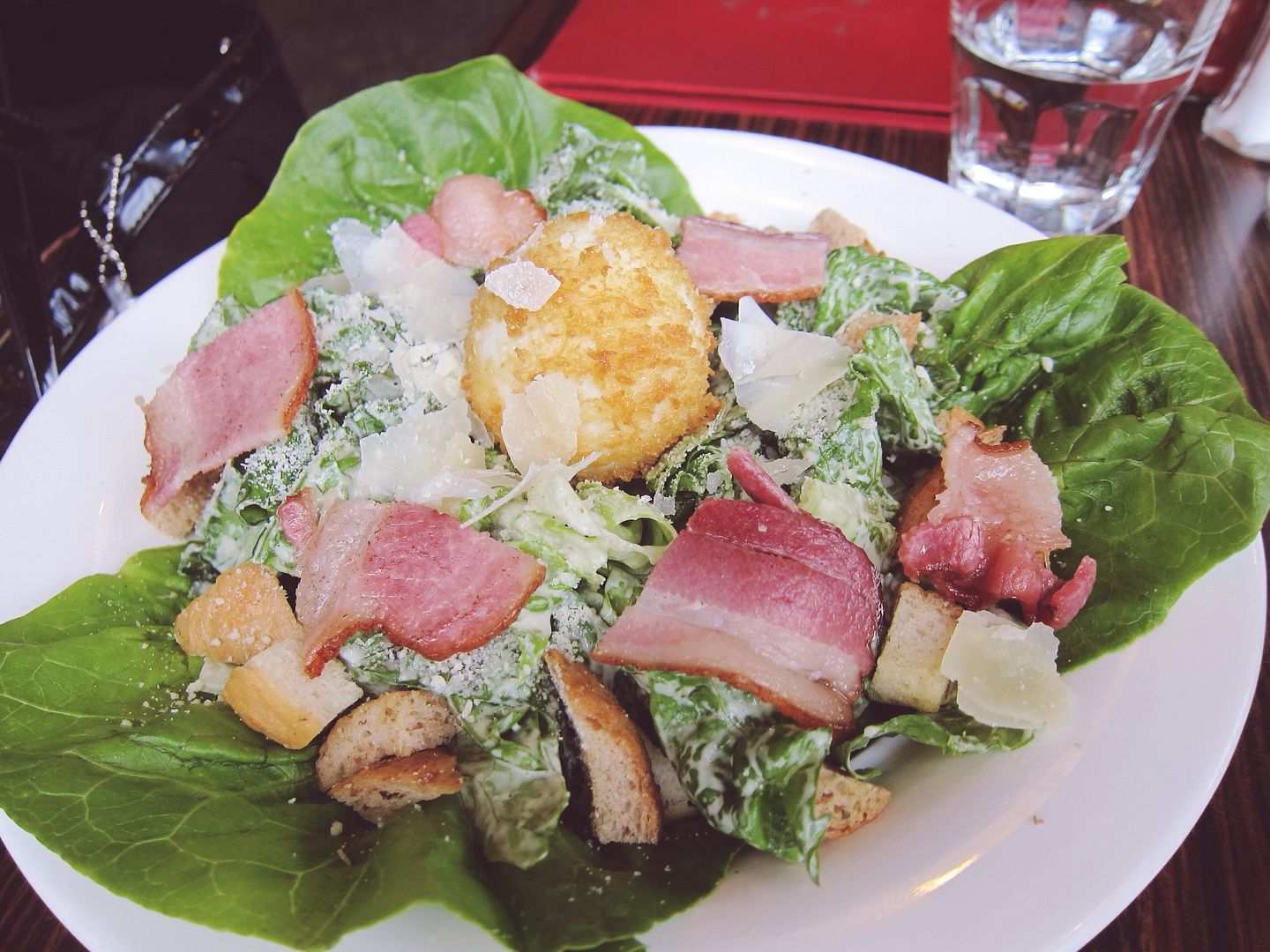 the brown pig RM25
for the lil' bro who thinks that the name of this dish is interesting.
I bet he didn't know it was Japanese Tonkatsu Don!
But this is pretty good!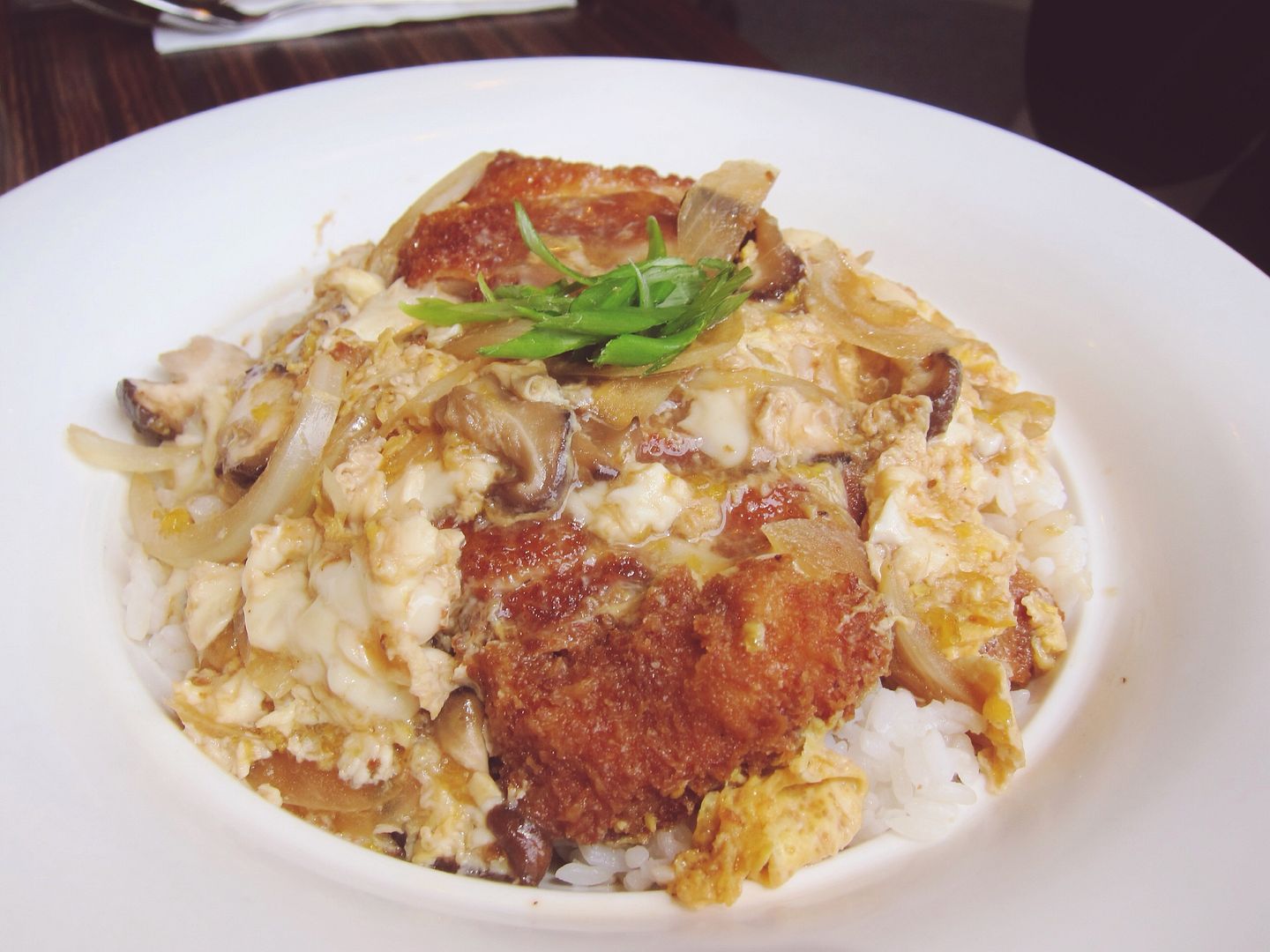 The Wolf's Favorite Pasta RM29
for the pasta lover ME!
This is a white sauce pasta with bacon, ham and egg.
It tasted not too bad either!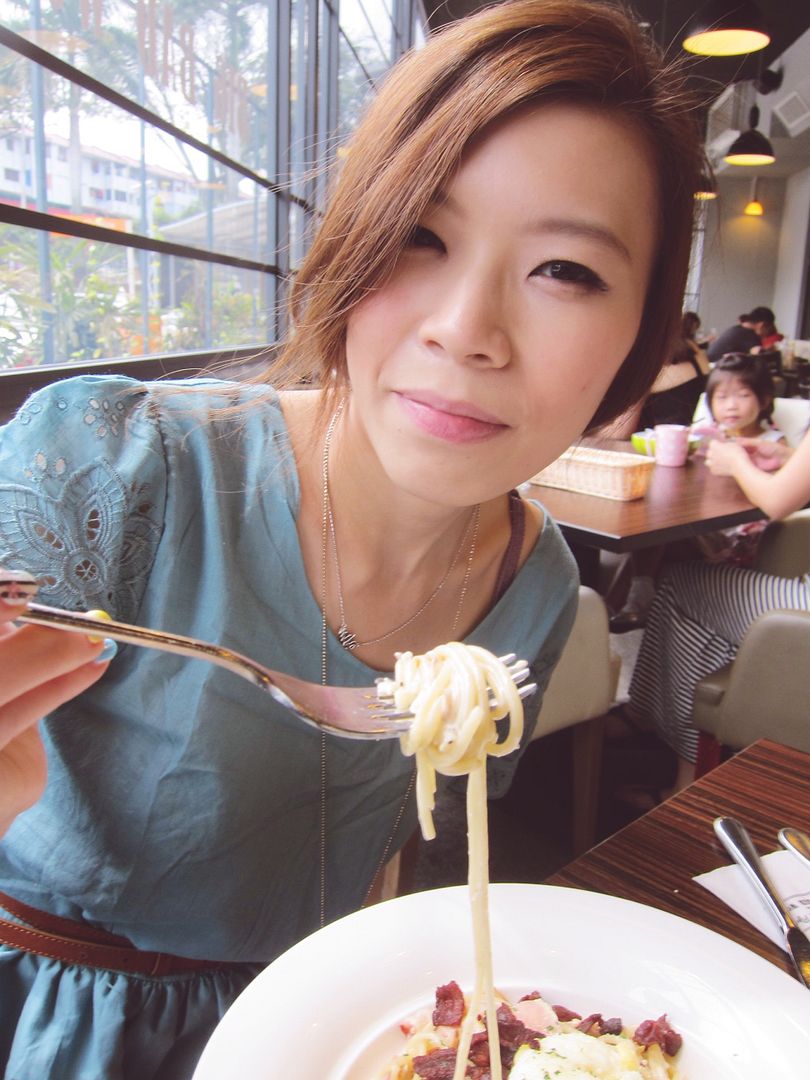 So this is all we had during our first visit.
Haven't get to try their cakes though I was so tempted to try their cheesecake.
CAKES!!! Gonna make sure to try them out next time!
On our second visit, we had something different though we did ordered back the 'the brown pig' as mum wanted to try.
This time we had different drinks which was recommended by the waiter as their special of the week includes of
Lemonade RM12
and
Fruit Punch RM14
Also, had this Esprit drink which reminds me of my childhood days as I remembered I used to order this when we dine in Dave's Deli.
Esprit Raspberry RM10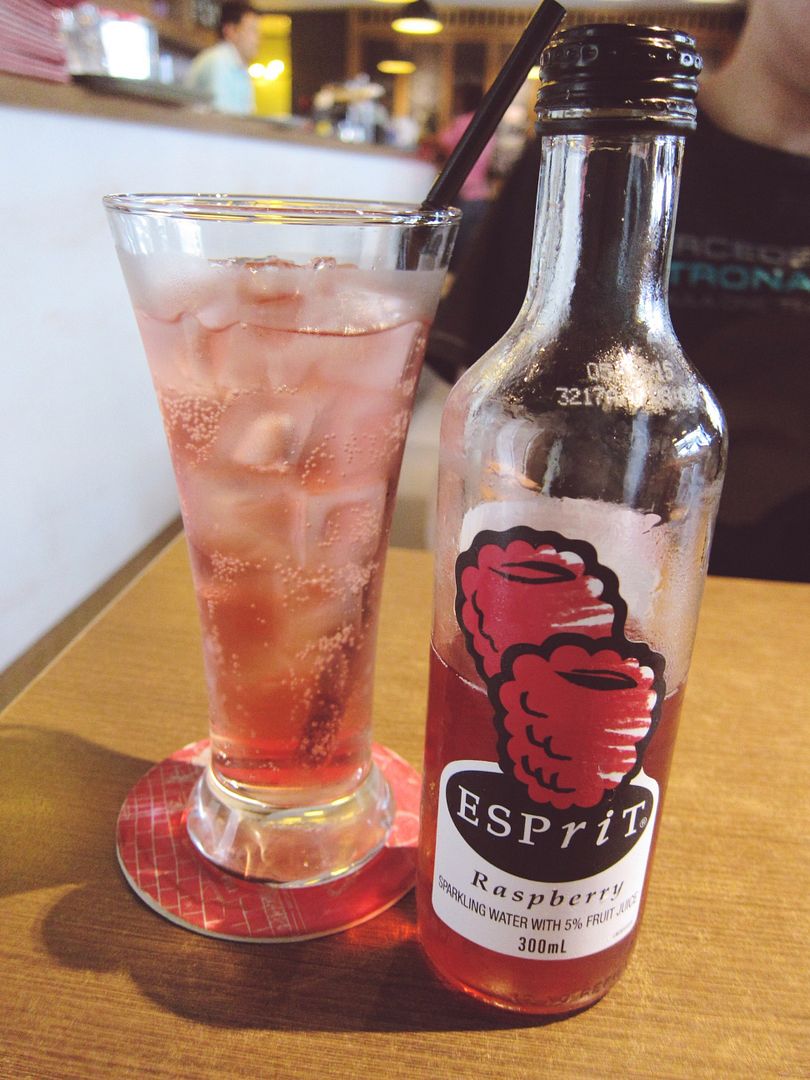 Piggies Rolling in Mud RM26 
is actually Japanese Chicken Curry Rice!
What a fancy name!
My order was the special of the week which is
the emperor RM32
Juicy bacon and bolognese meat which comes in a perfect combination.
Really enjoyed this dish and I highly recommend their burgers!
Fishermen's Basket RM29
which has a variety of seafood fried in batter such as oyster, fish, squid and prawns.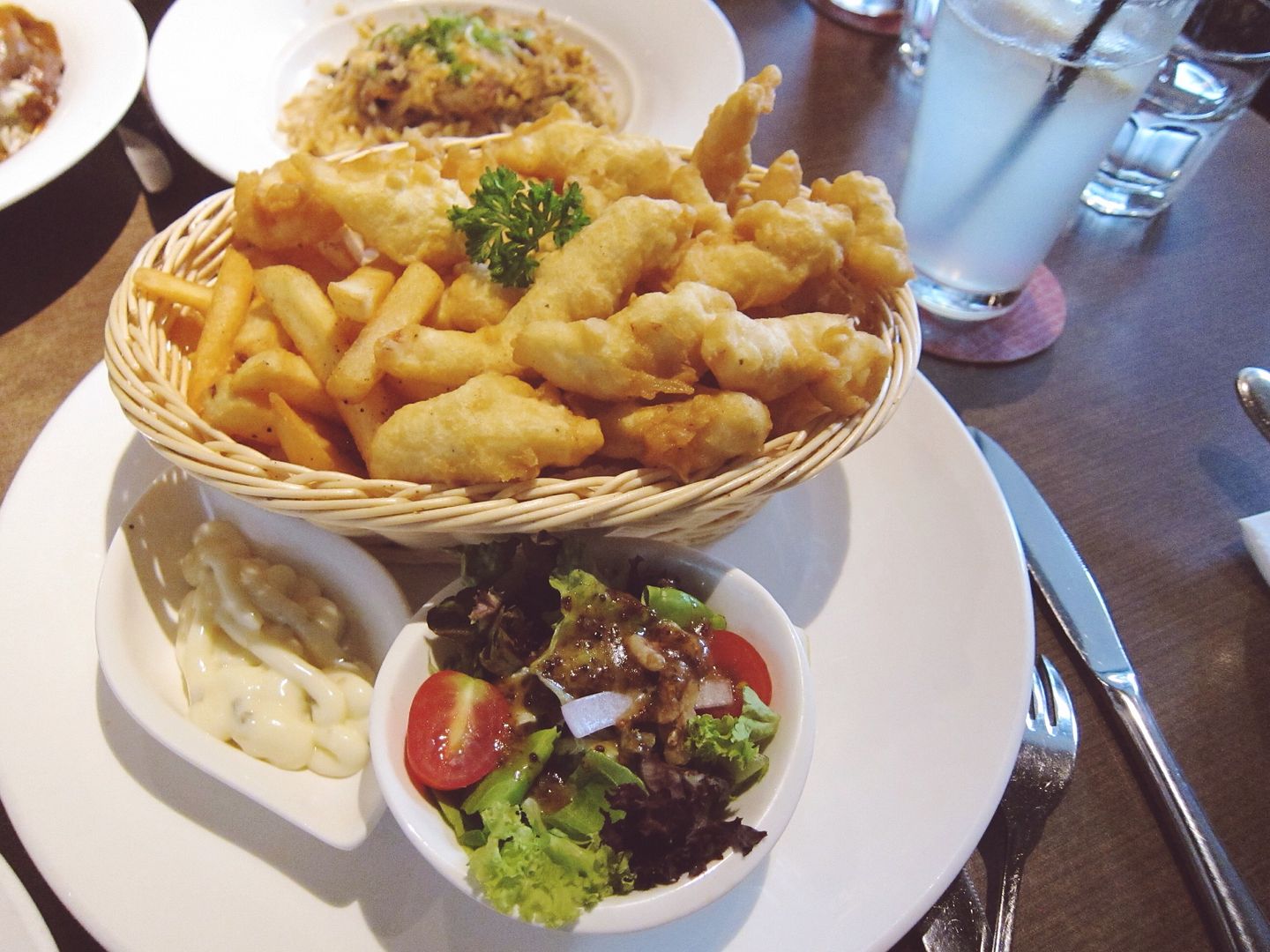 I was surprised that the boyfie, Mr Pink ordered this as he doesn't like seafood and totally has no interest when it comes to fish and other sea living creatures!
THUMBS UP for him as he managed to finish up this dish on his own except for the oyster which was thrown over to the lil' bro's plate.
So that wraps up my visit at Three Little Pigs & The Big Bad Wolf!
Overall, food and service was good and if you ever plan to visit here, do not miss the burger menu as I think it's the best of all the dishes I had so far.
Gonna leave some space for cake the next time I visit here again!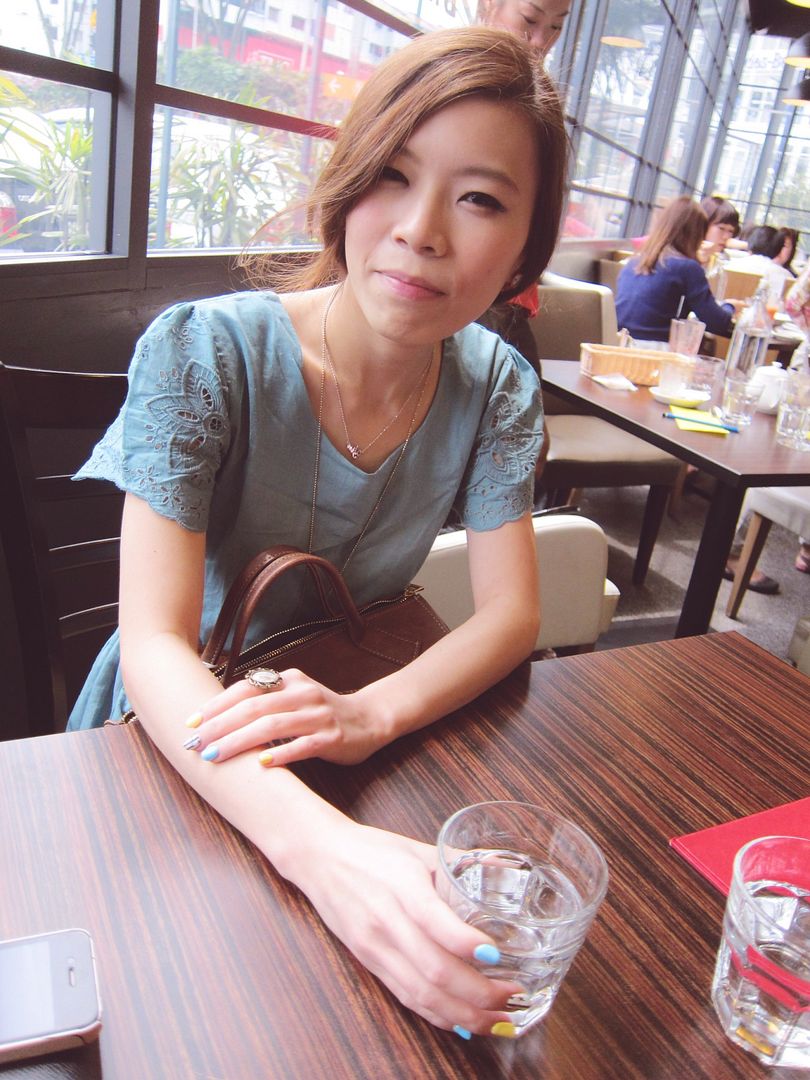 Three Little Pigs & The Big Bad Wolf
Bangsar Village
Lot G1A, Ground Floor
Tel: 03-2283-2270
Hours: 9am – 6pm (Three Little Pigs)
6pm – 11pm (Big Bad Wolf)