SEOUL Diaries: Petite France Korea
3 Girls One Journey
Day 5: Namiseom Island – Petite France
– SEOUL Diaries –
After our visit to Namiseom Island, our next stop was Petite France.
Petite France is located on the hilly side which made our ride a little rough as we stood for more than 10 minutes in the bus to get here.
Petite France is a French cultural village which has similar function as [button url="http://missuety.com/seoul-gyeonggi-english-village/" target="_blank"]Gyeonggi English Village[/button] where it's served as both cultural village and a youth training facility with 16 French-style buildings where visitors can lodge and enjoy French food. There's also a gallery exhibiting sculptures and paintings related to France and also instruments can be found in numerous buildings in the village.
Petite France became a popular tourist spot in recent years thanks to K-drama and Running Man. It was the shooting place for a number of popular K-dramas such as Beethoven Virus, Secret Garden and My Love From The Star.
There's even this!! Great for fans of My Love From The Star.
Remember this setting??
This room here is one particular setting which appeared in Beethoven Virus.
The one particular piano in this room.
On the 2nd level of this room, there's a dining area with a TV replaying scenes from Beethoven Virus.
and we had our snacks here as we were like starving to death….
Still posing for the camera even we were like so so hungweeeee!!
You can get a full scale view of the village from up here through the large paneled windows.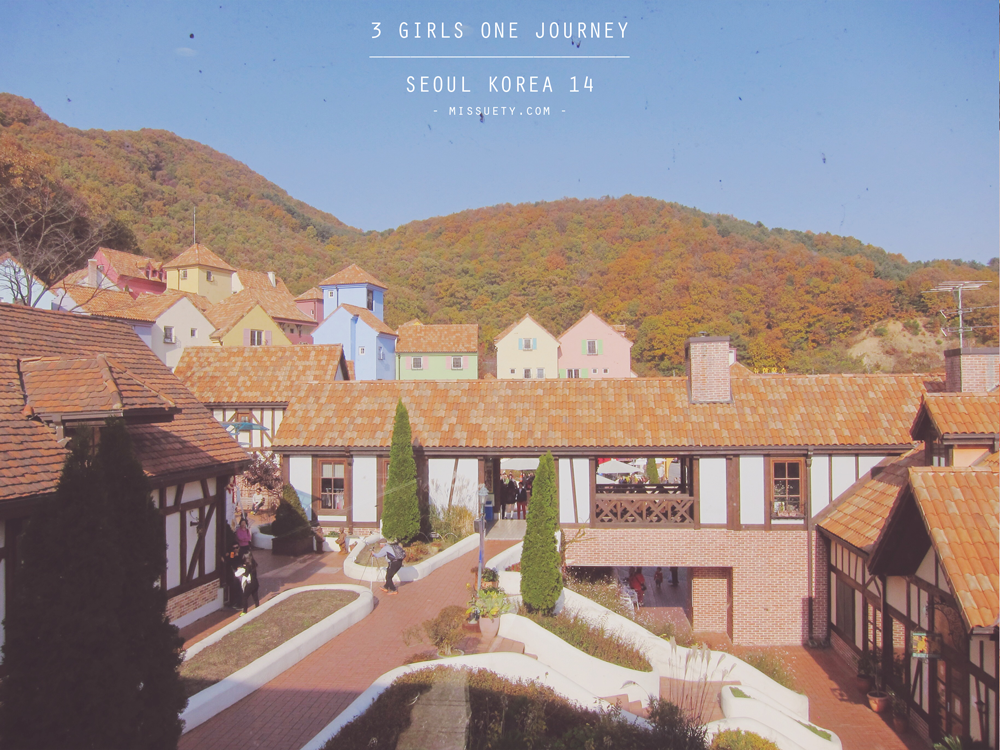 I don't know it's just me or what but I realize that there's like so many clowns in the village. I see them like everywhere.
Here's one…
Trying to imitate the clown's pose.
Here's another one…
and this…
and I bet there's more…
The decorations in the rooms were really cosy with French-like style too.
The living room…
The dining room…
There's also a bedroom which reminds me of the room similar to the one in Conjuring which actually made me freaked out.
Outward appearance is still the best. I mean the buildings seen from the outside are much more lively than the inside. Decorations inside the building are really warm but some of them just keep you uncomfortable. At least that's what I think cos I'm not a person who likes such decorations.
More from this store…
I don't think it's for sale. I think that's how it's sold in France. Likewise, our pasar malam here where some vendors place their goods on the floor to sell.
Probably another shop selling antiques
And yes!! They do have performances too and we were able to catch the puppet show.
Ok, when I said I like the outward appearance, here's what I meant.
Just look at the colorful buildings from the outside. It just feels like you've entered a fantasy world or a theme park. Well, it is part of a theme park according to the introduction. A theme park with no rides.
Now, don't you think the outside looks much more livelier and merrier compared to the inside?!
It's just rare to know there's sights like this in the village.
This is like the "road not taken"
So we decided to take this road…
..
This one very nice sight can be seen as you step in Petite France.
The map for your reference.
That's all about Petite France and you can check out below for directions and some other useful informations and links.
[divider type="thin"]
Petite France (쁘띠프랑스)
1063, Hoban-ro, Cheongpyeong-myeon, Gapyeong-gun, Gyeonggi-do 경기도 가평군 청평면 호반로 1063
Inquiries: 1330 Travel Hotline: +82-2-1330 (Korean, English, Japanese, Chinese) For more info: +82-31-584-8200 (Korean)
Operating Hours: 09:00-18:00 *Last admission: 1 hour before closing
Admission Fees: Adults: 8,000 won / Group: 6,000 won Youths: 6,000 won / Group: 5,000 won Children: 5,000 won / Group: 4,000 won * Group: 20 people or more
How To Get There: From Dong Seoul Bus Terminal / Sangbong Bus Terminal. Take an intercity bus to Cheongpyeong (청평).
From Cheongpyeong Terminal, take a local bus bound for Goseong-ri (고성리). * Bus Schedule: 06:30-20:00, runs 9 times a day OR From Cheongpyeong Terminal, take Gapyeong Tour Bus to Petite France. * Bus Schedule: 08:30-17:30, runs 7 times a day
[divider type="thin"]
SEOUL Diaries Autumn 2014
Day 1 & 2:  Hongdae Free Market & Hope Market Day 3: Ihwa Mural Village Day 4: Gyeonggi English Village Heyri Art Village Provence Village Day 5: Namiseom Island Petite France Day 6 FINALE: Samcheong-dong Bukchon Hanok Village & Ssamziegil