SEOUL Diaries: Namiseom Island
3 Girls One Journey
Day 5:
Namiseom Island – Petite France
– SEOUL Diaries –
First of all I would like to wish all my readers
A HAPPY NEW YEAR
I look forward to your continuous support and don't hesitate to leave me a comment.
Your comments are what I need to make me improve for the better.
I hope all of you will have a great year ahead and best wishes!
[divider type="dashed"]
I know this post is a little overdue but I would like to finish up my SEOUL Diaries which I think might be kind of a helpful to first timers who wants to travel to SEOUL, Korea on their own.
So today's post will be on Namiseom Island which became a popular tourist spot after the shooting of Winter Sonata.
Namiseom is a tranquil isle, good for strolling or picnicking.
A nice getaway for couples or families who are sick of the high-rise buildings or polluted air in the city.
I personally enjoyed our time here as it's like the best ever autumn season I've spent surrounded by red and yellow autumn leaves which took my breath away.
[well]Namiseom is actually located in an isle in the shape of a half moon with a large grass field which took up about 316,320 square yards of the isle. Telephone poles are not visible as the electric wires are buried underground to sustain the natural ambiance of the landscape. Chestnuts trees and poplar trees are widely planted around the isle with famous and beautiful tree lined roads. The isle is located not too far away from SEOUL which attracted many couples, families and tourist to come by for a visit.[/well]
So getting to the island requires us to get on the ferry or you can get on an adventurous ride by hoping on the [button url="http://english.visitkorea.or.kr/enu/SI/SI_EN_3_1_1_1.jsp?cid=1245307″ target="_blank"]NAMISEOM Zip Wire[/button] which will take you across the waters to the island in no time! Sounds great uh?!
The ferry ride lasted less than 7 minutes and here we are at the gateway to Namiseom/Nami Island.

As we enter the grounds of Namiseom, cameras started flashing all the way.
The tranquil surroundings just couldn't keep you away from capturing them in every way.
Thanks to my travel mates, I have such beautiful pictures.
We took our own sweet time exploring the isle and captured our precious moments here.
It was just the right timing where autumn leaves turn red and yellow and the the whole isle looks like an autumn wonderland which leaves you speechless.
I was so fascinated by the beauty of nature and all of a sudden I felt like all my worries were gone. It's just so soothing to be here in the isle with all the beauties of nature. The whole area just looks so red and warm.
A bunch of fallen leaves which is great for souvenirs. Never hesitated to pick them up and pack them into the bag.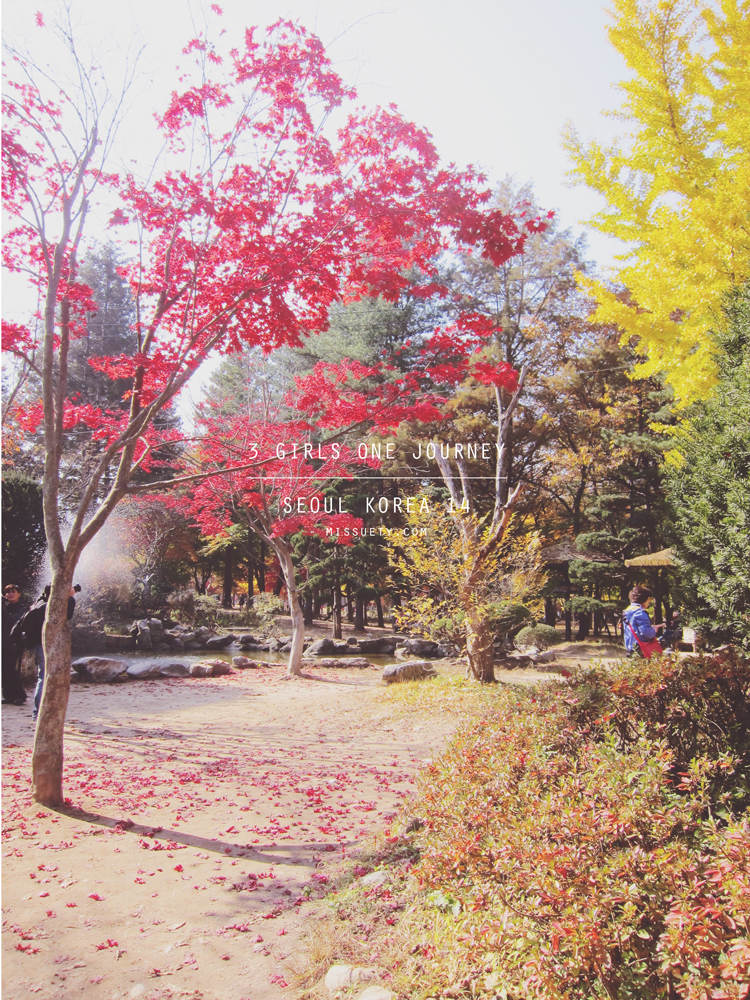 Even my red sweater blends so well here.
Now, the jump-shot!
There's actually much to do in the island besides taking pictures and strolling around.
You can actually get on the train for a tour around the island or come and stare at ostriches.
or even re-enact from the scenes of Winter Sonata
The scenery from here is really breathtaking too.
So much to do that you can spend your entire day here indulging in the beauty of nature.
Get shots on the railway track.
and on bridges?!
Just so much photo taking moments that we couldn't finish exploring the entire island but many great memories were made here.
It's time to beat farewell and hop back to the ferry to catch the shuttle bus to Petite France.
That's all about Namiseom / Nami Island and stay tune for Petit France!
[divider type="thin"]
Namiseom Island (남이섬 종합휴양지)
1024, Bukhangangbyeon-ro, Gapyeong-eup, Gapyeong-gun, Gyeonggi-do
경기도 가평군 가평읍 북한강변로 1024 (출입국관리사무소)
www.namisum.com 
Inquiries:
• 1330 tt call center: +82-2-1330
(Korean, English, Japanese, Chinese)
• For more info: +82-31-582-8091
Operating Hours:
OPEN ALL YEAR ROUND
Ferry Schedule
07:30-09:00 (30min intervals)
09:00-18:00 (10-20min intervals)
18:00-21:40 (30min intervals)
Admission Fees:
Adults : 10,000 won
Youths, Seniors (over 70) & People with disabilities: 8,000 won (ID required)
Children (ages 3-13) : 4,000 won
Visitors arriving after 18:00 (Dec-Mar), after 19:00 (Apr-Nov): 4,000 won
※ Round-trip ferry fare & tax included
How To Get There:
(There are few alternatives to get to Nami Island but we took the subway and then the Shuttle Bus)
By Subway
Get to Cheongpyeong Station (Gyeongchun Line), Exit 2.
Look for 'Gapyeong Tourist Shuttle Bus' terminal which is located on the right.
Fee is 5,000 won (one-day unlimited ride on the following route below)
Shuttle Bus Route:
Gapyeong Terminal – Jarasum – (Ehwawon, camping site) – Gapyeong Station Terminal – Nami Island (Zip Wire) – Geumdae-ri Hall – Bokjang-ri samgeori – Petite France – Homyeong-ri – Cheongpyeong Terminal – Cheongpyeong Station – Imchogyo Ap – Ankhvanman – Morning Calm Arboreteum
By Taxi
From Gapyeong Bus Terminal or Gapyeong Station, take a taxi to Namiseom parking lot. (Travel time: 10-15 min)
Take the ferry from Namiseom Dock to Namiseom Island. (Travel time: 5-6 min)
By Bus
Shuttle Bus (From Seoul to Namiseom Island)
* Bus Stop
1) Insa-dong (Jonggak Station, Subway Line 1, Exit 3): Next to Tapgol Park
2) Jamsil Station (Subway Line 2, Exit 4): In front of Lotte Mart
* Shuttle Bus Schedule: 
Insa-dong, Jamsil Station → Namiseom Island: 09:30
Namiseom Island → Insa-dong, Jamsil Station: 16:00
※ Advanced reservation required (Inquiries +82-2-753-1247)
※ More info about the shuttle bus on this page.
[divider type="thin"]
SEOUL Diaries Autumn 2014
Day 1 & 2: 
Hongdae Free Market & Hope Market
Day 3:
Ihwa Mural Village
Day 4:
Gyeonggi English Village
Heyri Art Village
Provence Village
Day 5:
Namiseom Island
Petite France
Day 6 FINALE:
Samcheong-dong
Bukchon Hanok Village & Ssamziegil