SEOUL Diaries: Hongdae Free Market & Hope Market
3 Girls One Journey in SEOUL
Day 1 & 2:
Hongdae Free Market & Hope Market
– SEOUL Diaries –
The SEOUL diaries will begin now where I'll be sharing with you places I've visited during my one week stay, roaming in SEOUL.
First up on today's post is HONGDAE or also known as HONGIK University Street.
This is one of the hyped up places you should visit when in SEOUL.
A lively street with youngsters all over the area and a good place to hunt for cheap fashion goods.
Shops along the busy street.
You will also come across a number of talented street performers playing guitars and jamming around like this one here.
or this guy who is dancing to the beat.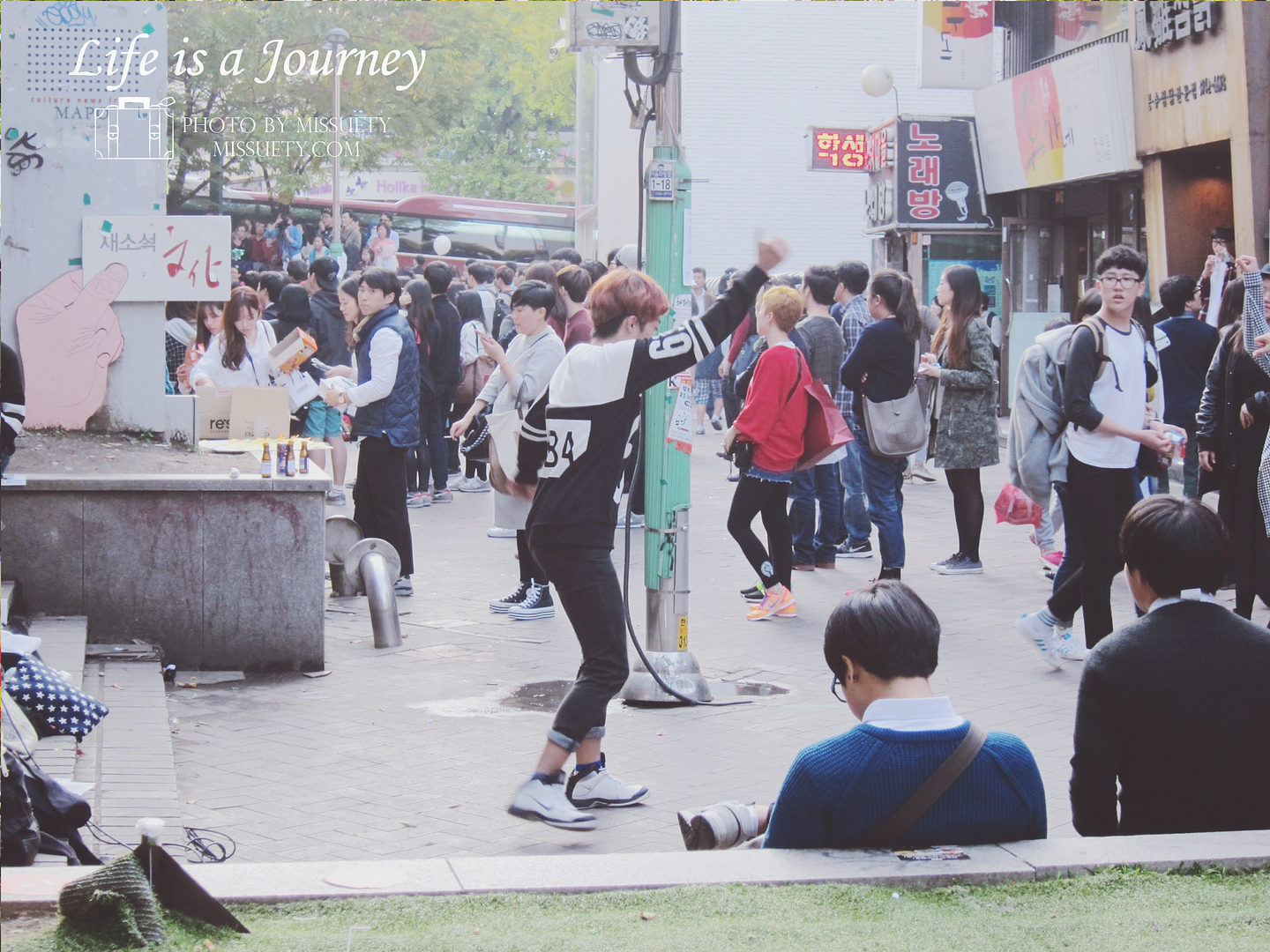 It's pretty fun to hang around them for a moment to check out what they have in store for us.
Most I see were really good which is why we can't deny the power of K-POP or Korean Wave!
Well, for those who are not interested in stuffs like this.
No worries… There are lots of cafe in this area for you to chill like..
ZOO Cafe
or maybe
HELLO KITTY Cafe for girls?!
[divider type="thin"]
HELLO KITTY CAFE, SEOUL
http://www.hellokittycafe.co.kr/
Opening Hours:
Mon – Thu & Sun 11:00 am – 24:00 am
Fri & Sat 11:00 am – 2:00 am
How To Get There: 
Hongik University Station (Subway Line 2), Exit 9.
Turn left, and walk straight up the street.
You will see Dunkin Donuts on your right, then turn right and walk straight until you come to a big street.
Walk across the big street and continue straight by keeping your eye on the left side.
It's located on an uphill alley on the left.
Menu:
Caffe latte: 4,200 won
Hello Kitty caramel waffle: 3,500 won
Hello Kitty Rare Cheese Mousse Cake: 10000 won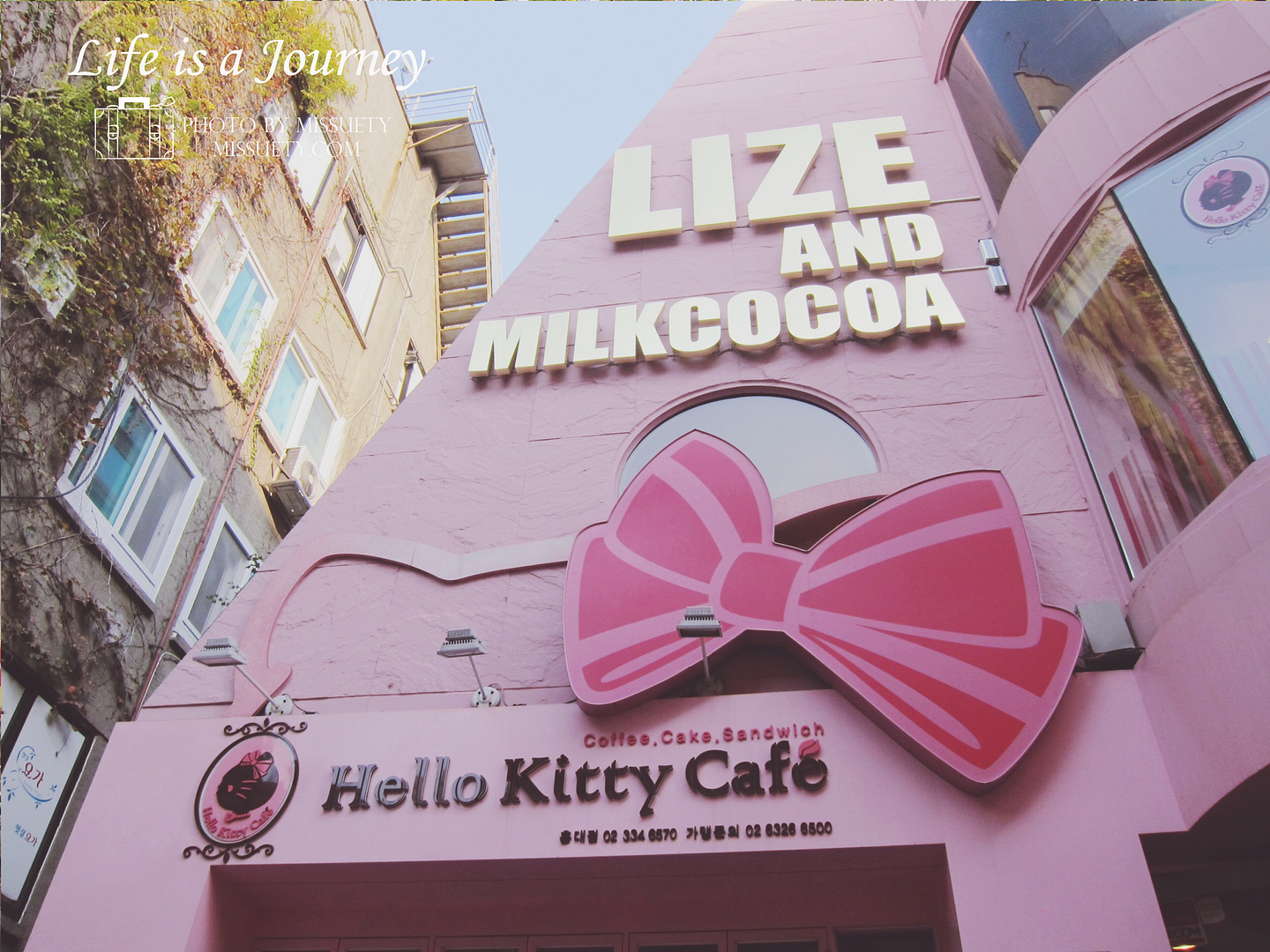 Besides cafes, you can also find vendors along the street selling Korea famous street food.
This is an exception!
COTTON CANDY
So pretty in pink!
Along the street, there's so much to explore and see.
Also came across this ZAKKA shop known as ARTBOX which is also said to be KOREA's DAISO!
They've got everything and anything, almost similar to DAISO but they're are not all in one price.
Something like Malaysia's S&J but sadly, ours is still not quite there.
You can find them everywhere in town.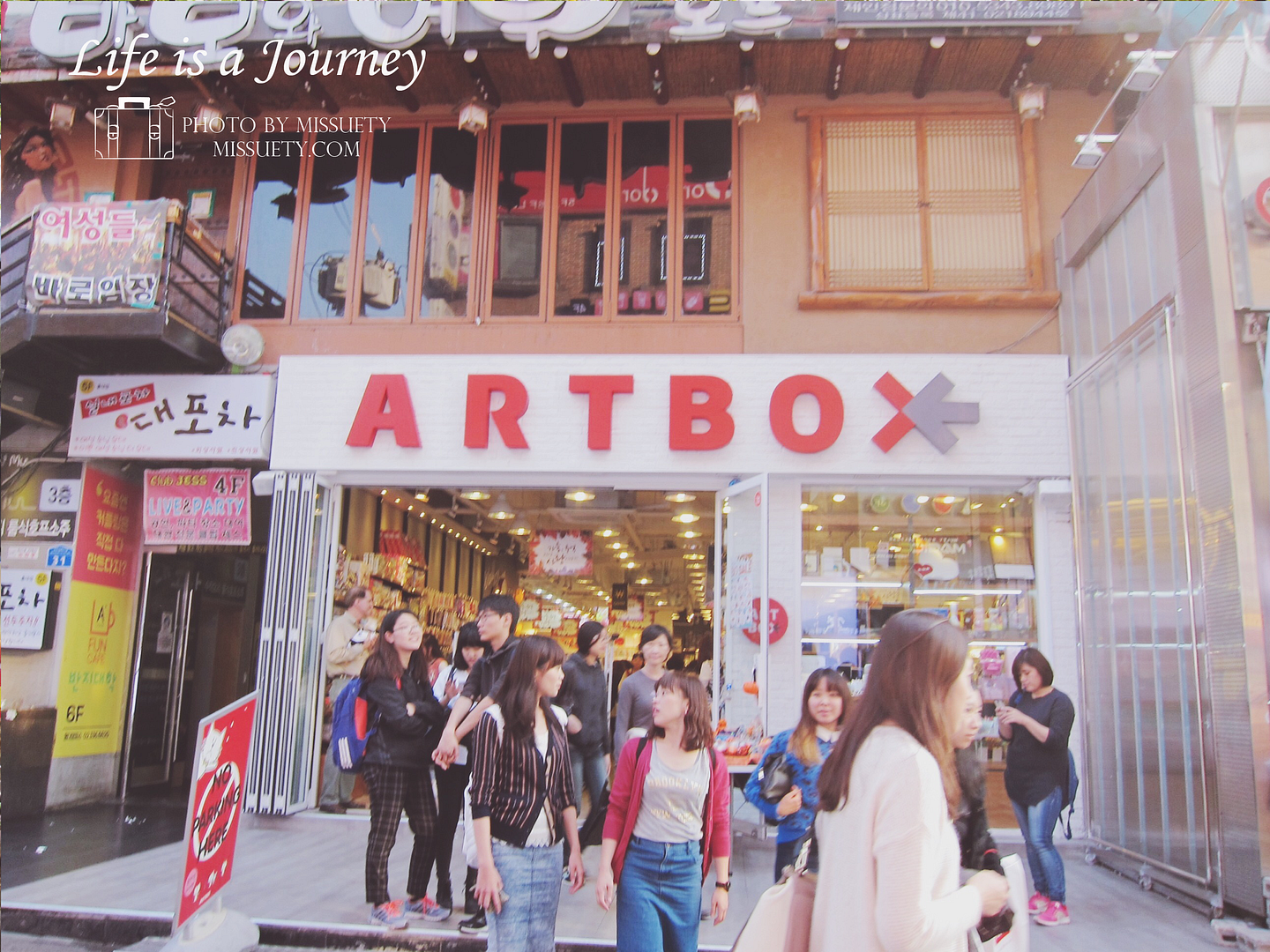 Well, that's not all about Hongdae!
The main reason we came here was to visit the Art Free Market which is only held on Saturdays.
One of the most remarkable market of our entire trip!
[divider type="thin"]
HONGDAE FREE MARKET
19-3, Wausan-ro 21-gil, Mapo-gu, Seoul
서울특별시 마포구 와우산로21길 19-3 (서교동)
Opens on Saturdays: 13:00-18:00
(from March to November)
How To Get There: 
Hongik University Station (Subway Line 2), Exit 9.
Go straight (approximately 150m), and cross the street.
Turn left, and go straight towards the Hongik University entrance.
Turn right to arrive at Hongik Children's Park.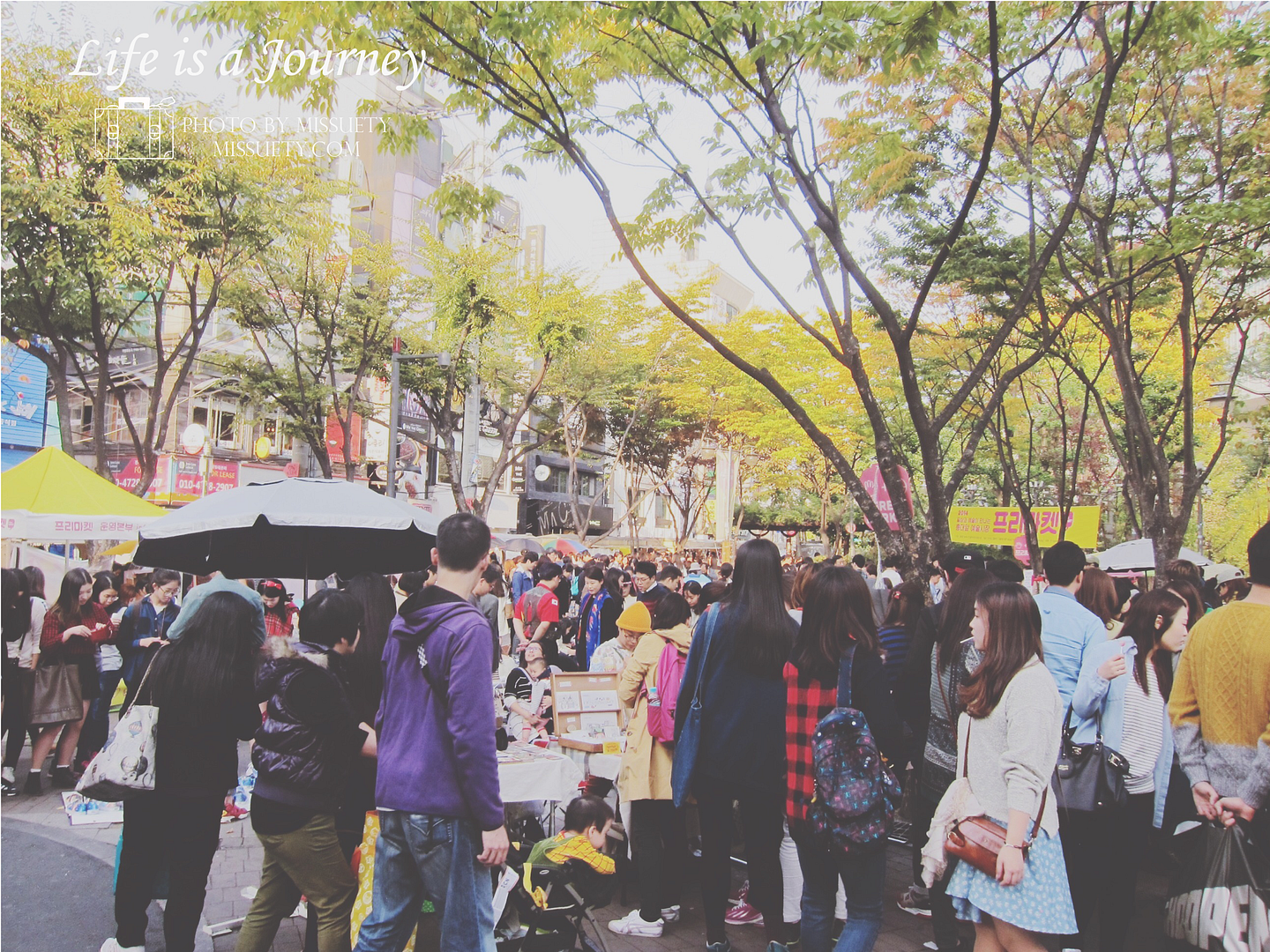 It was so crowded when we reached there in the late afternoon.
Have been dying to come here to catch on some nice handcrafted goodies.
All handmade by local talented designers with their own uniquely designed items which you would like to bring home as souvenirs for your loved ones.
Please appreciate all these pictures as I've risked my life for all these pics.
Many do not allow taking pictures of their stuff but I tried my best to take them to share it with you guys here.
So please pay some respect and NO stealing of pictures please!
Lovely yet unique!
Aren't these stuffed dolls just so adorable?!
Hair accessories for the girls..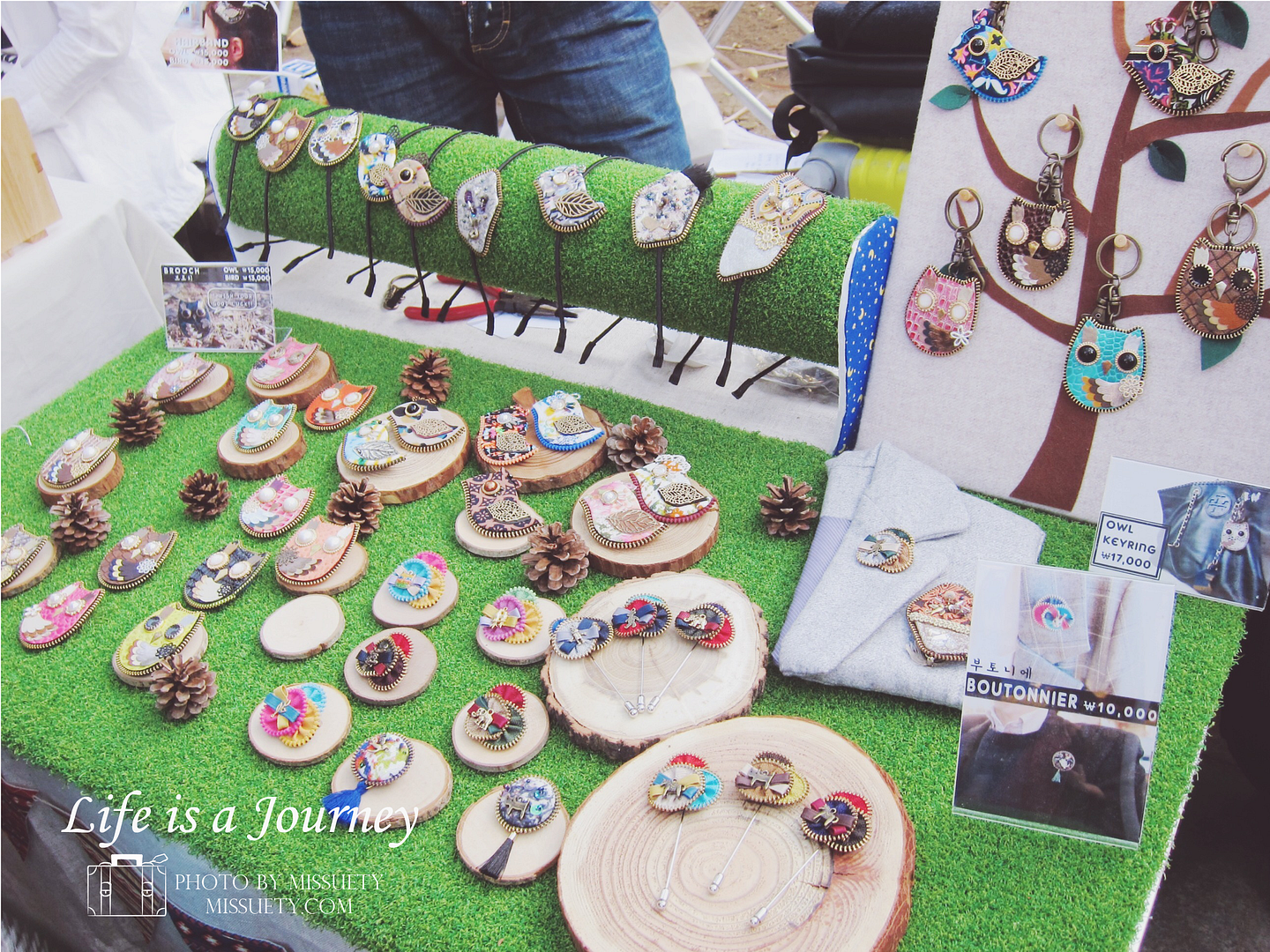 iPhone cases
Postcards & Notebooks
Compact Mirrors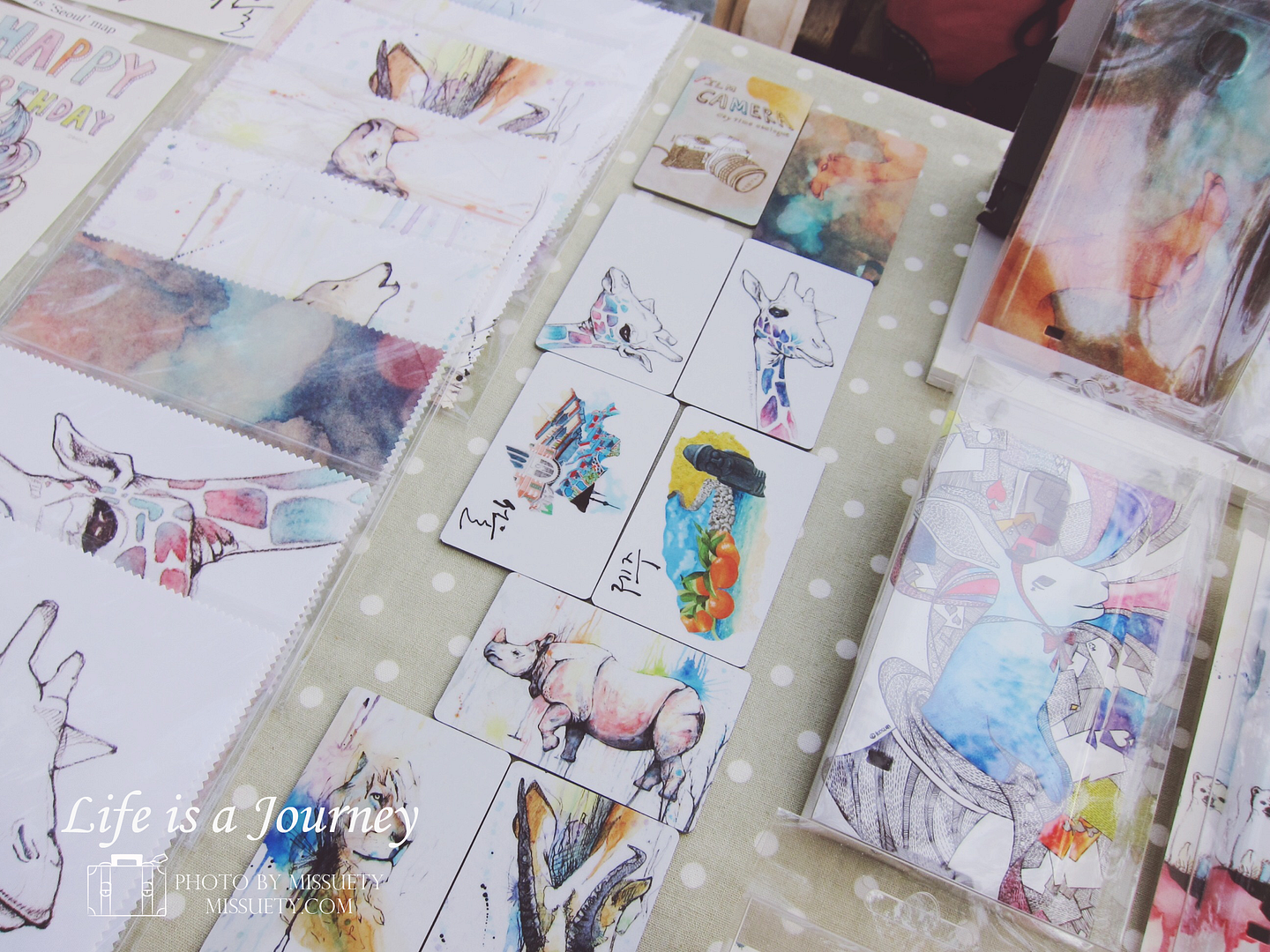 Well designed with great ideas.
My friend got the compact mirror in GIRAFFE design at an affordable price which I think is worth the buy!
Handmade Passport Cases … Keychains .. Cardholders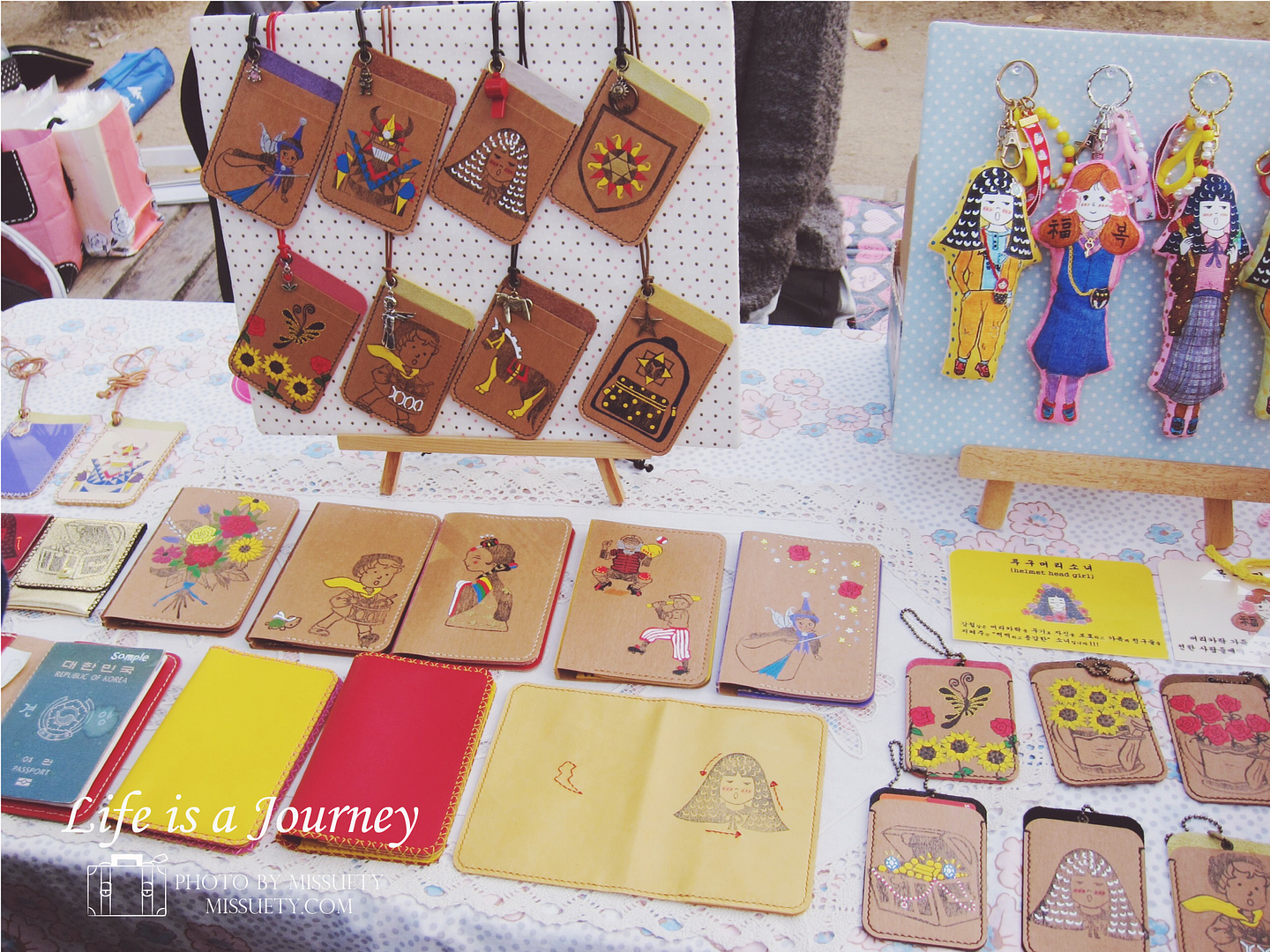 Mini Notebooks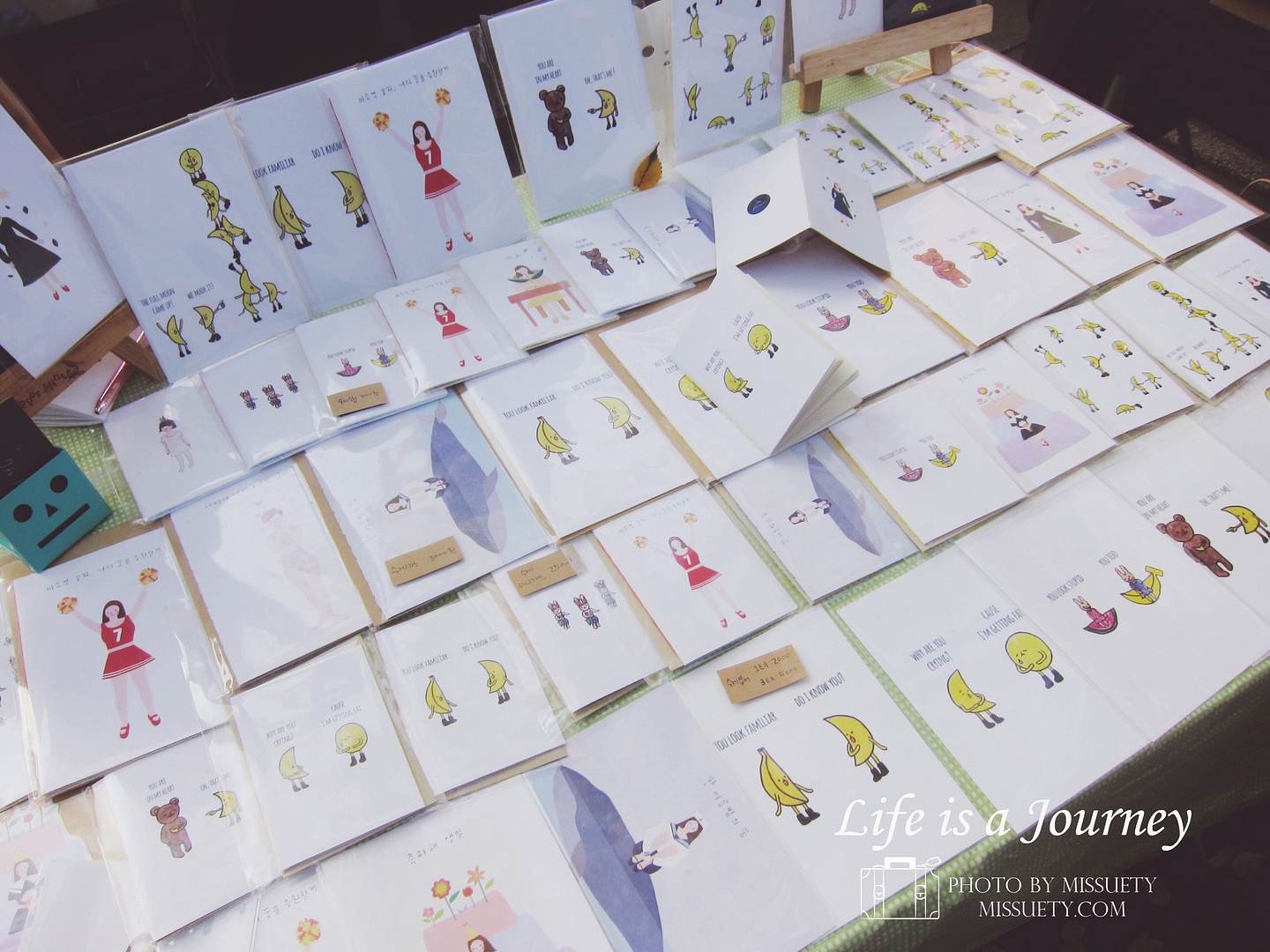 Passport Holder made of water resistant paper fabric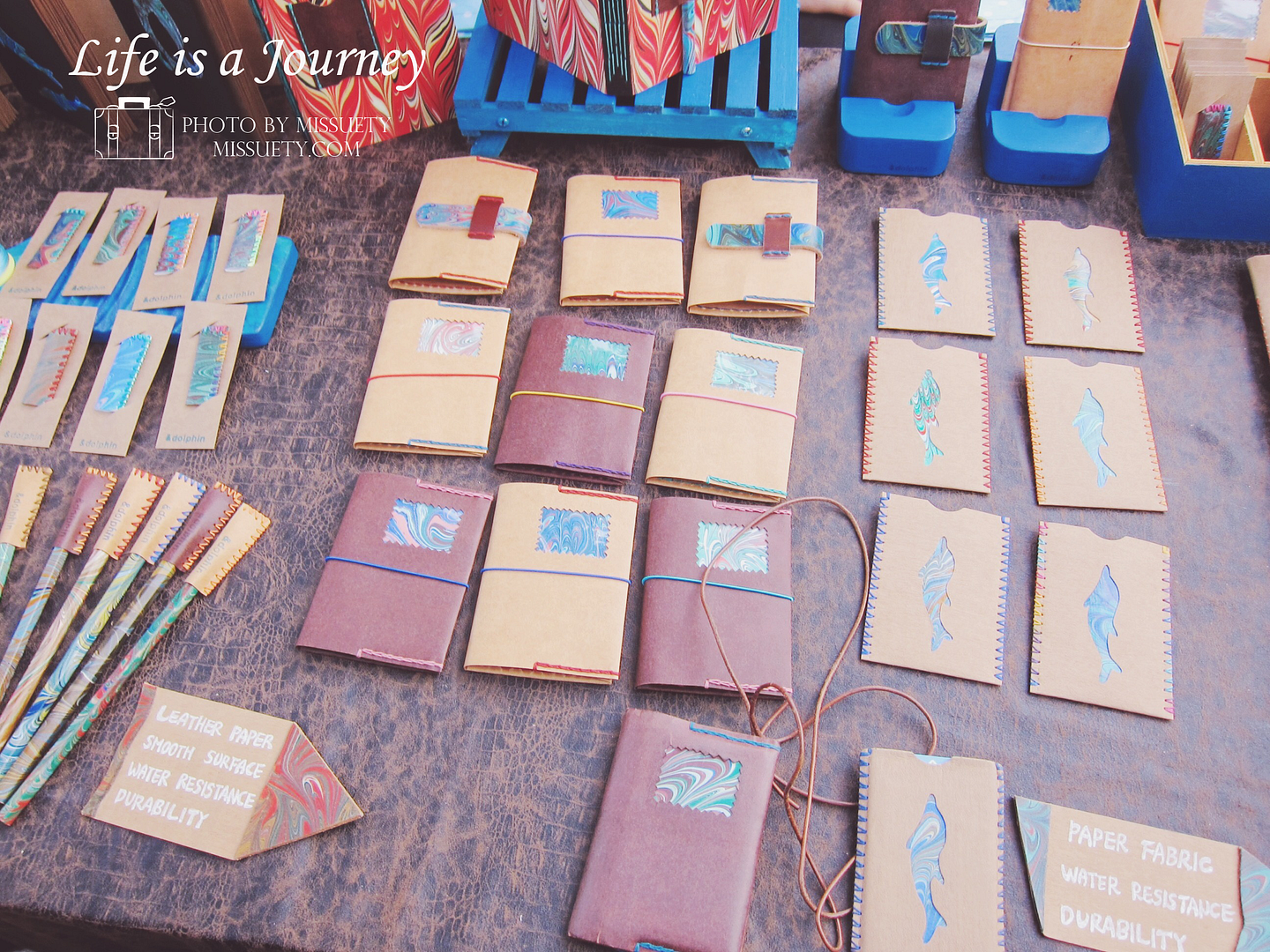 Postcards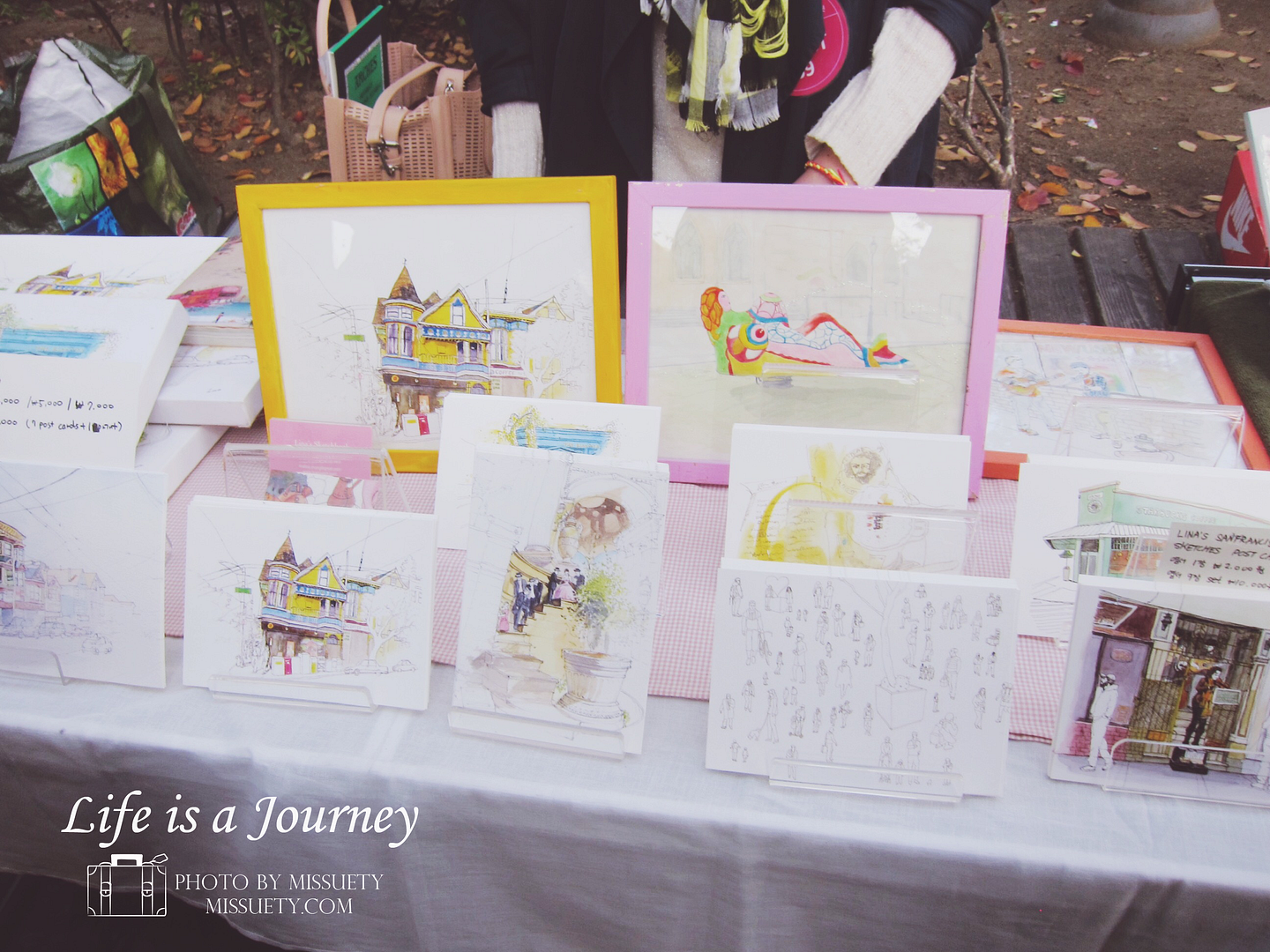 Girly stuff … Handmade accessories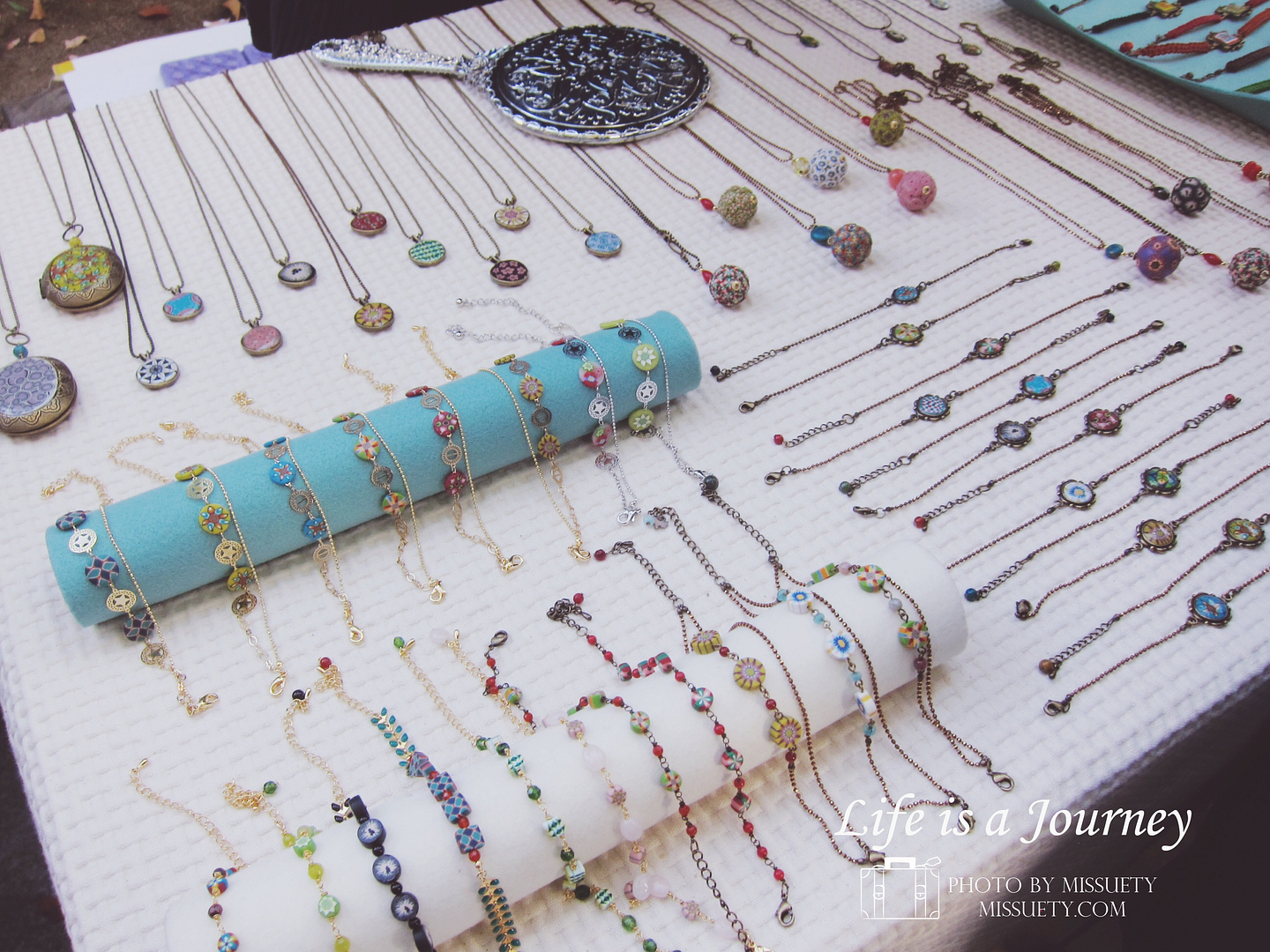 Goodies made of ceramics
SO tempted to get one actually..
One of the lovely vendor which I made my first purchase from.
They sell key holder, phone case , card holders … All made of fabric.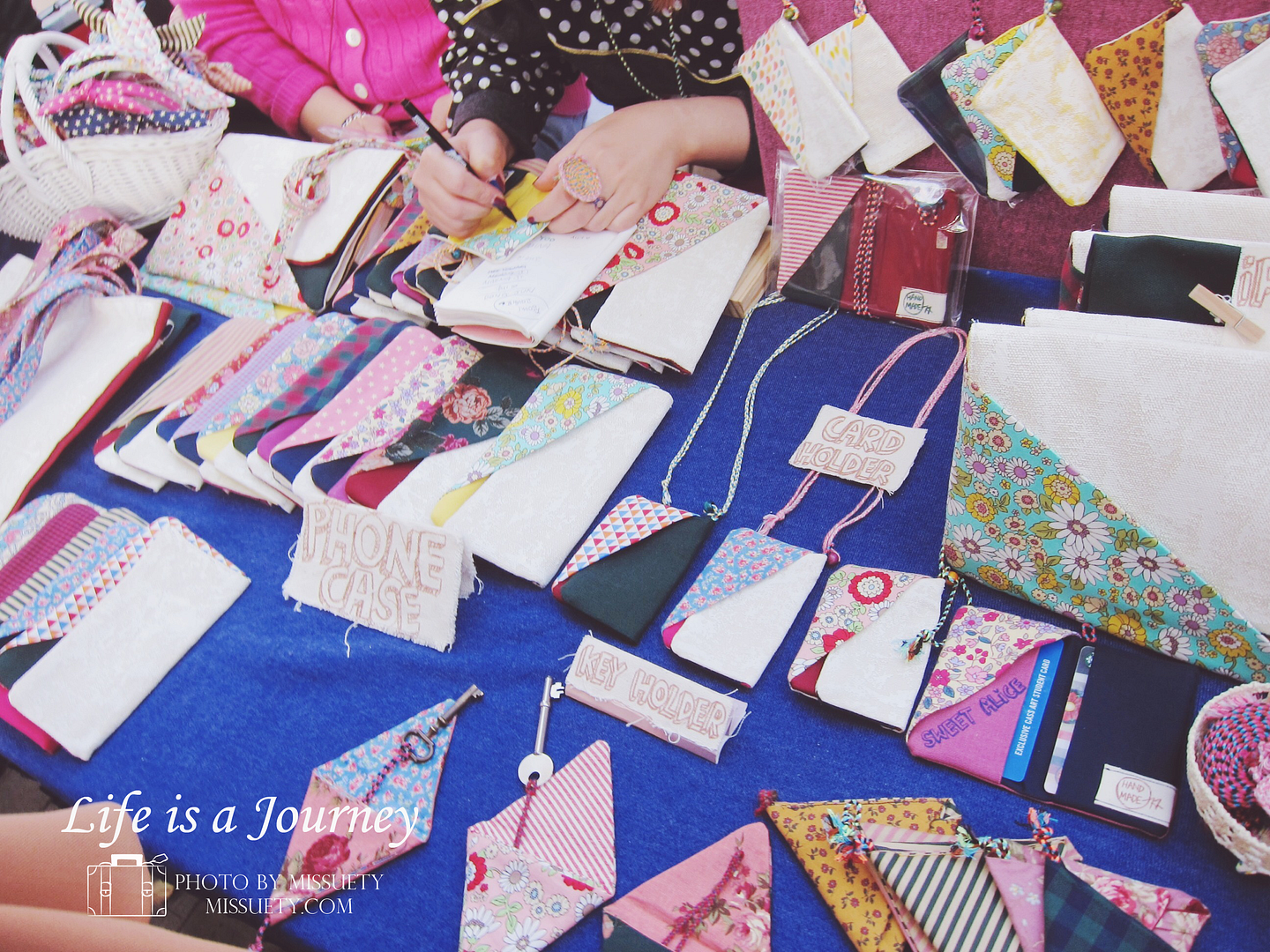 I got 2 hairbands here for 6000 won each.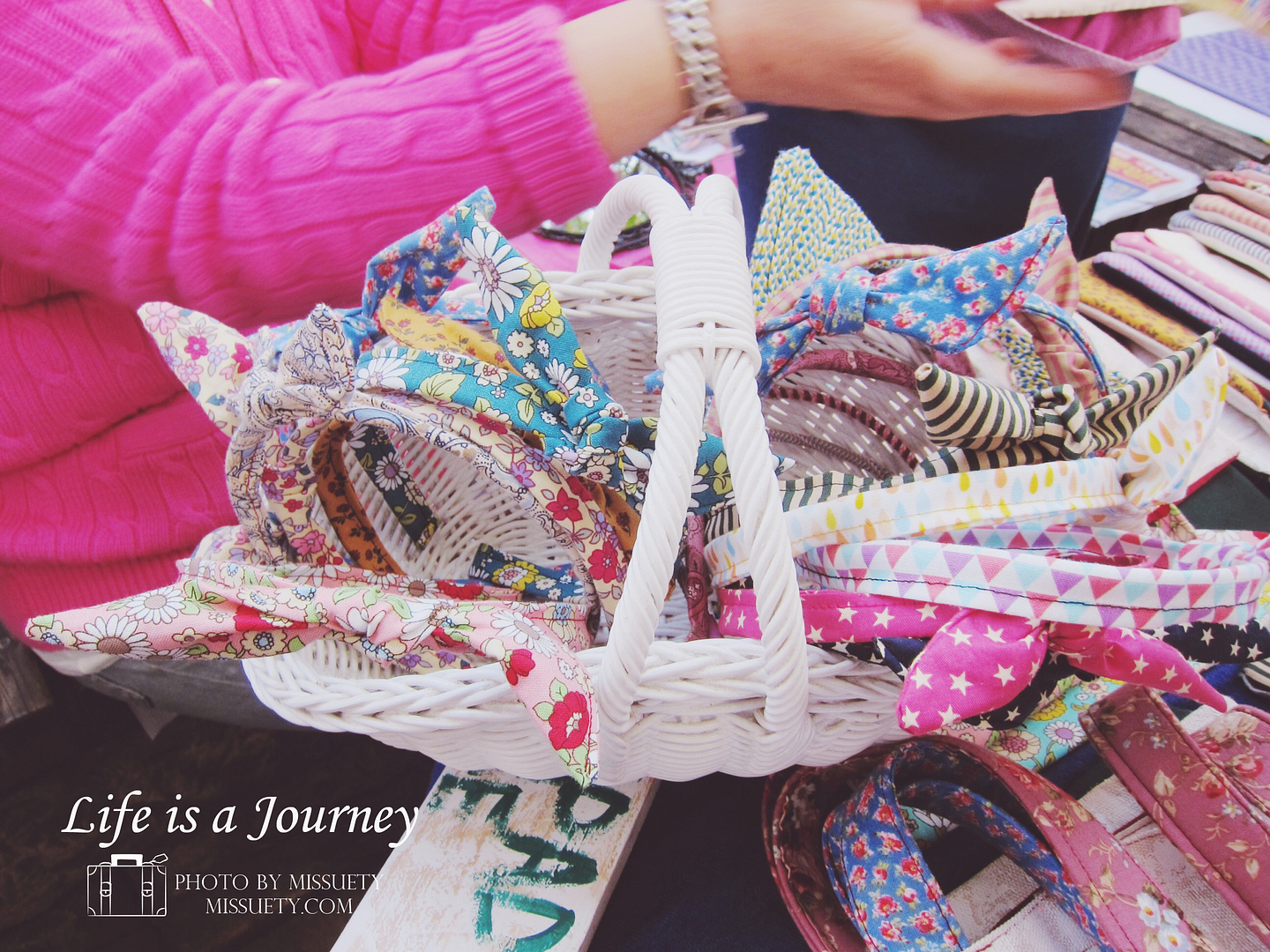 The 2nd purchase of the day was from another sweet vendor selling very sweet accessories.
I bought 2 handmade bracelets for 9000 won and 5000 won.
These are all made using felts.
Brilliant ideas they have.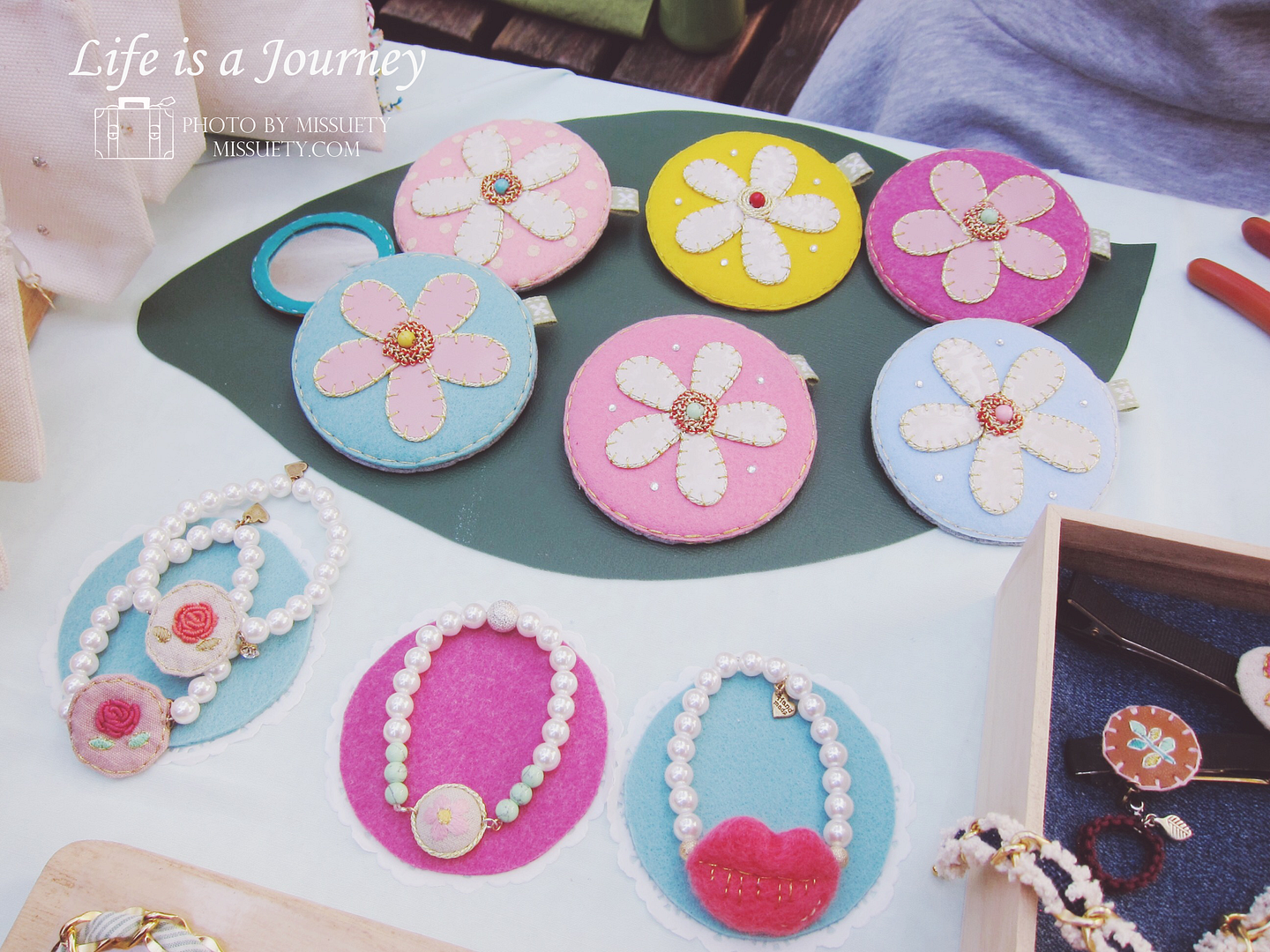 Pouches of all sizes
Just in case you're interested, you can contact this vendor or check out her blog.
Took this picture as proof of purchase! haha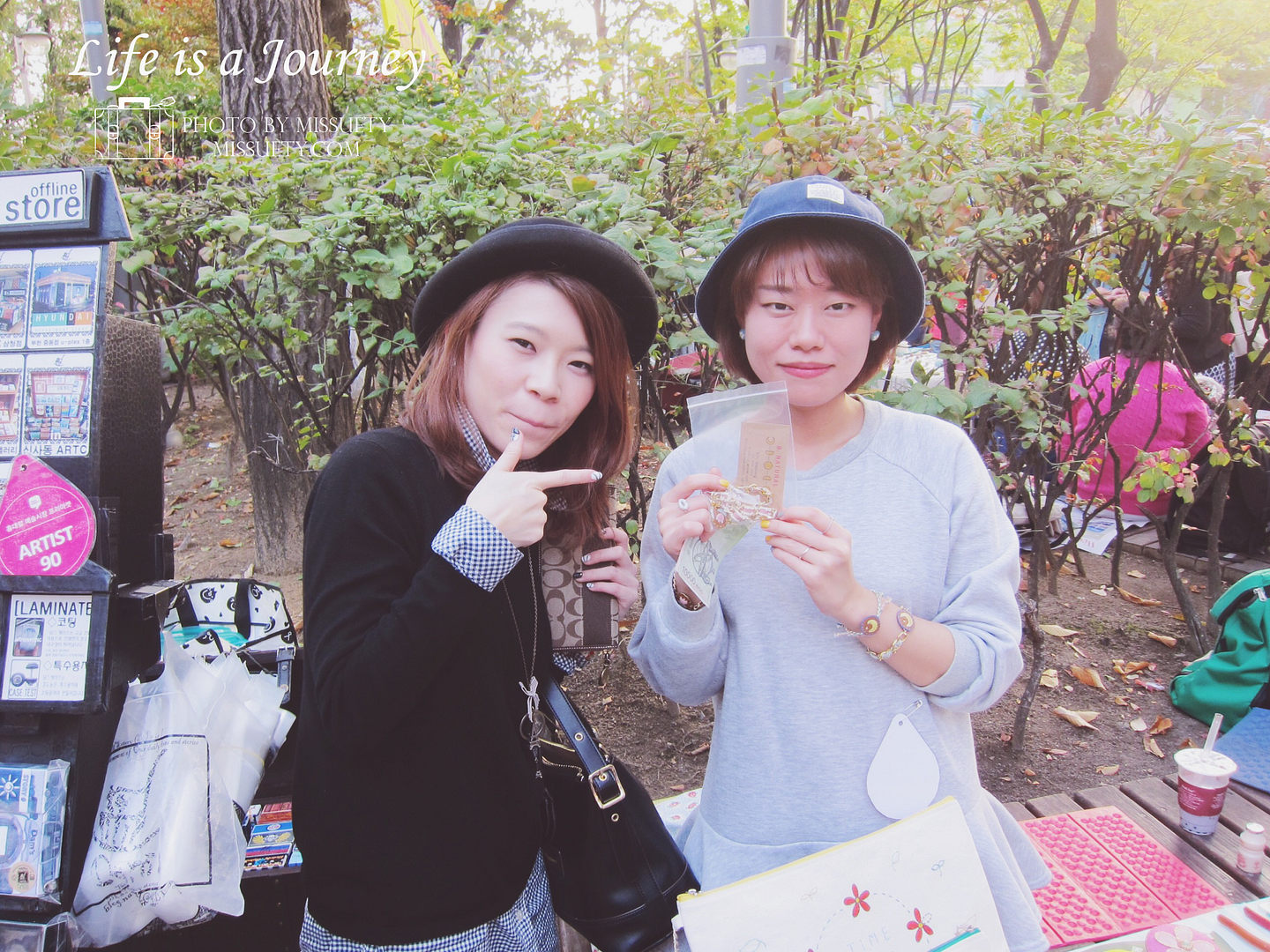 More vendors with ceramic crafts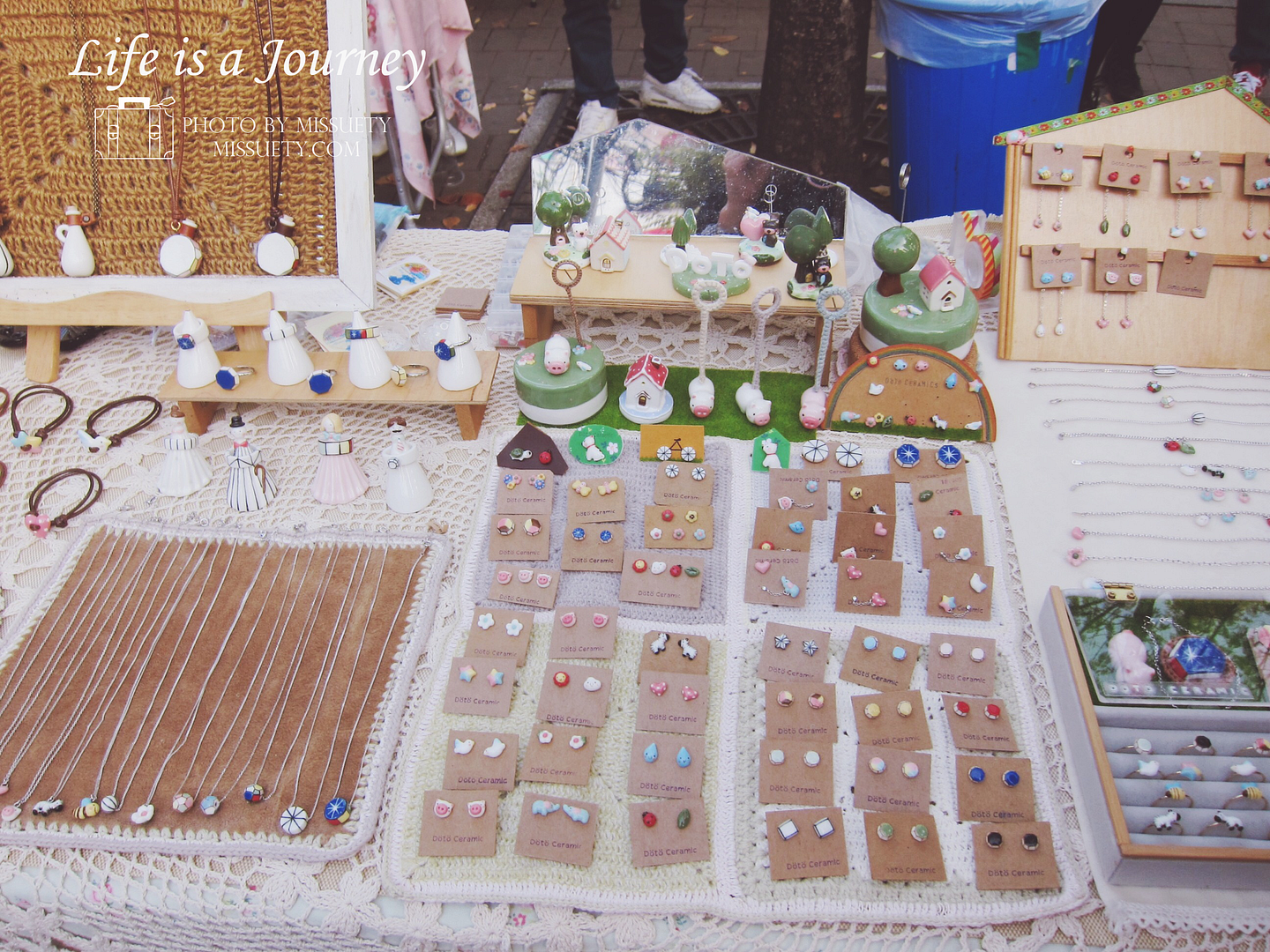 I find these necklace very unique but a little too pricey for me.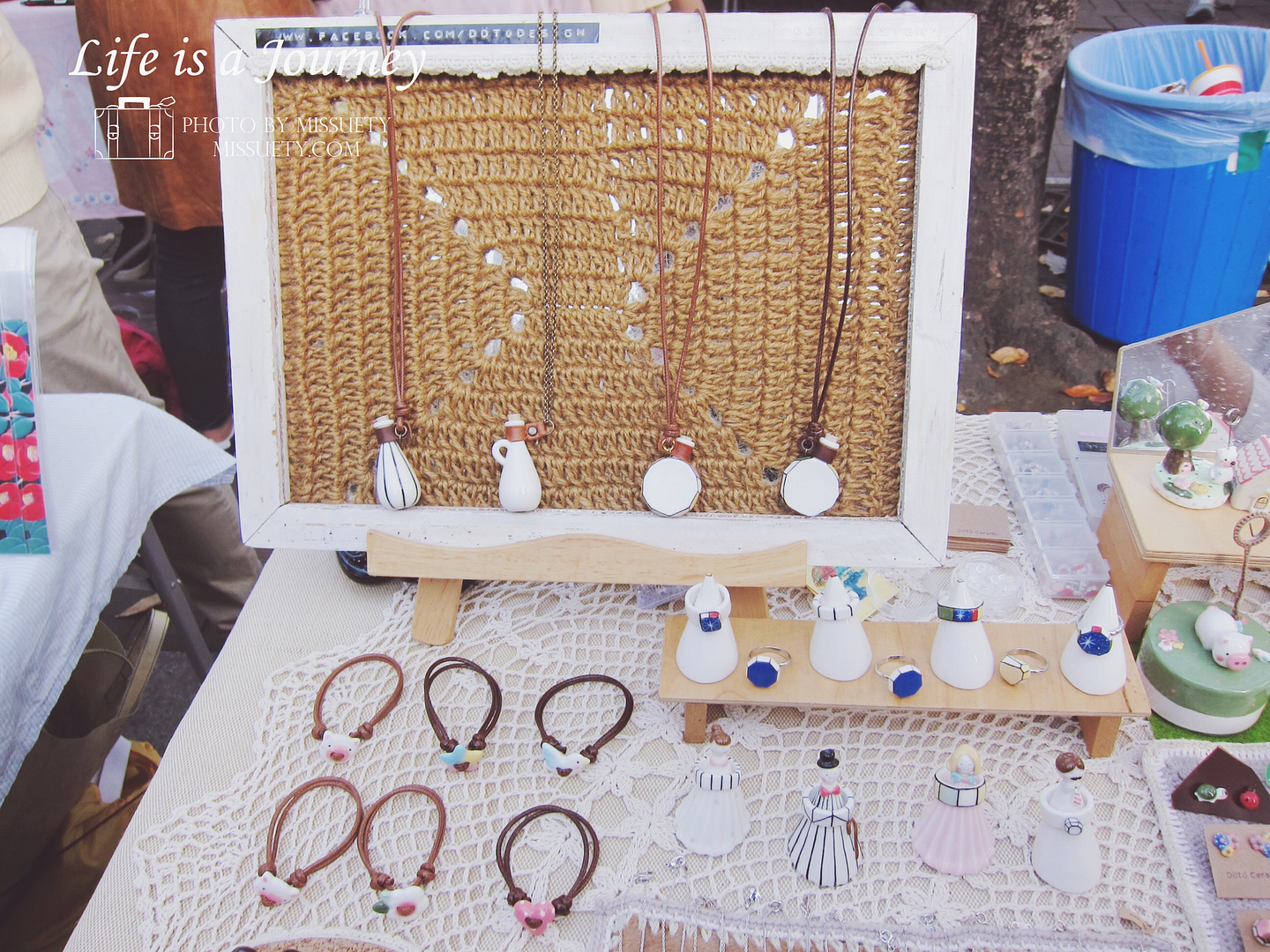 These tiny handmade earrings made of ceramic are very cute too.
and THESE!!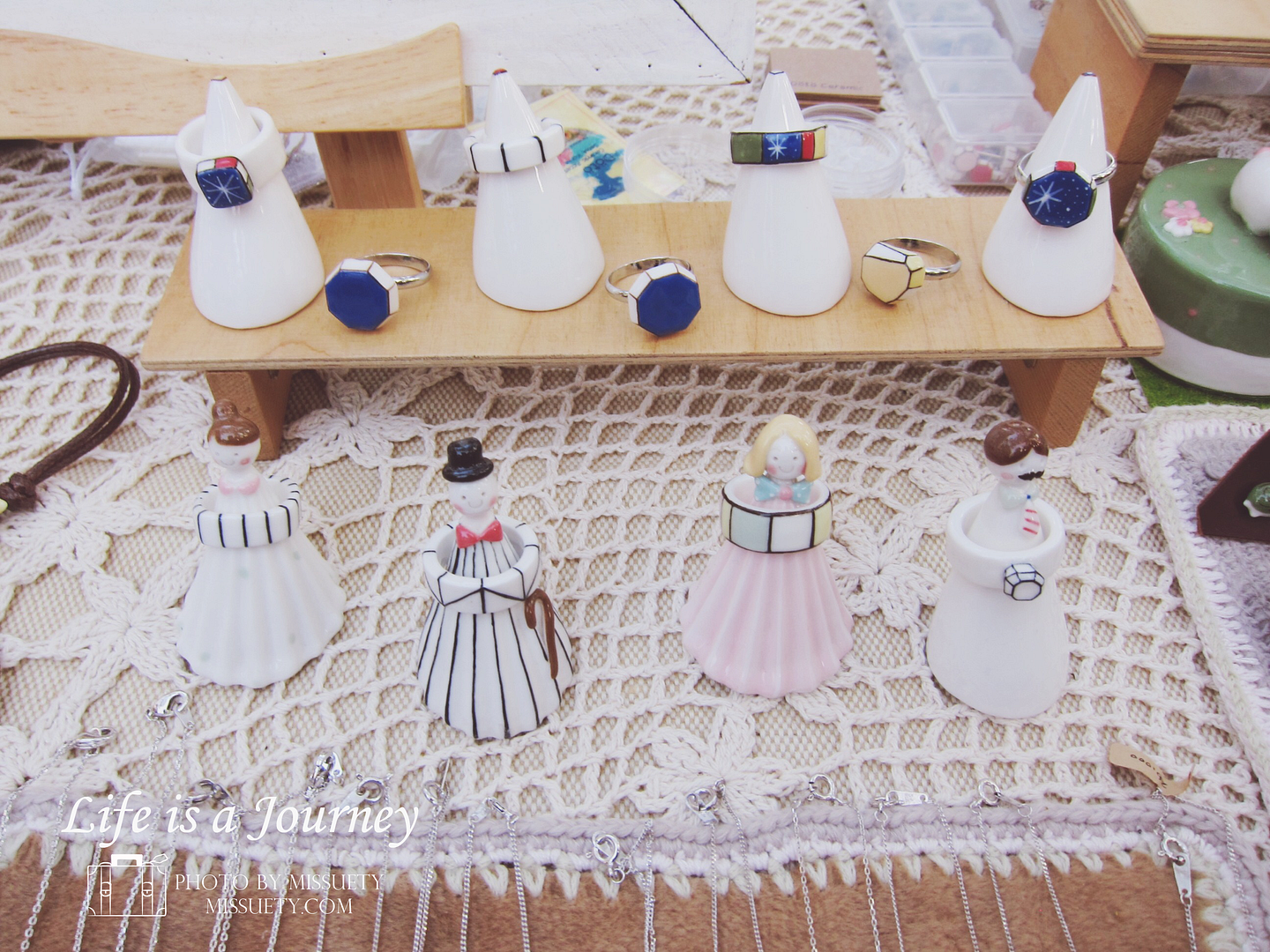 Are you going wild over all these now?
Well, we are!!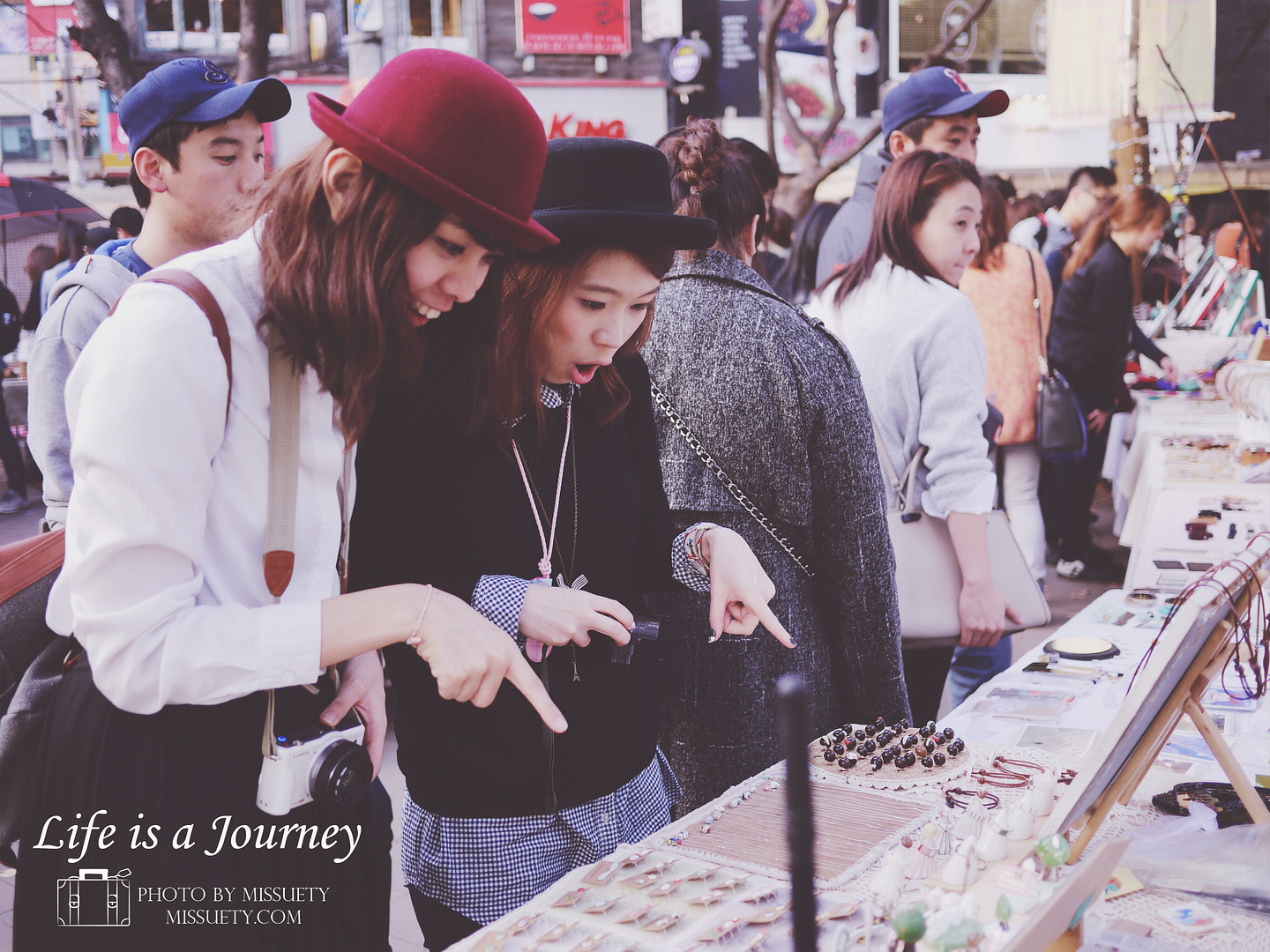 Anybody up for hand-painted caps?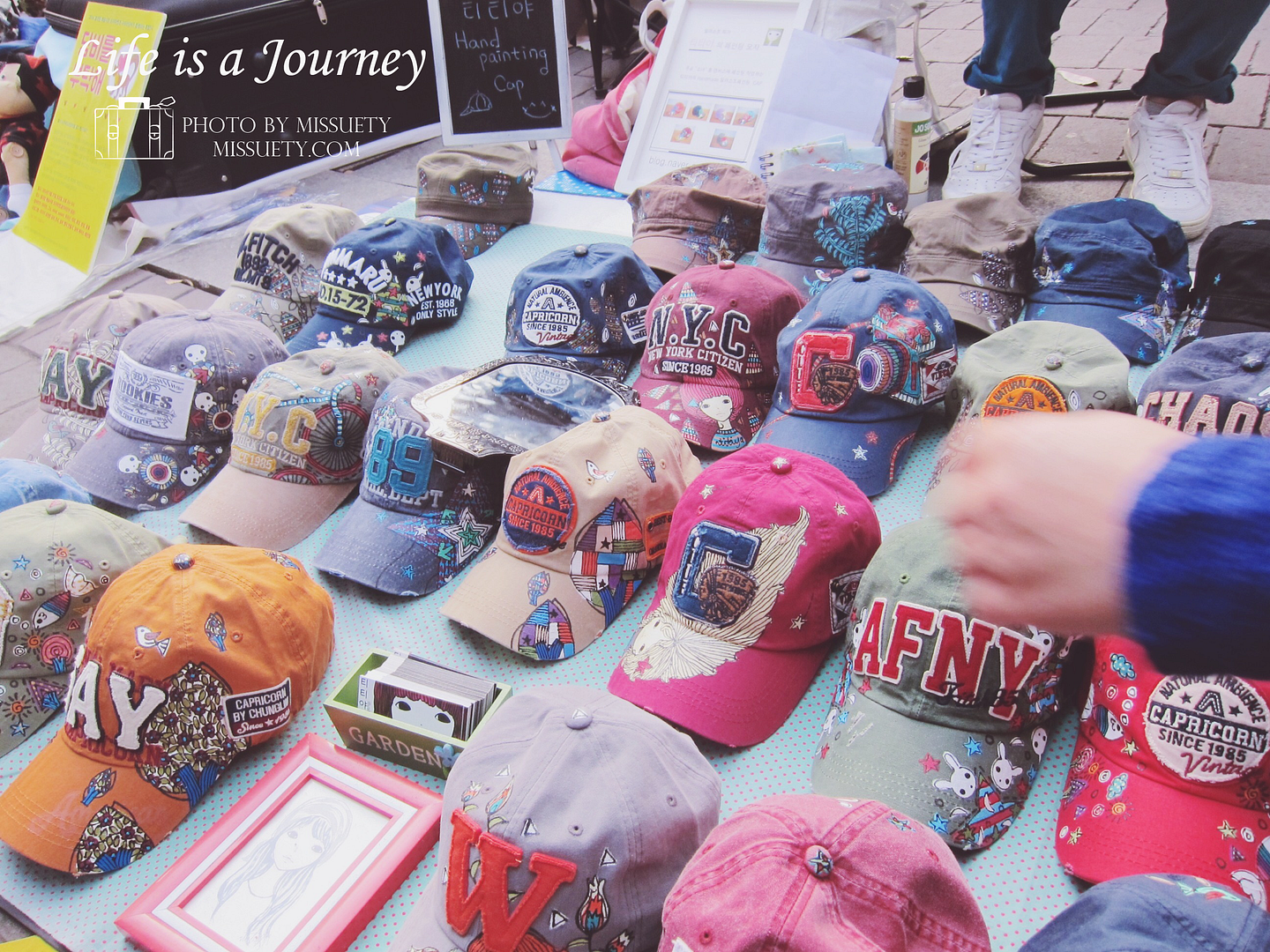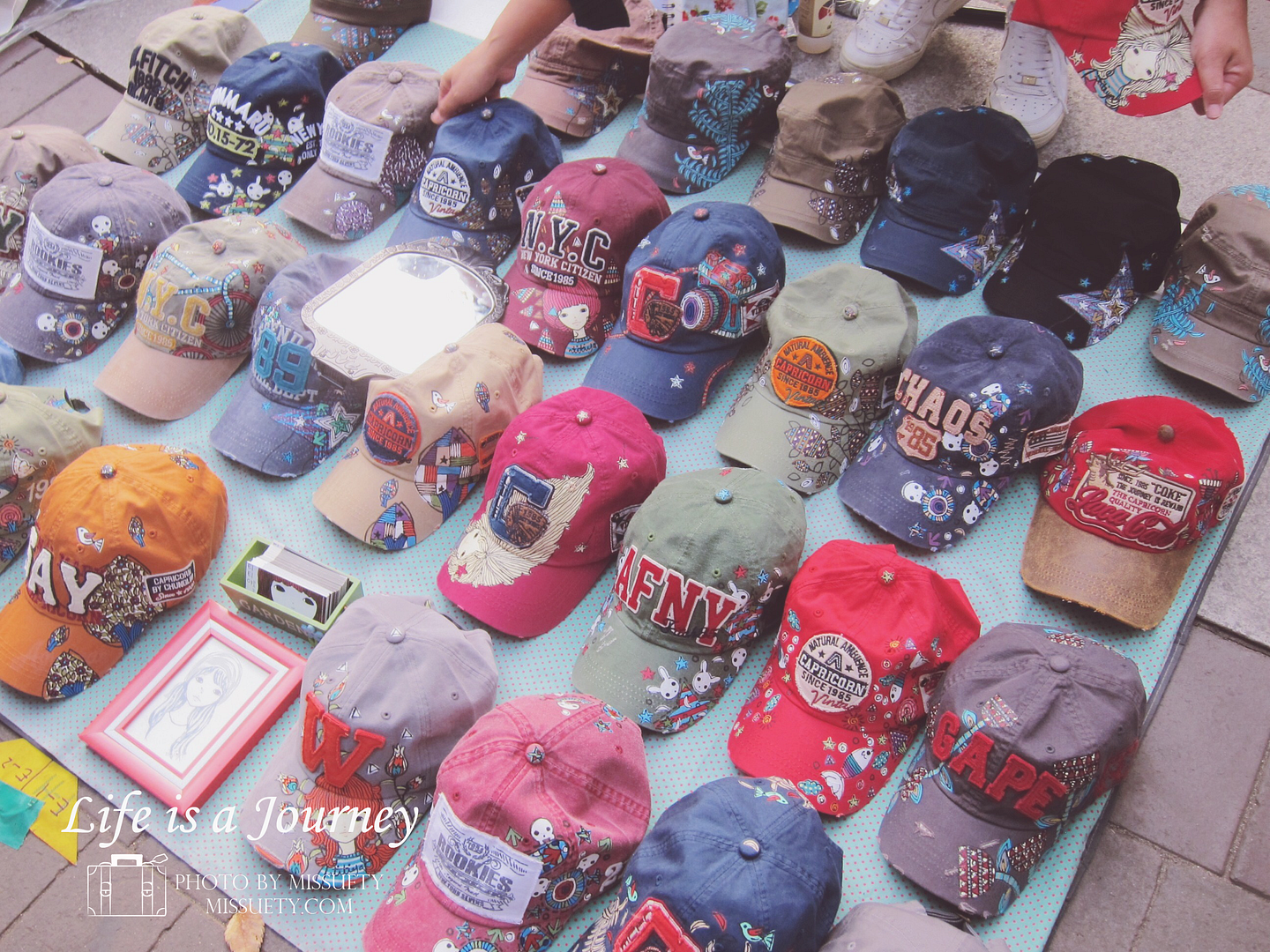 or maybe this?!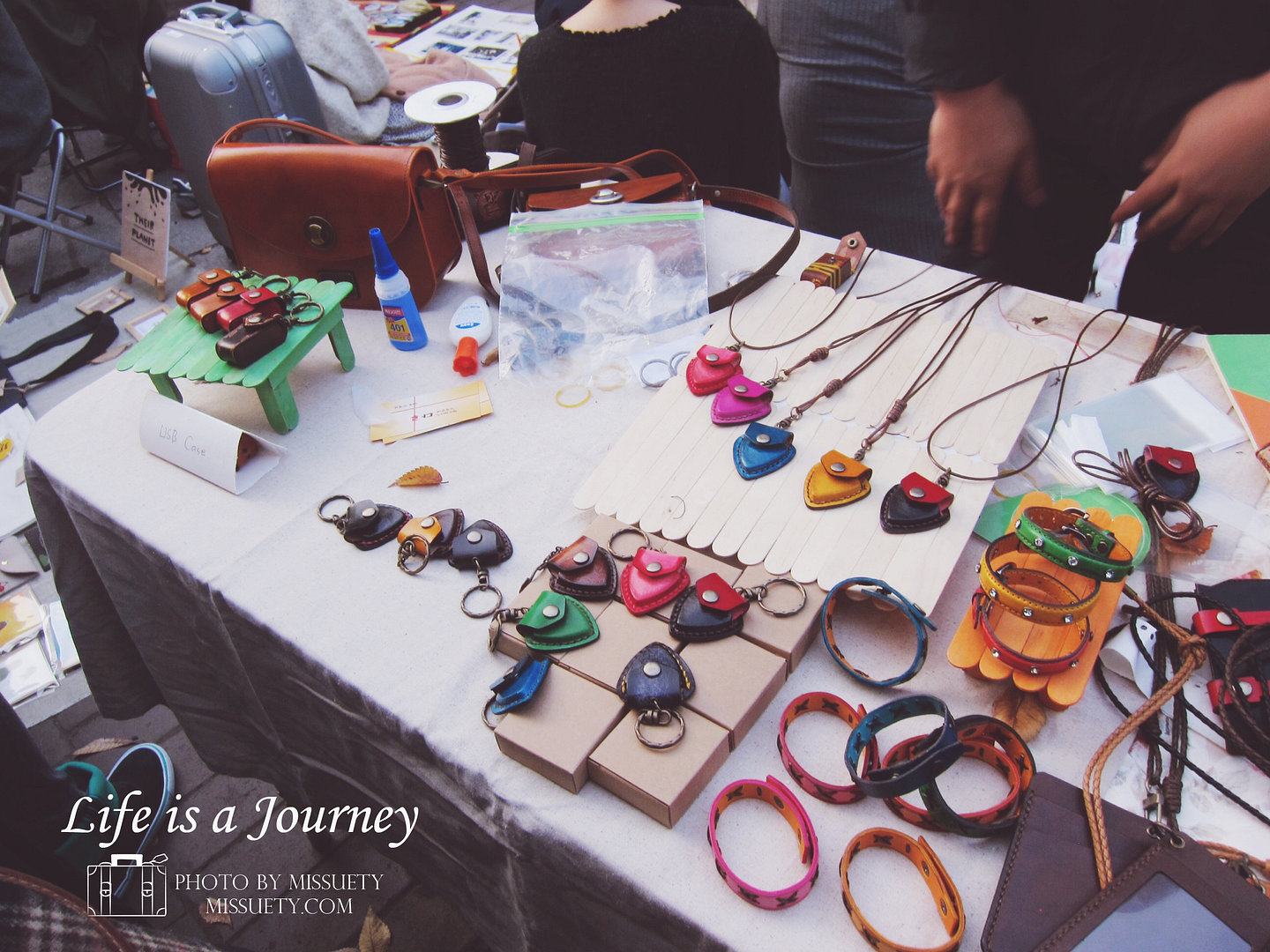 Nice vintage bag … They've even made a small bag to hold USBs!
Wow Wow Wow!
Looking for even more refined crafts?
What about this?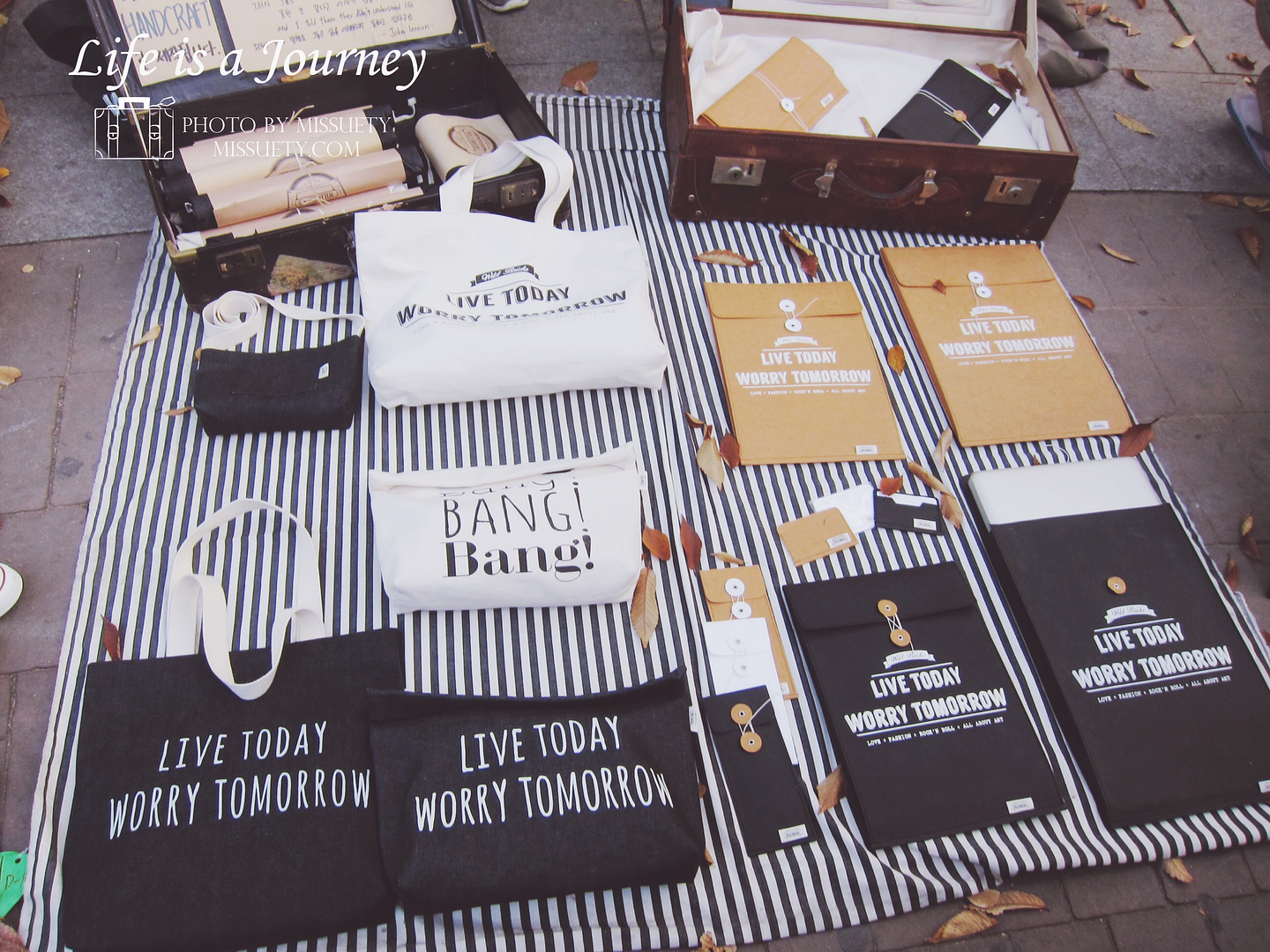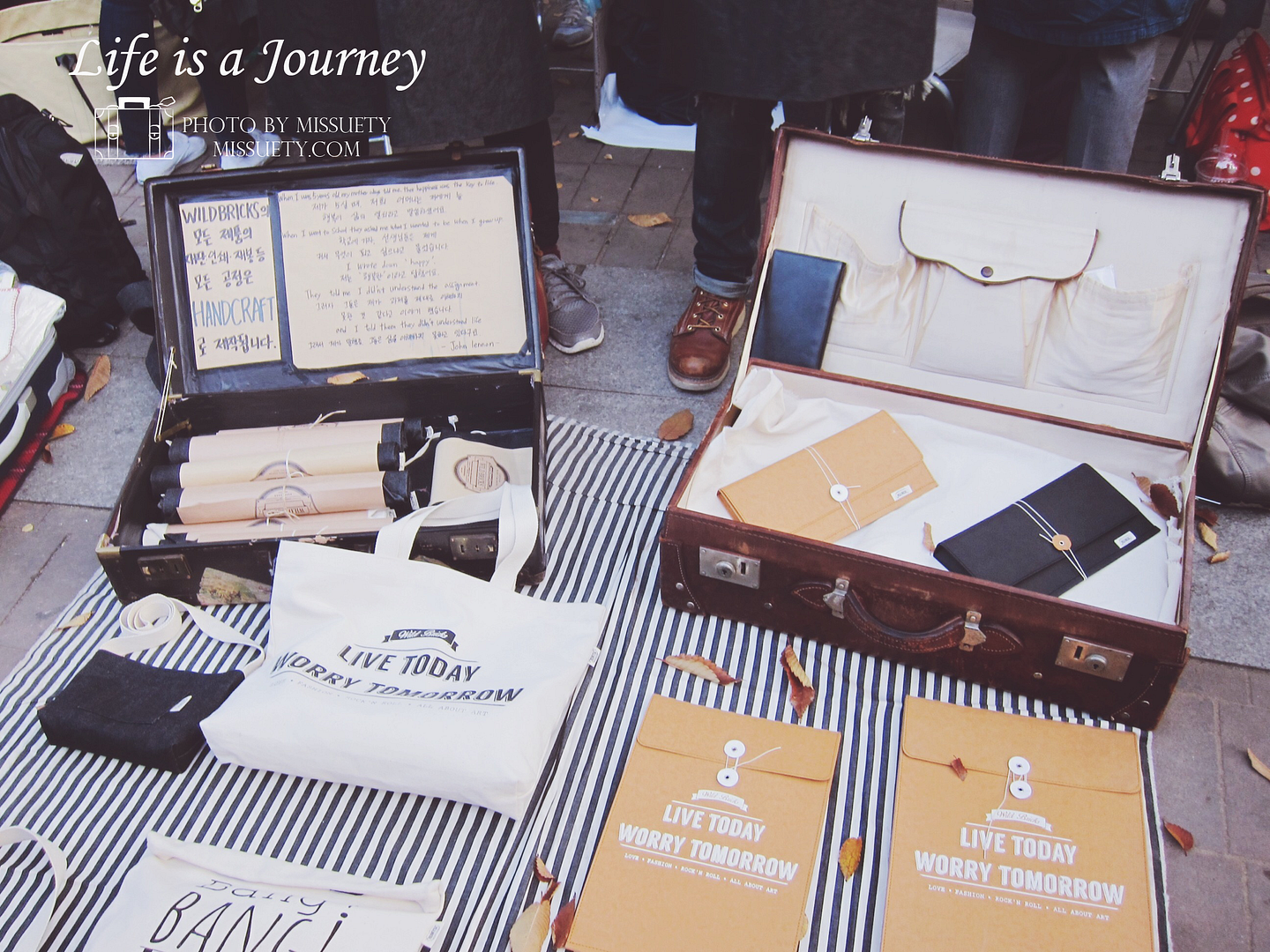 Many came by to ask for the price.
If I remembered correctly, I think the file-like case costed about 30,000 won (RM90 plus).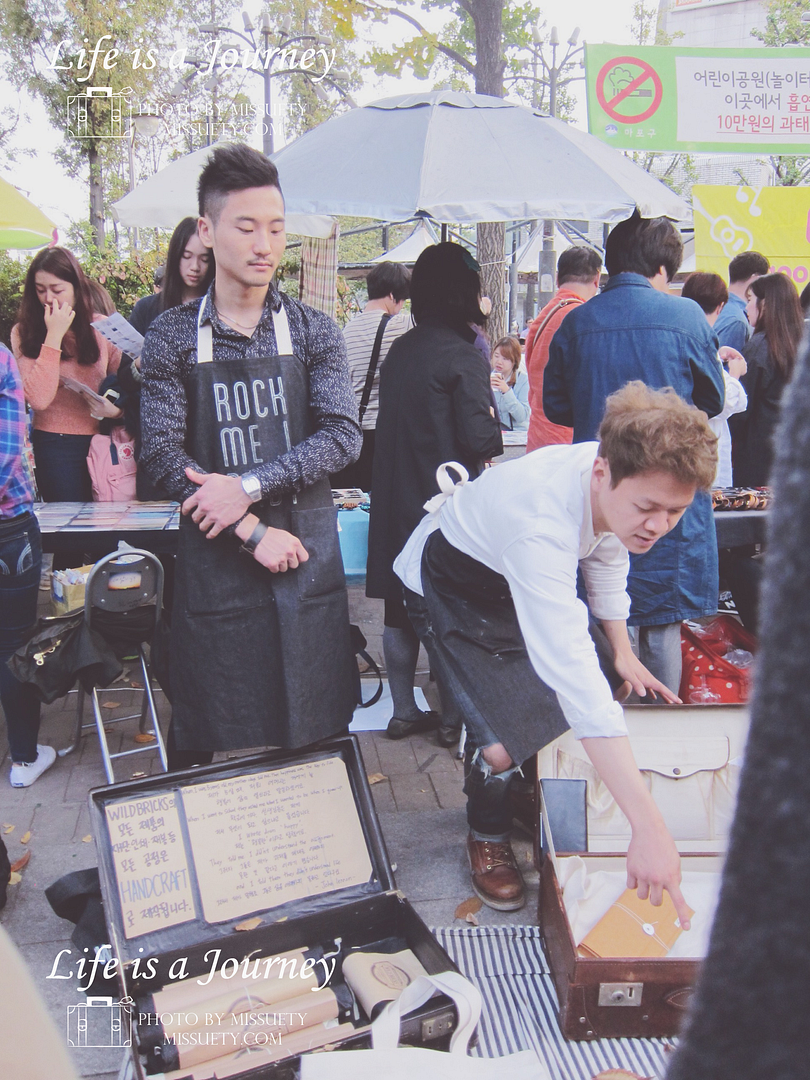 I saw this vendor again in another market in Sinchon the next day.
You may also come across a number of caricature vendors of different style in this market too.
Prices mostly starts from 10,000 won.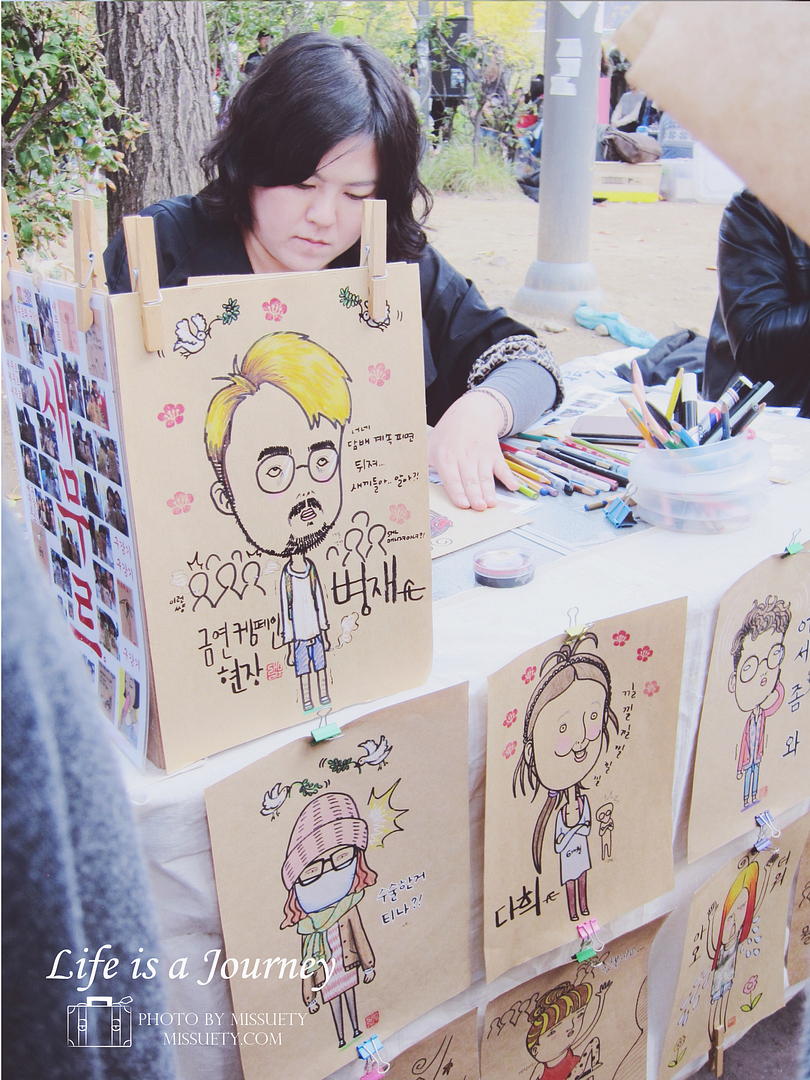 There were more than 15 of them.
If you're interested, you can drop by here for a 10 -15 minutes session.
That's all about Hongdae Free Market and we came here again the next day for the Hope Market which is only held on Sundays.
[divider type="thin"]
Hongdae Hope Market
(Same place & same time as the Free Market)
19-3, Wausan-ro 21-gil, Mapo-gu, Seoul
서울특별시 마포구 와우산로21길 19-3 (서교동)
Opens on Sundays: 13:00-18:00
(from March to November)
How To Get There: 
Hongik University Station (Subway Line 2), Exit 9.
Go straight (approximately 150m), and cross the street.
Turn left, and go straight towards the Hongik University entrance.
Turn right to arrive at Hongik Children's Park.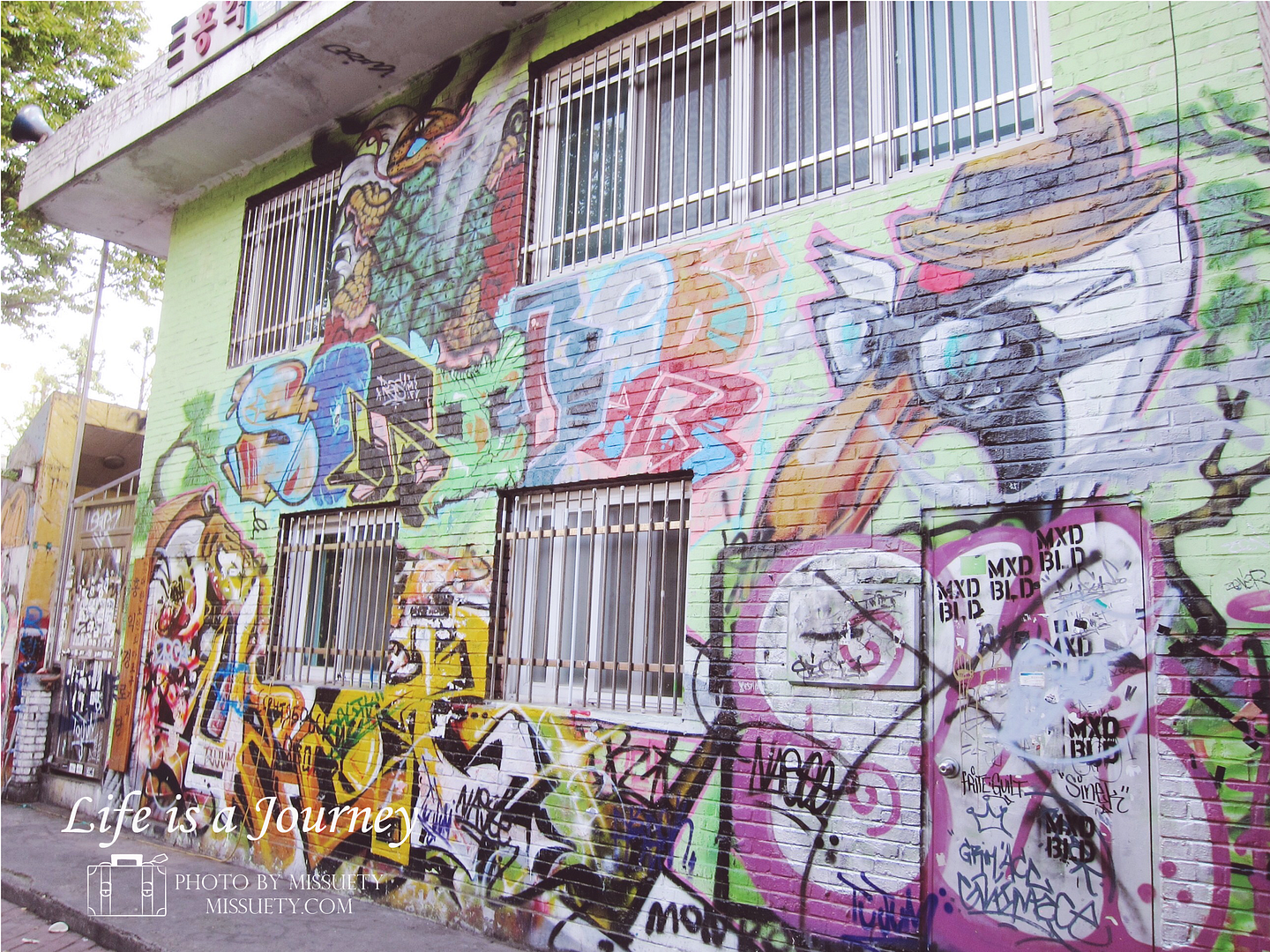 So on the next day which is the 2nd day of our stay in SEOUL, we took off few hours to come to Hongdae to visit the Hope Market.
Vendors are practically the same as the one we see during the Free Market with just a few of them who only come by on Sundays.
Here are the few that we came across which was a different vendor from the Free Market.
Pressed Flowers on bookmarks, cards and notebooks.
Used to make them when I was little.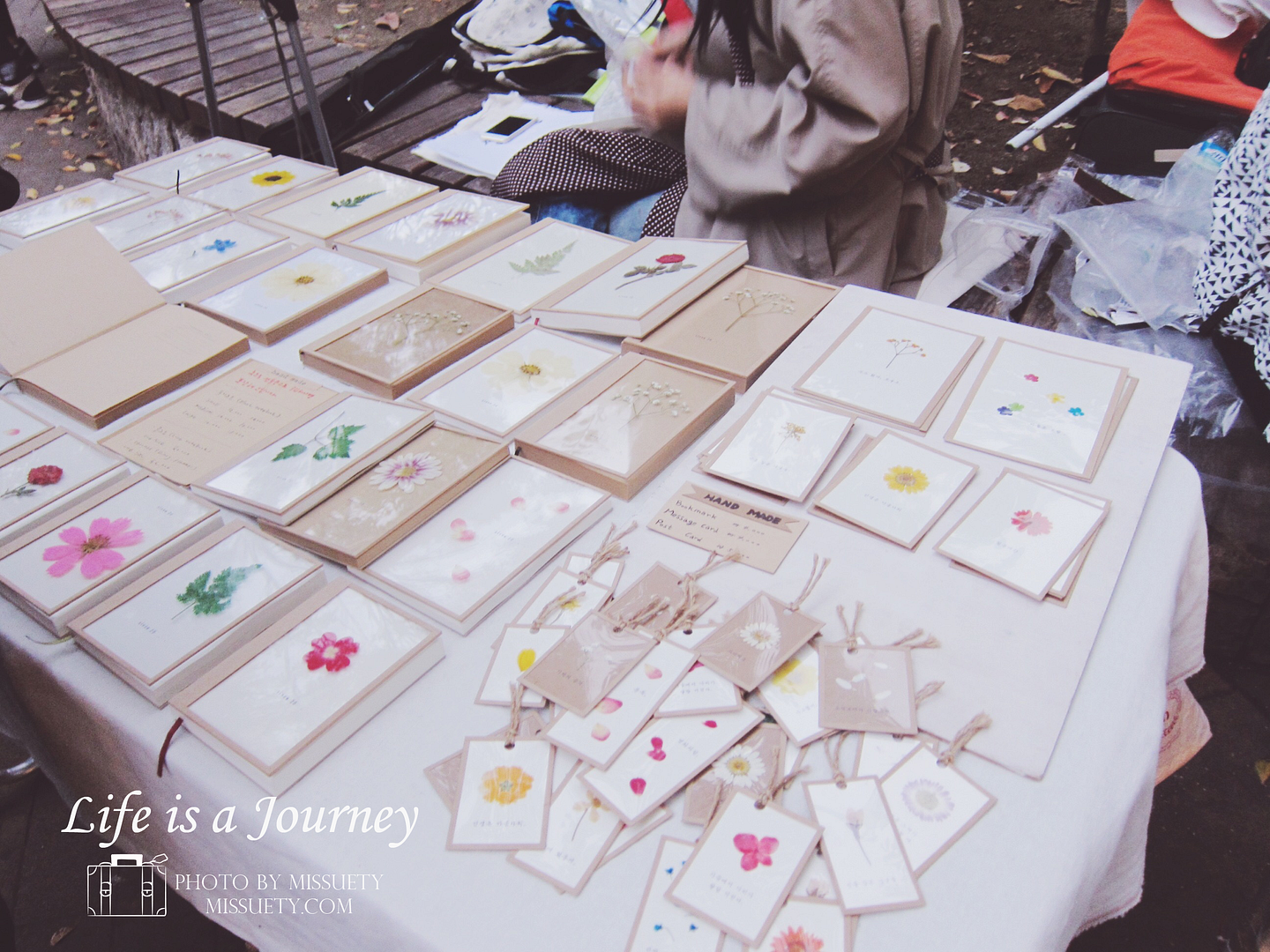 Crafted hair accessories
One corner for you to scribble all you want like no one's business.
There were some different caricature vendors that day and after all the buzz, I finally decided to get one of me and Mr. Pink.
The friend decided on this vendor first and later I decided to get mine from here too.
There are a variety to choose from where price starts from 2,000 won – 10,000 won.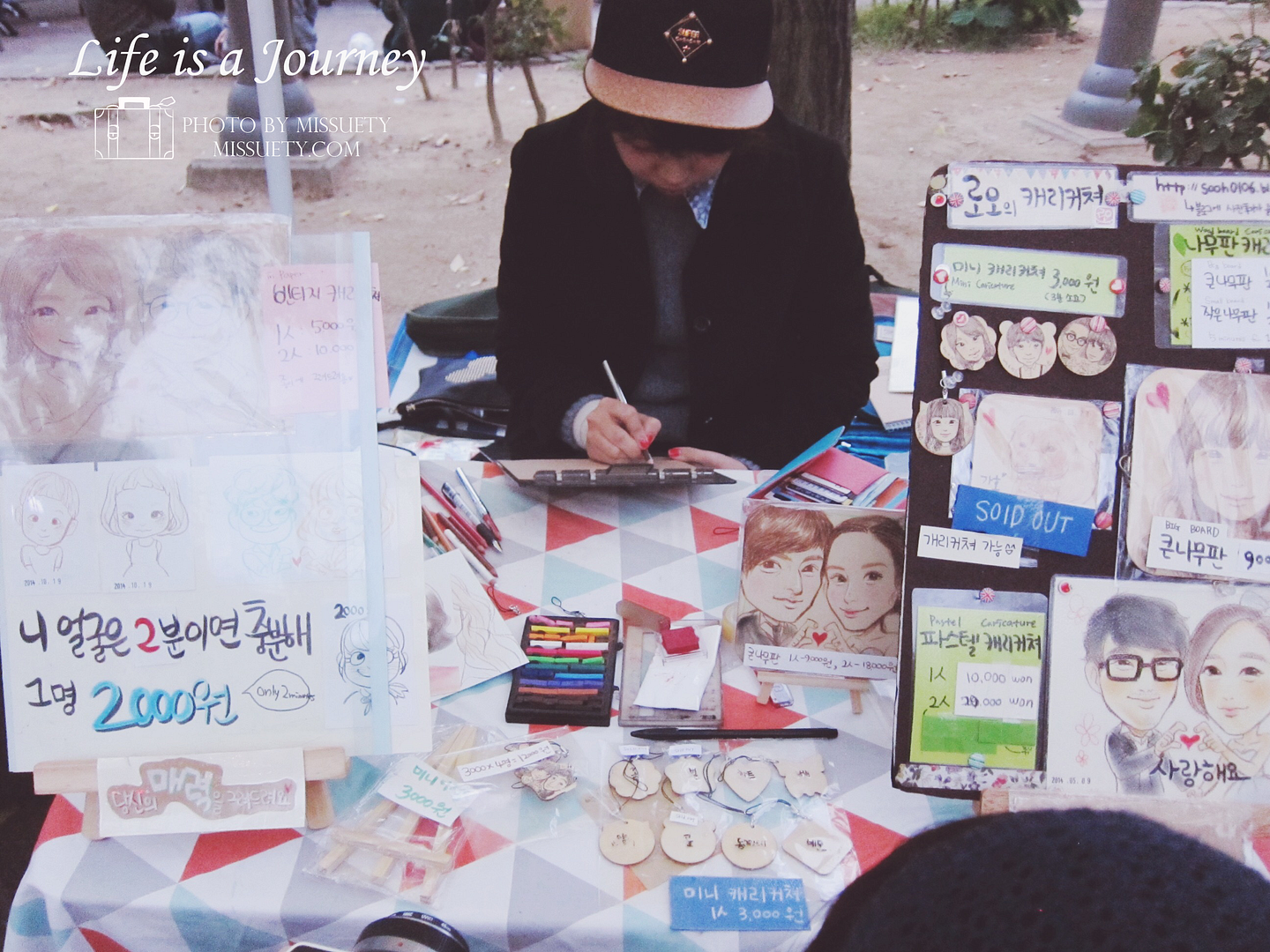 I think her's was pretty reasonable and her drawing style is pretty unique too.
Got mine done with a total of 10,000 won since one person costs 5,000 won.
Mine was LIVE and Mr Pink's one is from the picture stored in my phone.
In the process of drawing…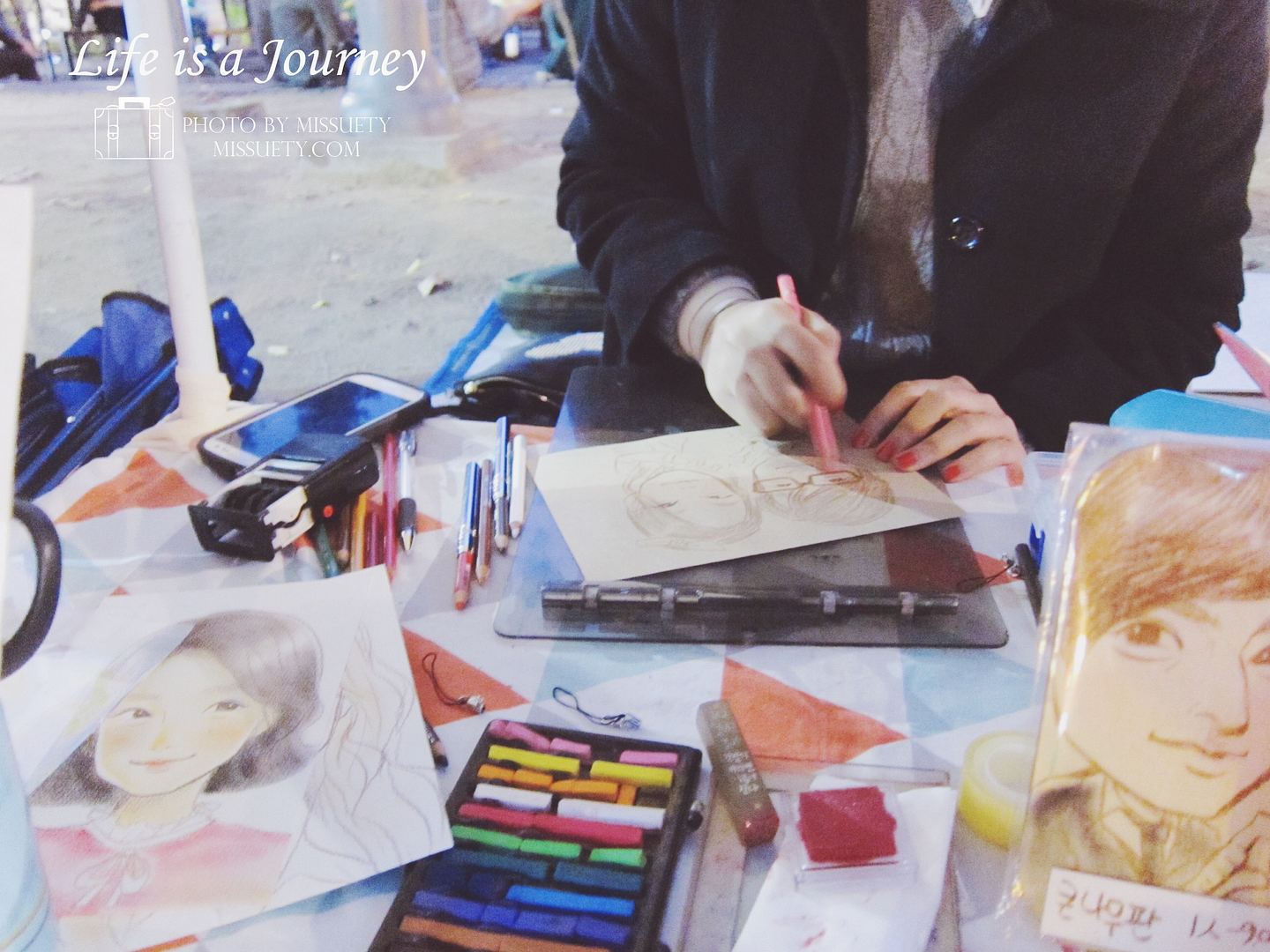 and refining…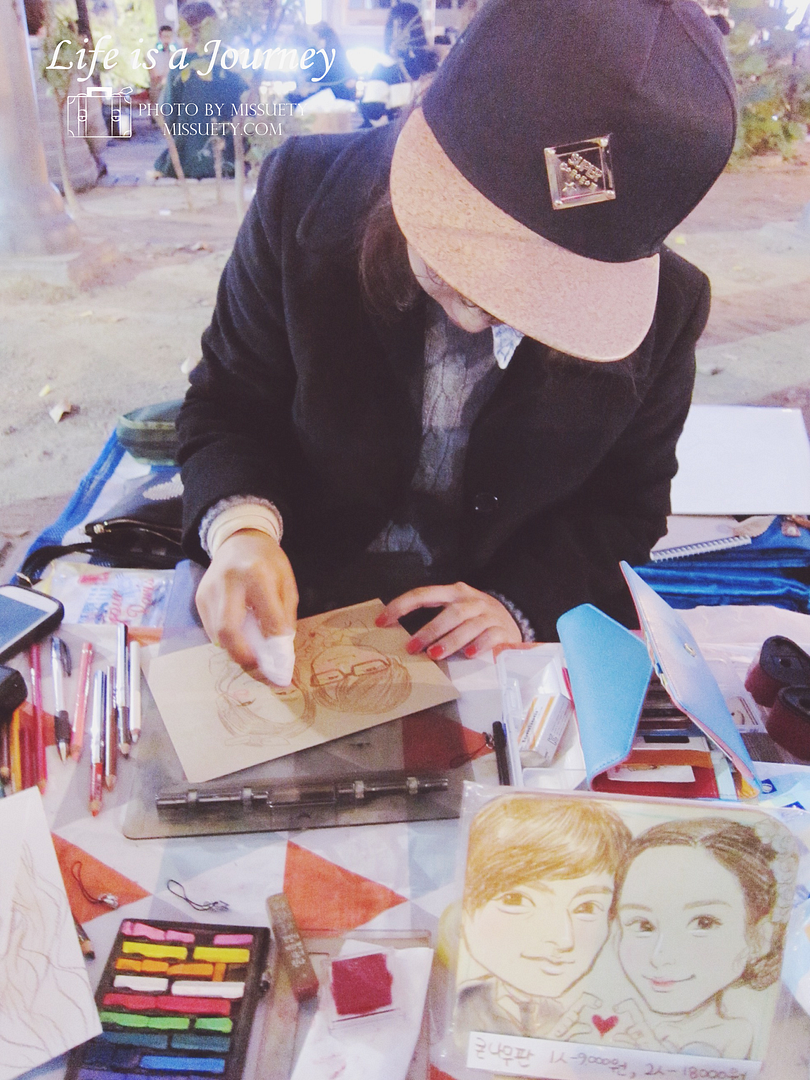 and TADA!!
We think that Mr. Pink is a little too cute!!
and Yay! That's my style of the day but not the blouse.
She was actually done for that day after drawing my friend's last piece but upon our request, she agreed to draw another 2 sets before she call off the day.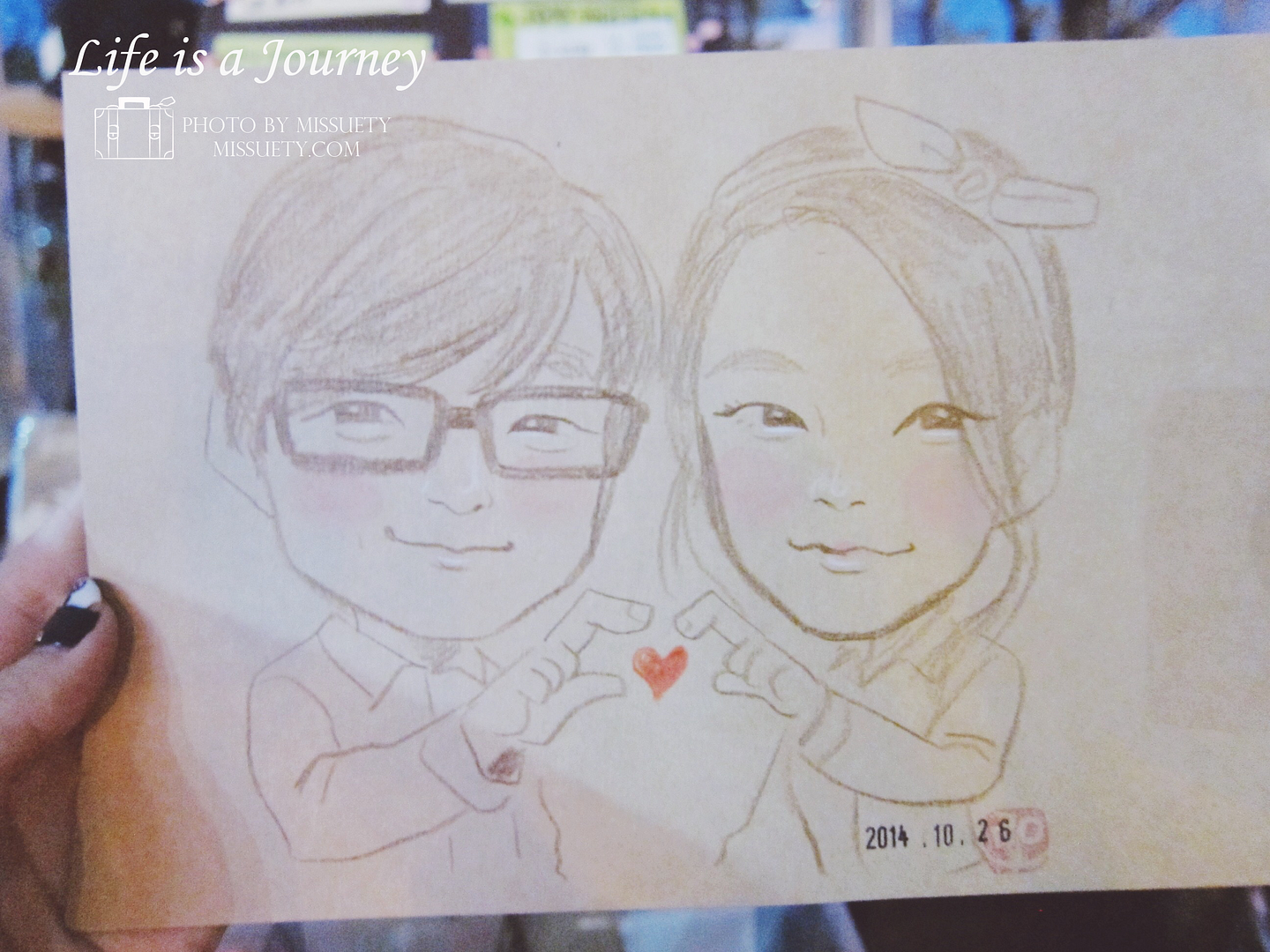 Last minute piece of artwork but still feeling thankful to her though I don't like the blouse!
My friend's one looks really nice too.
They both look so sweet and it was exactly how they look on that day!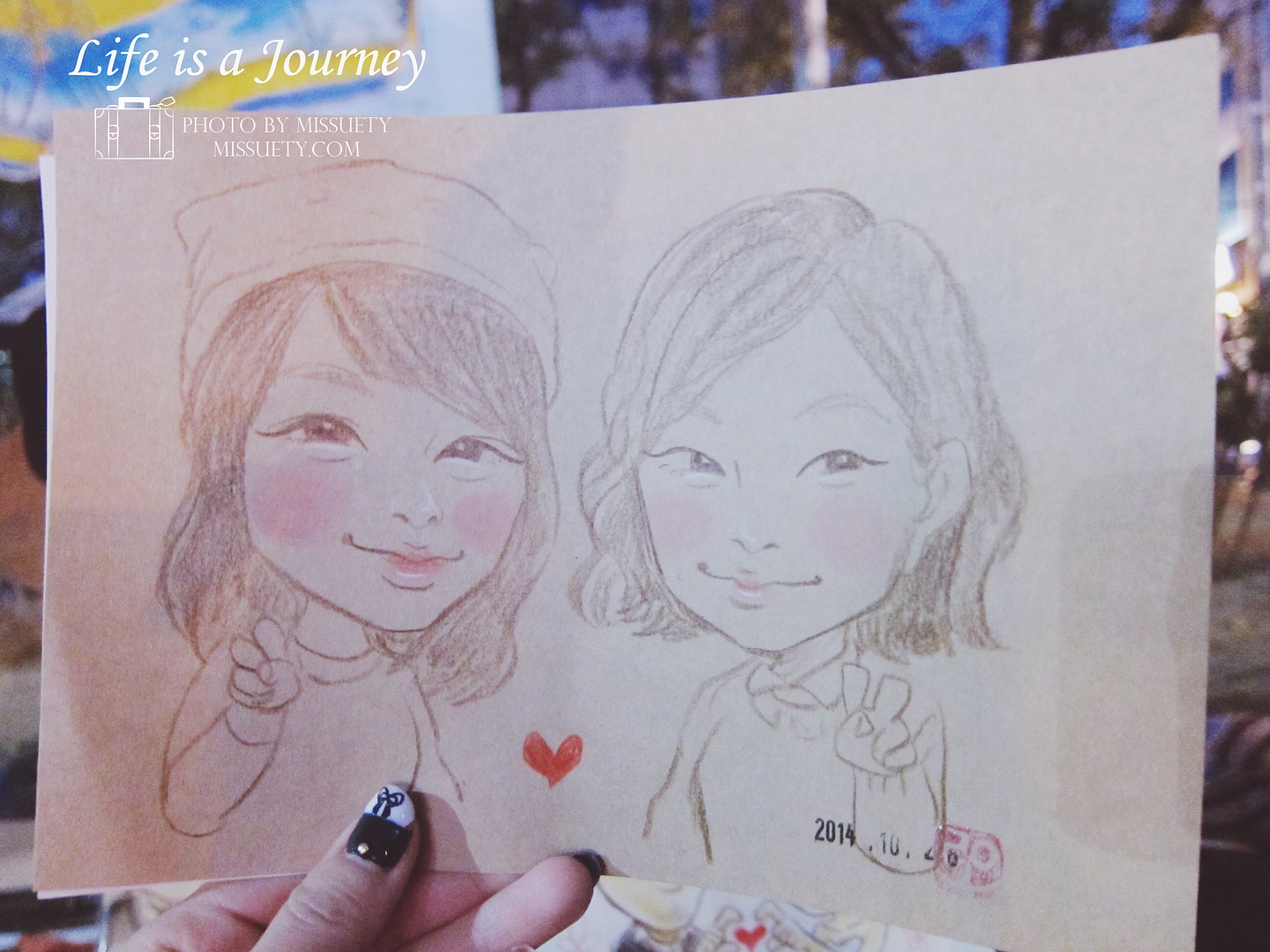 Another caricature vendor which I managed to capture on that day.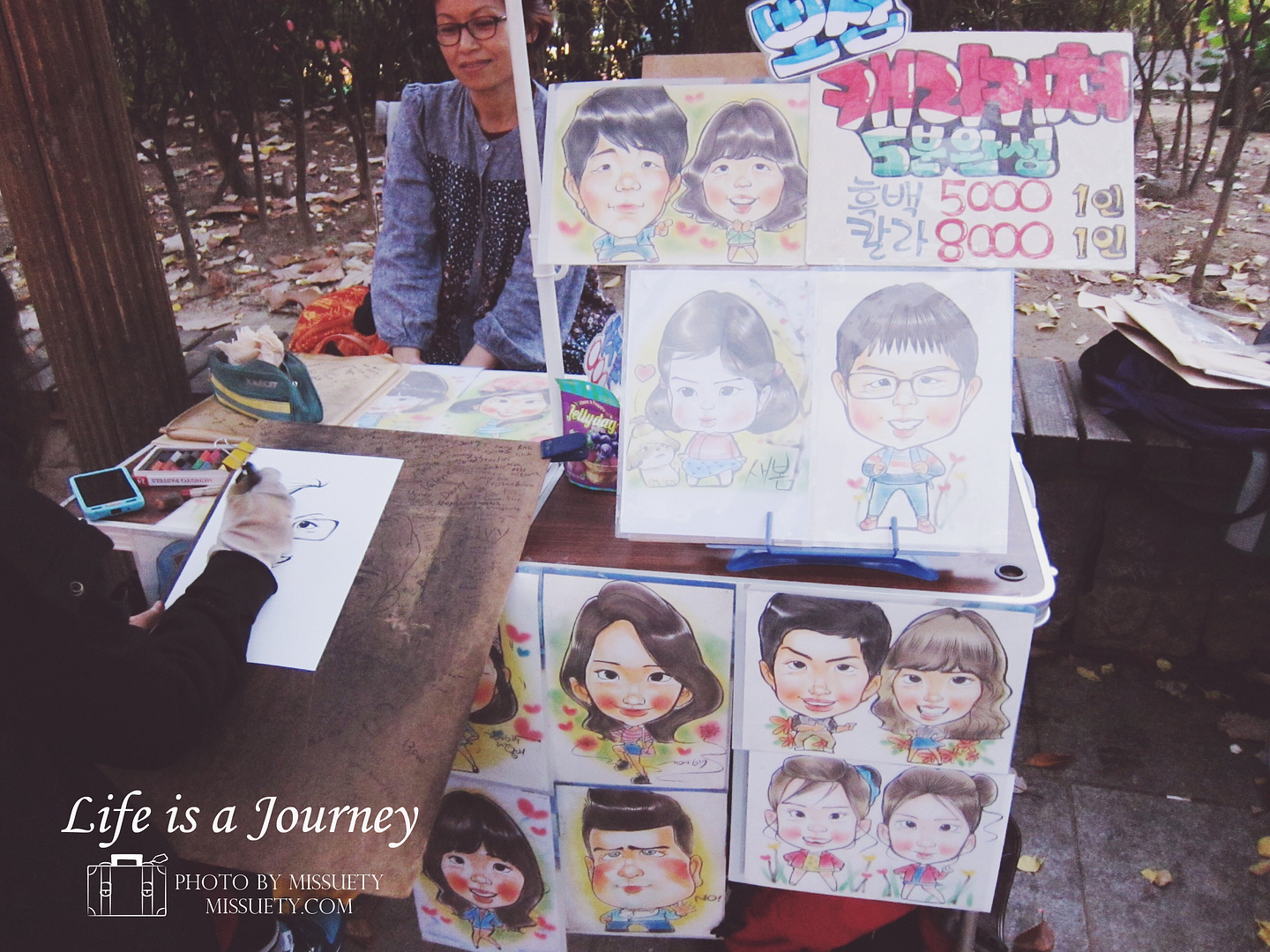 I think the price of the caricature vendors for the Hope Market is slightly more cheaper compare to the ones from the Free Market.
I'm not too sure either but you can try coming here both the days to explore.
Not only vendors to explore but also eye-catching street performers.
Too many talented people in this area which sometimes drives you to having more passion about the things you do in life.
A place which will kind of a bring inspiration and motivation to you I guess.
Art lovers will definitely find this place interesting!!
No other better art market than Free Market & Hope Market in Hongdae, SEOUL.
Definitely worth the visit!!
[divider type="thin"]
SEOUL Diaries Autumn 2014
Day 3:
Ihwa Mural Village
Day 4:
Gyeonggi English Village
Heyri Art Village
Provence Village
Day 5:
Namiseom Island
Petite France
Day 6 FINALE:
Samcheong-dong
Bukchon Hanok Village & Ssamziegil