Paul & Joe Spring 2014 Makeup Collection
Paul & Joe Spring 2014 Makeup Collection
Hey Ho! I've got another bunch of pretty things to share…
Just read on to find out more..
A super late post which I'm supposed to put up months ago but due to the hectic schedule I've put a pause on cosmetic review for a short while.
Despite the hectic schedule and all, my face just can't pull off with it and I started to get breakouts and such..
So finally now, after 6 months I can proudly put up this post to share it with all cosmetic lovers.
This is my first ever encounter with Paul & Joe Make-up products and I would say that it's not as good as I thought it would be.
I love the packaging and designs but certain products are not up to what I've expected.
Anyways, they aren't too bad to give a try cos who knows you might love it.
There are certain items which I do recommend though..
All you have to do is read on and find out more about my Paul & Joe Spring 2014 Makeup Collection!
This whole collection is from the Spring 2014 collection which was sold in Japan.
I got all from the airport except for the cat case and eye color trio.
Practically, the whole set is a VALUE BUY set for 8,000yen which includes;
BLUSHER – CASE OF YOUR CHOICE – FACE POWDER
with freebies of
NOTEBOOK – CAT PRINTS RECYCLED BAG – HAIR & BODY MIST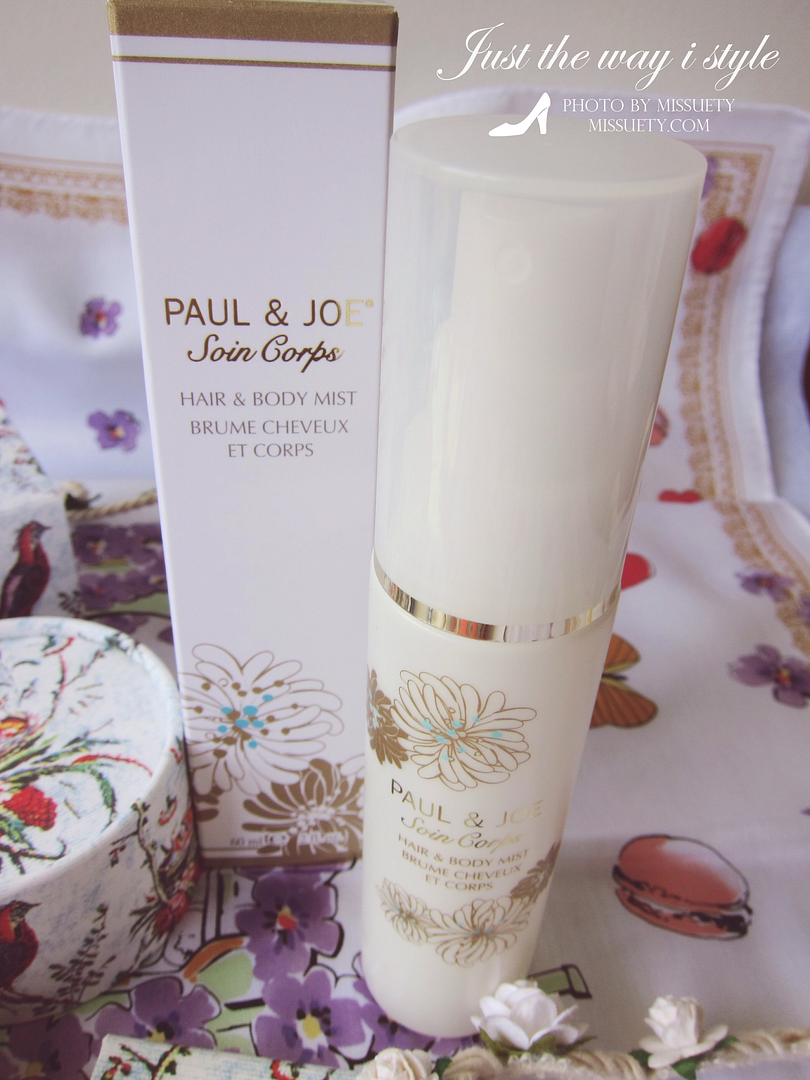 It was especially cheap compared to getting individual items alone.
And the above Hair & Body Mist is a superb item which is one of my hair rescue item as I can't really stand having my hair smell like rotten fish.
So let's get started with the
Face Powder S (Limited Edition)
Spring's sweet song of the robin gives inspiration to the newest Face Powder from Paul & Joe Beauté.  This bird's nest-inspired packaging houses a face powder that mixes four gentle tones of blue, white, pink and yellow to give a balanced blend for a beautiful complexion.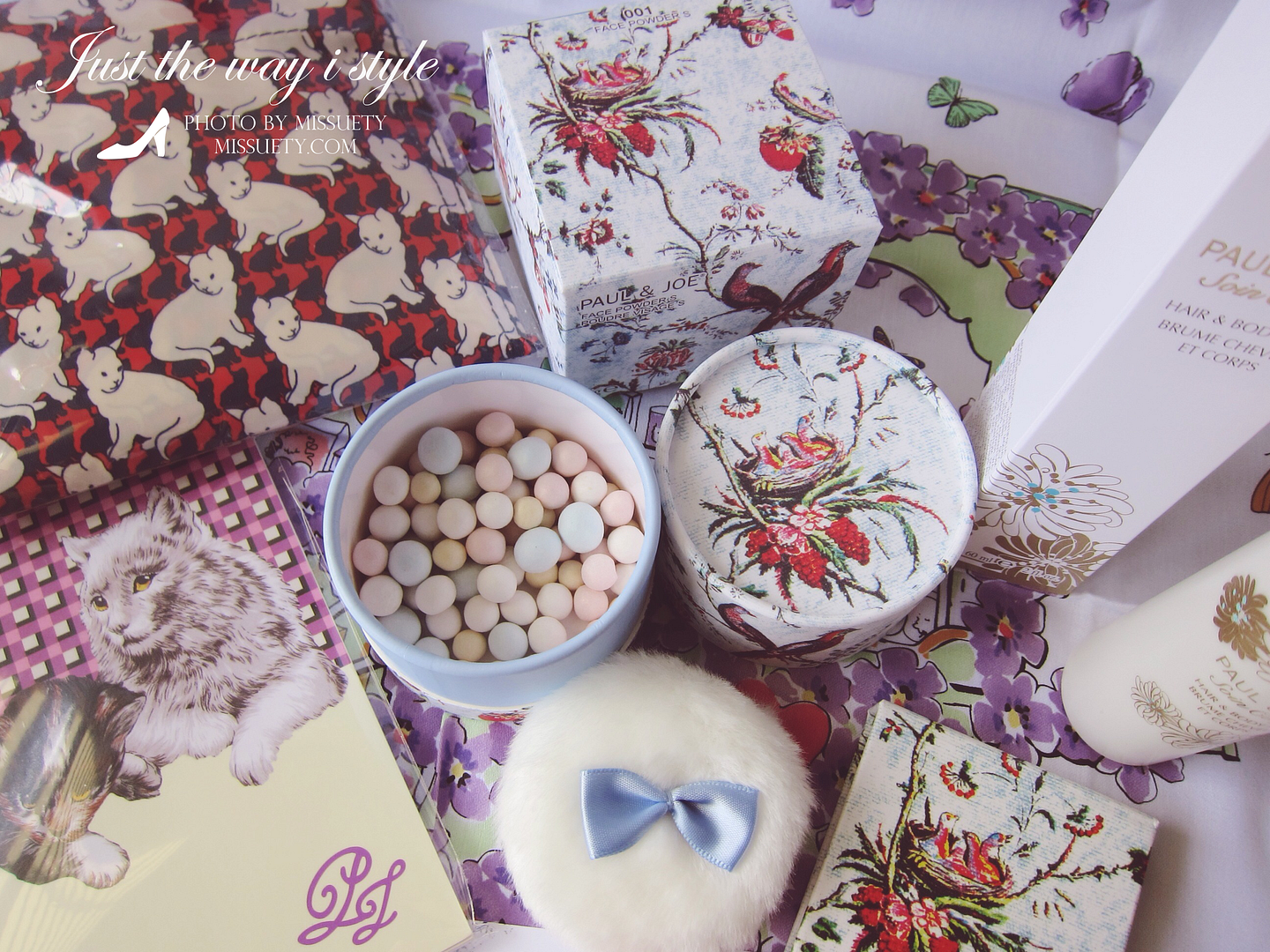 I find this item very interesting cos the face powder are in pastel colored balls or whatever you wanna call them and I haven't tried any face powder like this before.
So here goes..
BEFORE with Base & Foundation only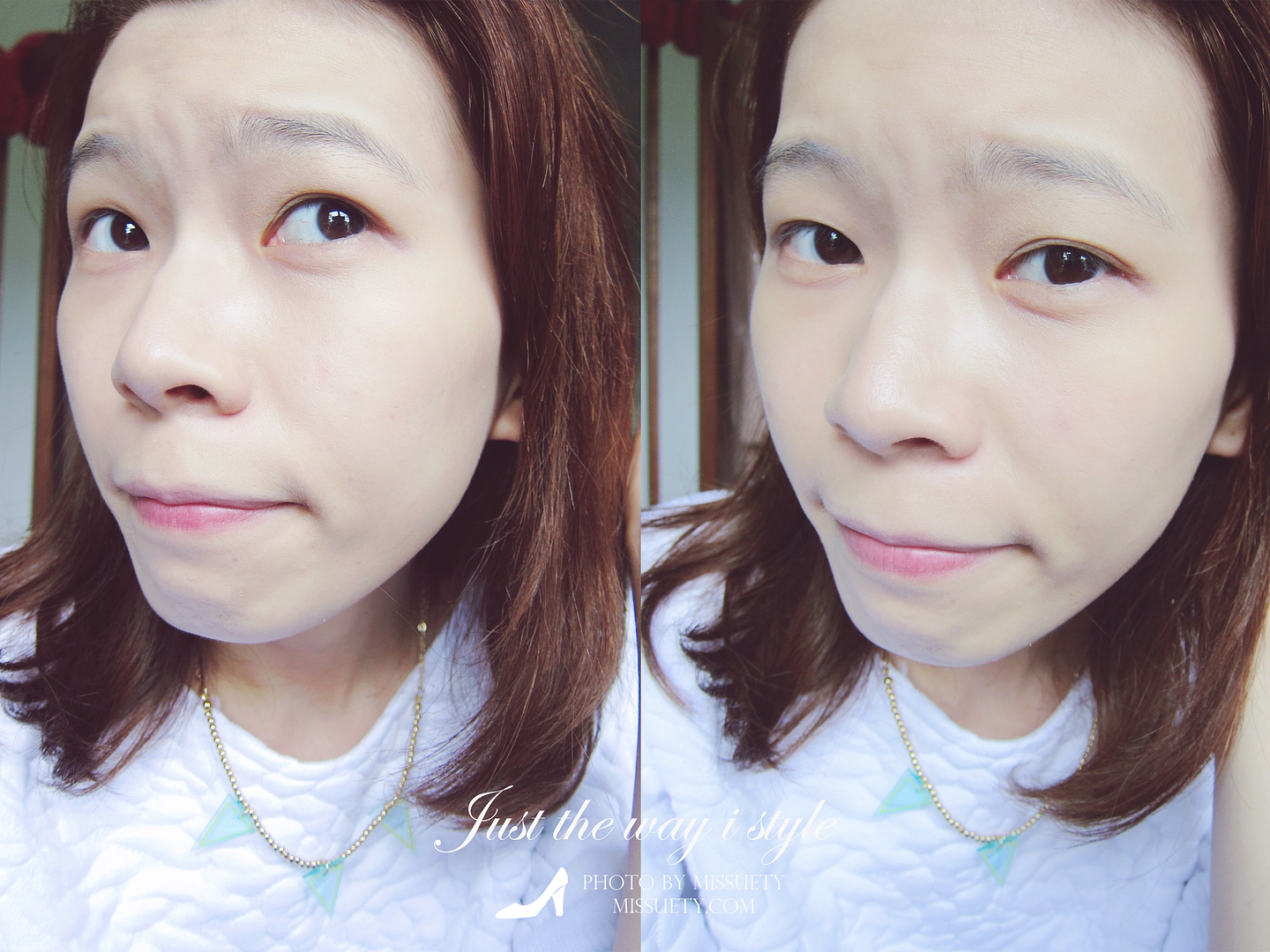 AFTER with Paul & Joe's FACE POWDER S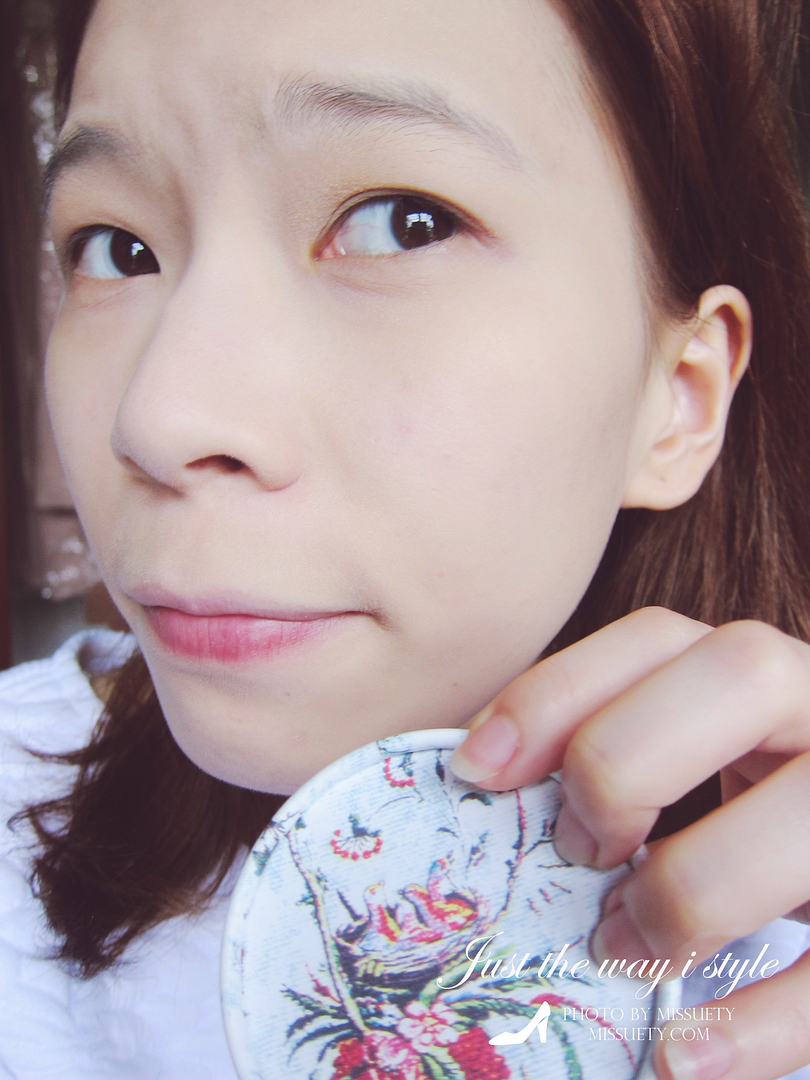 I actually don't feel and see any difference except I think my face smells spring sweet?!
Well, I don't know… I still feel I will have to cover it with pressed powder for better coverage.
You can do the judging from my pic above.
As for the Eyeshadow or so called
Eye Color Trio & Eye Color Trio Compact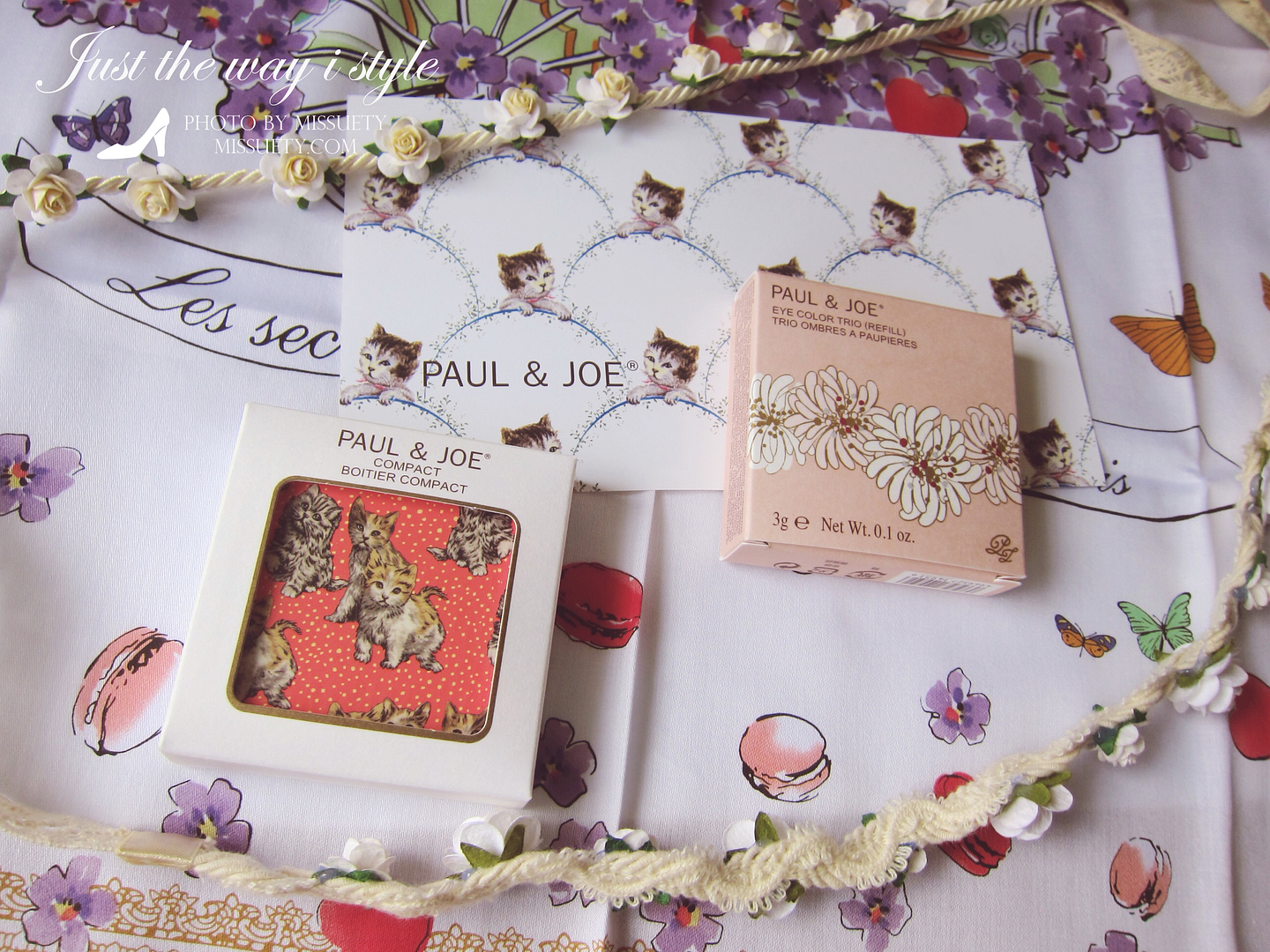 I got the spring shade in;
05 Cherry Blossom – Natural shades of pink, gold and brown blend for an effortlessly chic look 
I love using pink eye shades with a mix of brown and gold for my everyday work look.
So easy to mix around the 3 shades and they blend really well together.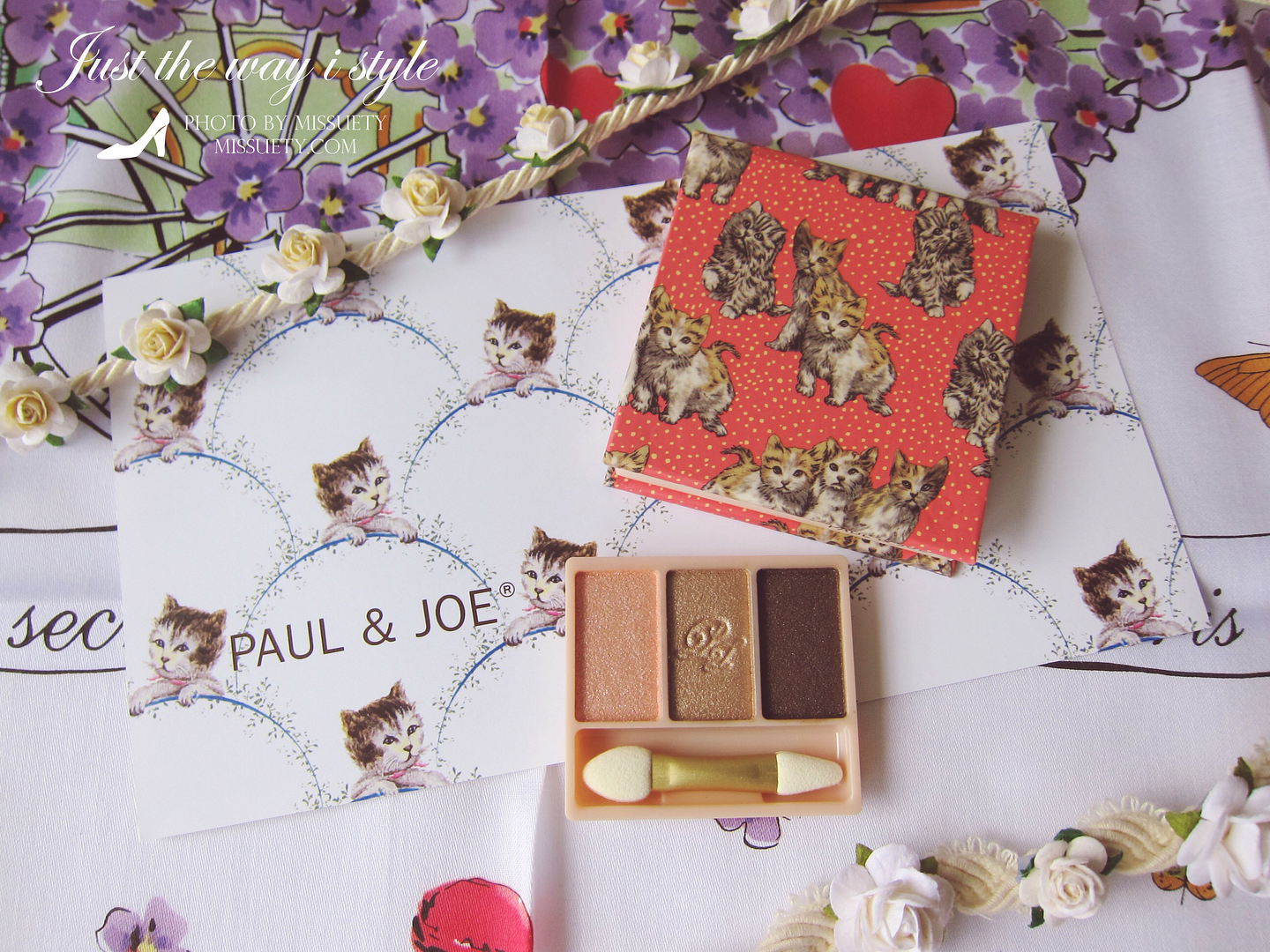 I got the Kitty Compact to hold on my eyeshadow.
So pretty that I handle them in so much care fearing the dirt and residues will stain on it.
I've captured tons of pictures of the compact case, so just scroll down to enjoy the lovely design of this compact.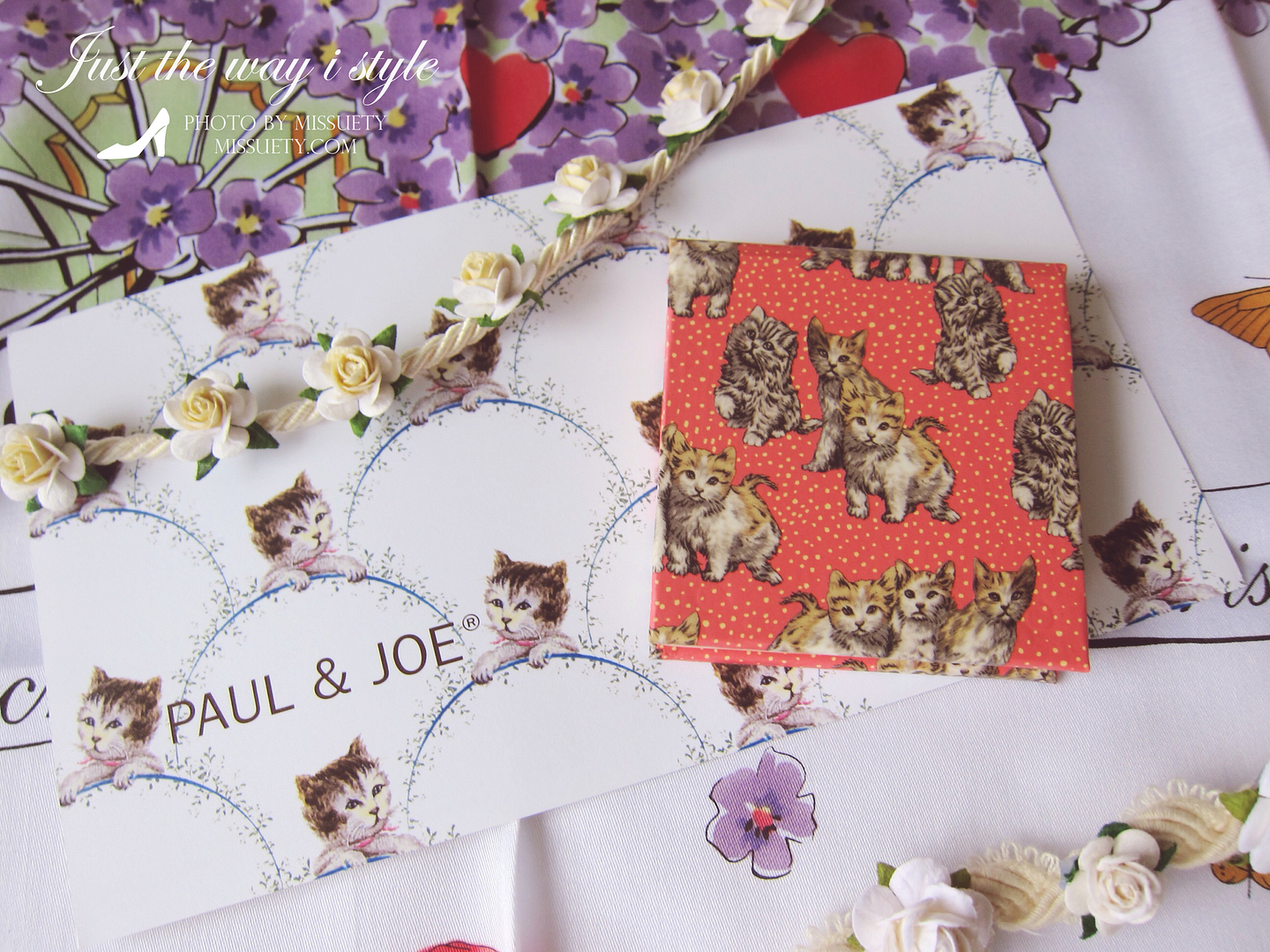 This feels more like spring with the bird cage deco?!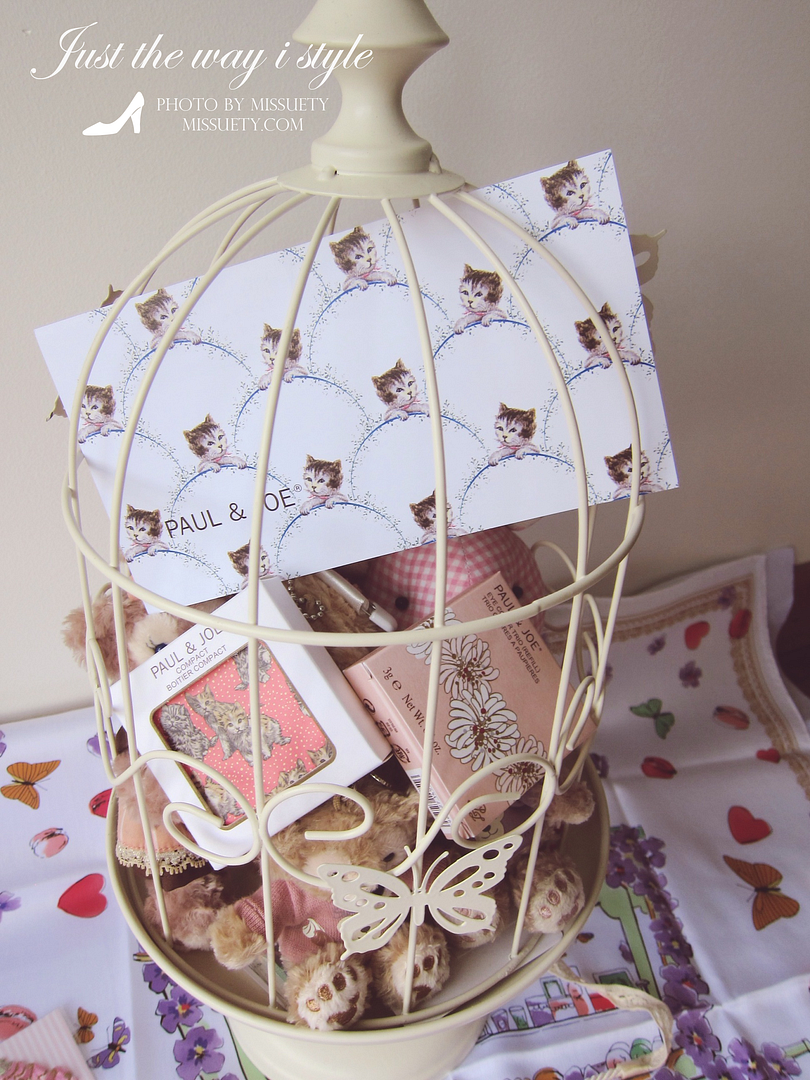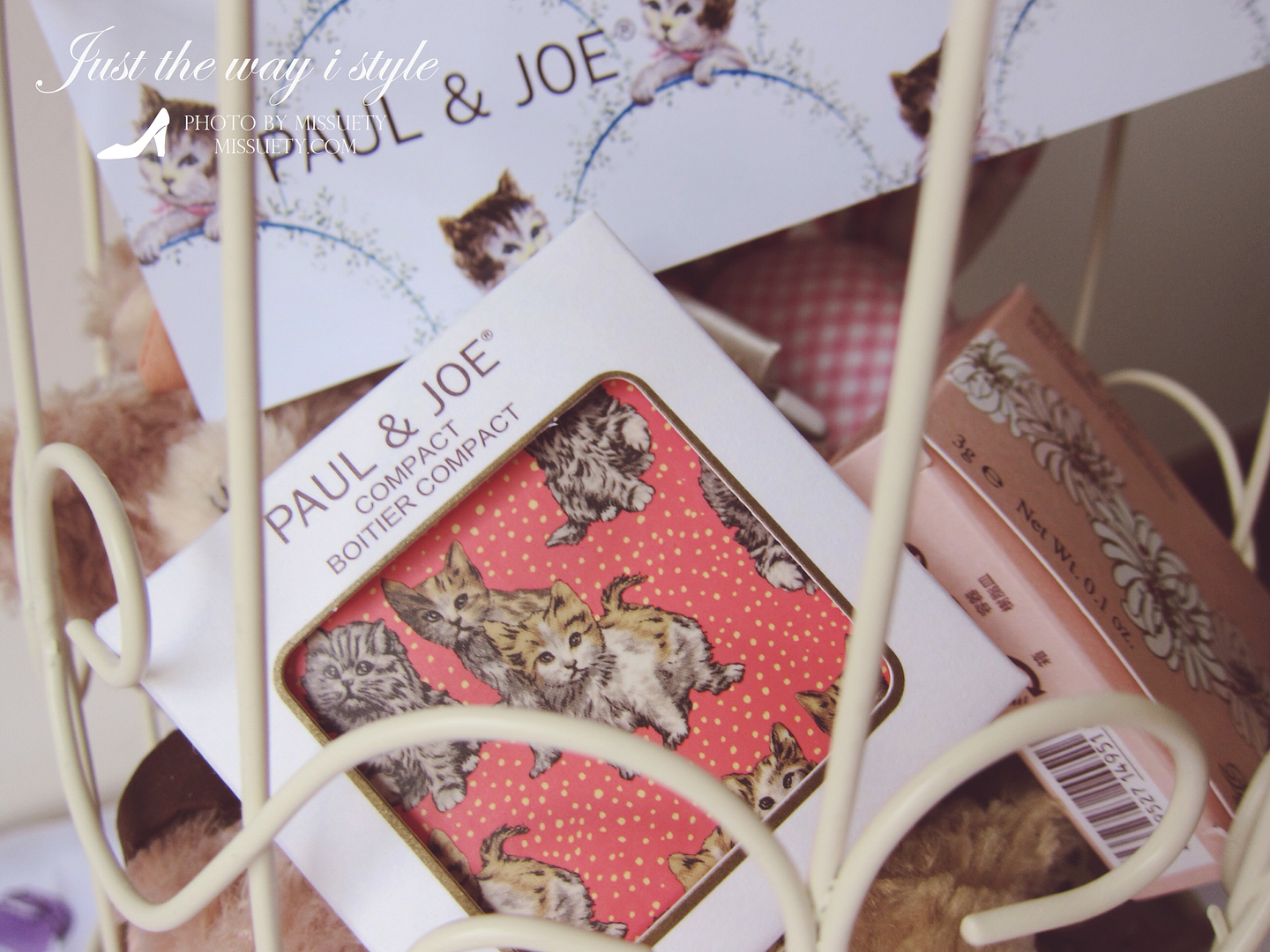 Okay, getting back to the eye color trio shade…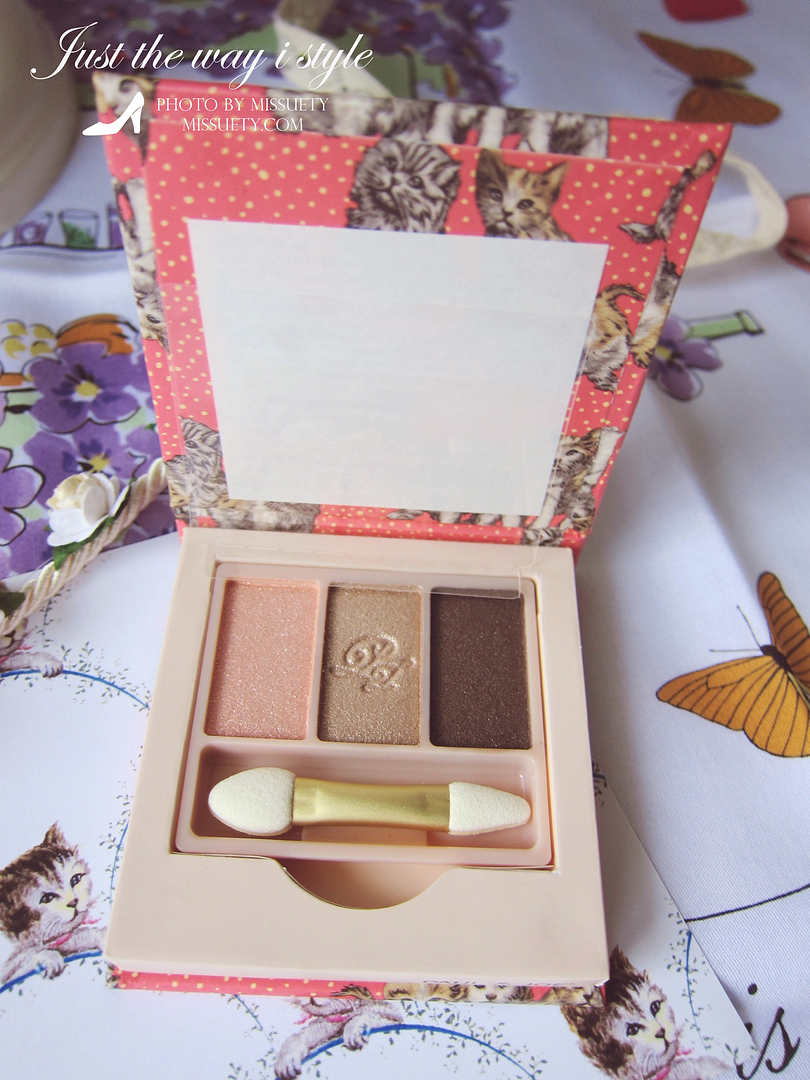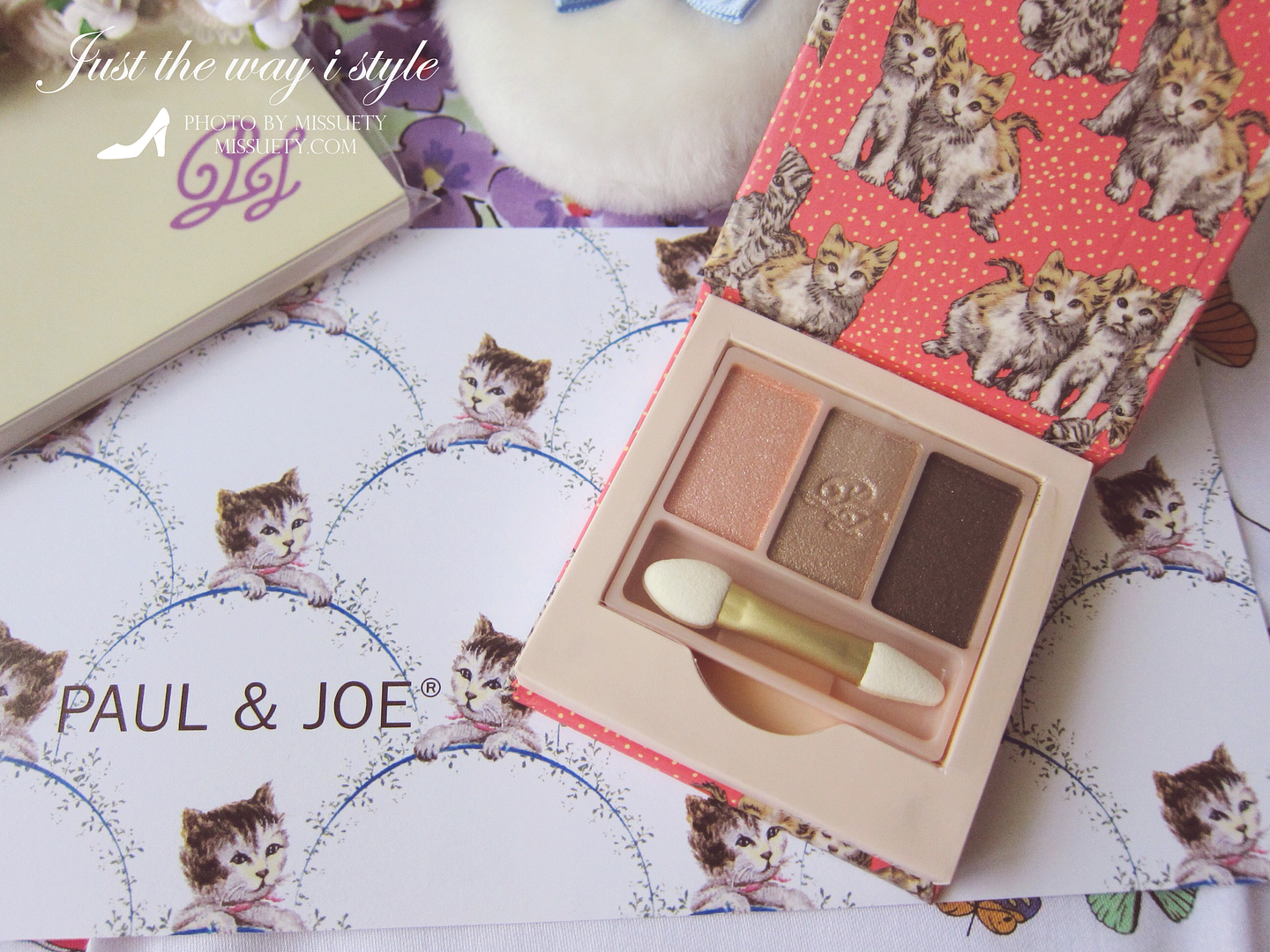 It doesn't tint easily not after a few application but the colors are really natural.
Indeed so natural that I don't get panda eyes below my lower lids.
If you like natural colors, this Paul & Joe Eye Color Trio will be your perfect choice.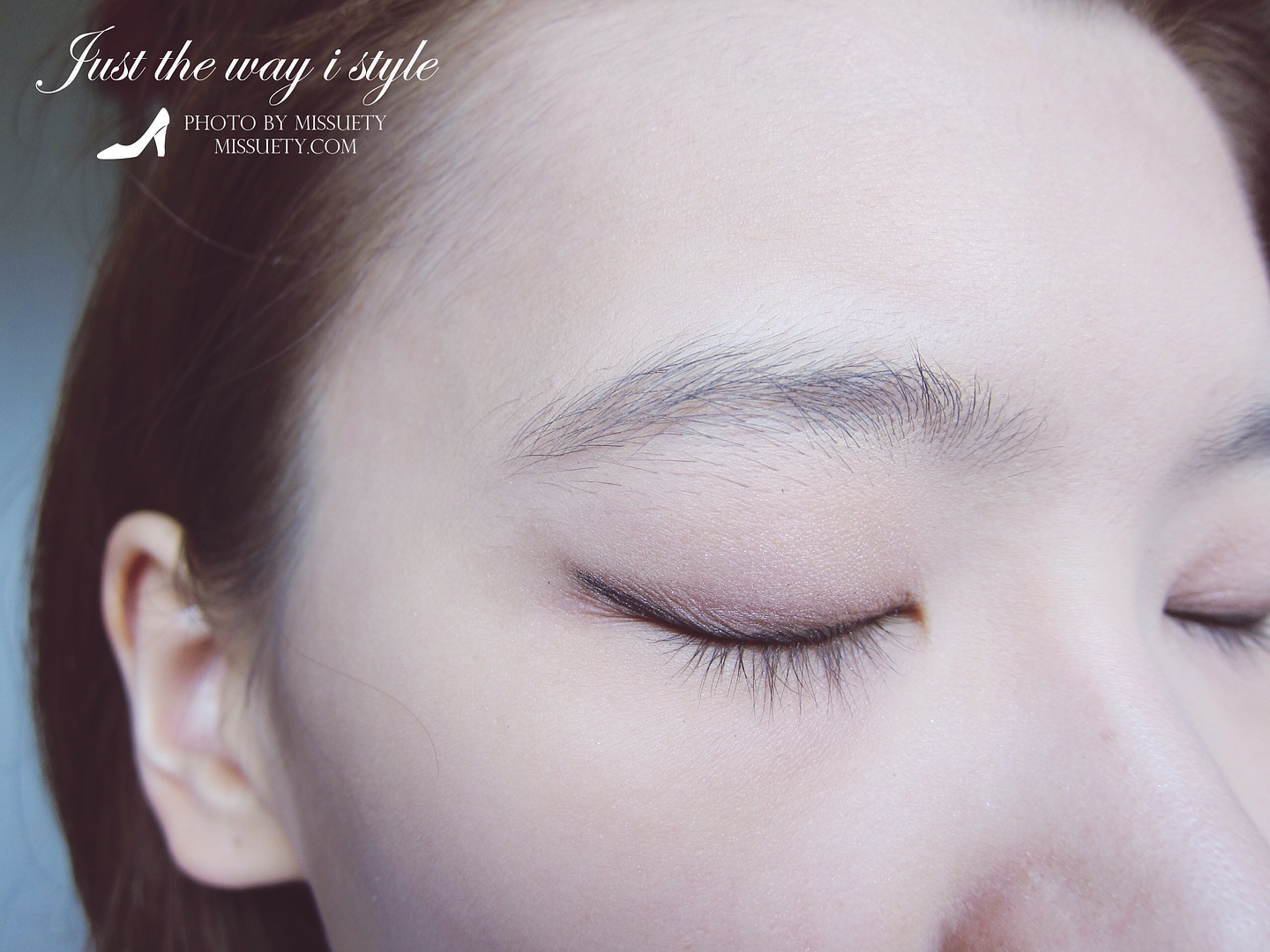 I first cover the whole lid in pink as base, then gold partially and finish up by applying the brown shade just slightly above the lid.
Just so simple to have this all-natural look.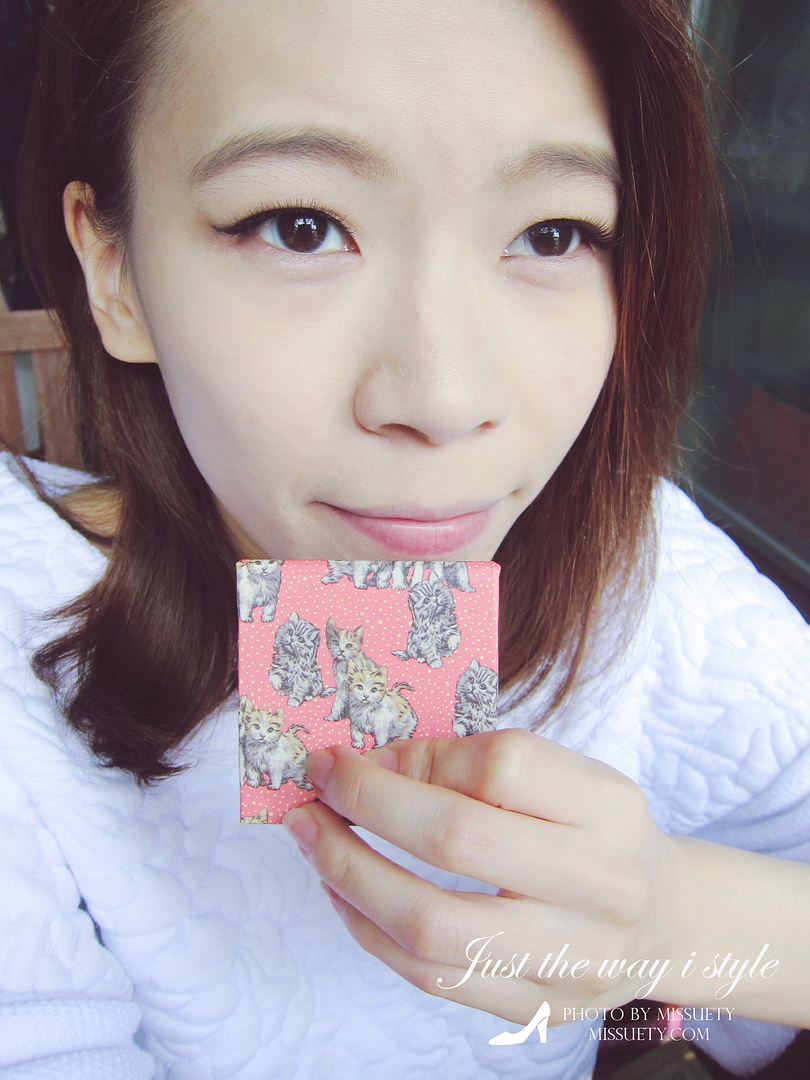 Now for the cheek color, let's see how it turns out on ma face.
I got it placed in the nature-patterned compact case which is also a Spring item.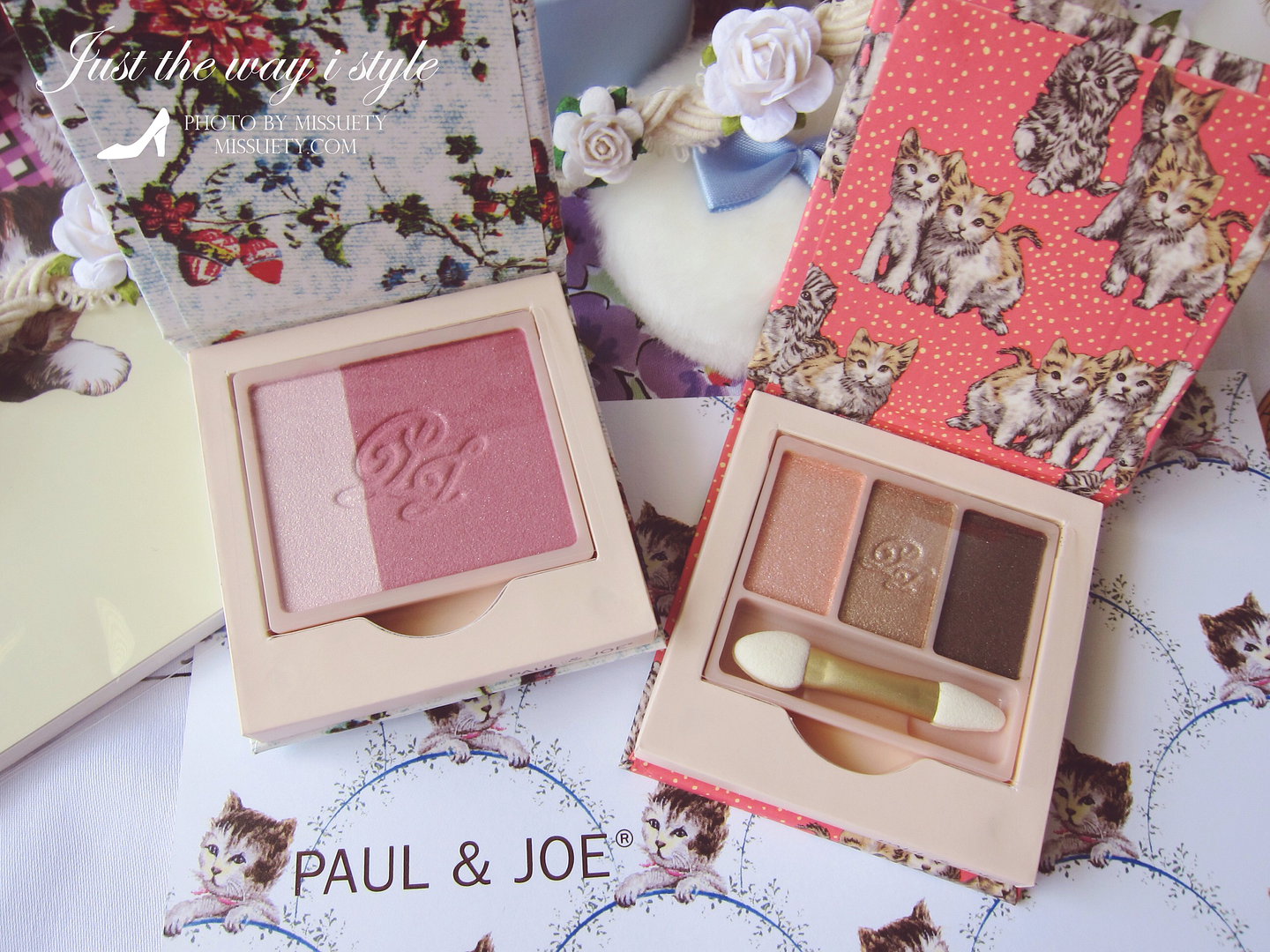 I didn't notice that the brand name was hidden in between the covers on the compact case not until lately.
I got the color in 06 which is a little purplish-pinkish.
Cheek Color 06 私の友達 translated as My Friend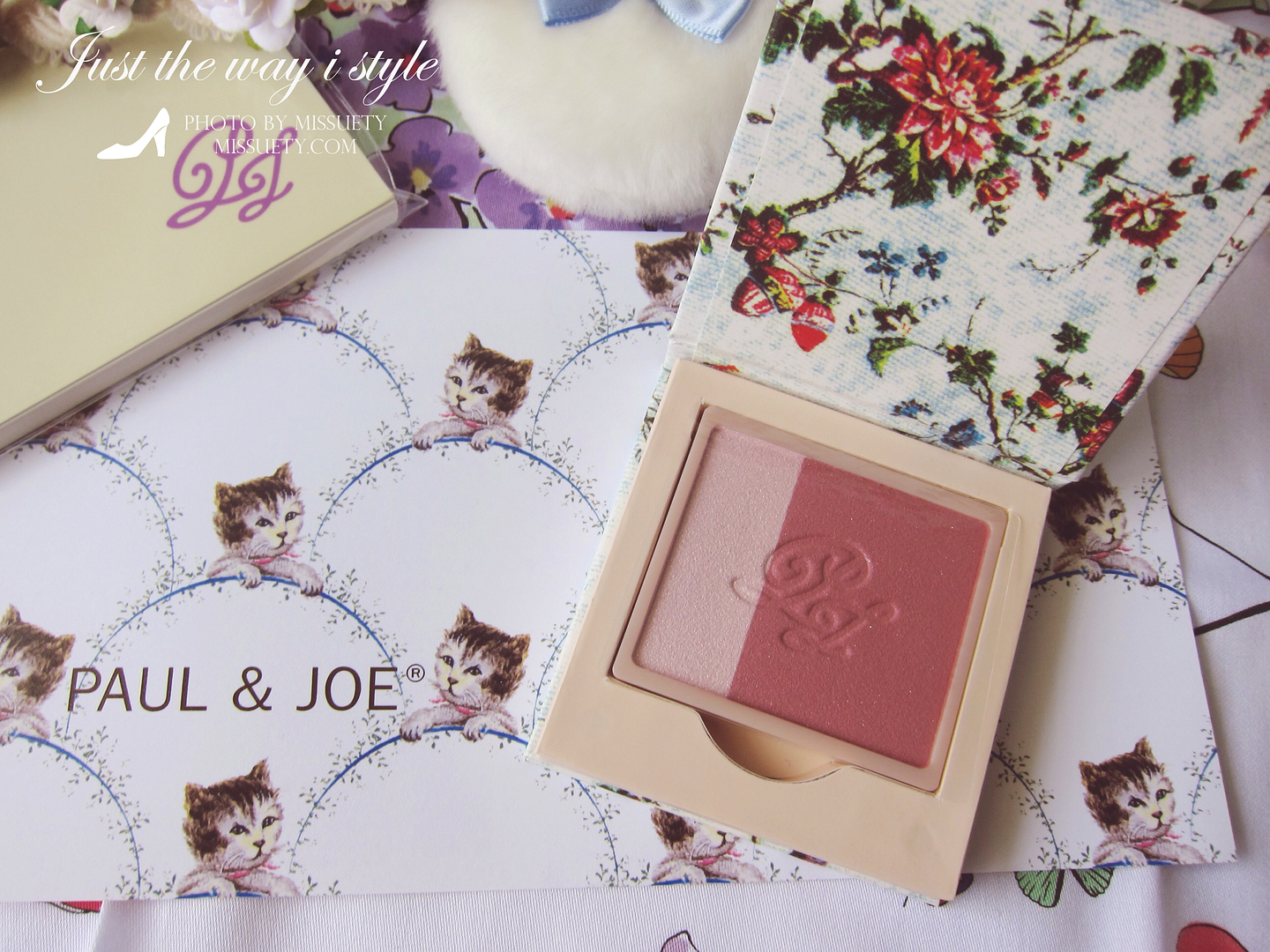 This is not one of the most popular color but I kinda love it the moment I saw this color.
It's not orange though it might look like orange due to the lighting.
It's totally not close anywhere to orange but more to pink and purple.
Fits my skin color perfectly!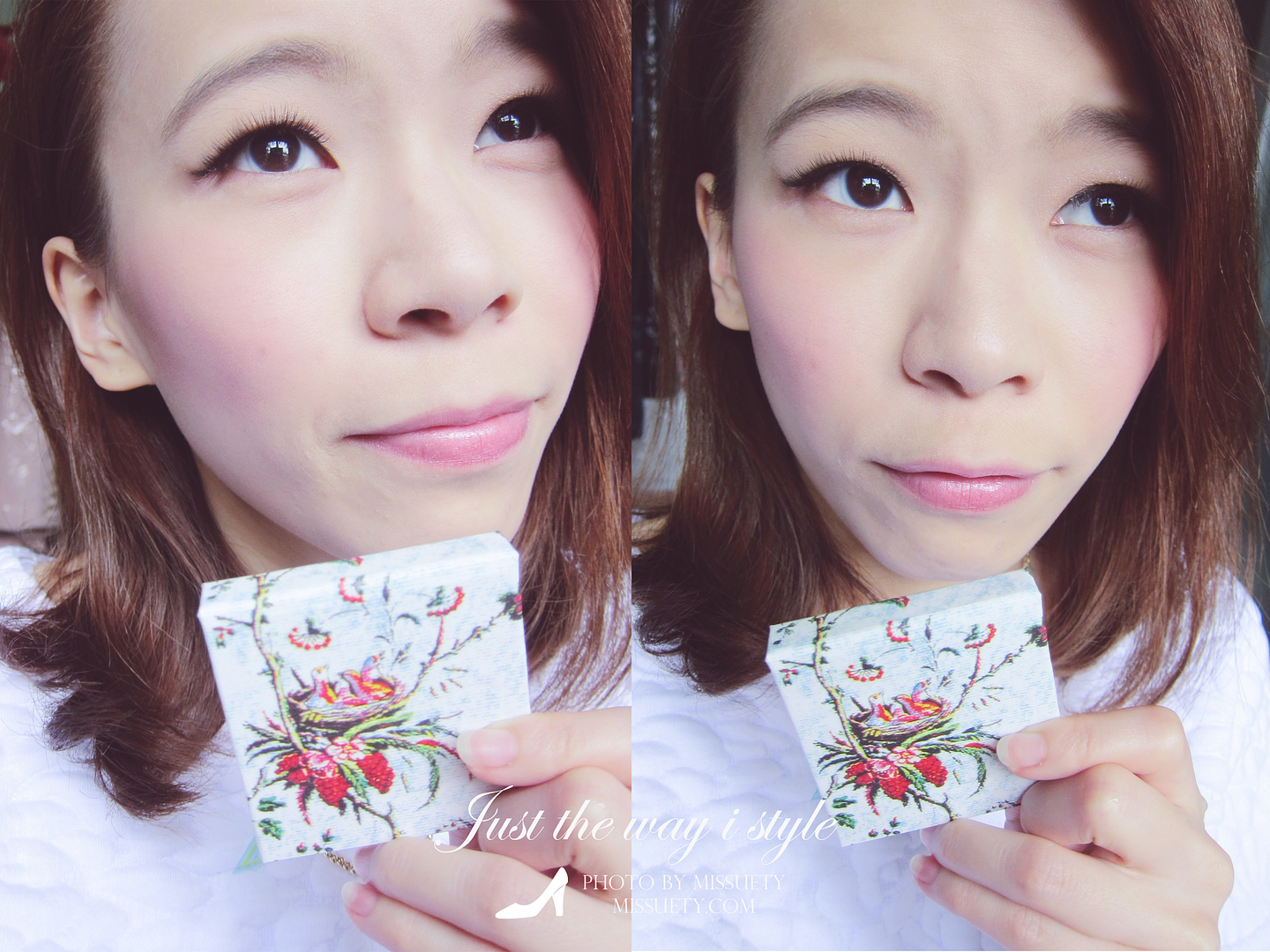 In fact I think that this cheek color stains so well that I only need to apply one stroke on my cheek.
Probably this is the only item I'll continue purchasing… not because I'm bias towards blushers or cheek colors but I honestly think it's good.
Another item which I was able to get my hands on is this
Paul & Joe Autumn 2014 Lipstick Case (Limited)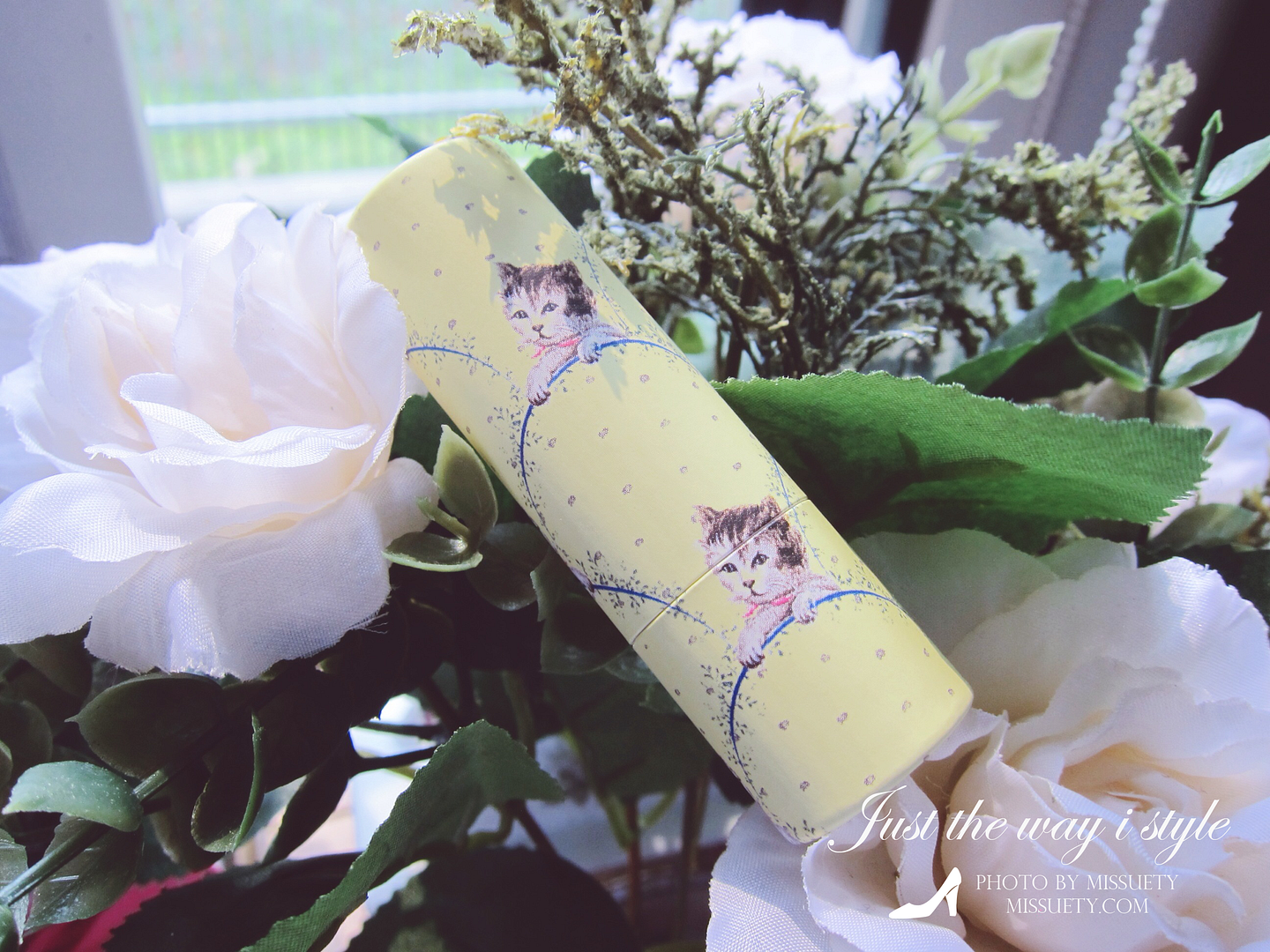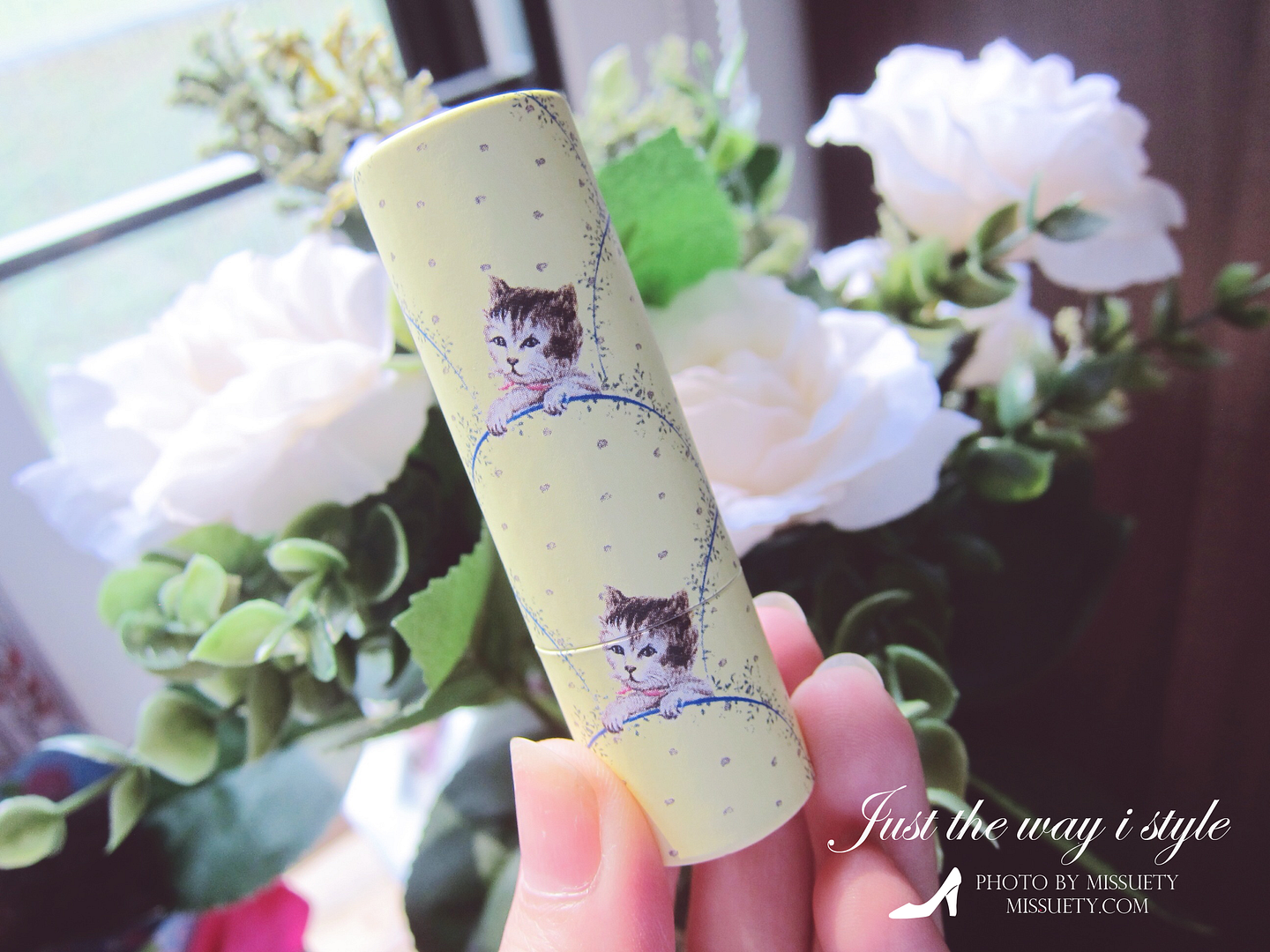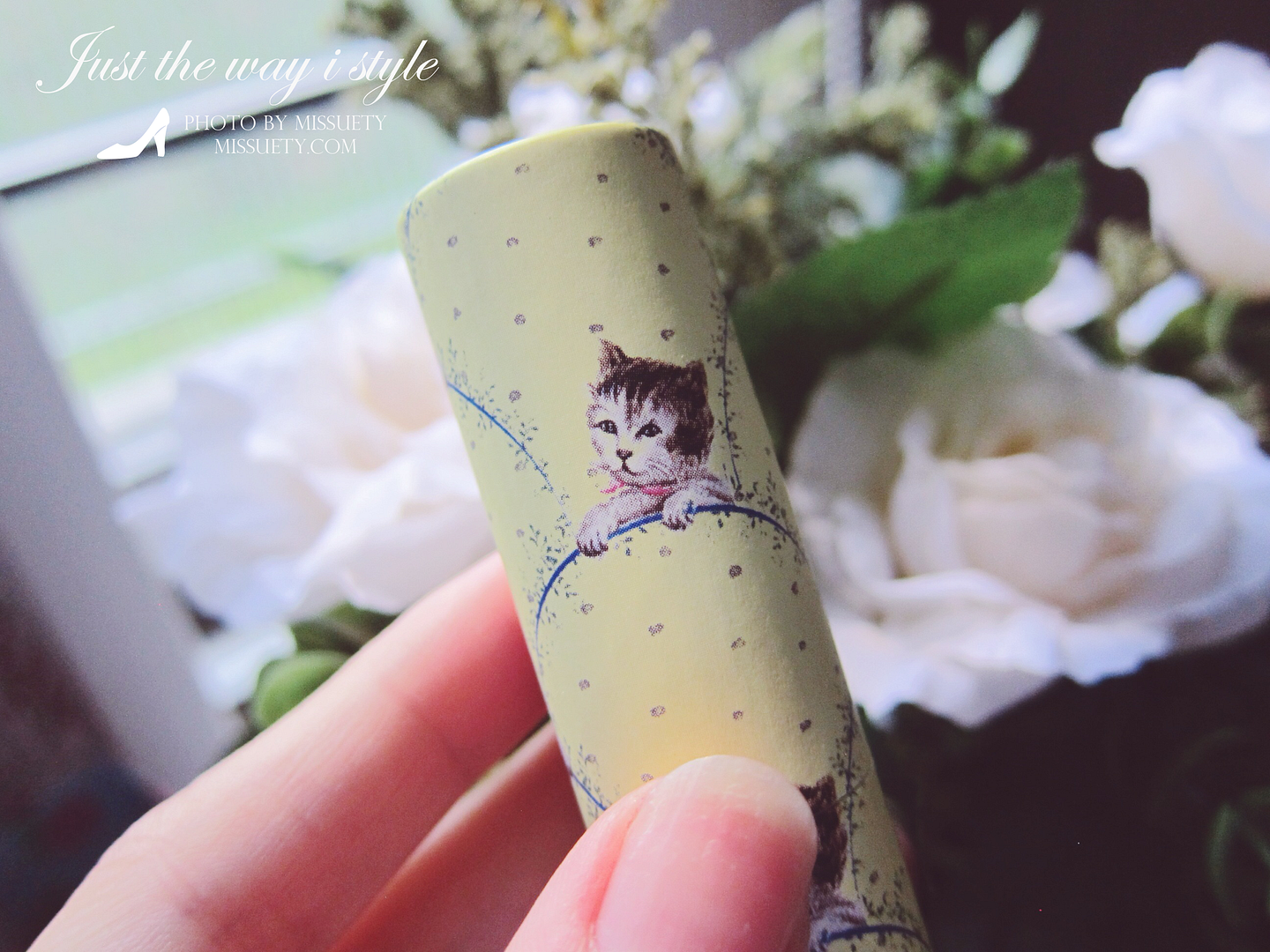 They came out with several designs but of all the designs which was released this autumn, I still find this Kitty design the prettiest.
I chose this was also because I wanted to have a Kitty matching set for my compact case.
I got this during my trip to Tokyo in July/August and got this from the airport.
I got only the case because I've got the lipstick which I bought a year ago from HK and only used like once or twice.
I don't really know which color it is but it's definitely one of the best seller.
Getting this lipstick from HK is like …..
How should I describe it but all I remembered was the sales girl who served me was a little …..
Well, I didn't like the way she serviced me and all and she look so stuck-up which made me really pissed off.
Anyways, here's how the color's like on my lips.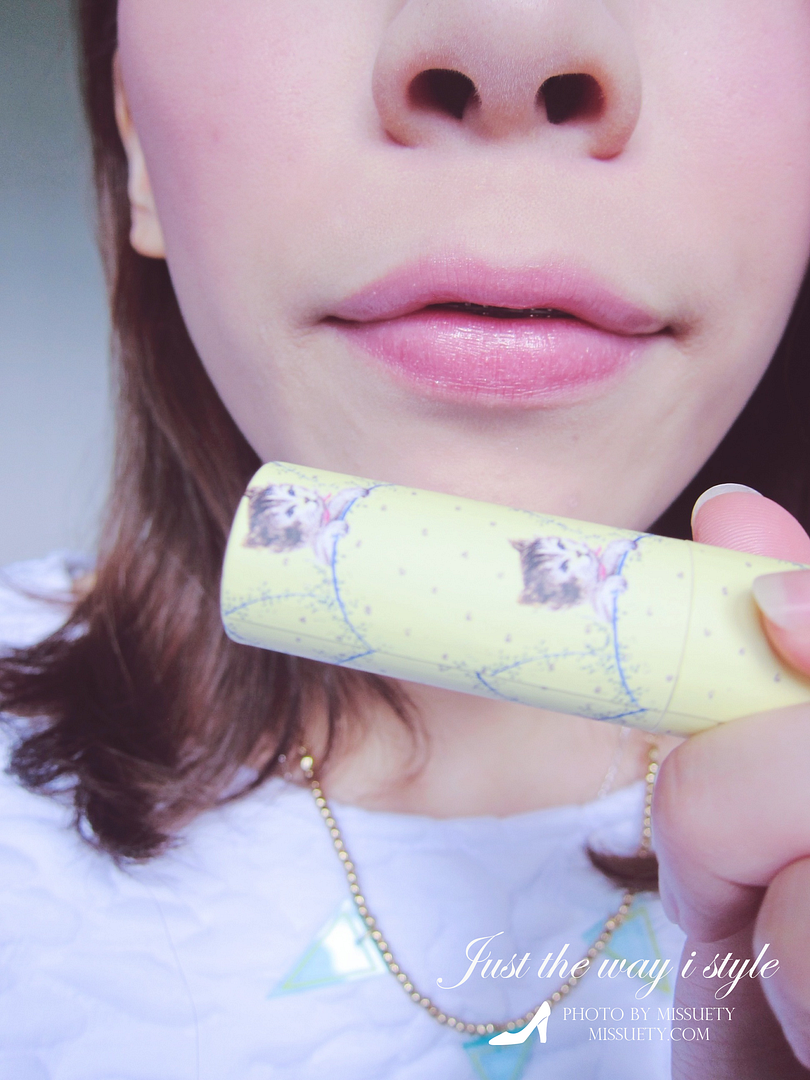 Very natural pink looking lips that looks all plump and shine.
Not to mention moisturizing too.
Can you see the moisture of the lipstick on my hand?!
It doesn't make your lips feel dry but in fact it's well hydrated.
So my recommendations will be these two items which I personally think it's worth a try.
Cheek Color & Lip Stick
Here's the finishing look …
using products from Paul & Joe Spring 2014 Makeup Collection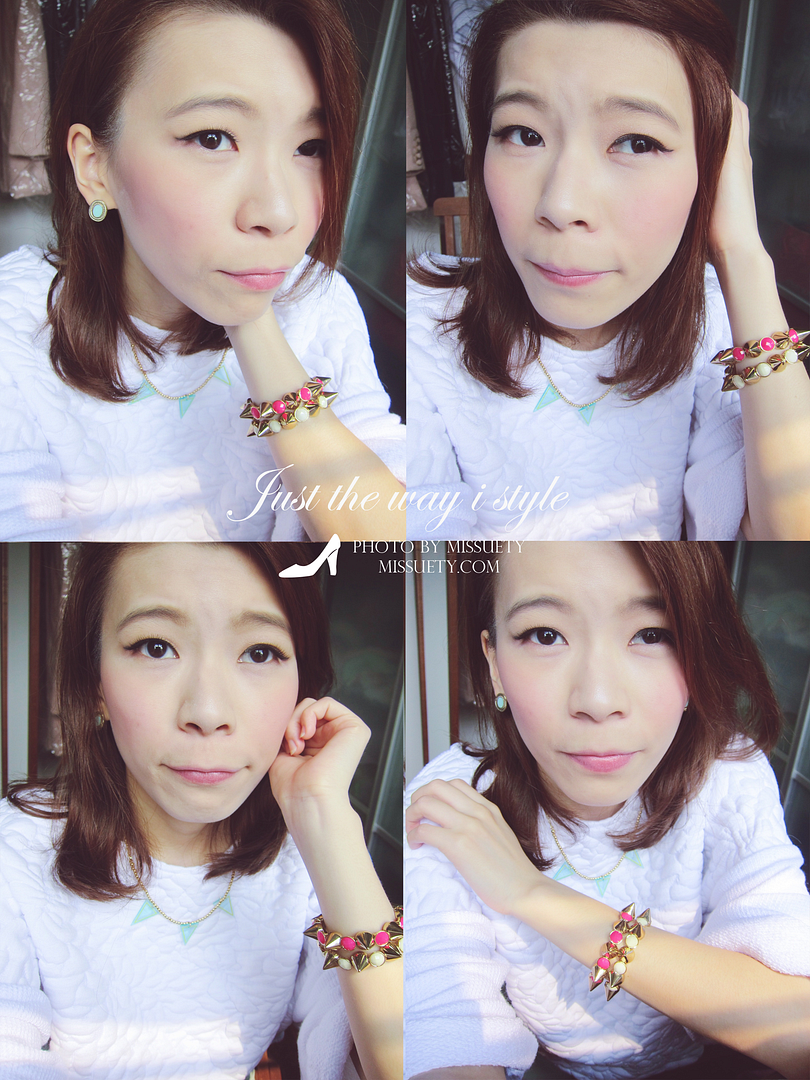 How do you like it?!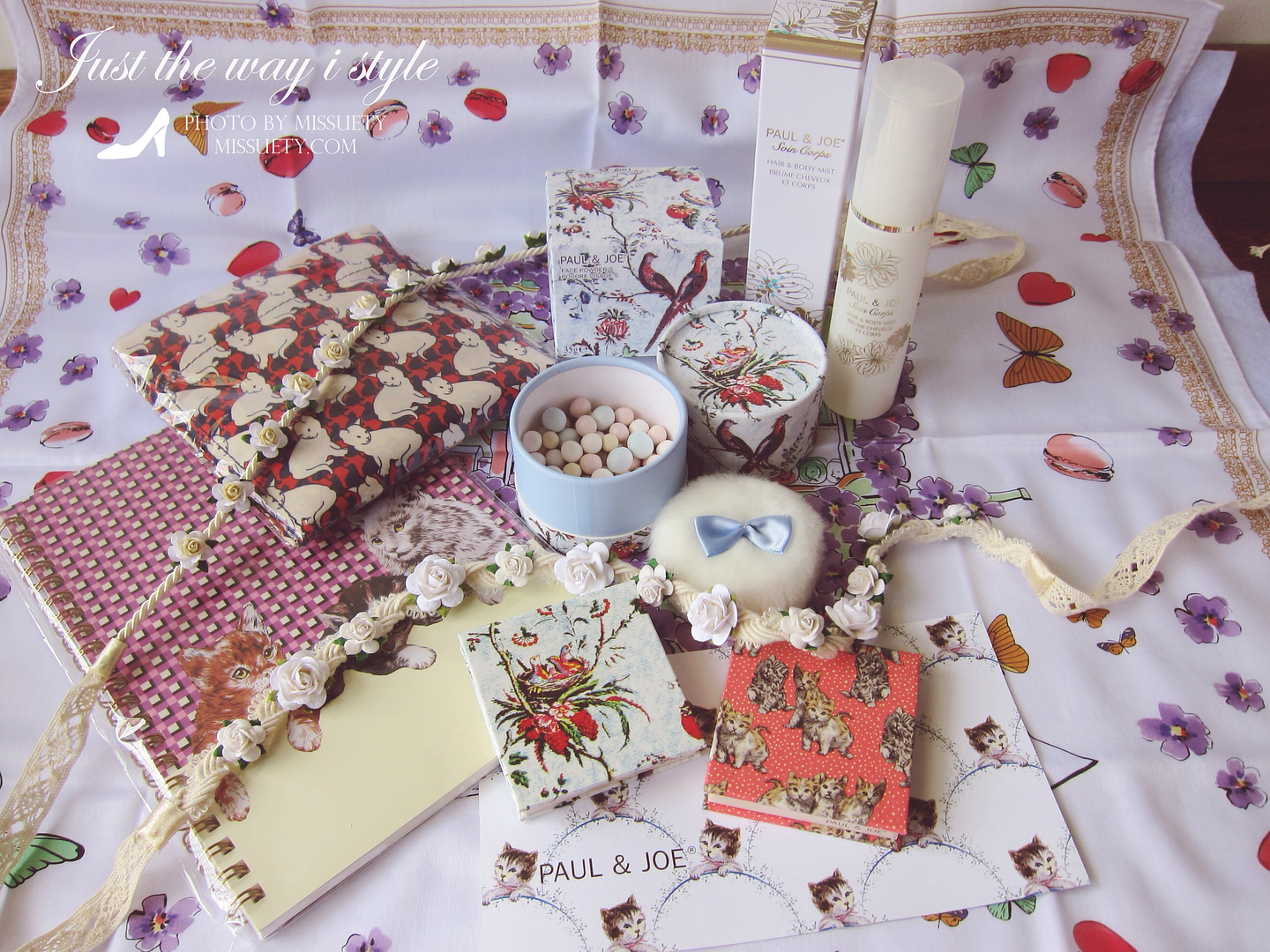 Paul & Joe Spring Autumn 2014 Makeup Collection
Face Powder S (Limited Edition) ~ 6,000yen
Eye Color Trio ~ 3,800yen
Cheek Color ~ 2,000yen
Compact Case ~ 1,000yen
Lip Case ~ 1,000yen
Lipstick ~ 2,000yen
For more info, visit Paul & Joe beaute Official Homepage at
http://www.paul-joe-beaute.com/index_pc.html