Osaka Diaries: Spring 2014
Osaka Diaries has resumed!
An unexpected trip with full of excitement and thrills and also a fruitful journey which taught me so much about the working life in Japan.
Read on to find out more about my 1 week trip in Osaka, Japan.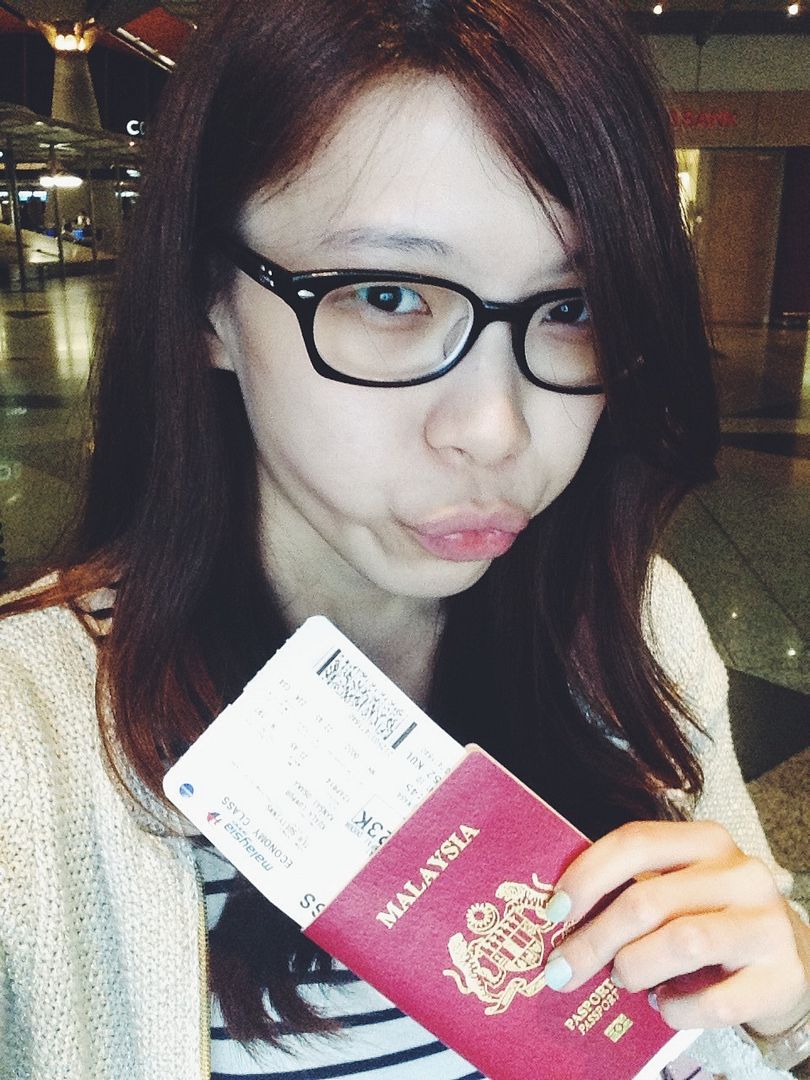 Some of you might or might not know about my recent trip to Osaka but anyways, I was there for a week just a week ago for work.
I was appointed to attend company's training for 5 days in the headquarters office which is located in Osaka city.
Traveling alone to Japan somewhat seems lonely but I guess this is not the first time traveling alone and I think I will have to get used to it as coming days, there will be more lonely business trips waiting ahead of me.
Coming days schedule has been decided and I'll be traveling to Bangkok city next month and also flying off to Penang the following week after returning from Bangkok.
Looking at next month's schedule just simply makes me feel worn out but I guess I just wanna enjoy every moment of my working life for now as I don't think I hate this job at this moment. I just hope that I'll come back alive after all those business trips.
Alright, getting back to the topic!!
Here's a picture of sunrise which I managed to capture on plane.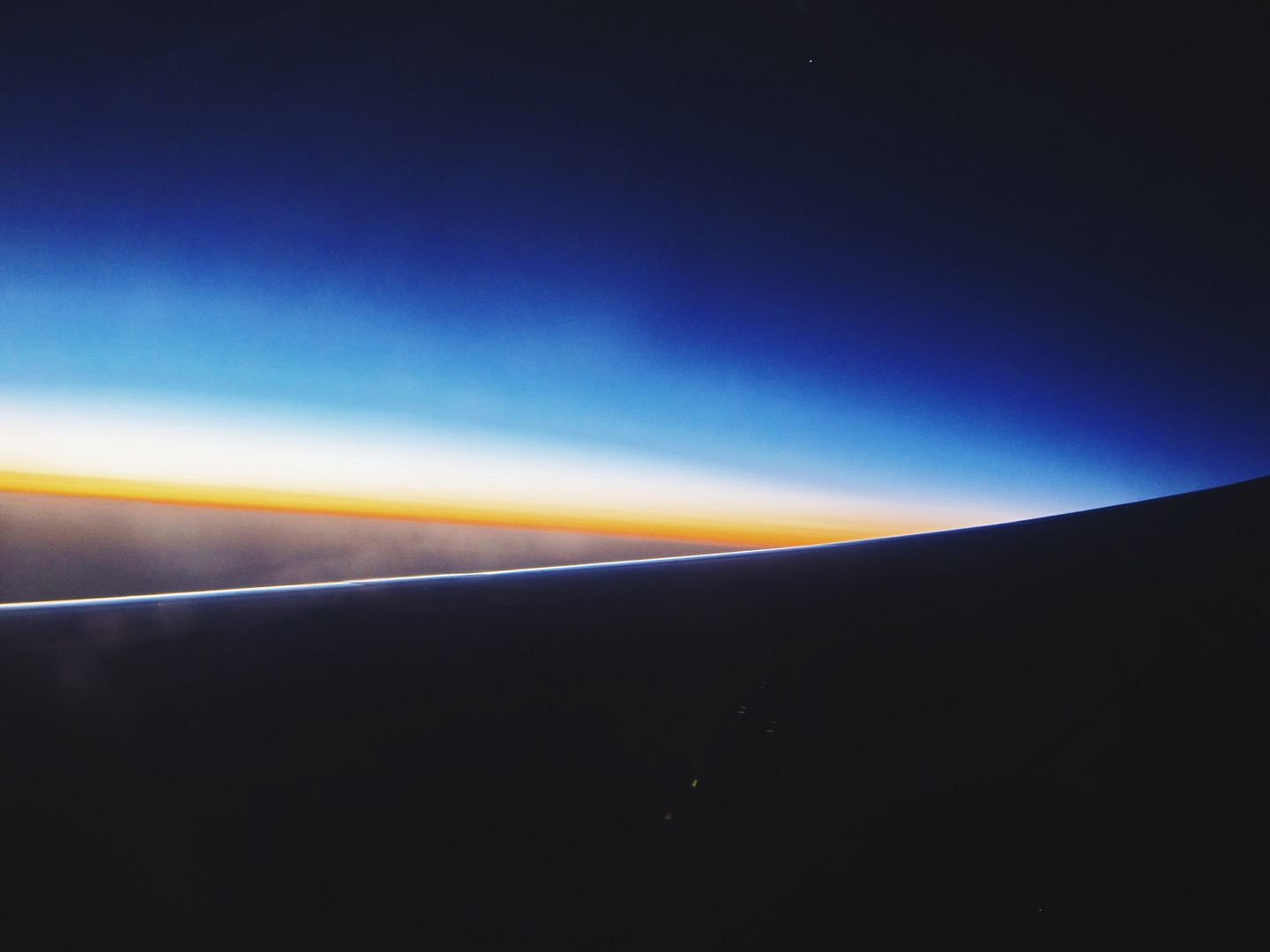 I arrived in Osaka on Sunday morning and had a day off to chill and to do some shopping. I met up with a Japanese friend for lunch at Harbs and had a long talk since we've not seen each other for years now.
Talking about Harbs, it's a very nice restaurant/cafe which serves super delicious cakes especially mille crepes. I never miss this place whenever I come to Japan. I think I've mentioned about this place in my OSAKA DIARIES Food Post here.
Harbs serves…
DAILY LUNCH for only 1,500yen
includes of salad, a choice of pasta, cake of the day and drinks (choice of juice, coffee or tea)
It's consider cheap for a full course meal in Japan!!! If you have a chance to come to Japan, you must try it out at least once…
No regrets, I'm tellin' you!! A satisfying meal which will not cost you much!
Salad as starters!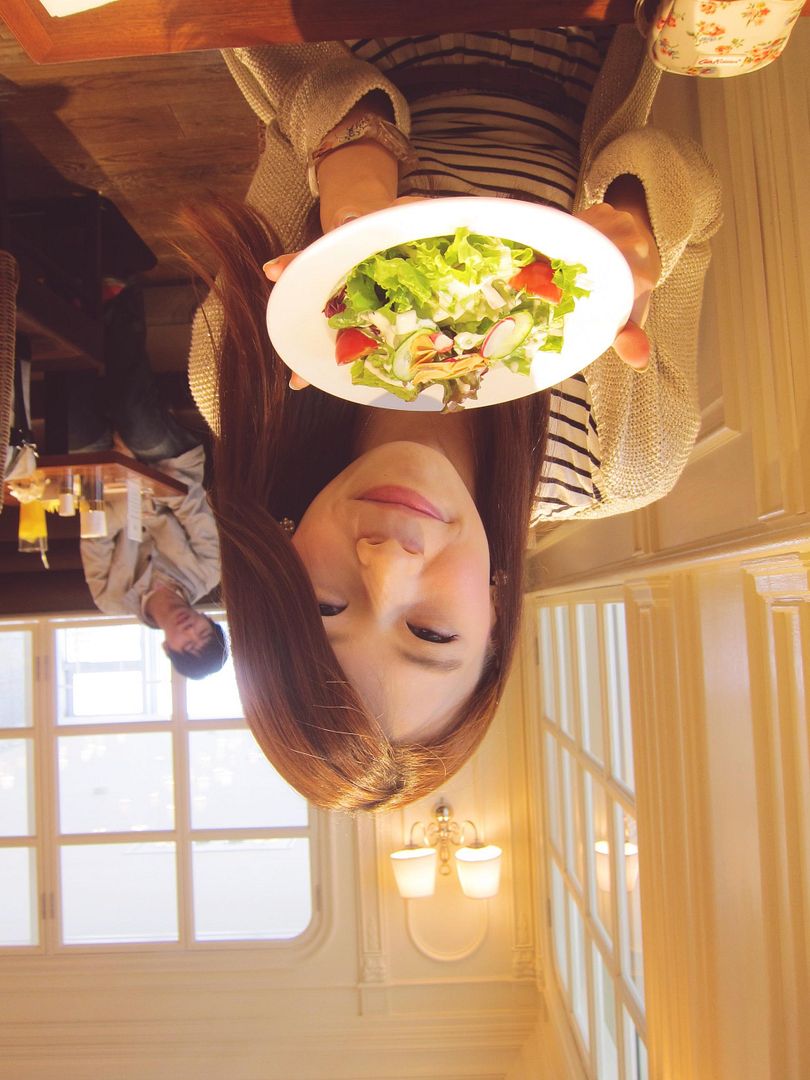 Looking puffy here as I had too much food in plane and the food I had haven't really digest yet. (haha)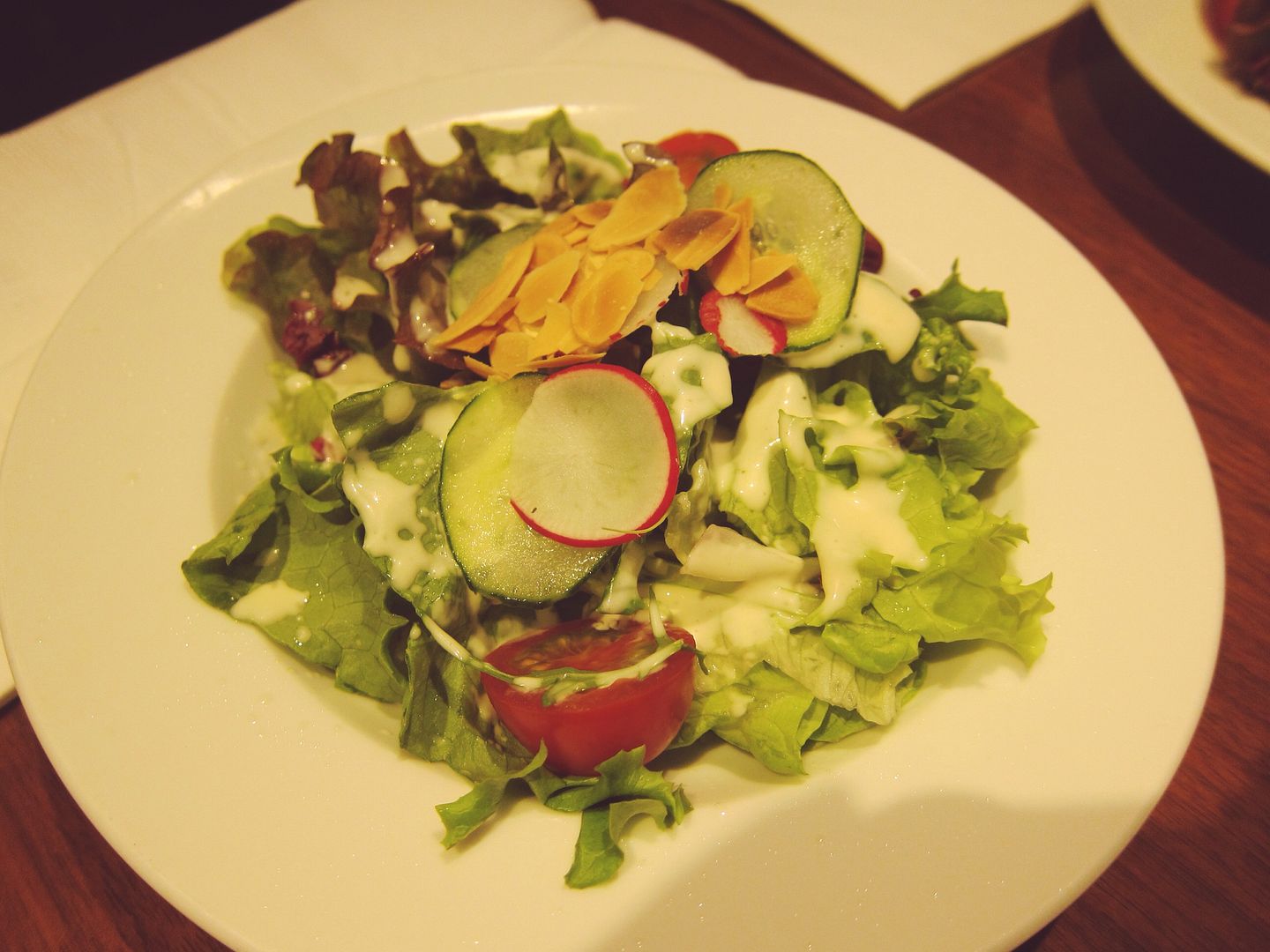 Bacon Spaghetti with tomatoes was my pick!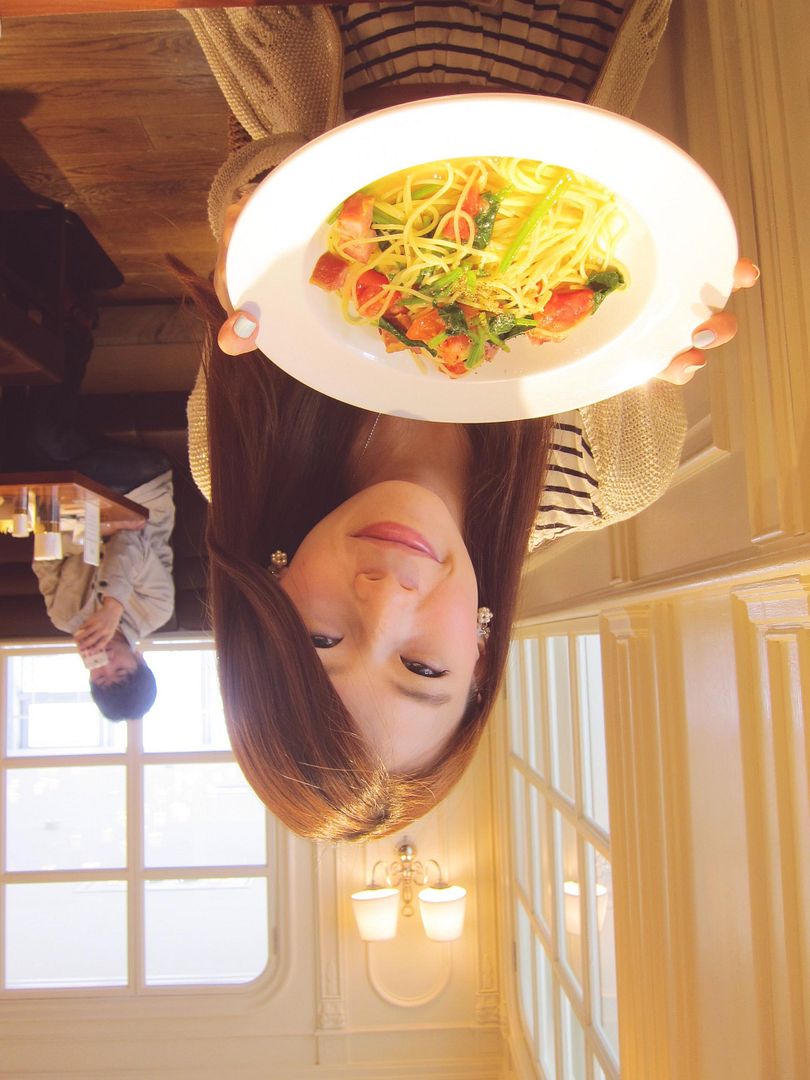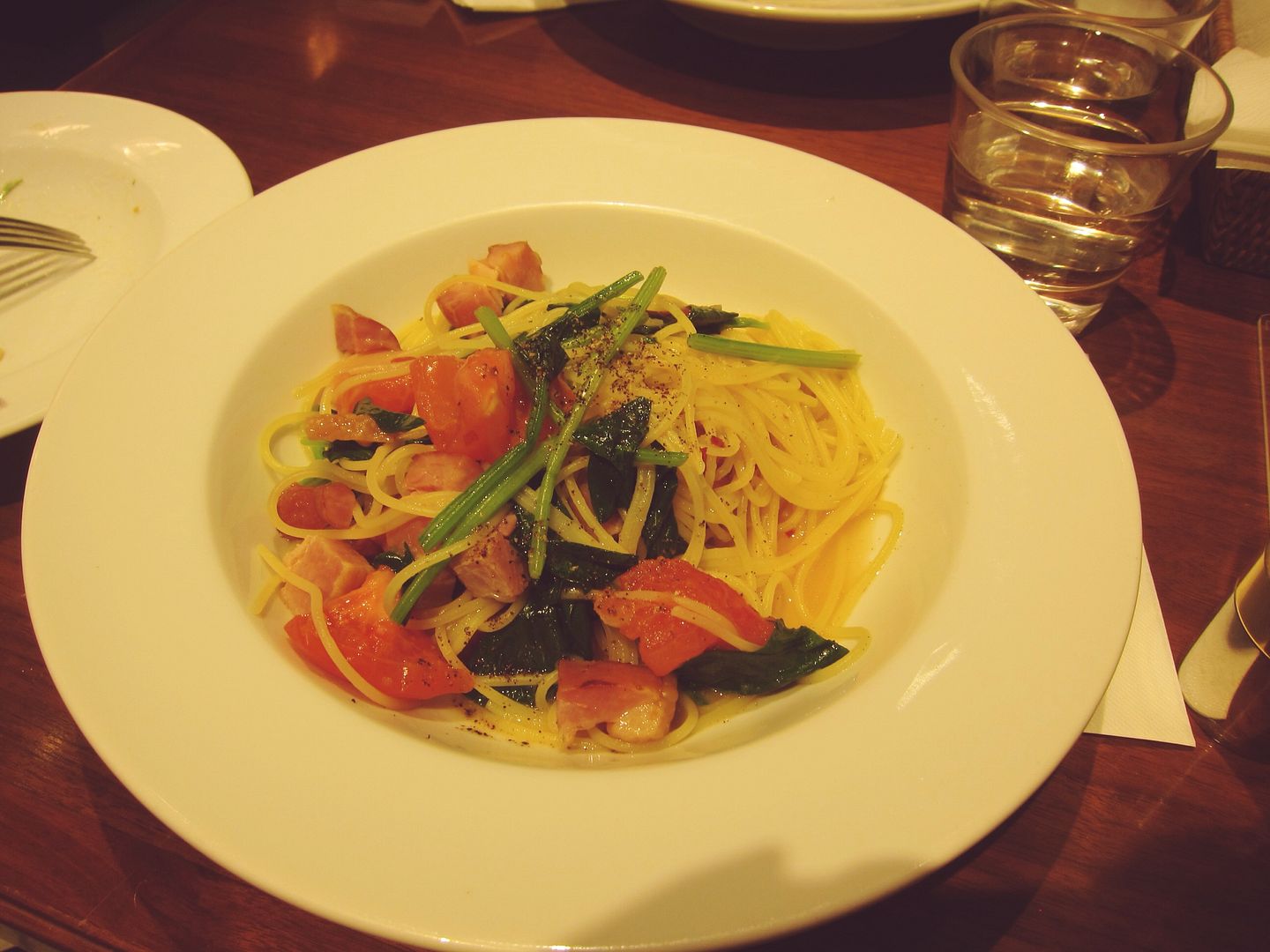 The Japanese friend had
Chicken Spaghetti with broccoli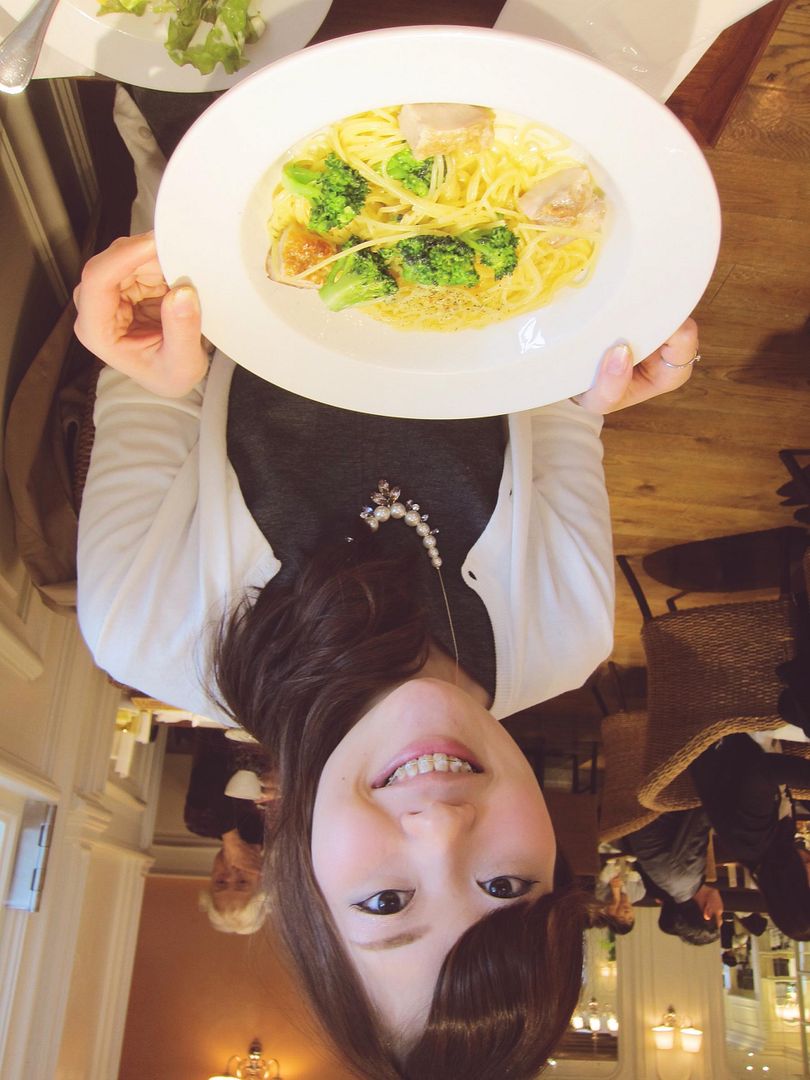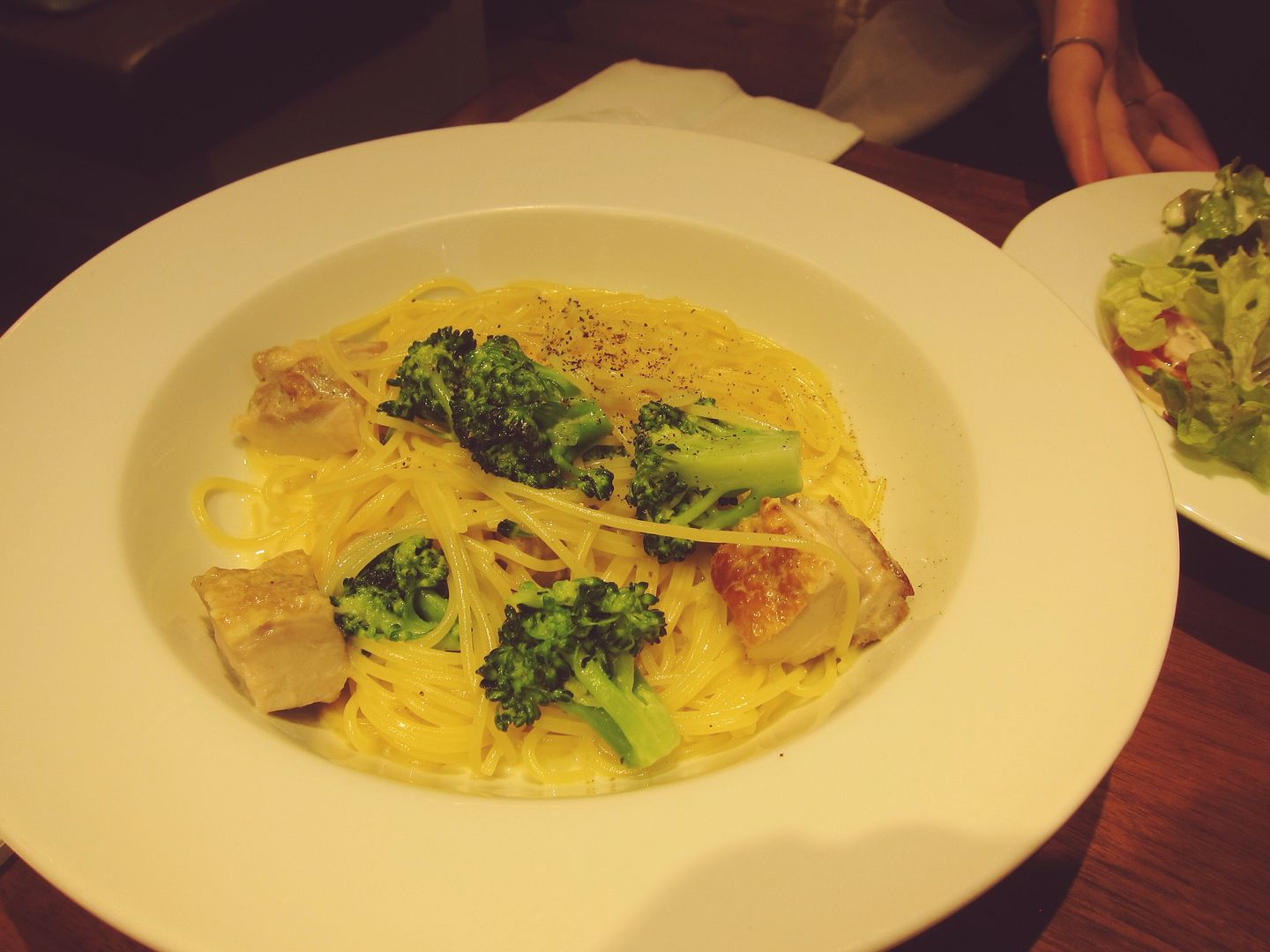 Chocolate cake for her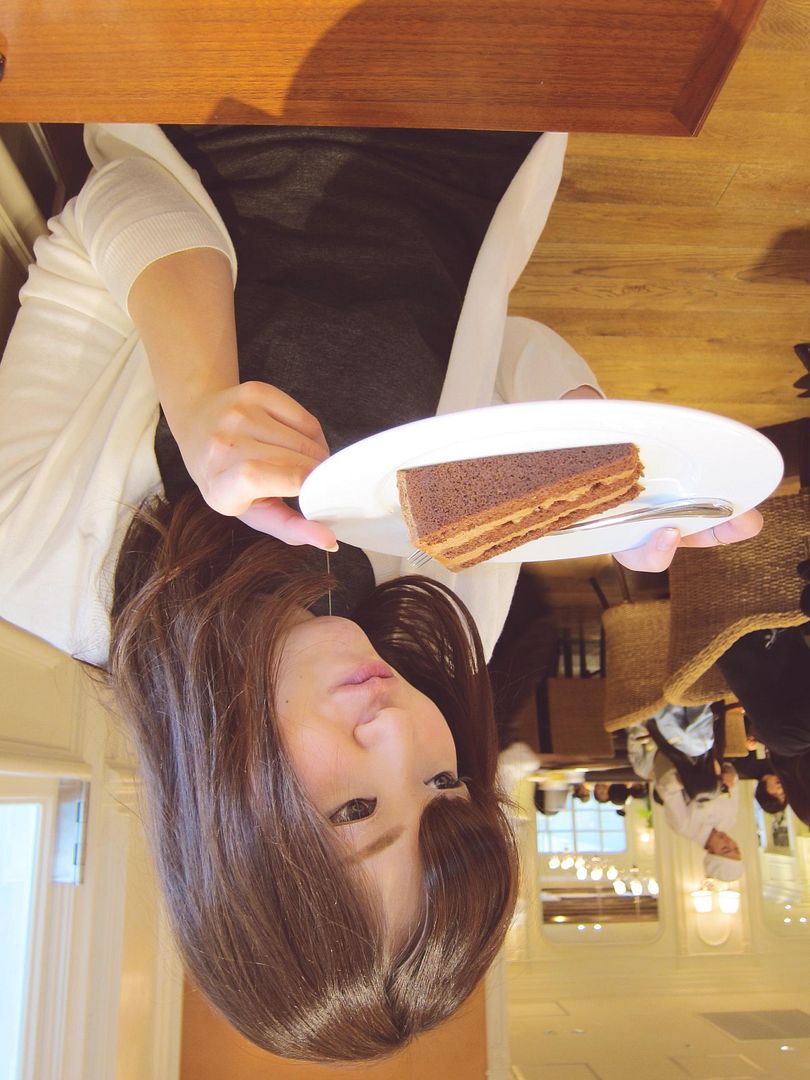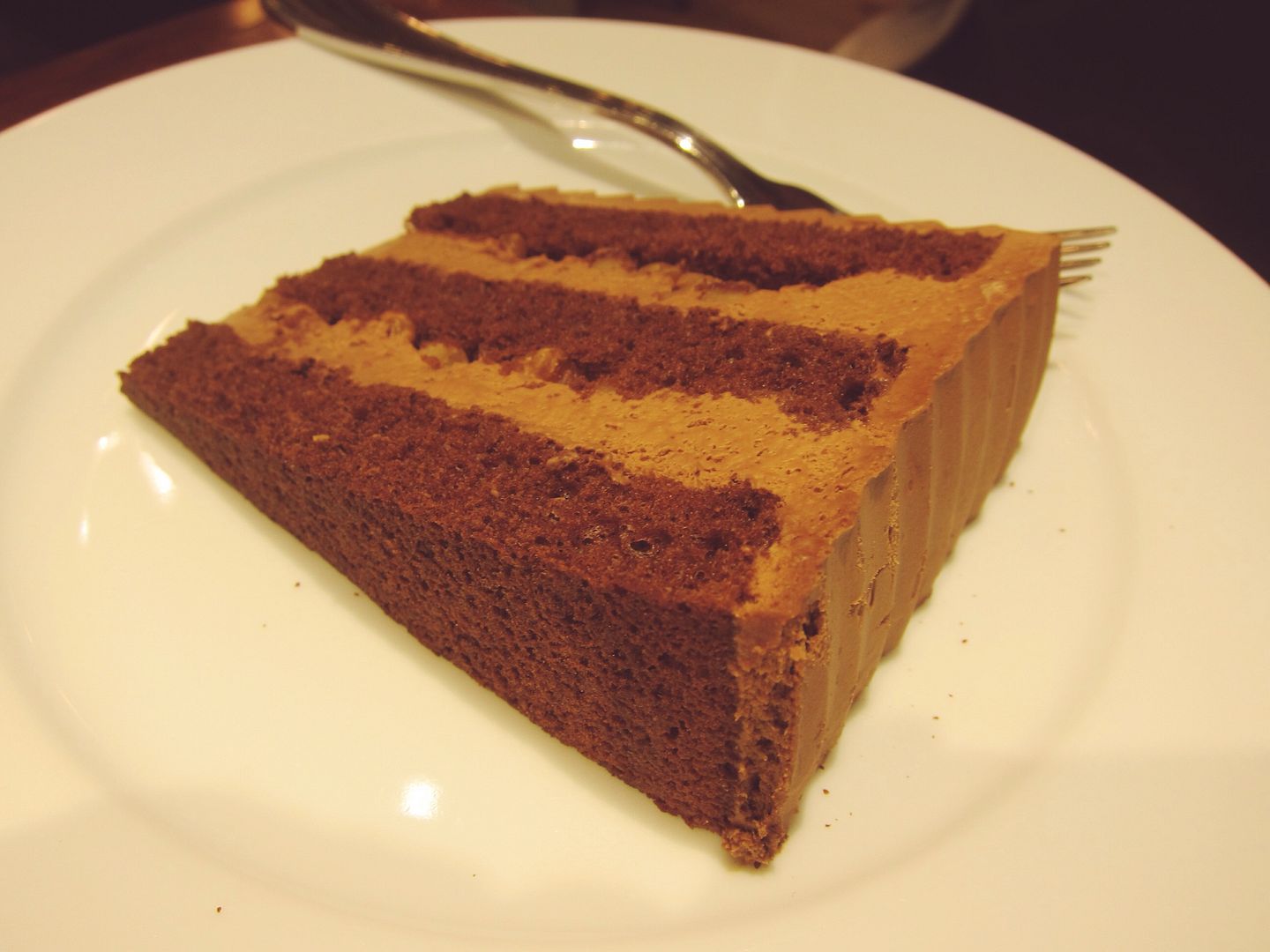 and
Blueberry Mille Crepe for me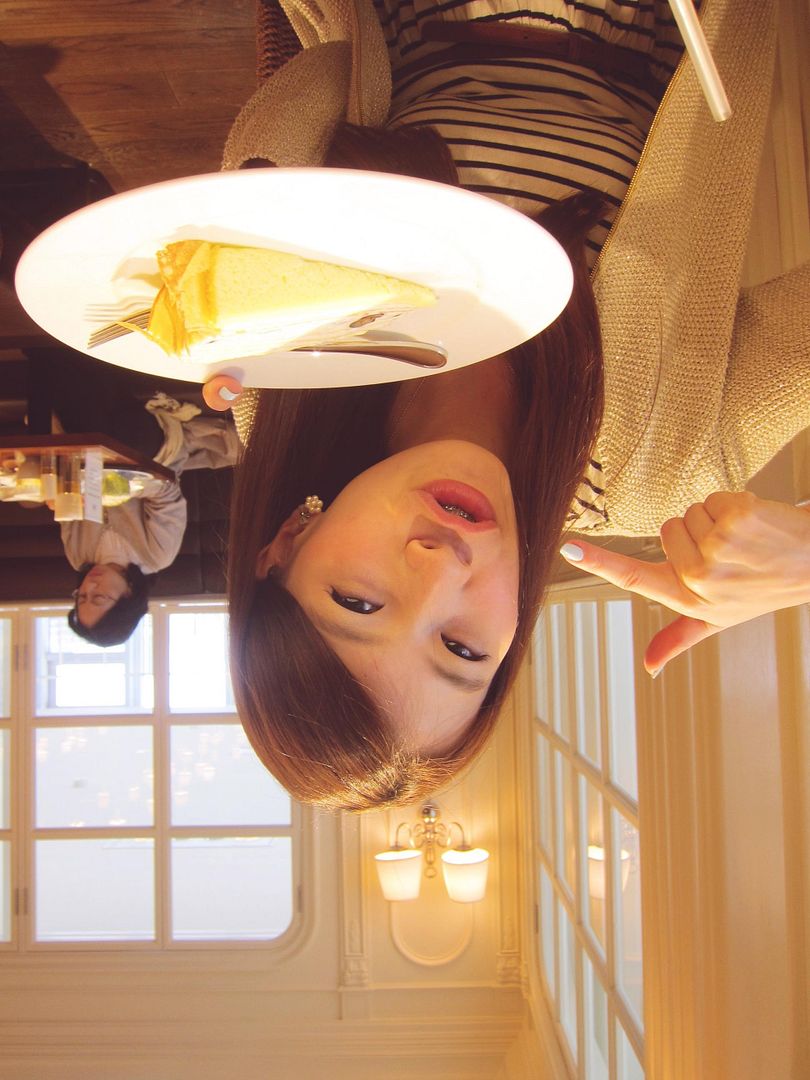 Fresh Orange juice for me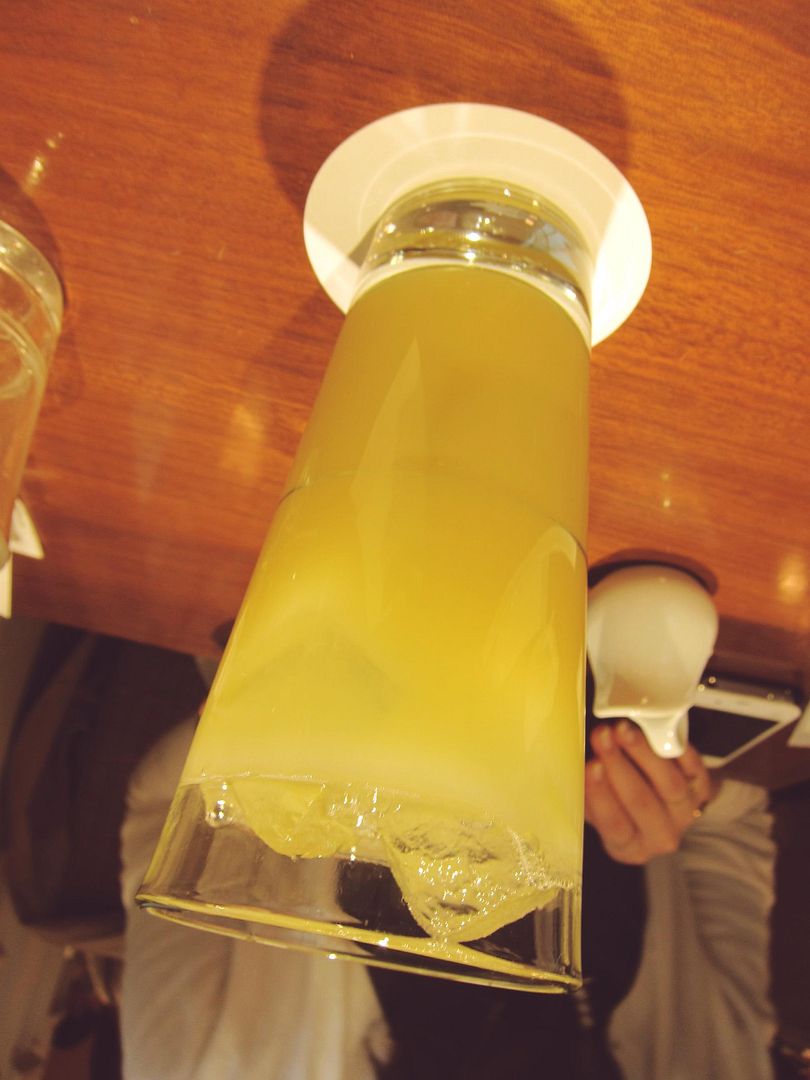 and Coffee for her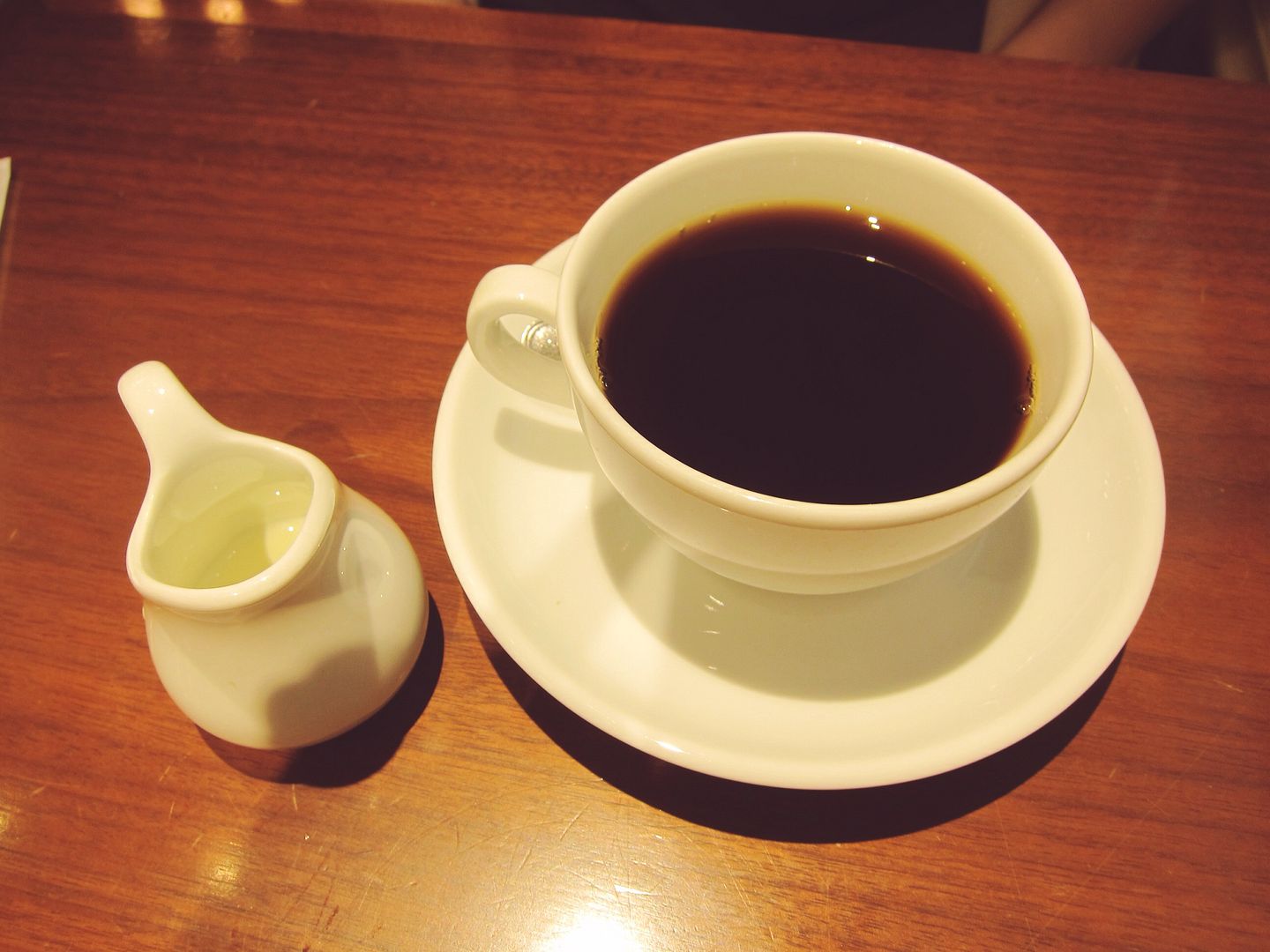 Super value meal!!
The restaurant has a very nice setting too with modern english interiors.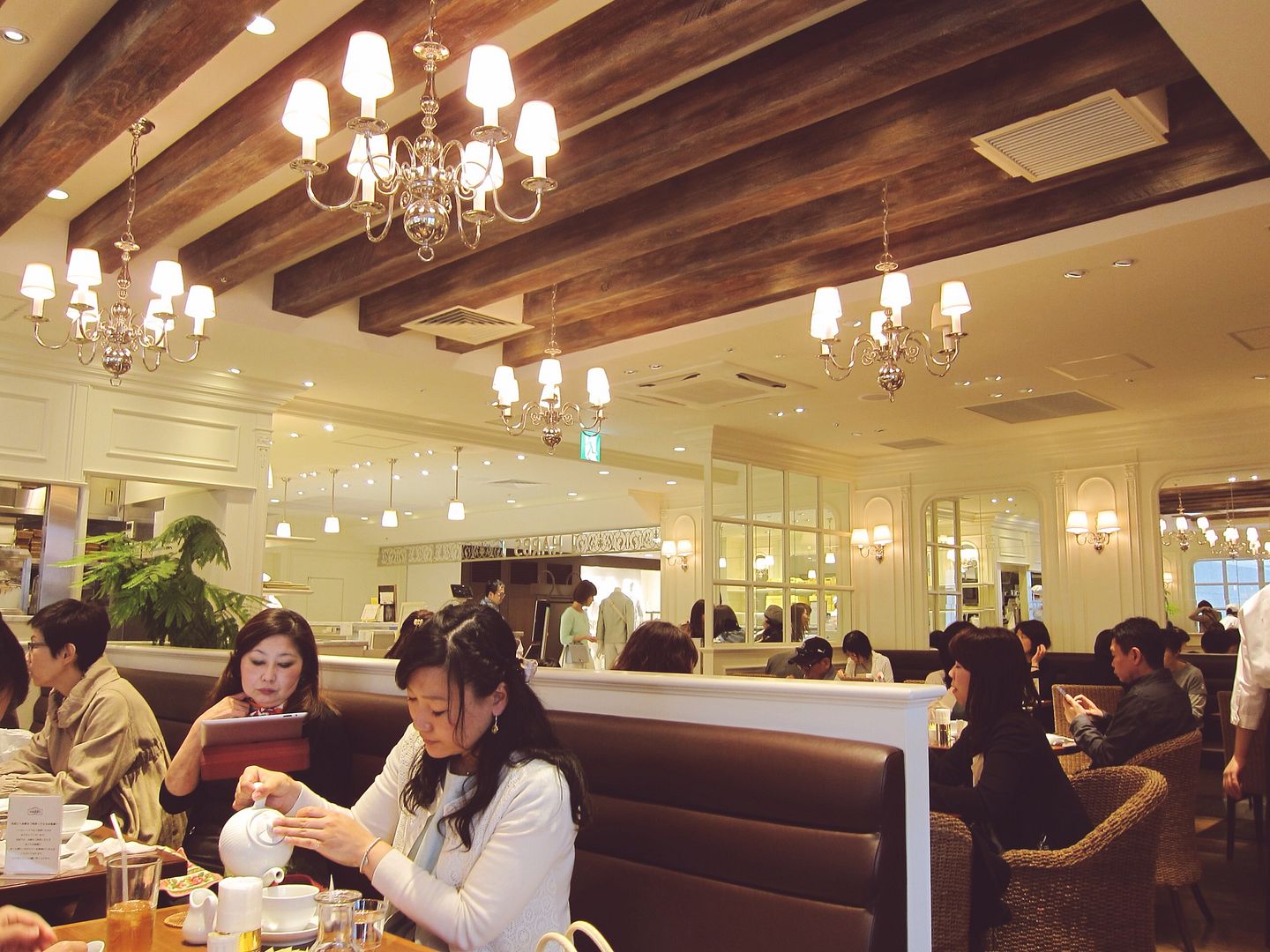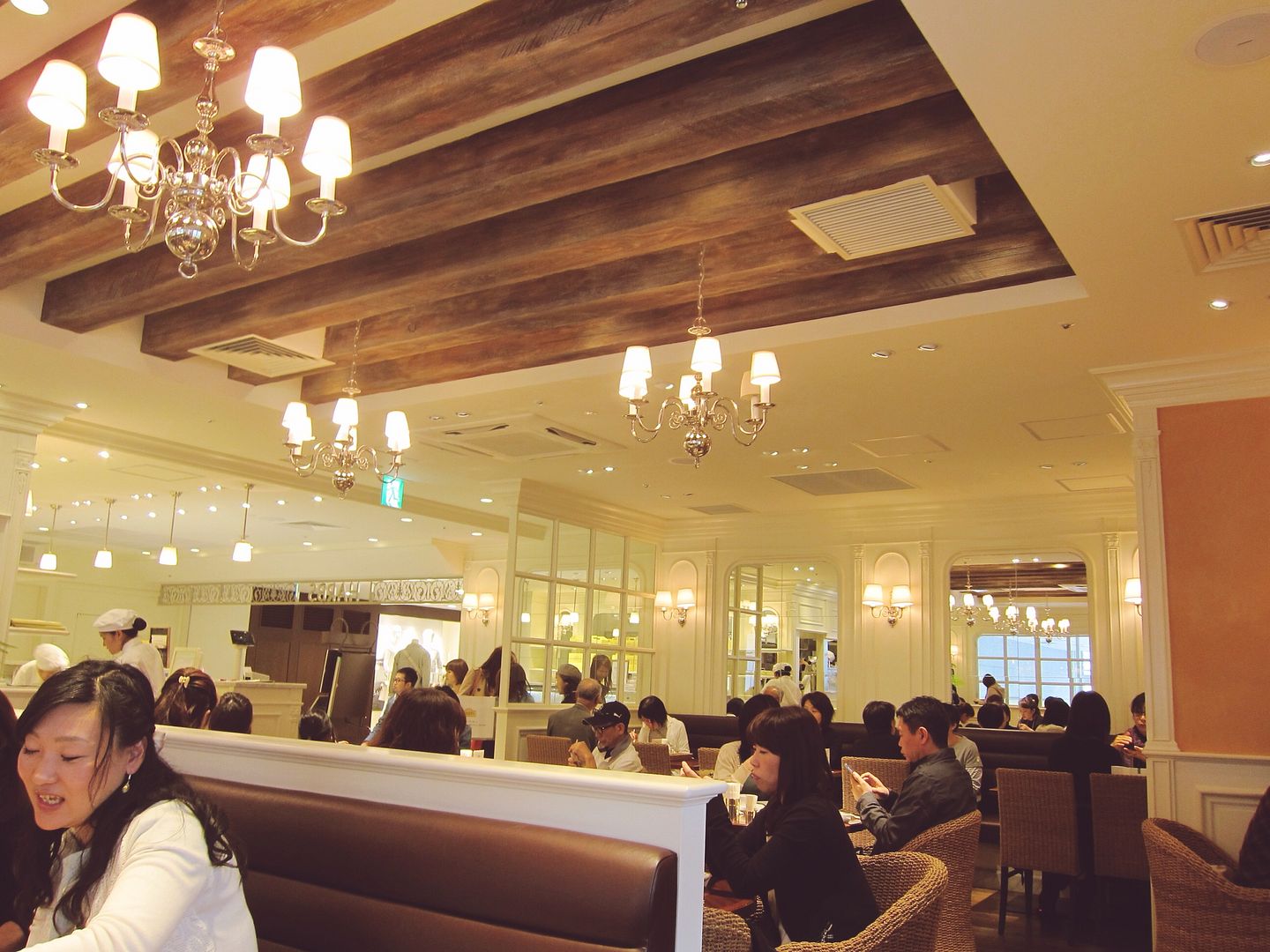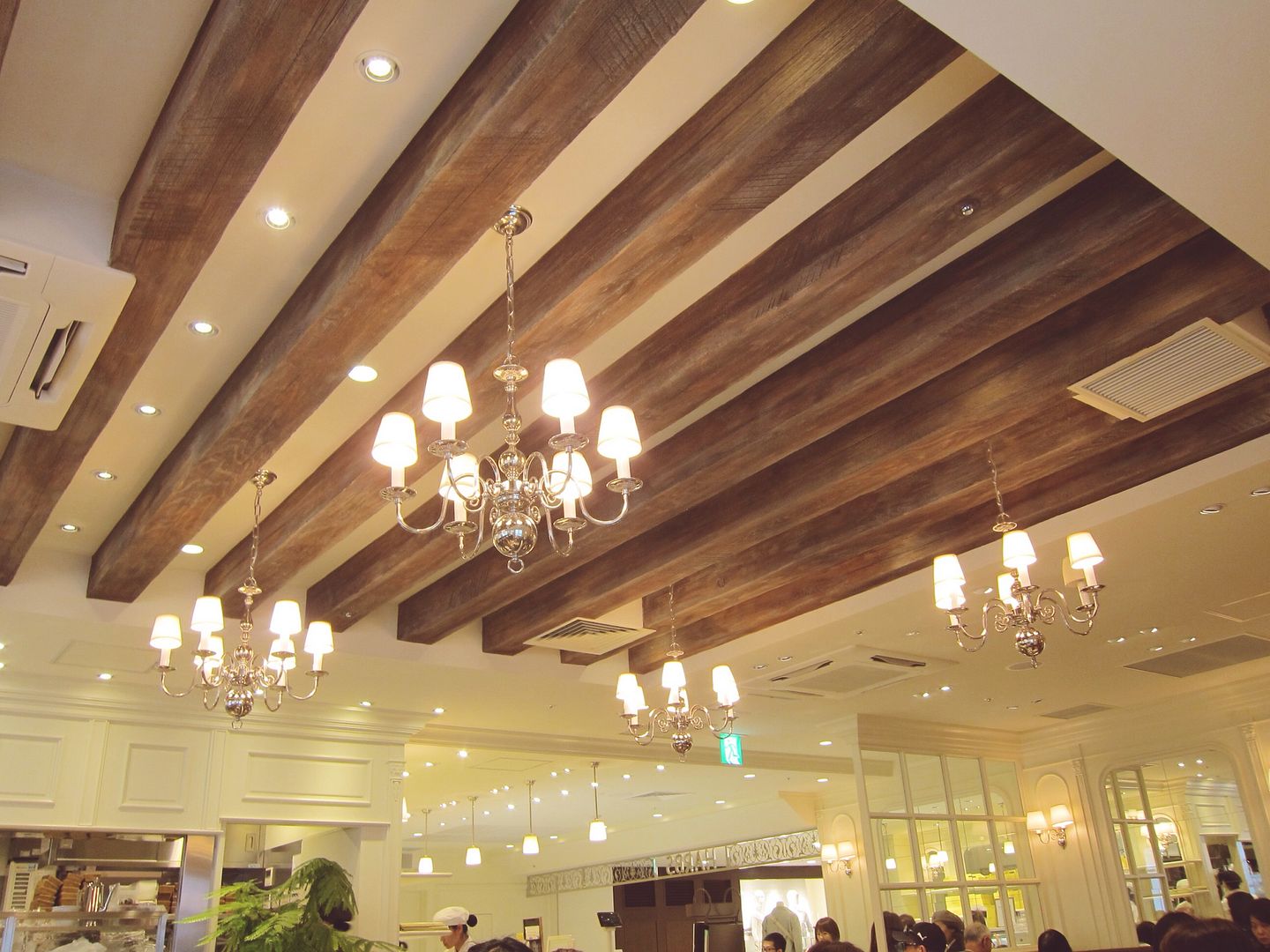 So, don't forget to check this place out when you travel to Japan!
After lunch, she accompanied me for shopping as I've got a bunch of shopping list to do which I've planned before my trip.
Not only my own shopping list to clear but also le cousin's shopping list which consists of all cosmetics goods.
ECONECO's new products which consist of eye-shadow palette and lip gloss.
I've blogged about ECONECO's product here.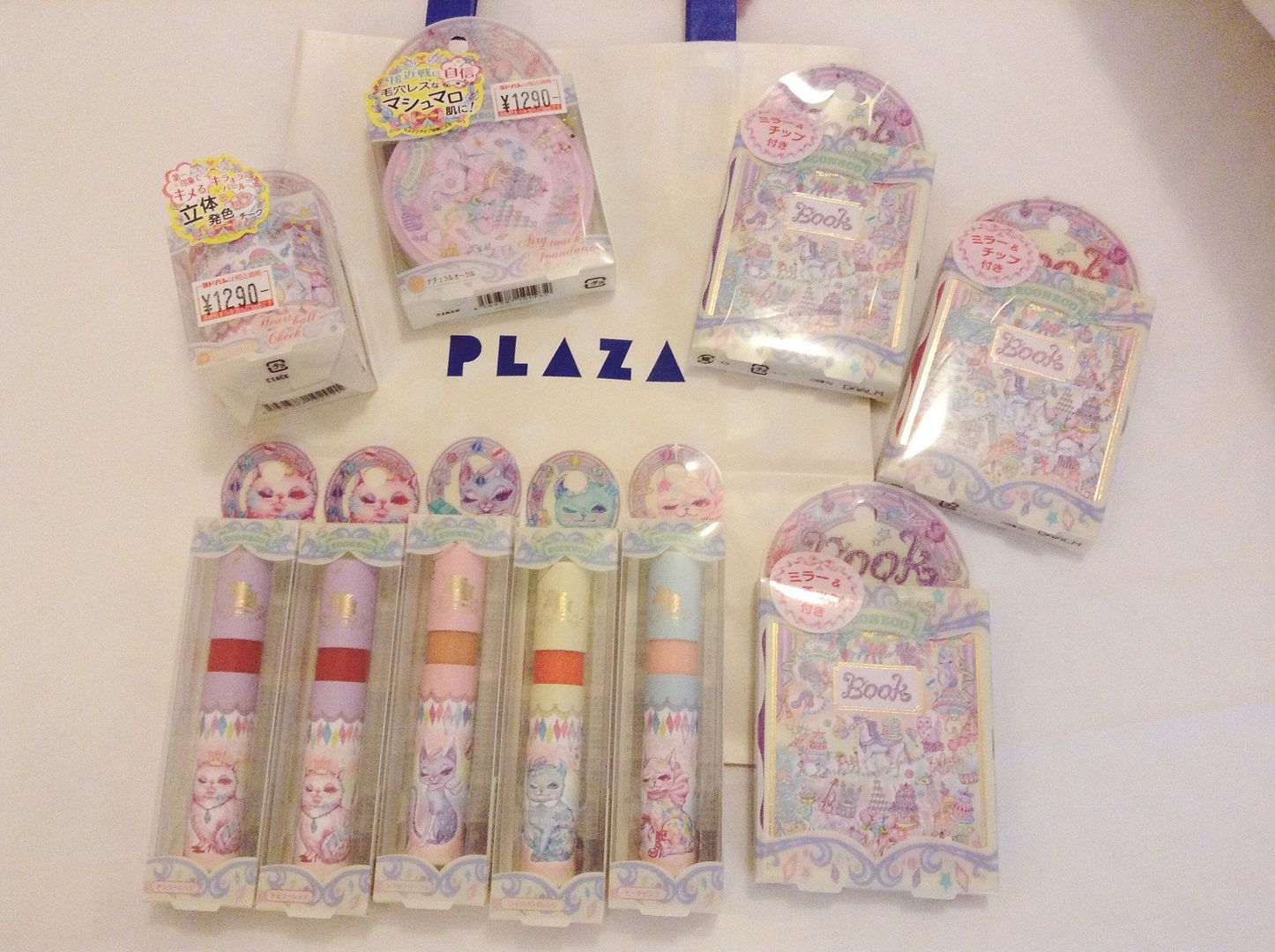 Also, more LADUREE spring limited items.
Got the mini flower blusher.
Will blog about it. So stay tune for more upcoming cosmetic posts.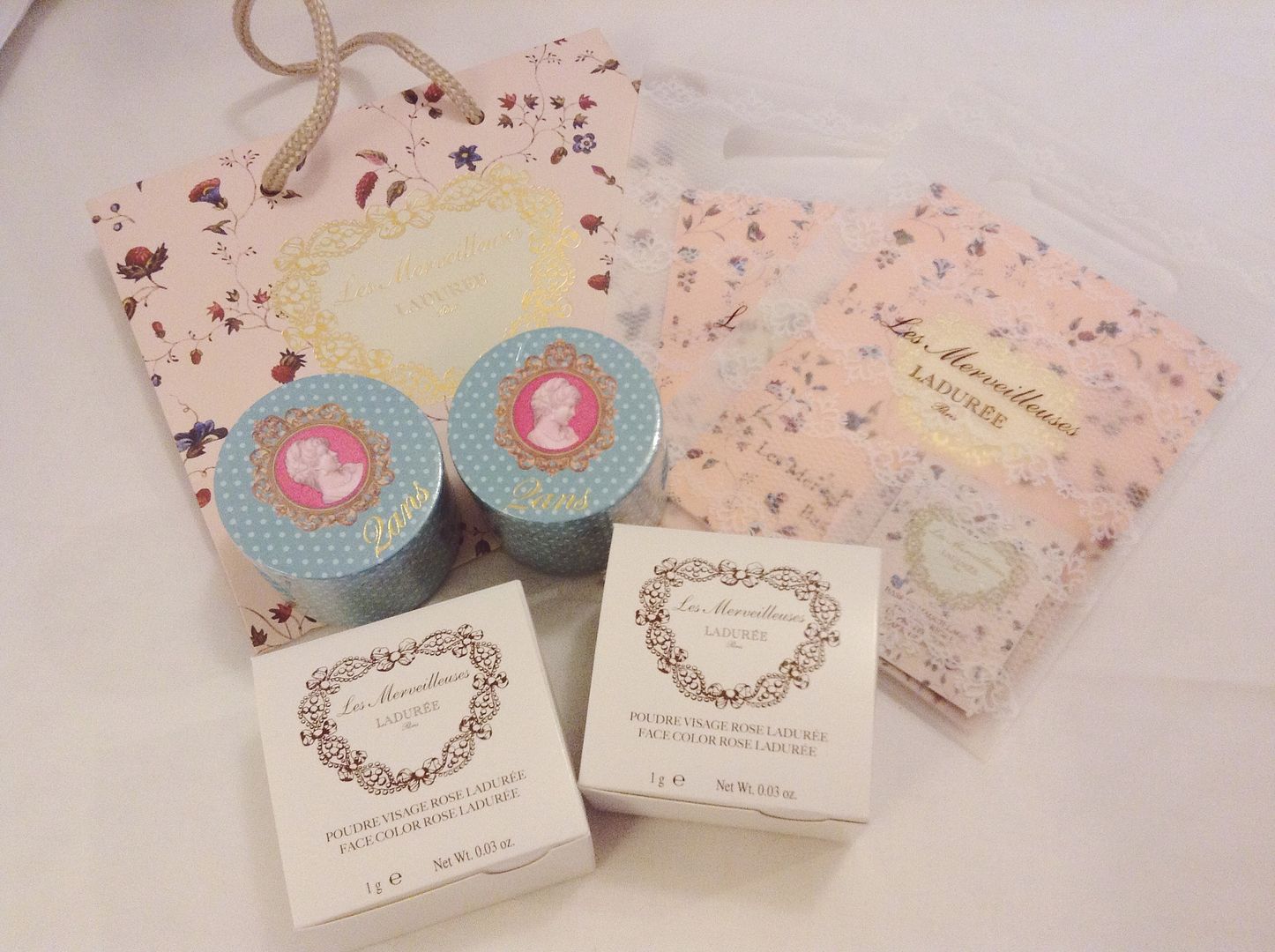 Faux lashes and eyeliners is a MUST GET ITEMS in JAPAN!!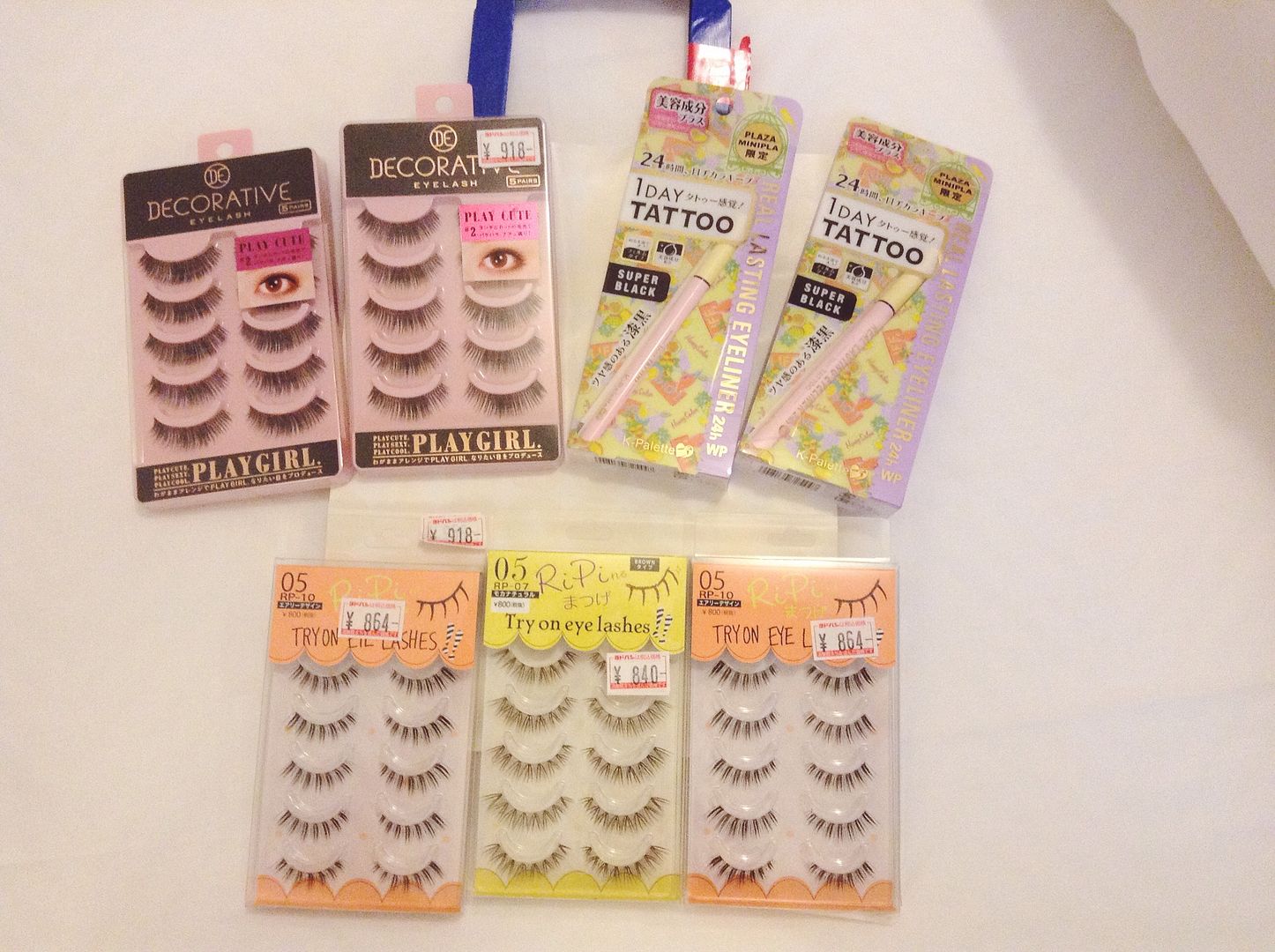 and MASKS!
So pretty isn't it? Such cute mask pads can only be found in JAPAN..
It's super cheap and nice!!
ONLY IN JAPAN!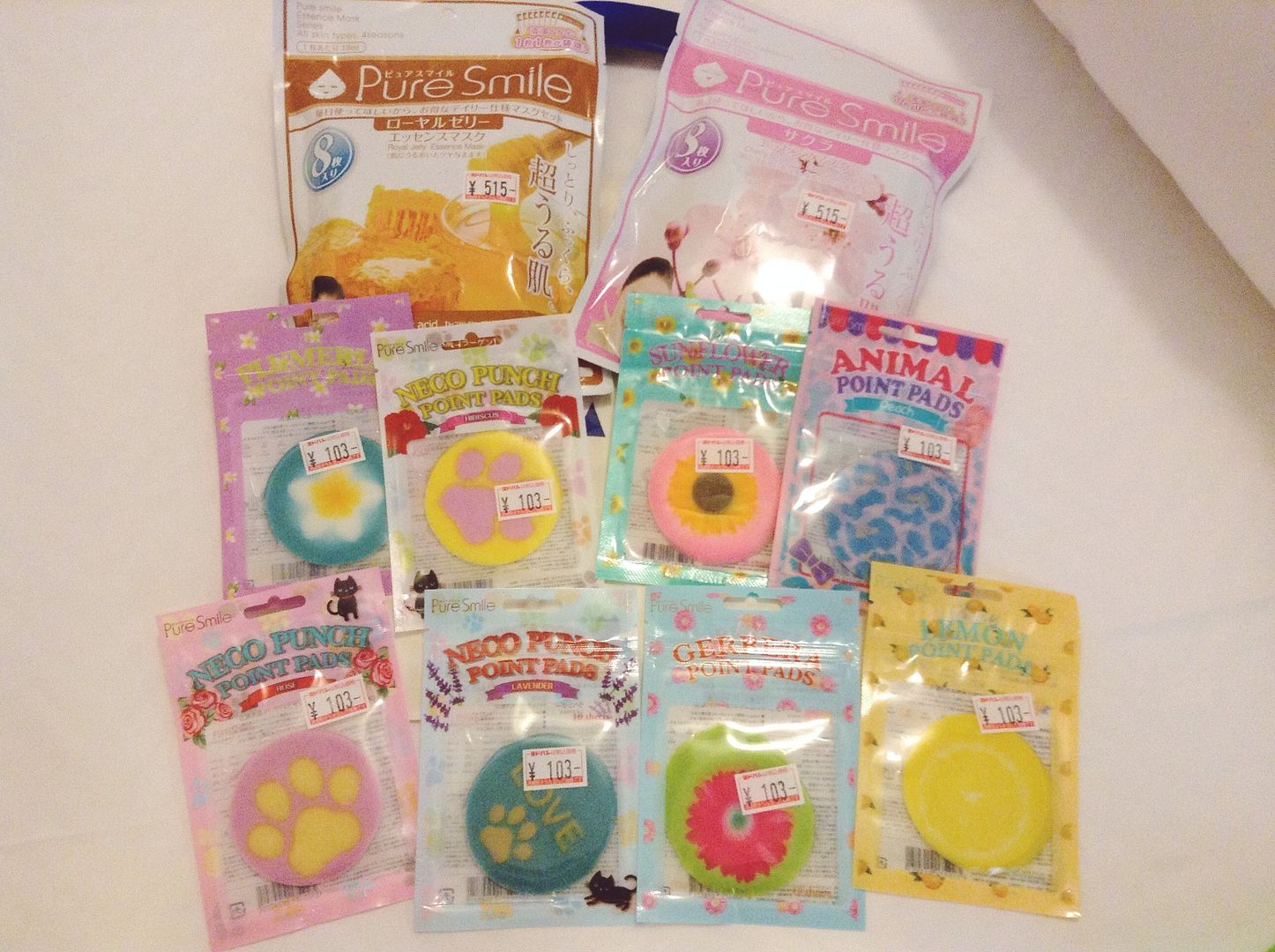 This is not all.. I bought food stuffs such as chocolates and some other snacks which costed me a bomb too.
Also, got a bag from Samantha Thavasa Deluxe which I'll blogged about it in another post.
I didn't know trip like this could actually cost me a BOMB too. I think I will have to learn to control myself from now on or else I'll be so broke.
Ok, so after all the shopping, we decided to go for PURIKURA as we wanted to keep this moment as a memory.
By the way, PURIKURA is a MUST DO THING when you come to JAPAN!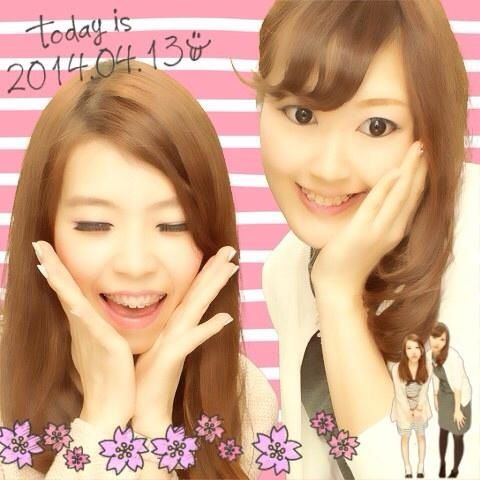 Added the sakura stamps since it's SPRING!
After PURIKURA session, it was time to say good-bye.
We parted and I traveled by train to the HOTEL in Tenmabashi which was reserved by my company.
While checking in, I later found out that actually the hotel I'm staying in is really near to Osaka Castle.
I actually did plan to visit Osaka Castle to try my luck to see whether will I still be able to catch the sakura and I think I was pretty lucky as my hotel was just around that area and also I did managed to see a few trees which were still in full bloom.
So I was on my way to Osaka Castle before it gets dark.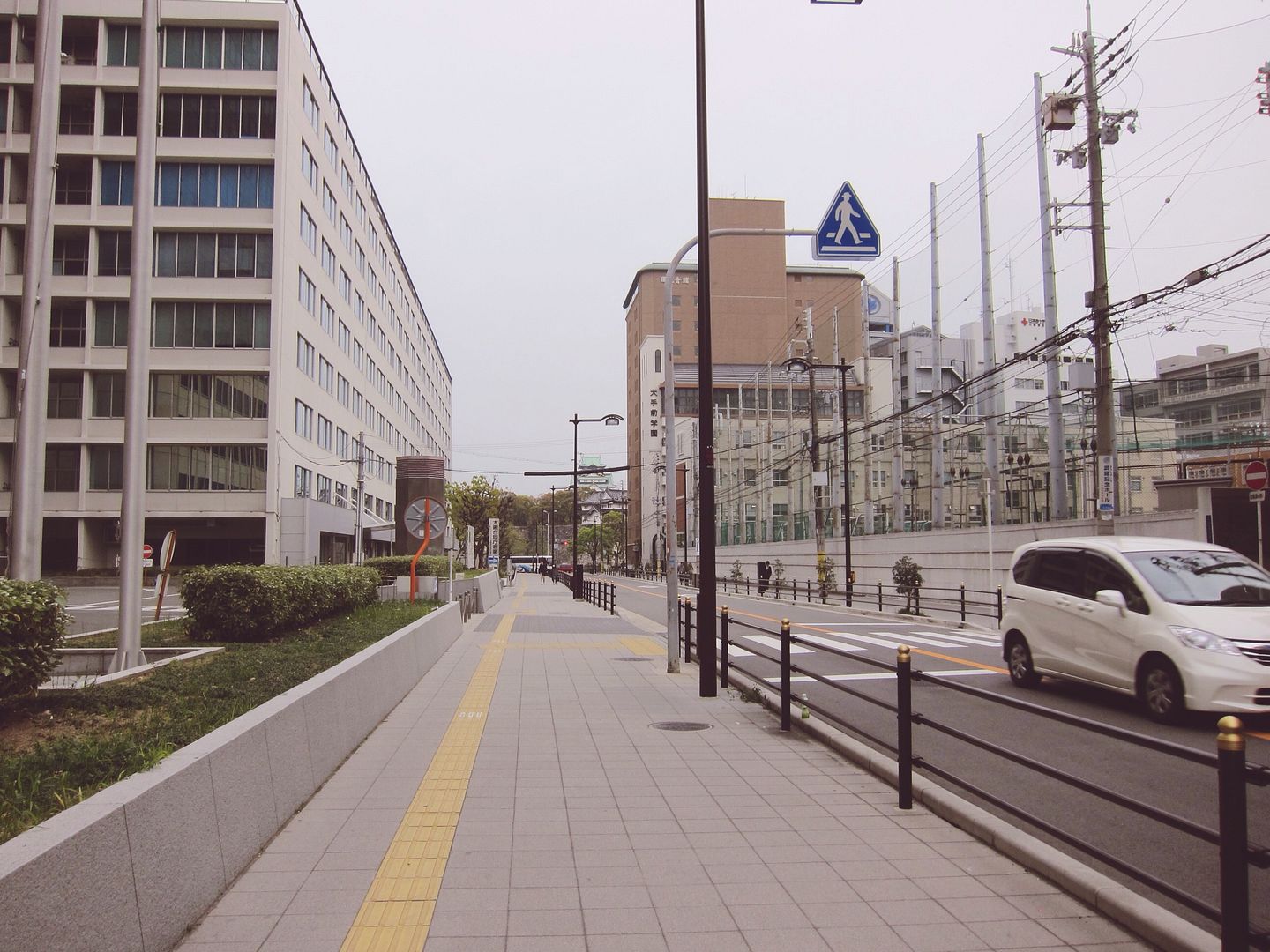 This college caught my attention which I think is pretty interesting.
Stopped and took a pic before I continue on with my journey.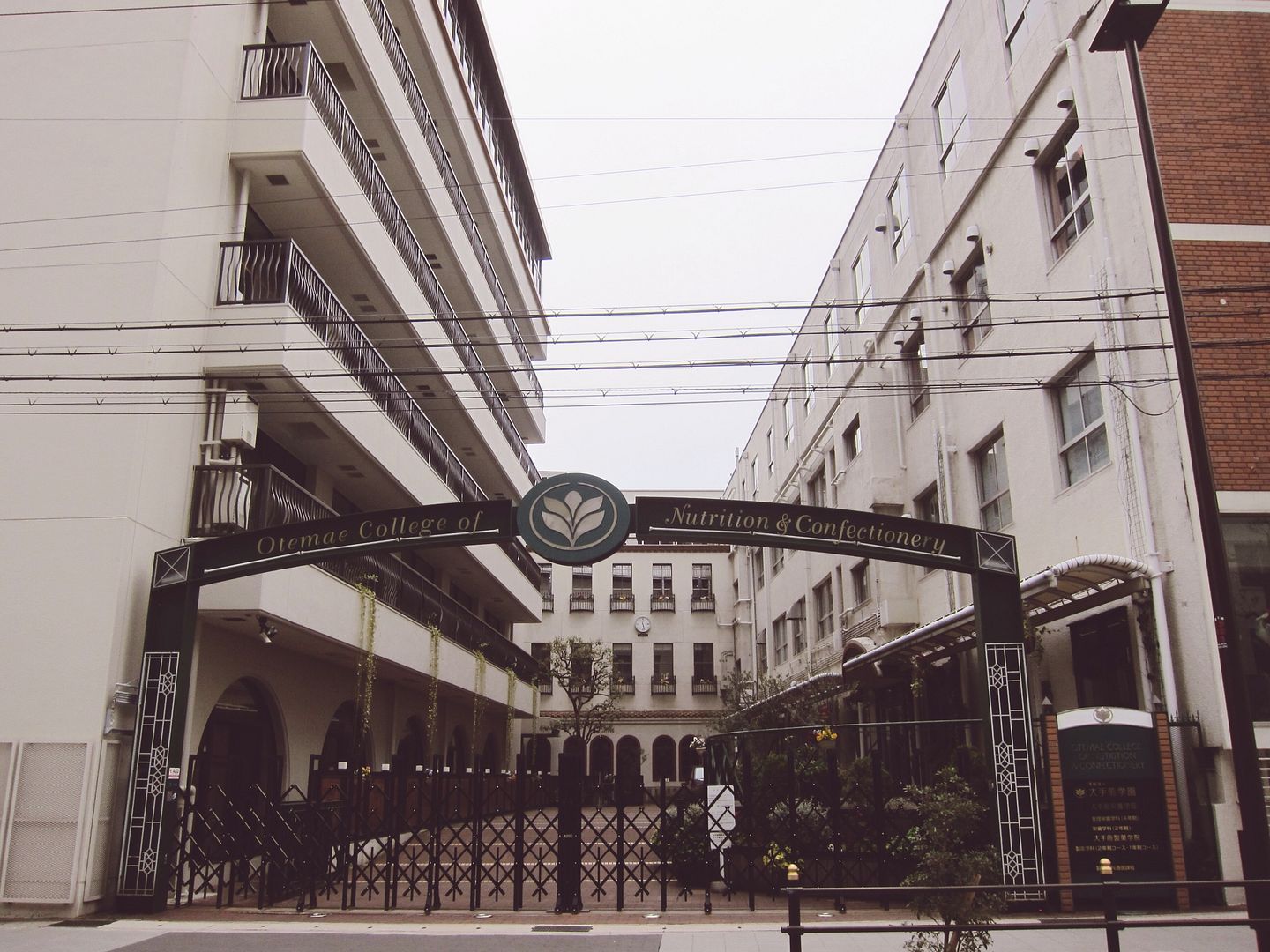 Far away I see a castle. Not Osaka castle but some castle located in the ground of Osaka Castle park.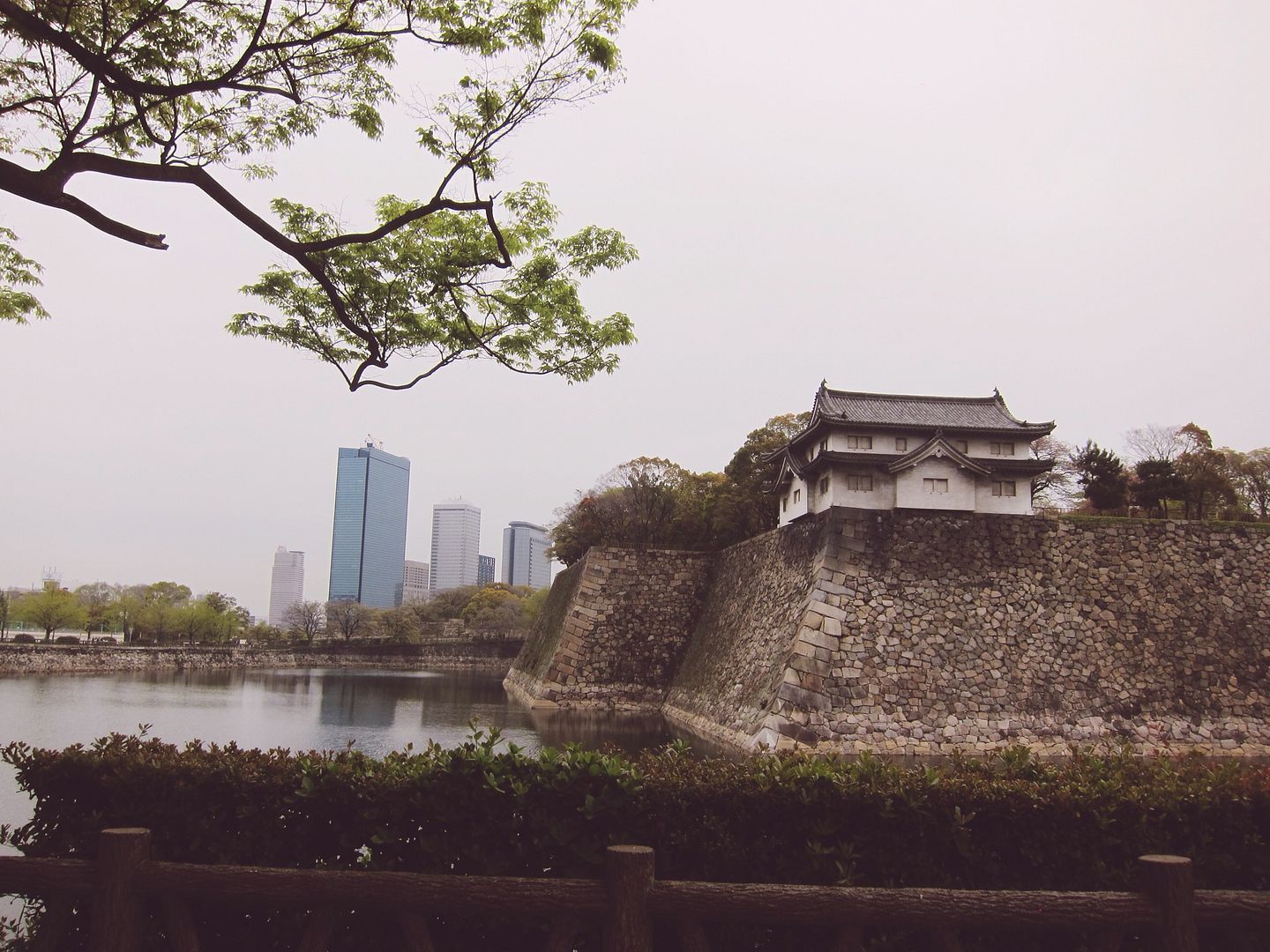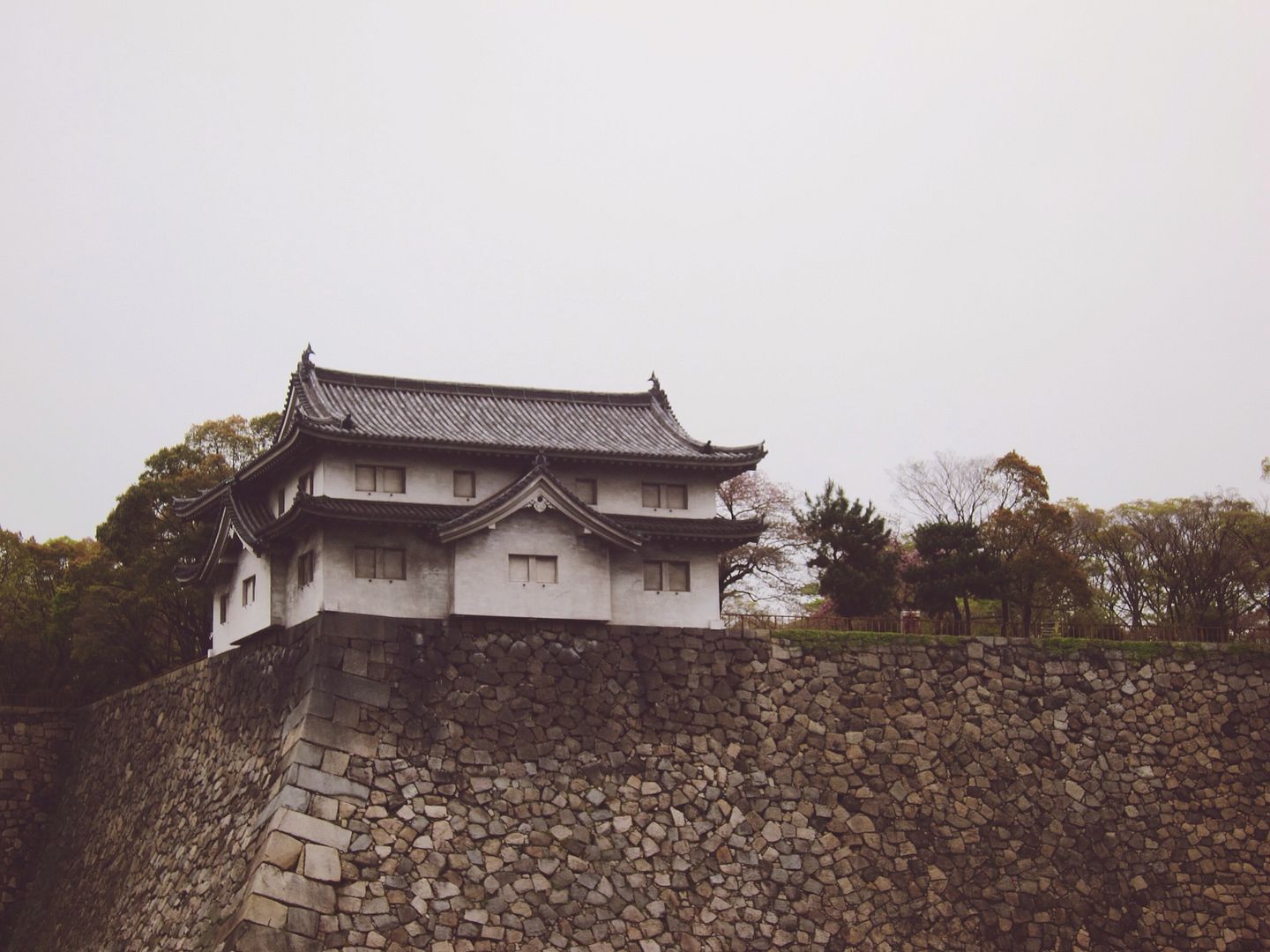 The moment I stepped into the park, I saw this!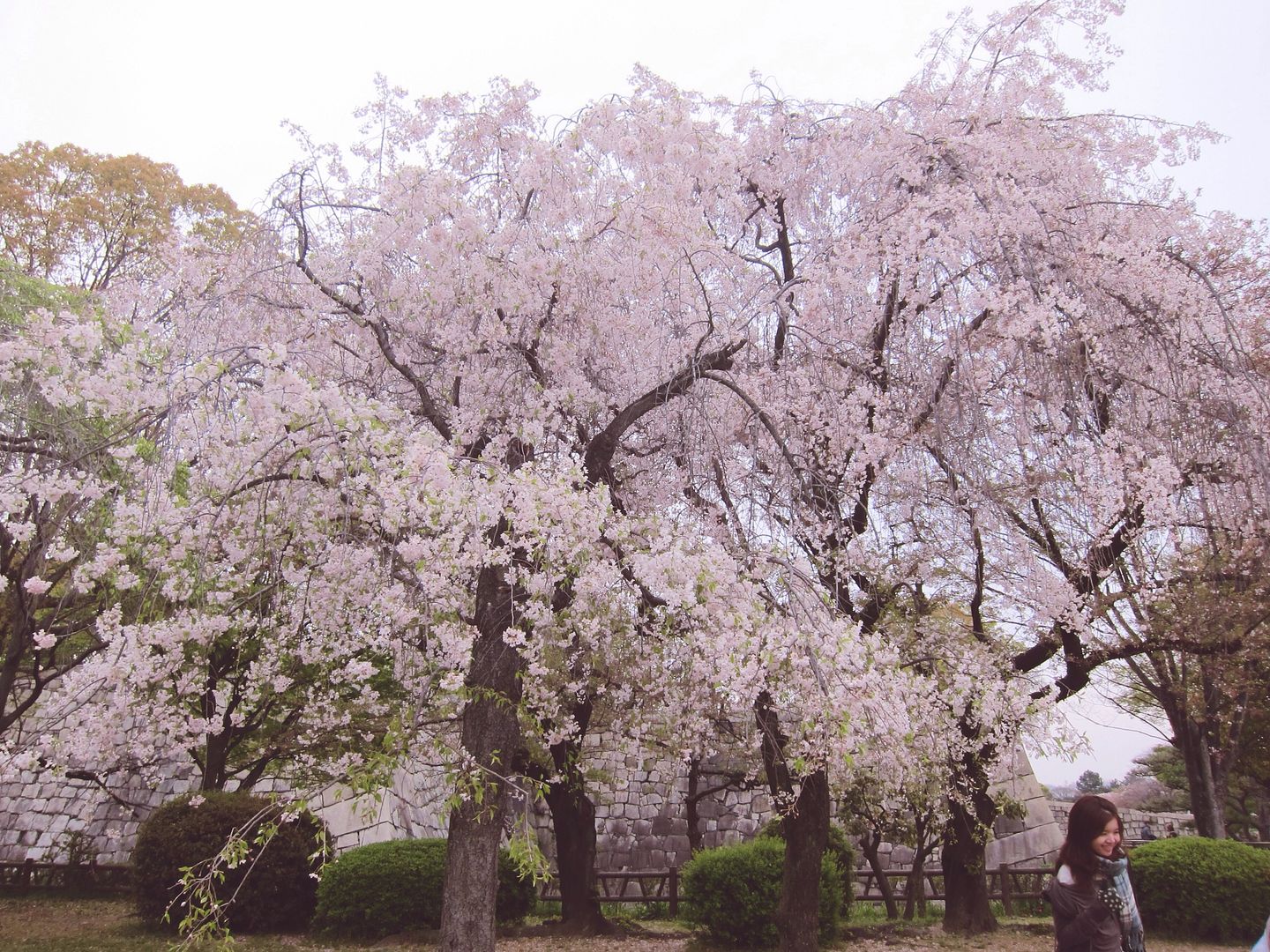 Crazily took so many pictures of them where coming pictures are all sakura pictures as you scroll down.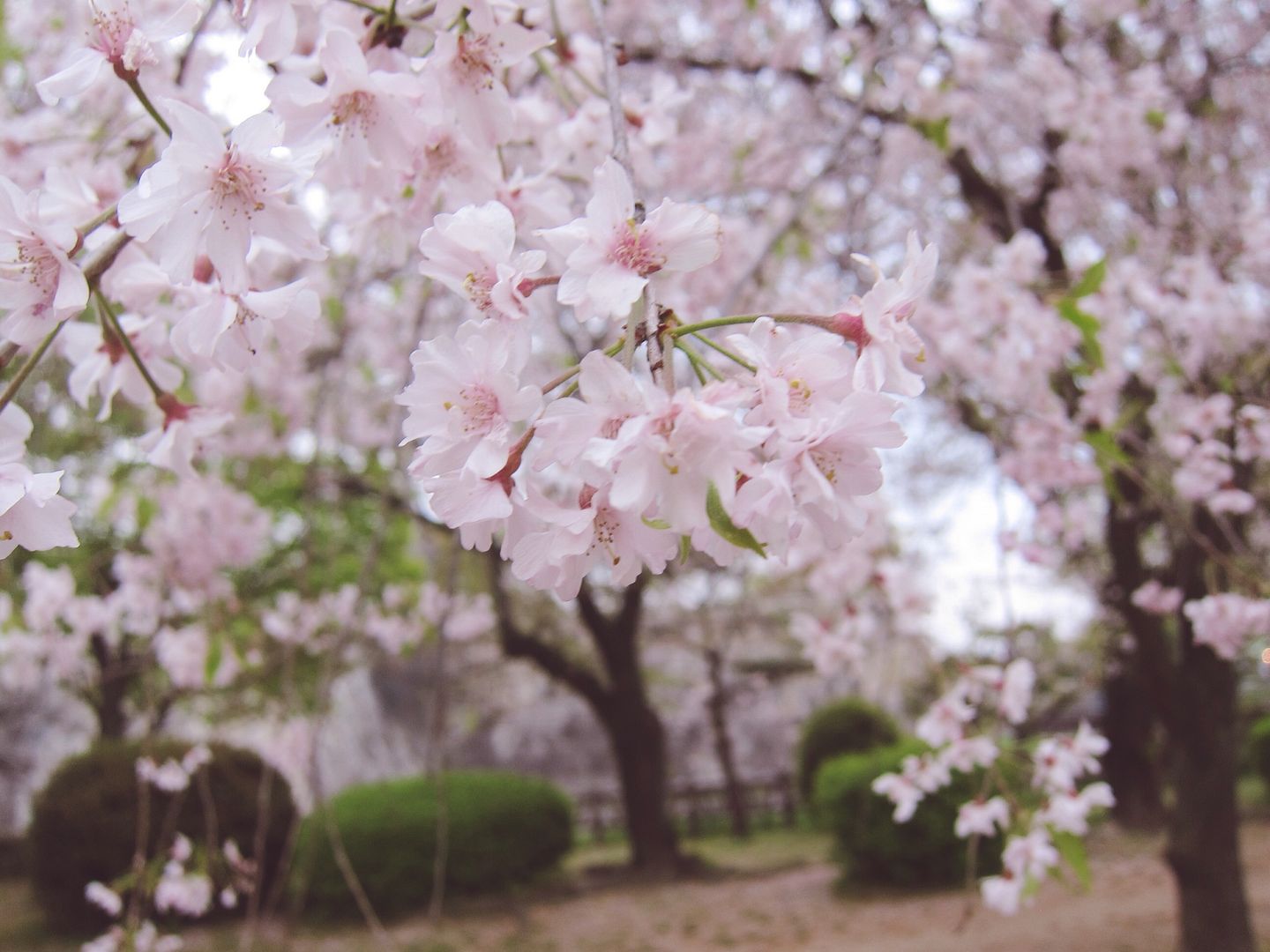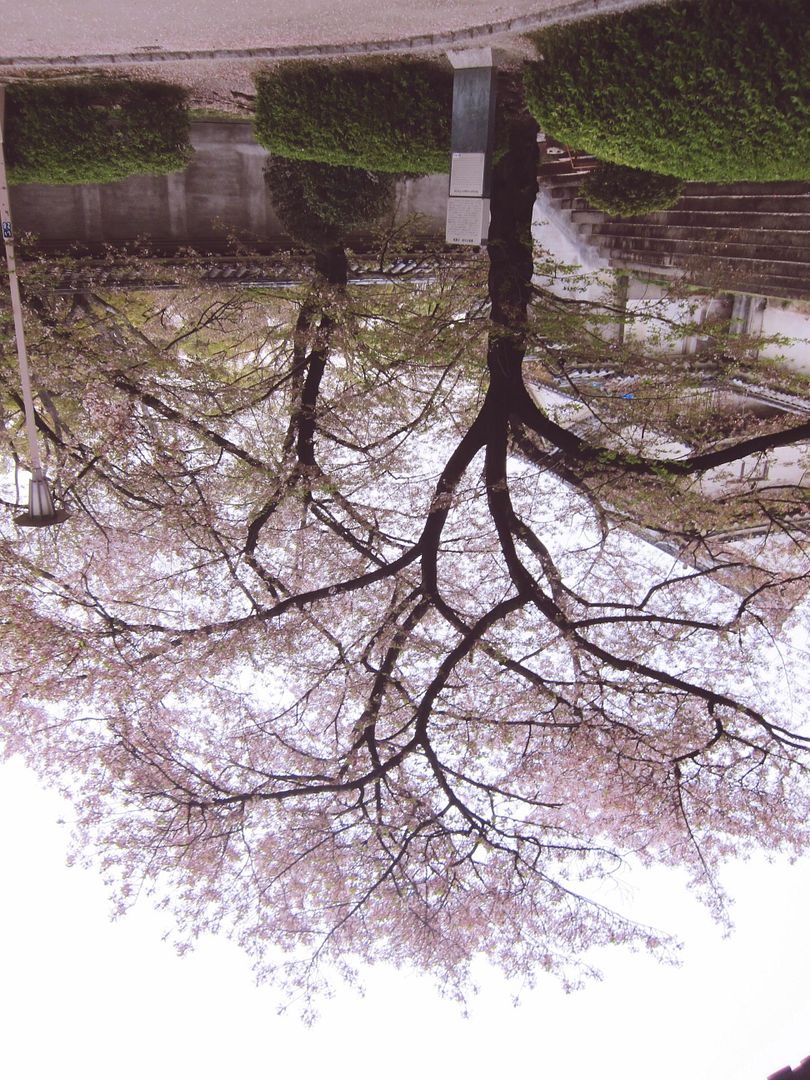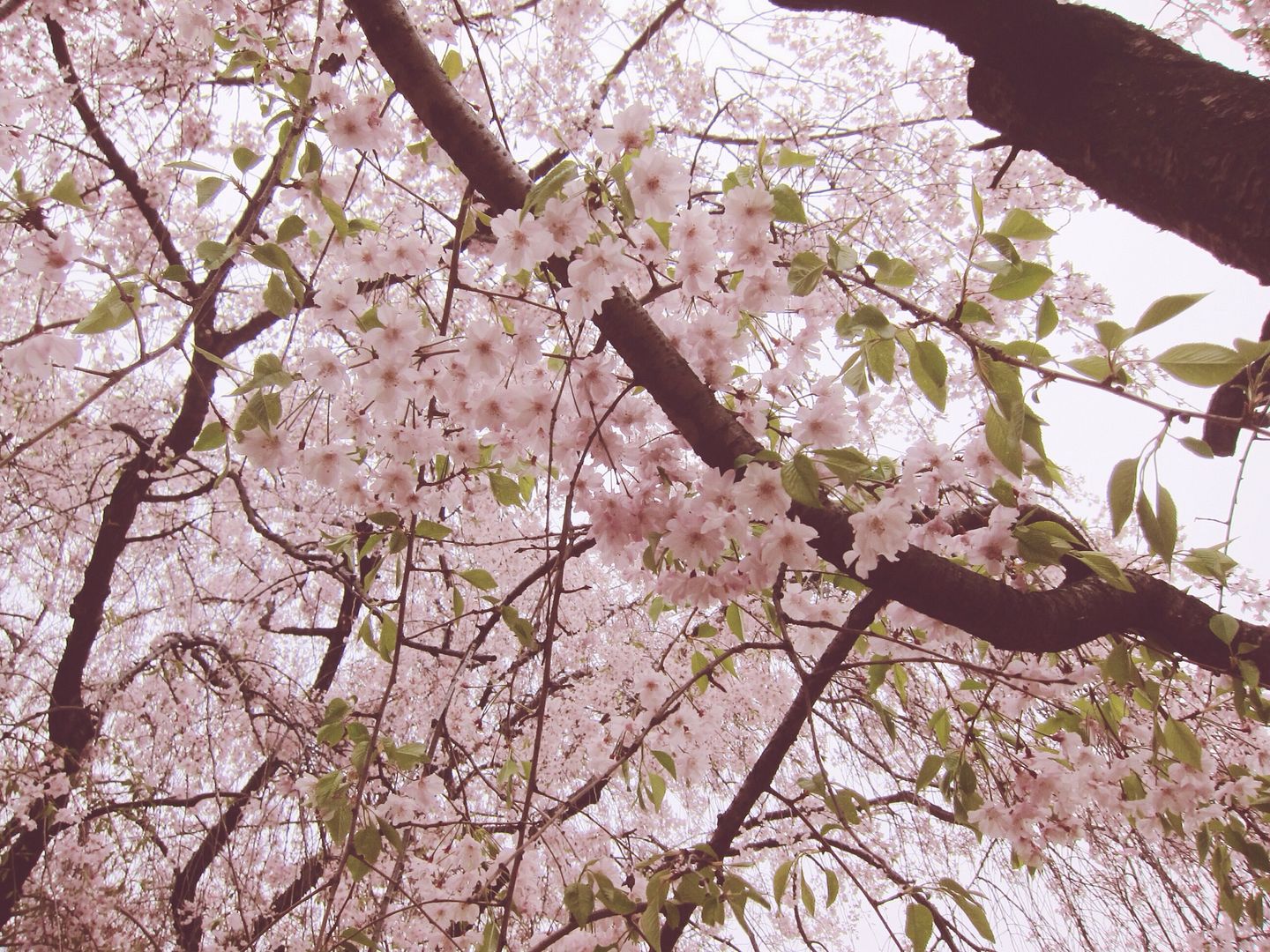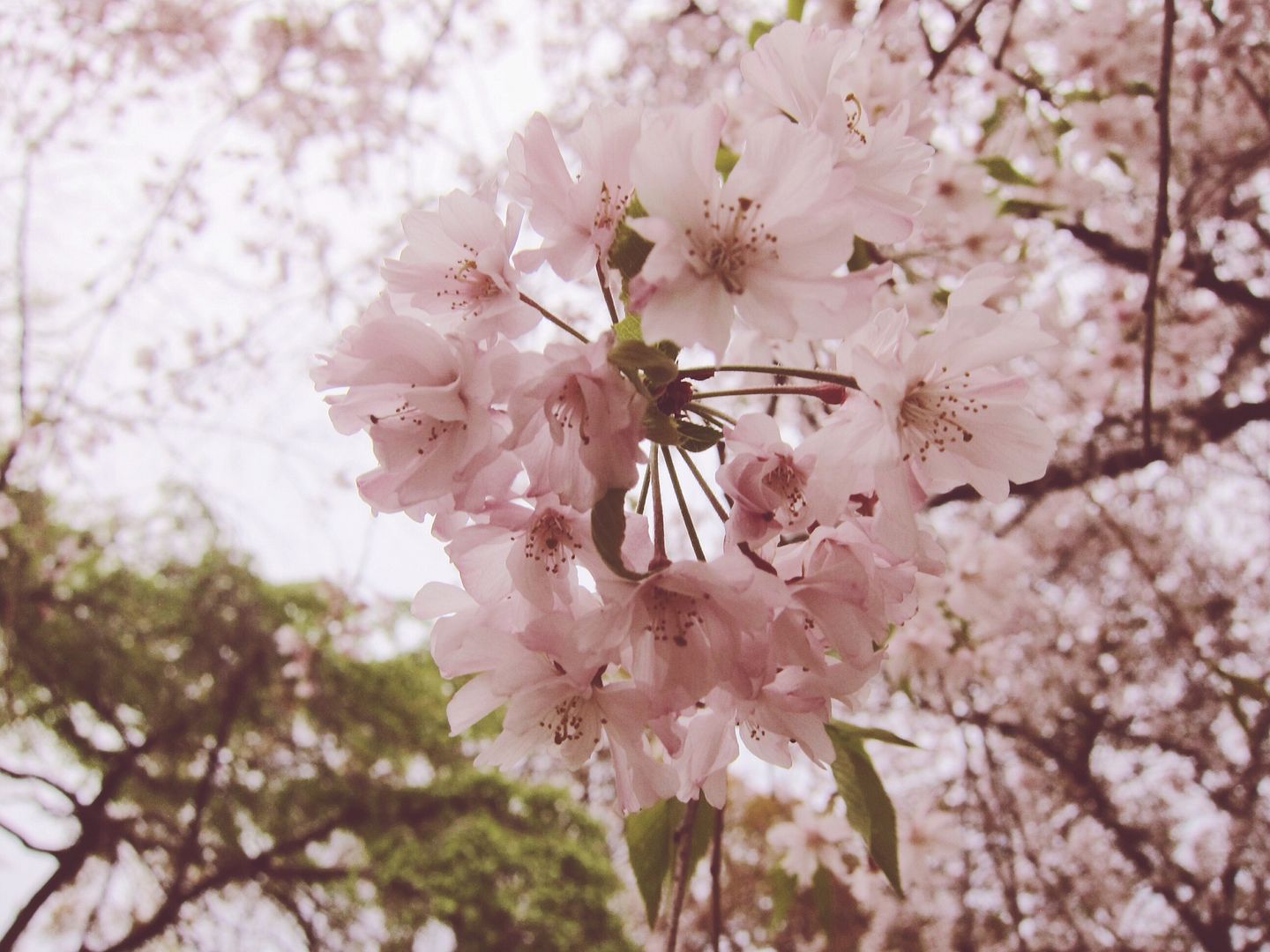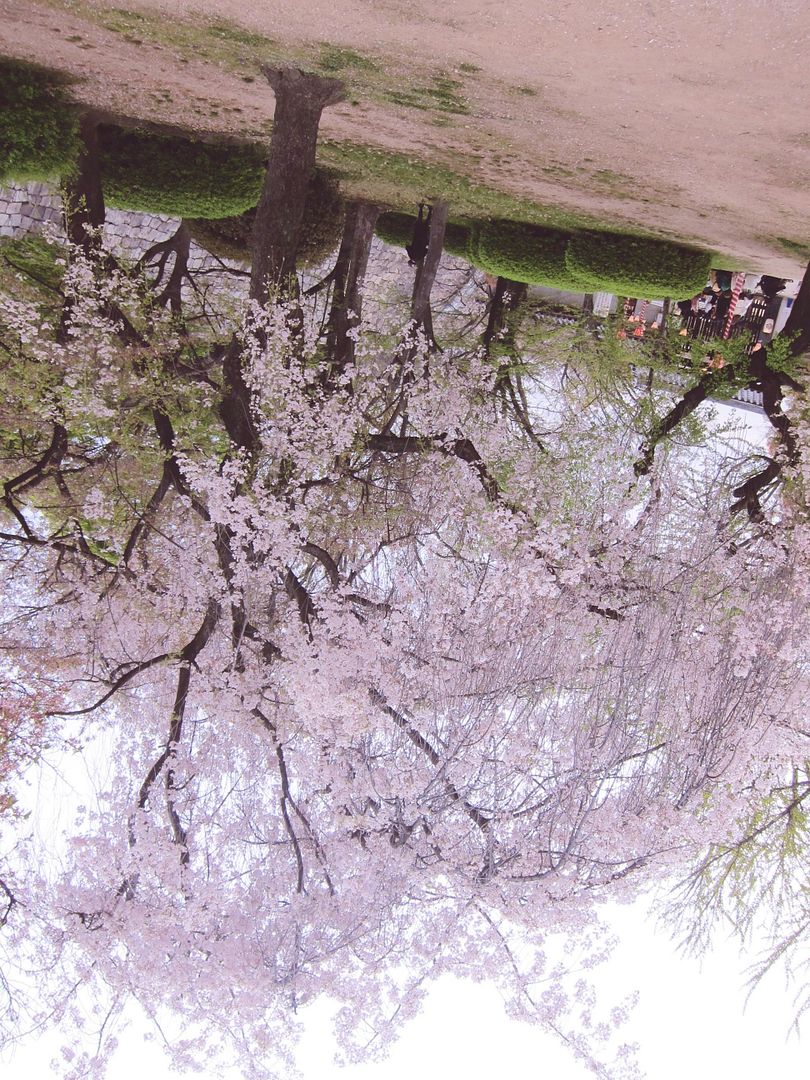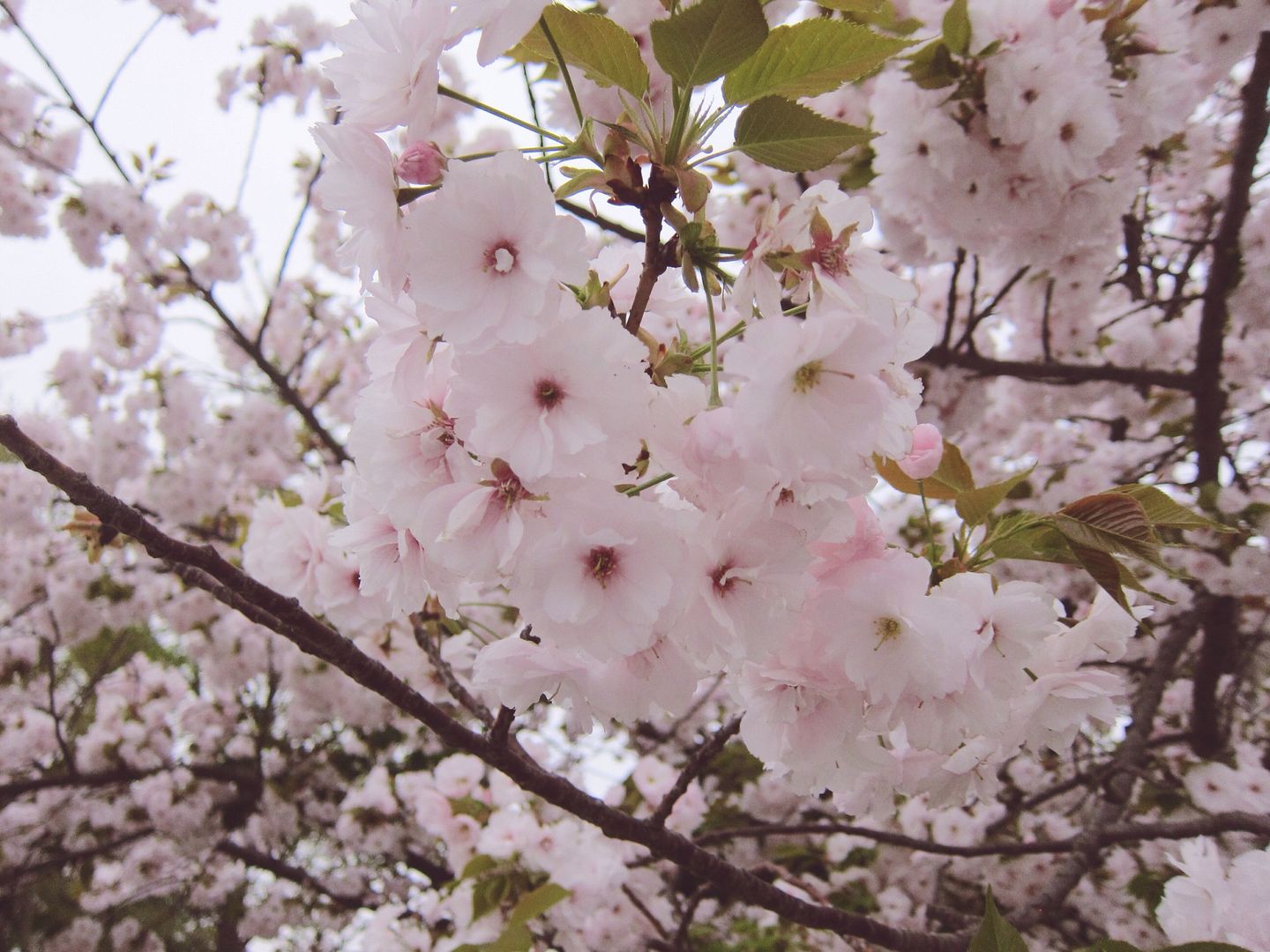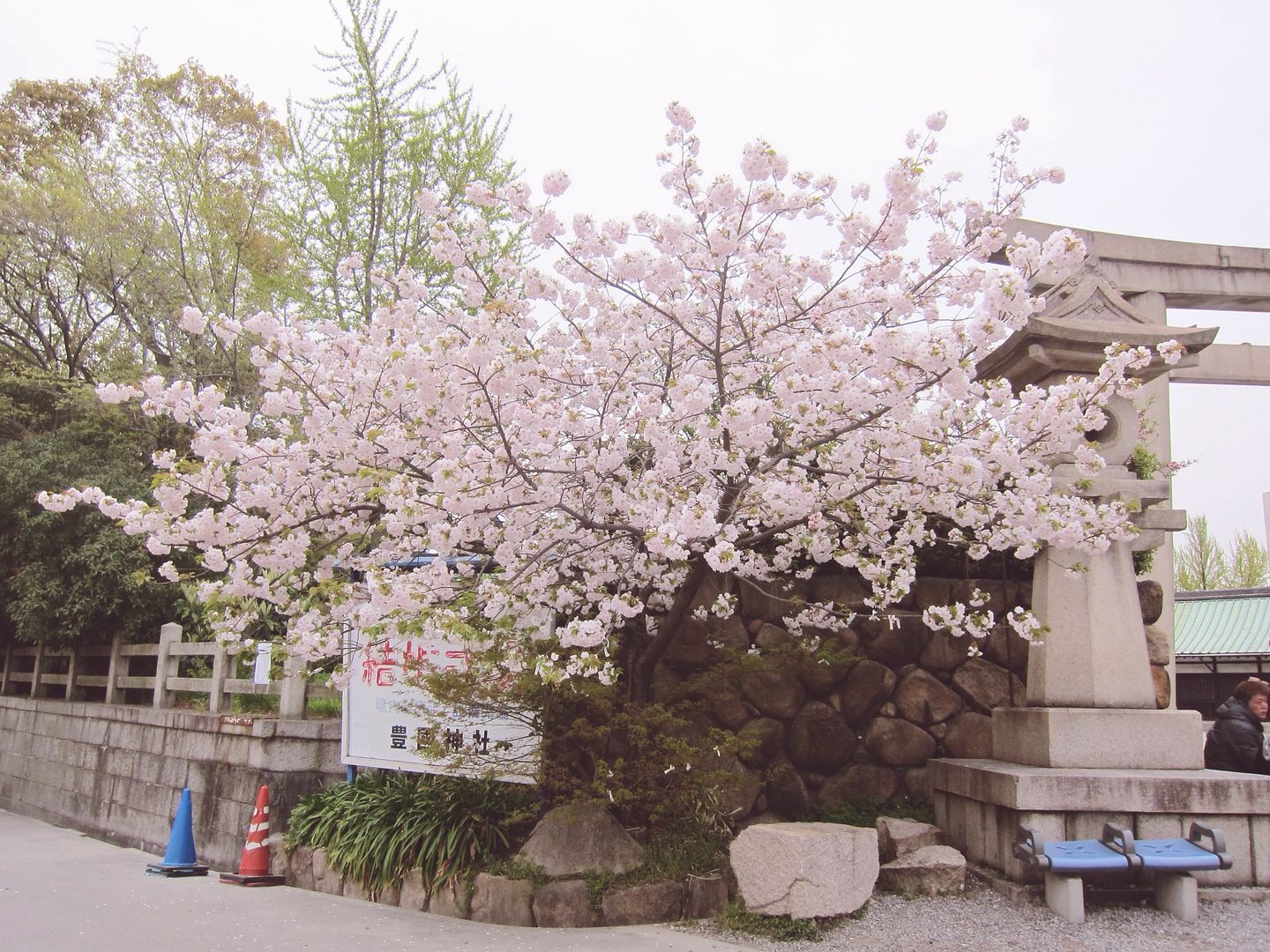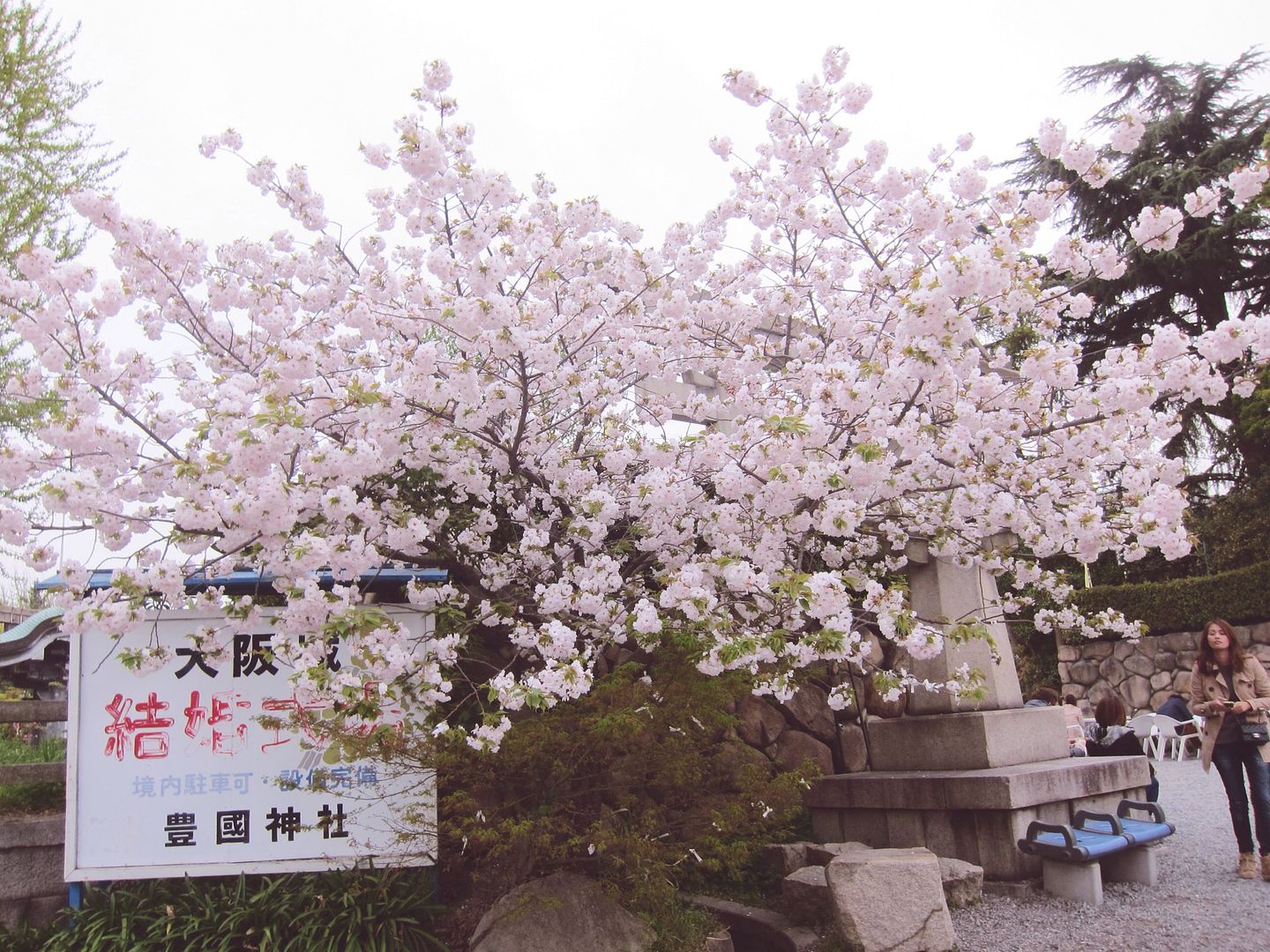 So pretty that I went under it and did some self-cam.
Pretty embarrassing but I didn't care much since I was so desperate to have a picture with the lovely sakuras…haha
Not the best pic, I know!
A stretch of cherry trees which have not fade out yet.
Love this shot below for some reason.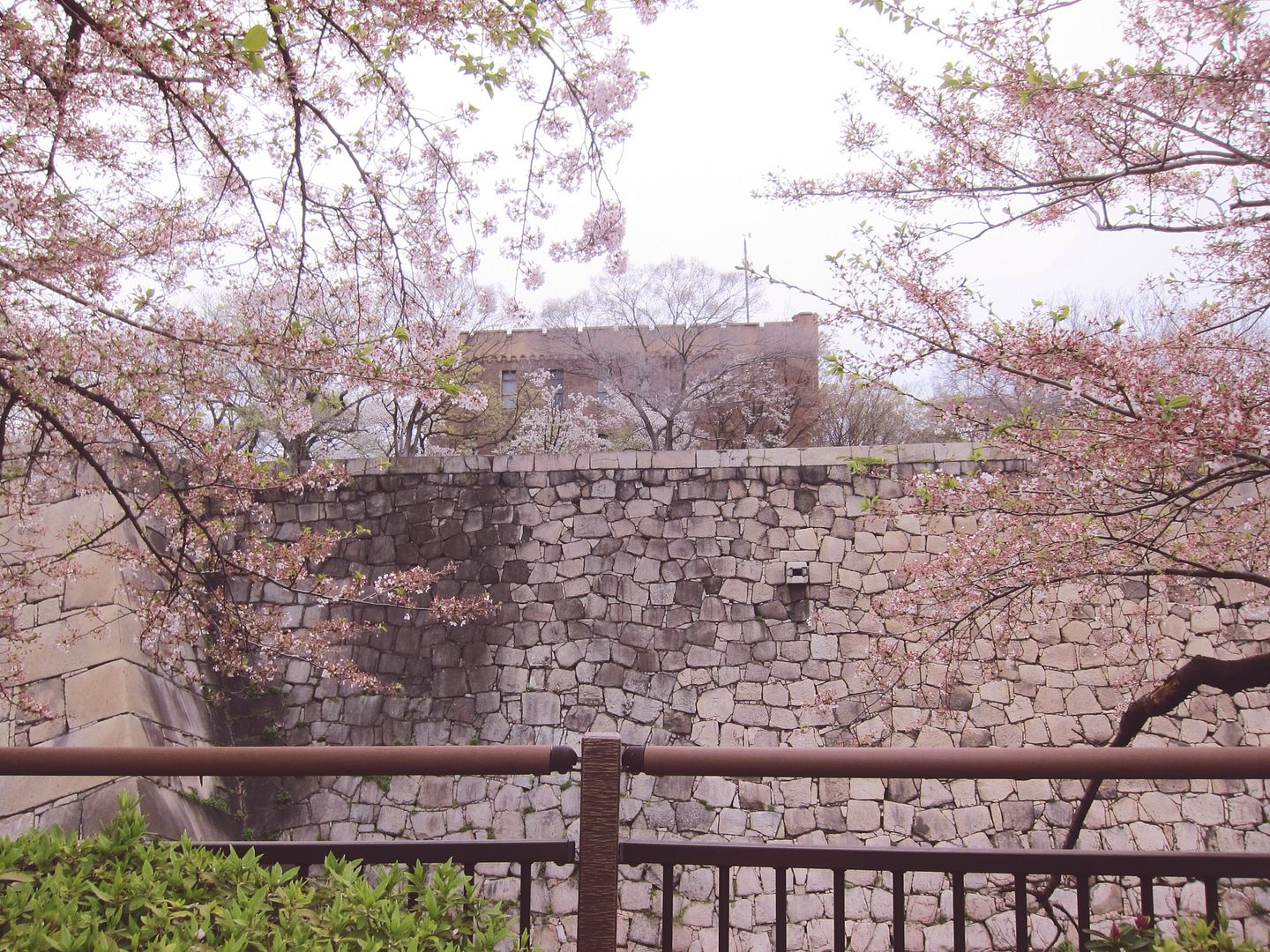 and this one too!
I've actually been here 4 years ago during the full bloom season.
The scenery looks totally different during full bloom. It can take your breath away.. seriously..
Went strolling around the castle and I found another species of sakura??!!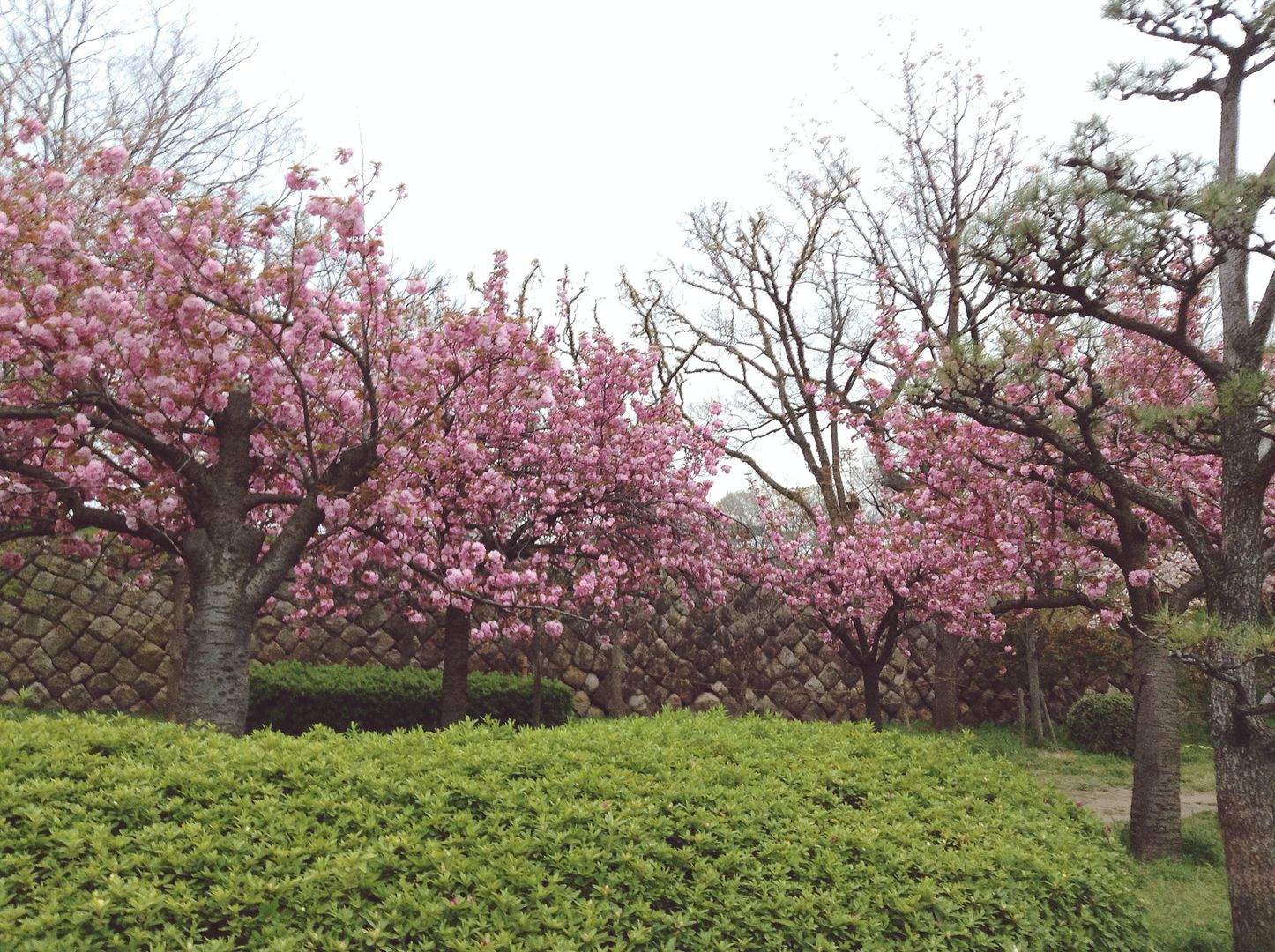 Did the same thing.. Went self-caming..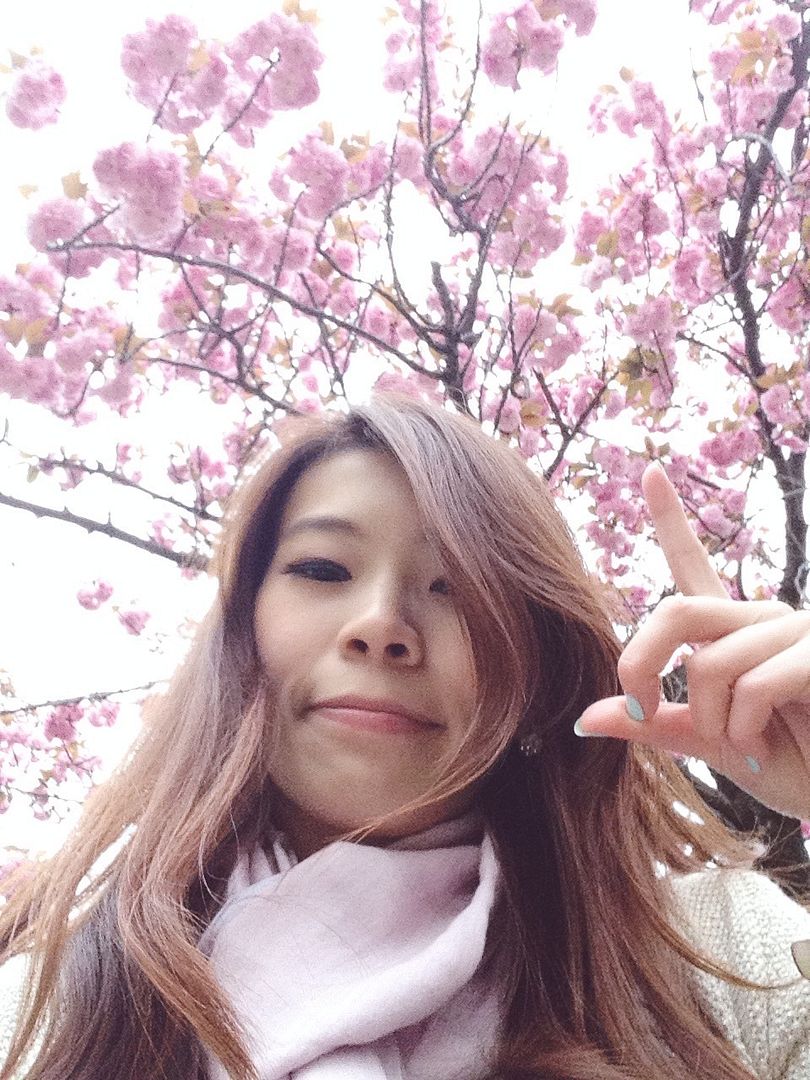 Sorry about the quality as I took these few pics with my iPod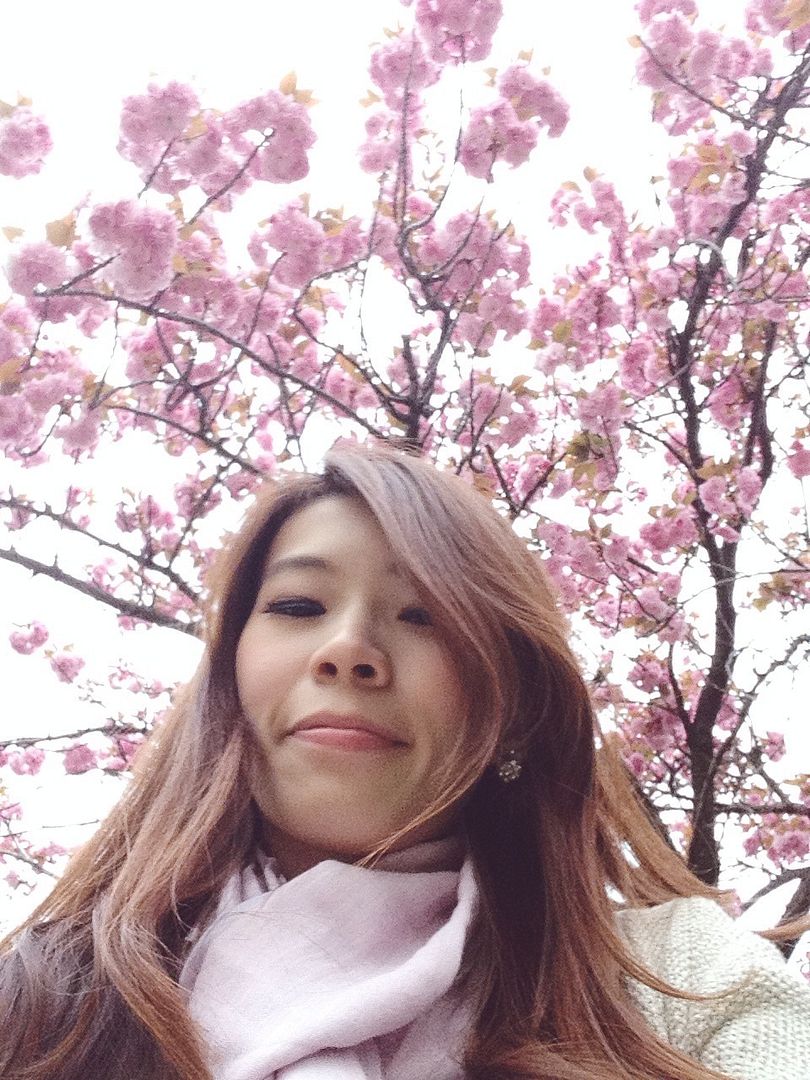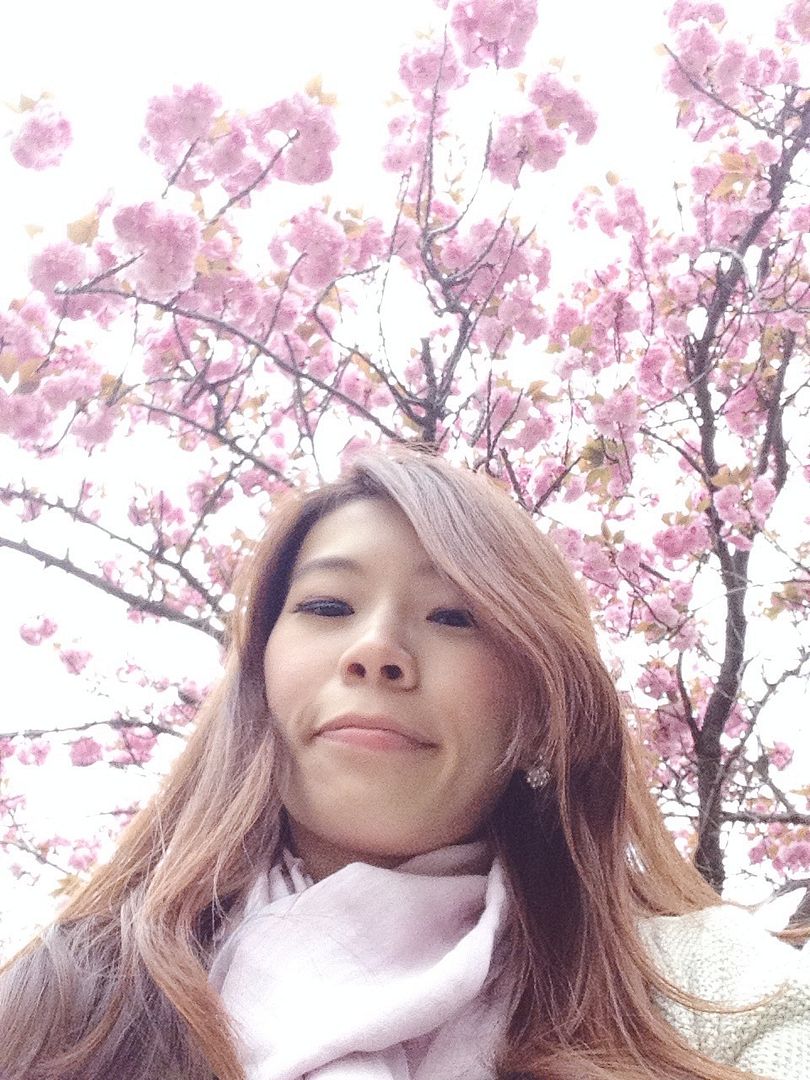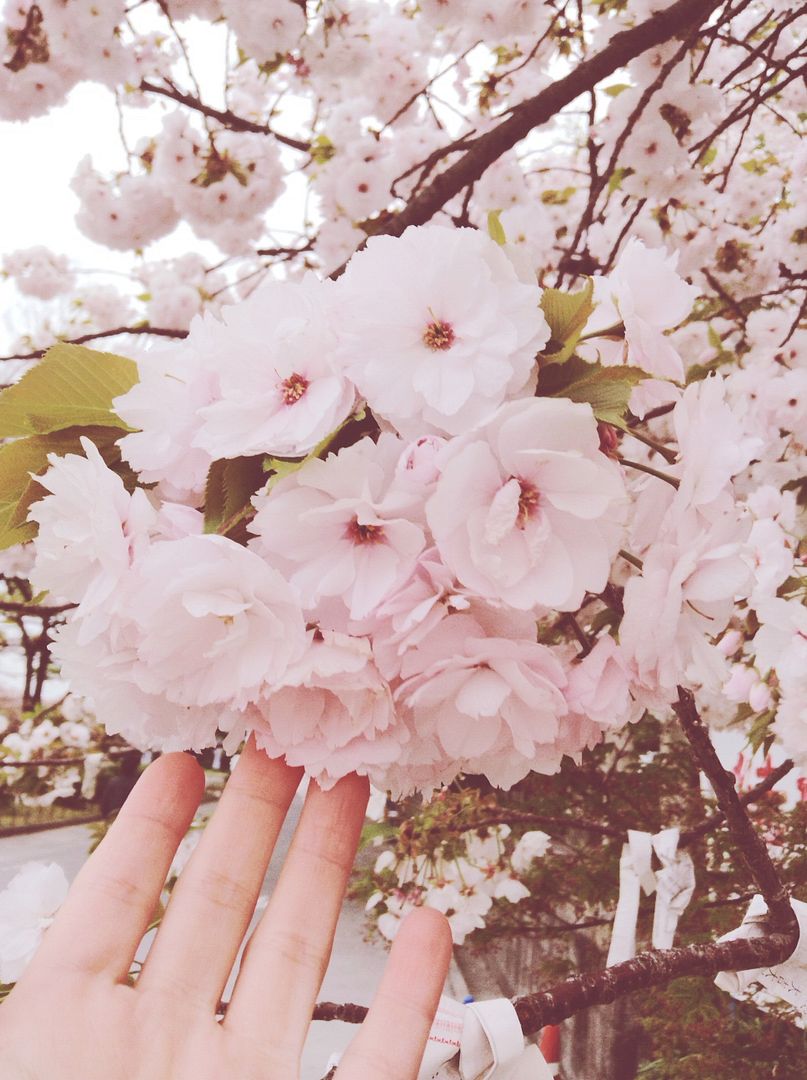 Here's a better quality which was taken with my camera.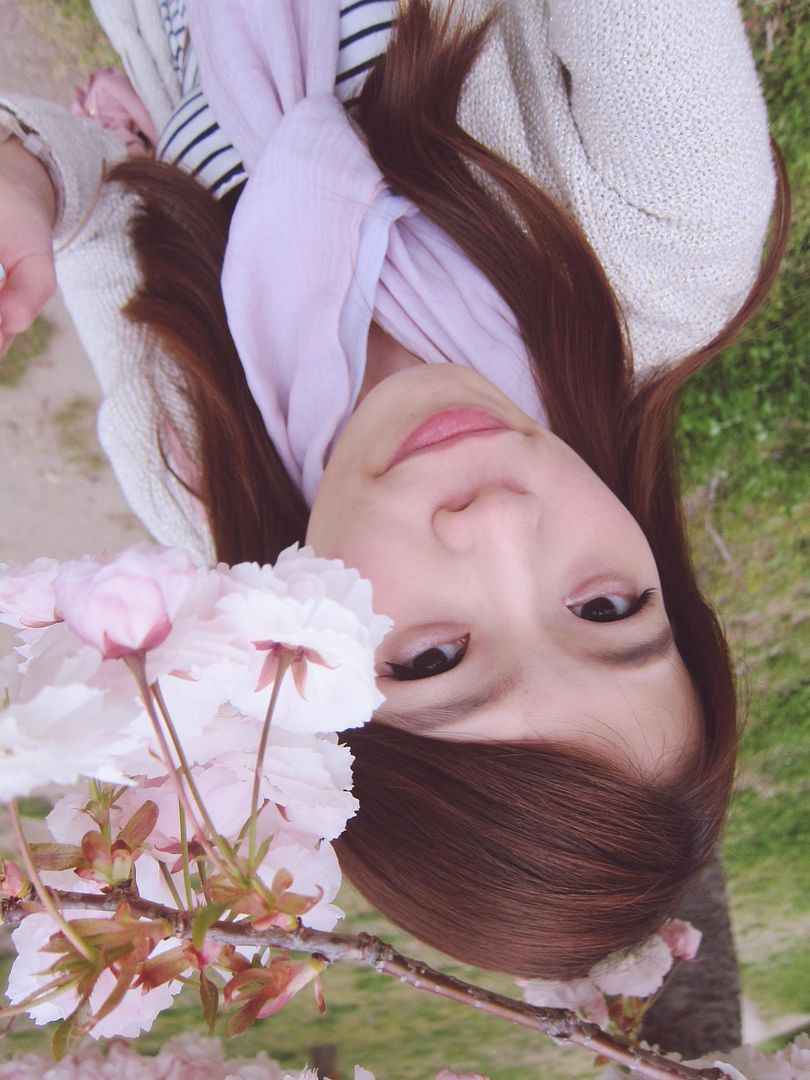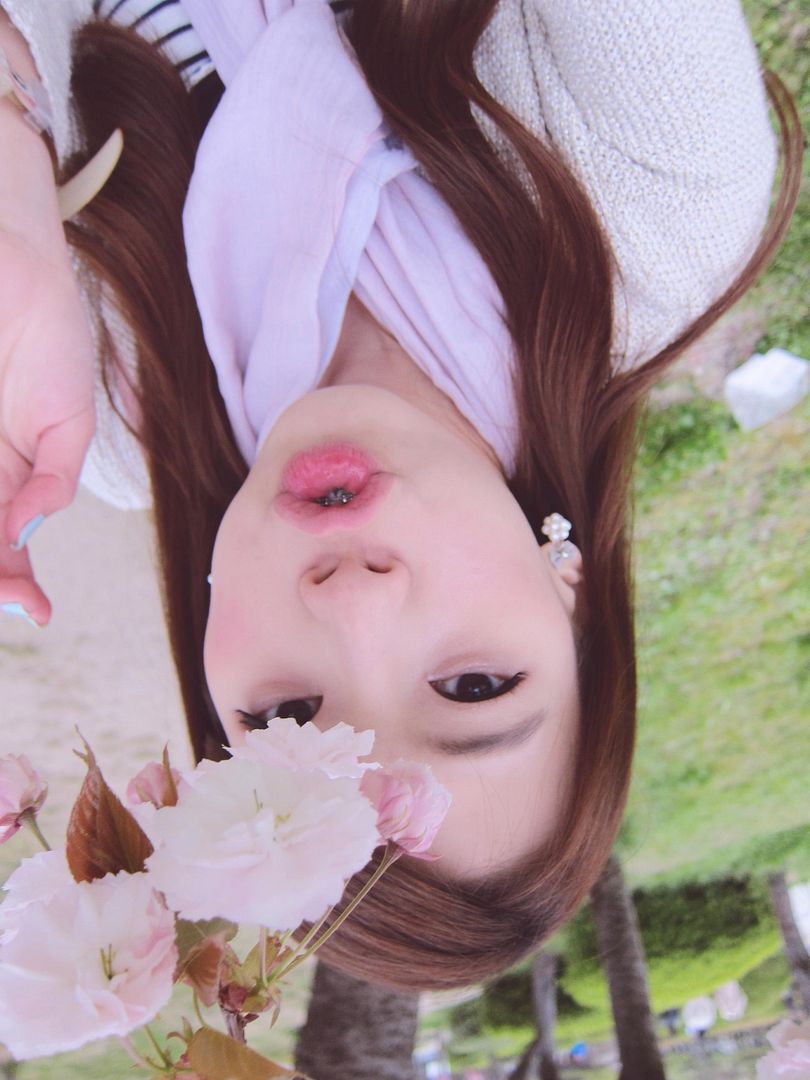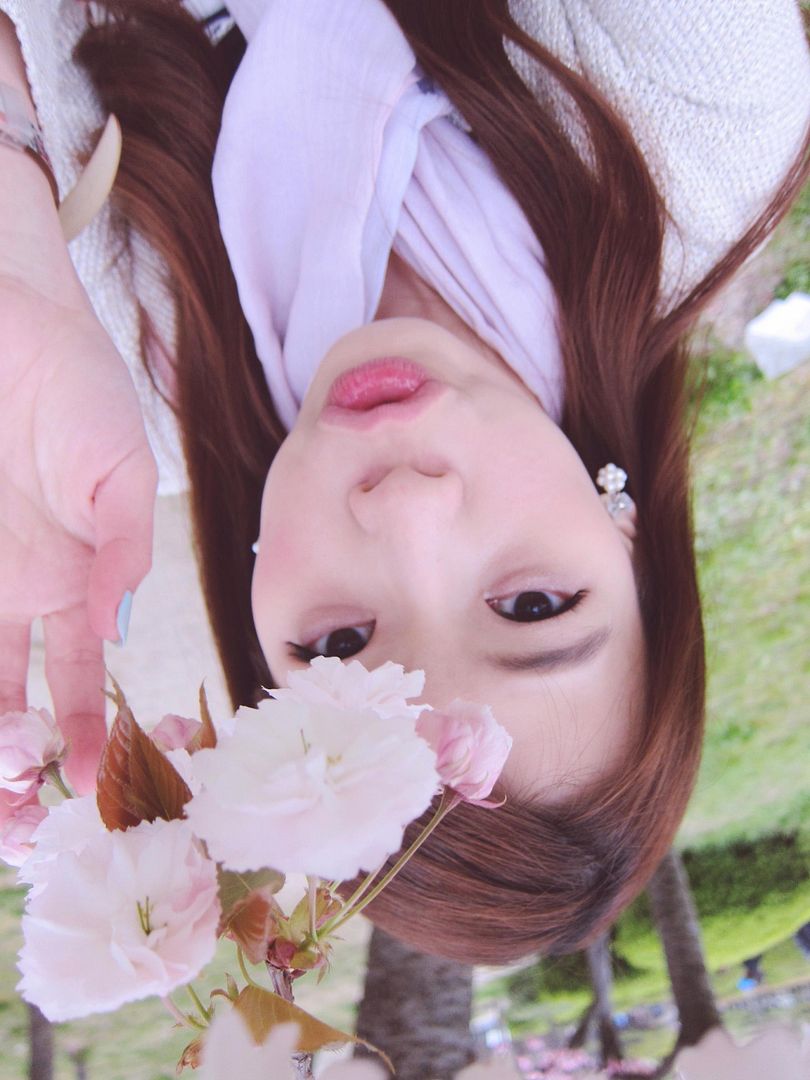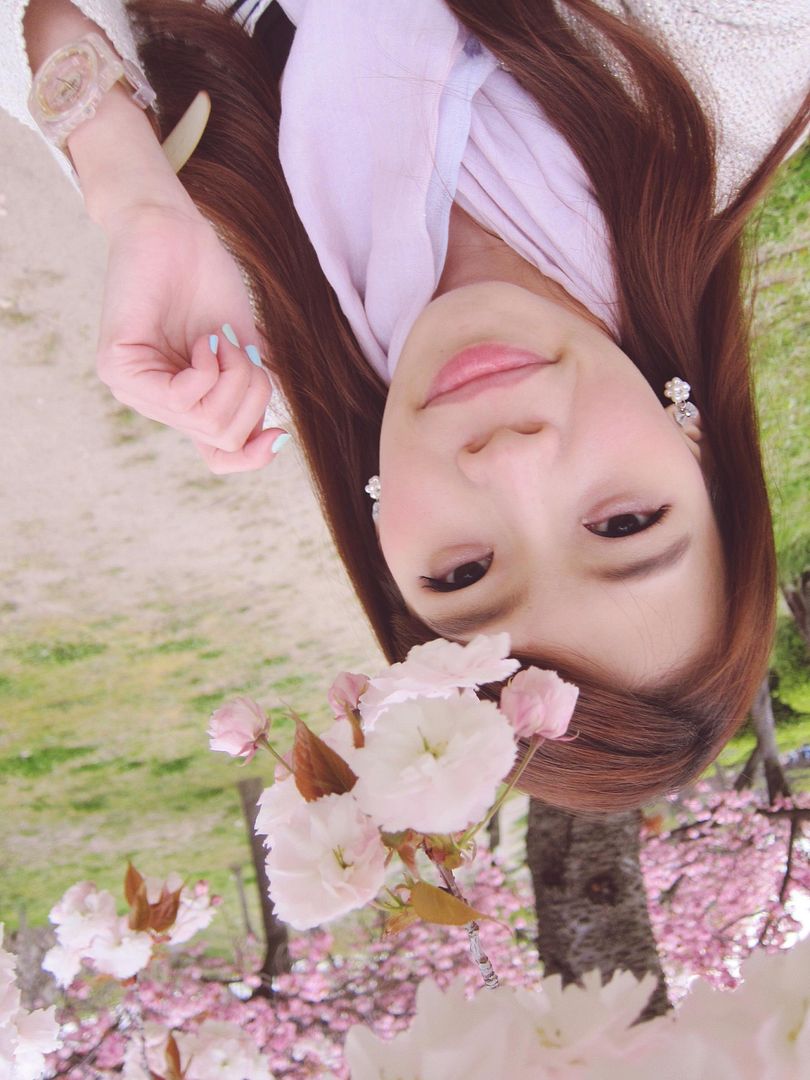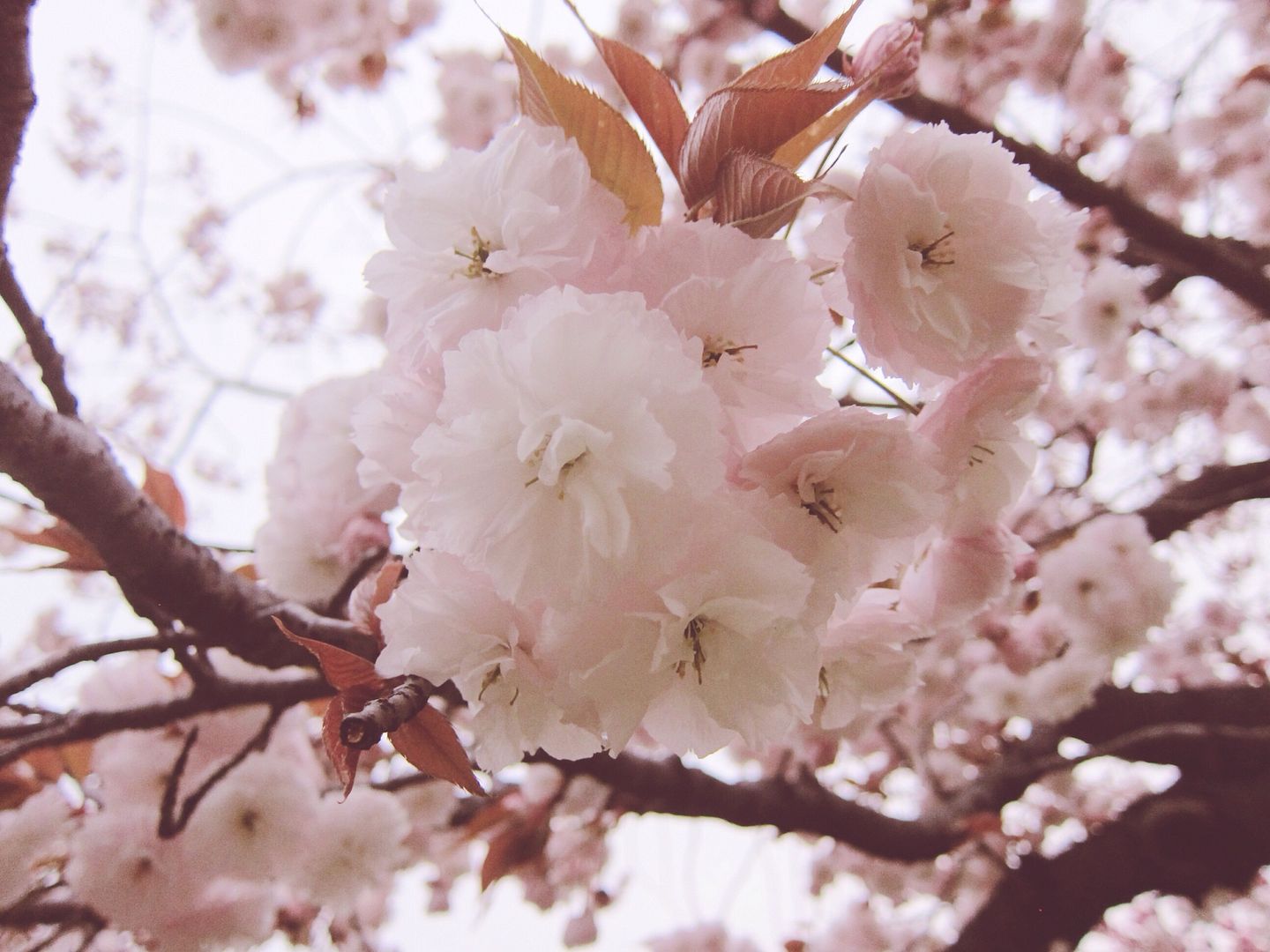 and guess how I managed to get a pic like that.
An upright pic of me and the sakura!! haha
A very kind and friendly passerby who couldn't stand looking at me self-caming with the tree anymore and he called out for me and offered to help me to take a picture.
Thank you MR. KIND!
More of these species around this area.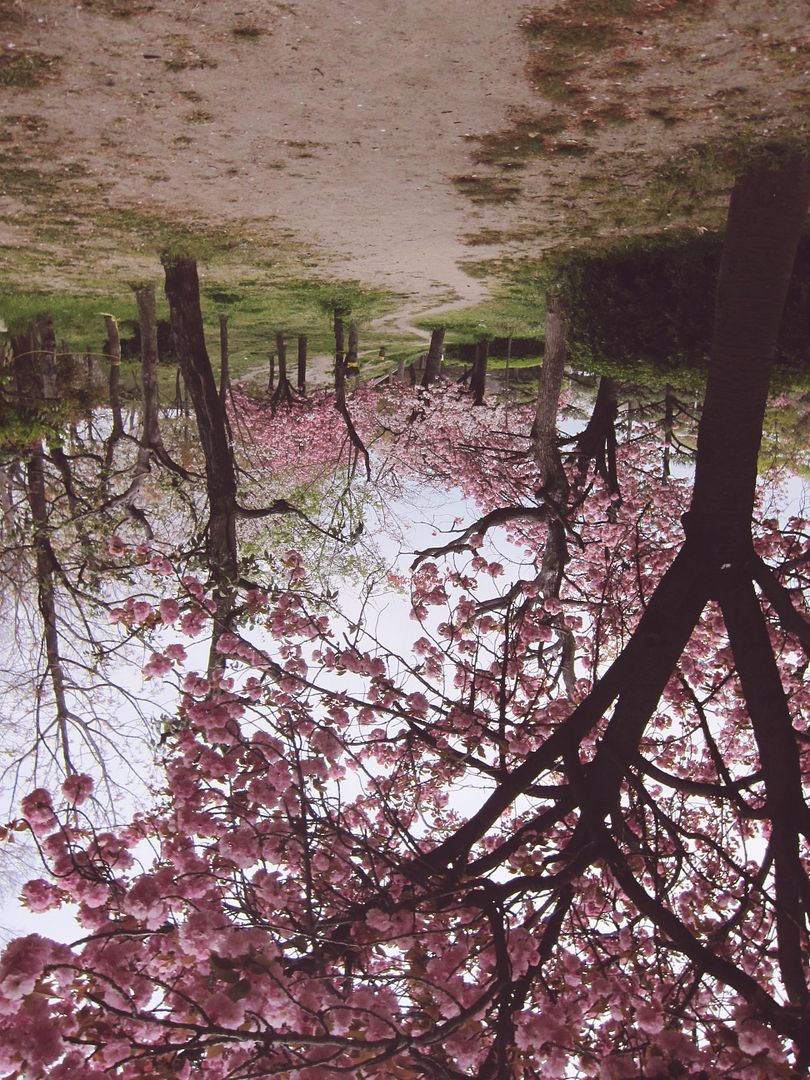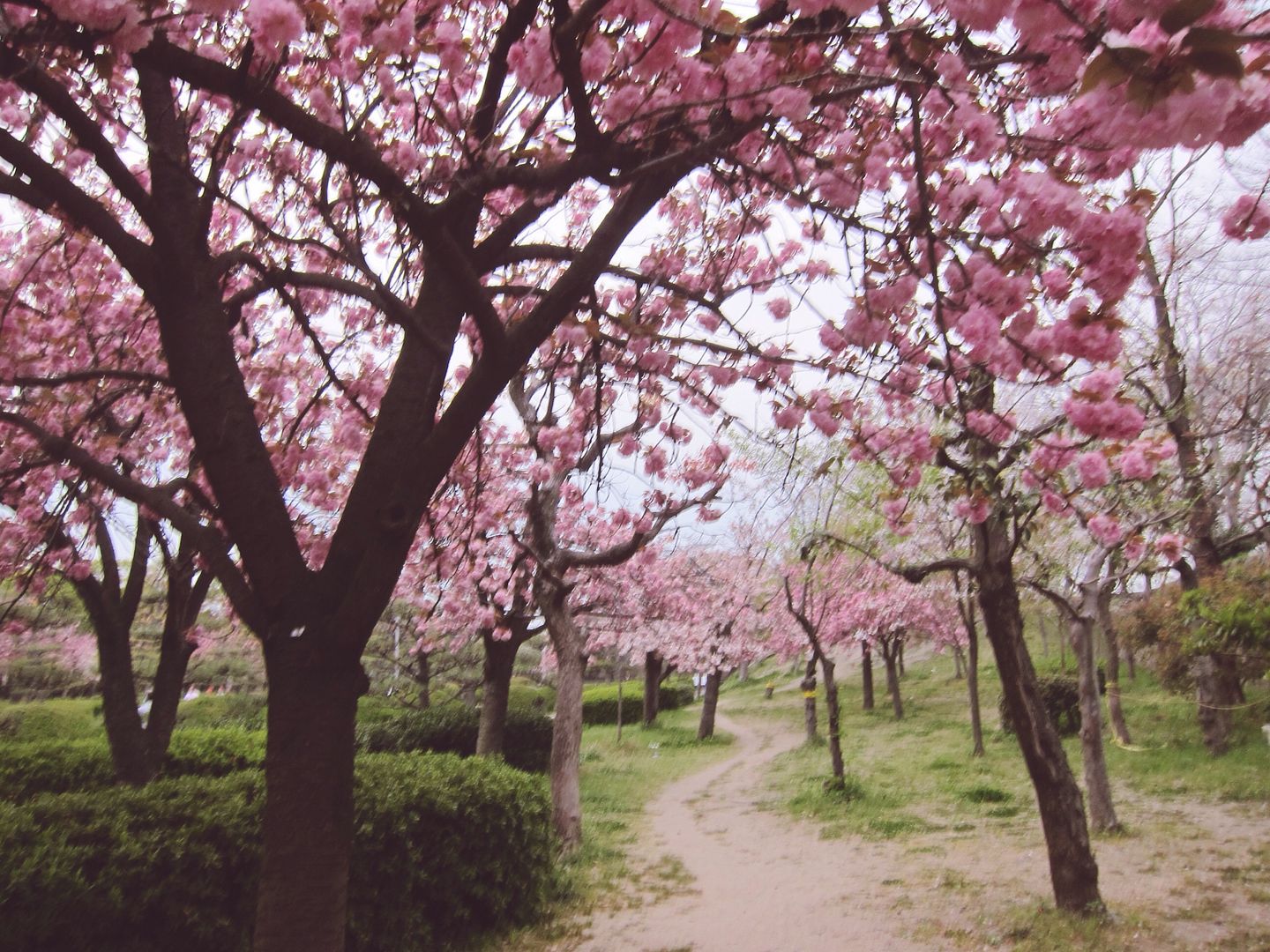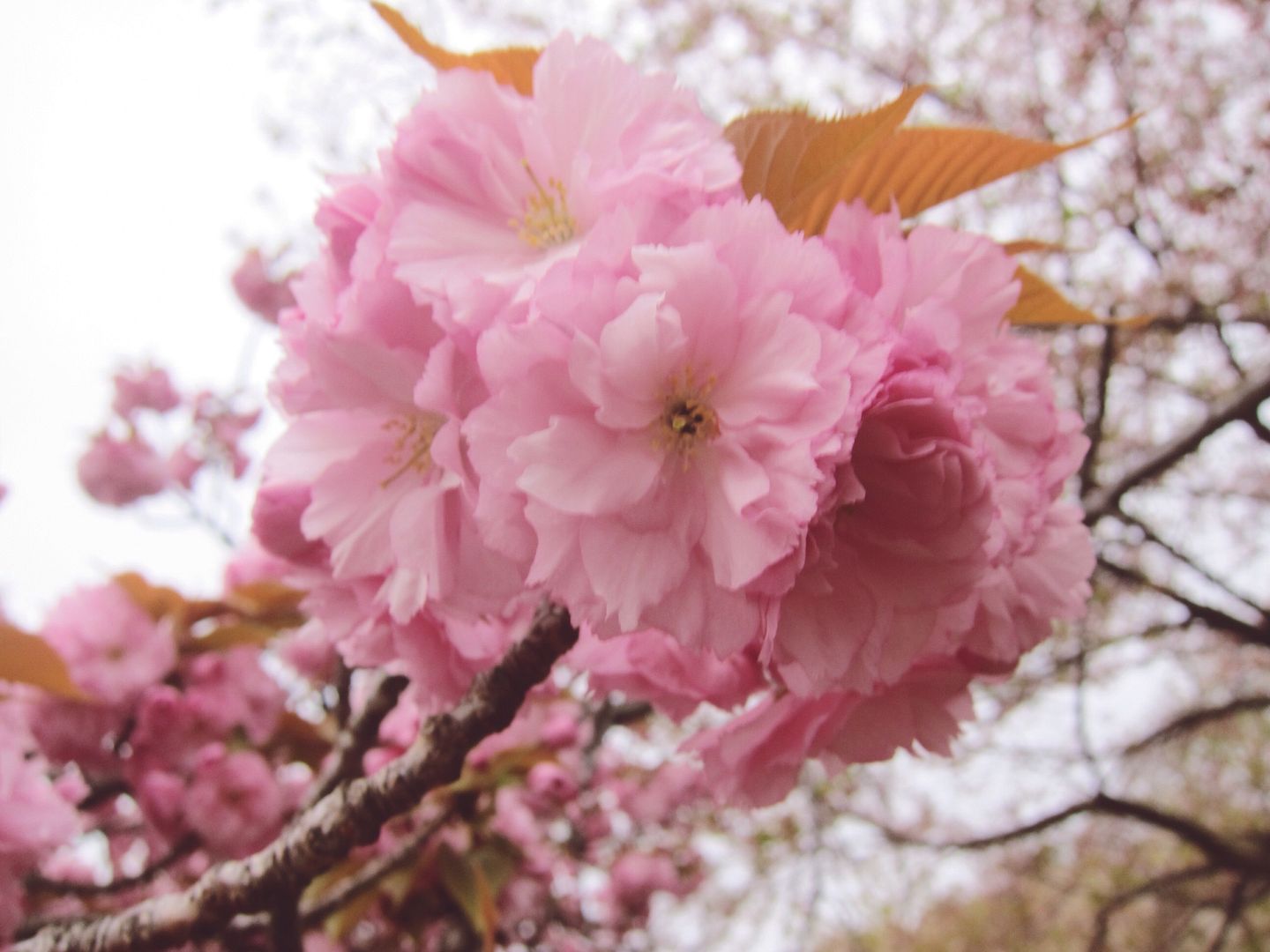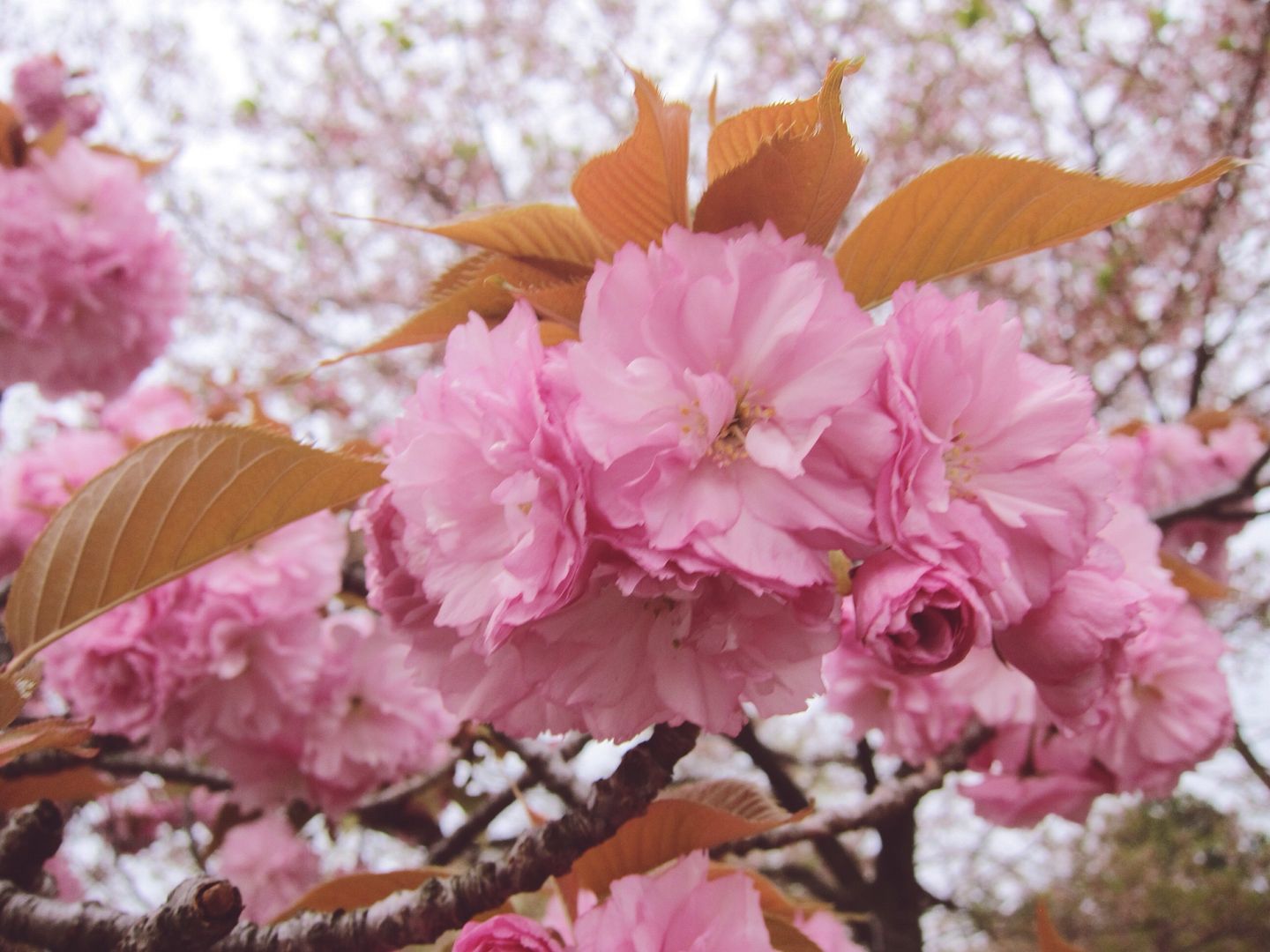 So before leaving.. A faraway picture of the park.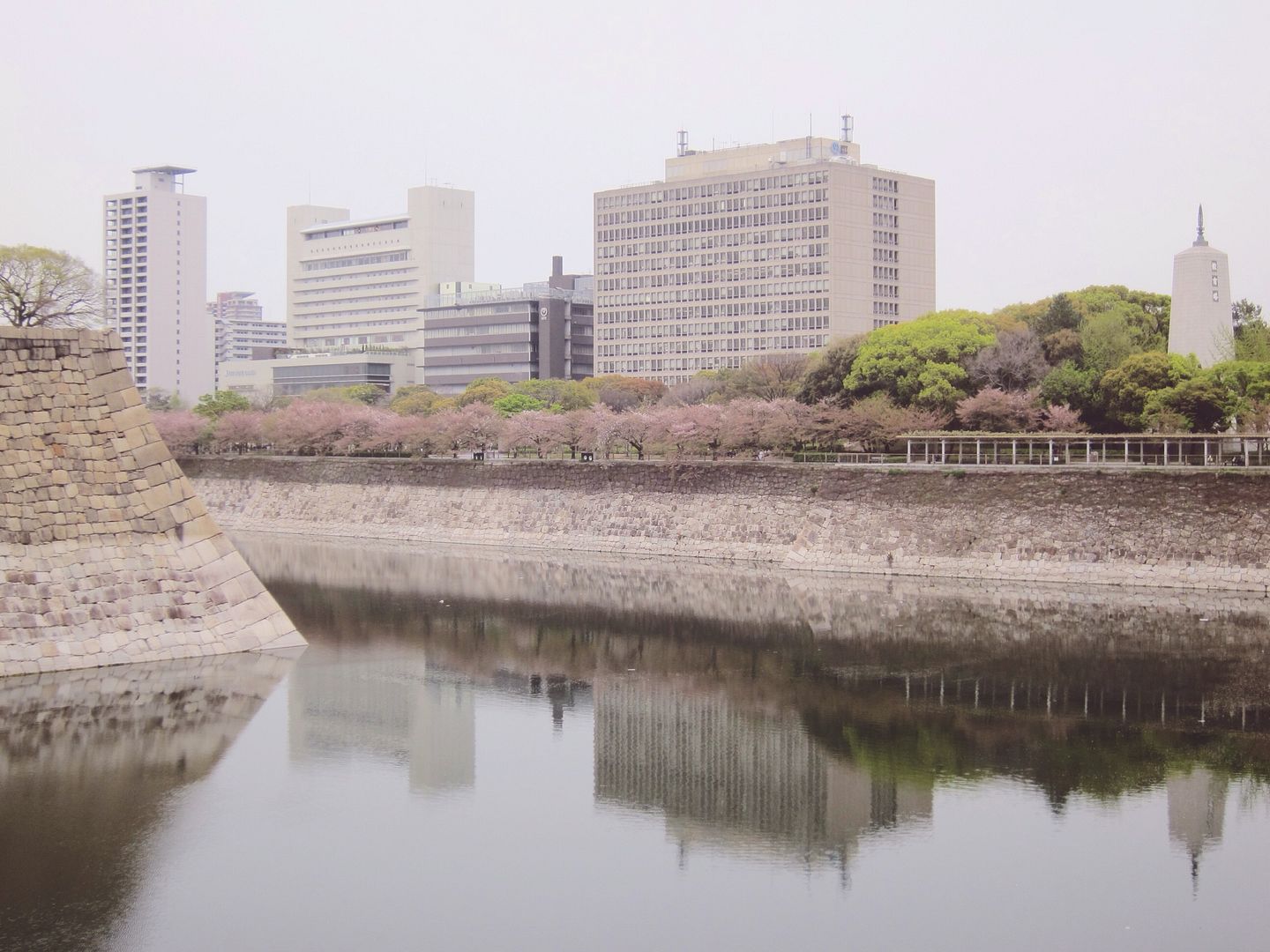 So this is how I ended my first day in Osaka!
Spent 2 hours here in Osaka Castle Park taking pictures and camwhoring.
Got back to the hotel, had dinner and rested for the coming days.
During the 5 days of training, I didn't really had the time to take pictures except during break times and lunch times.
On the first day of training, we were treated to dinner.
Had Sukiyaki and Shabu Shabu!!
Oh gosh! It's my favourite!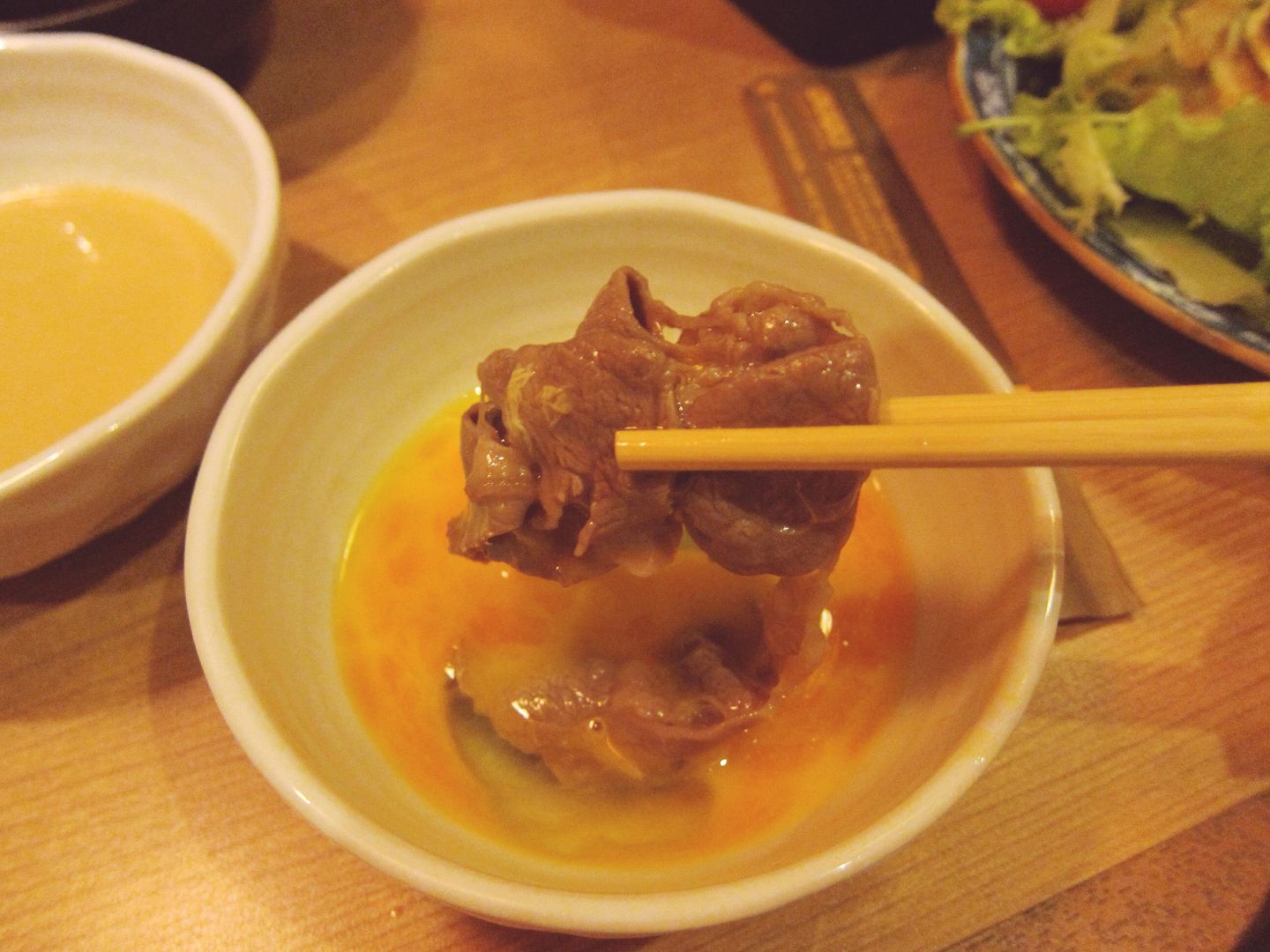 On the following day, we had lunch with the SHINJINs (known as newbie).
Went to ROYAL HOST for Wafu Hamburger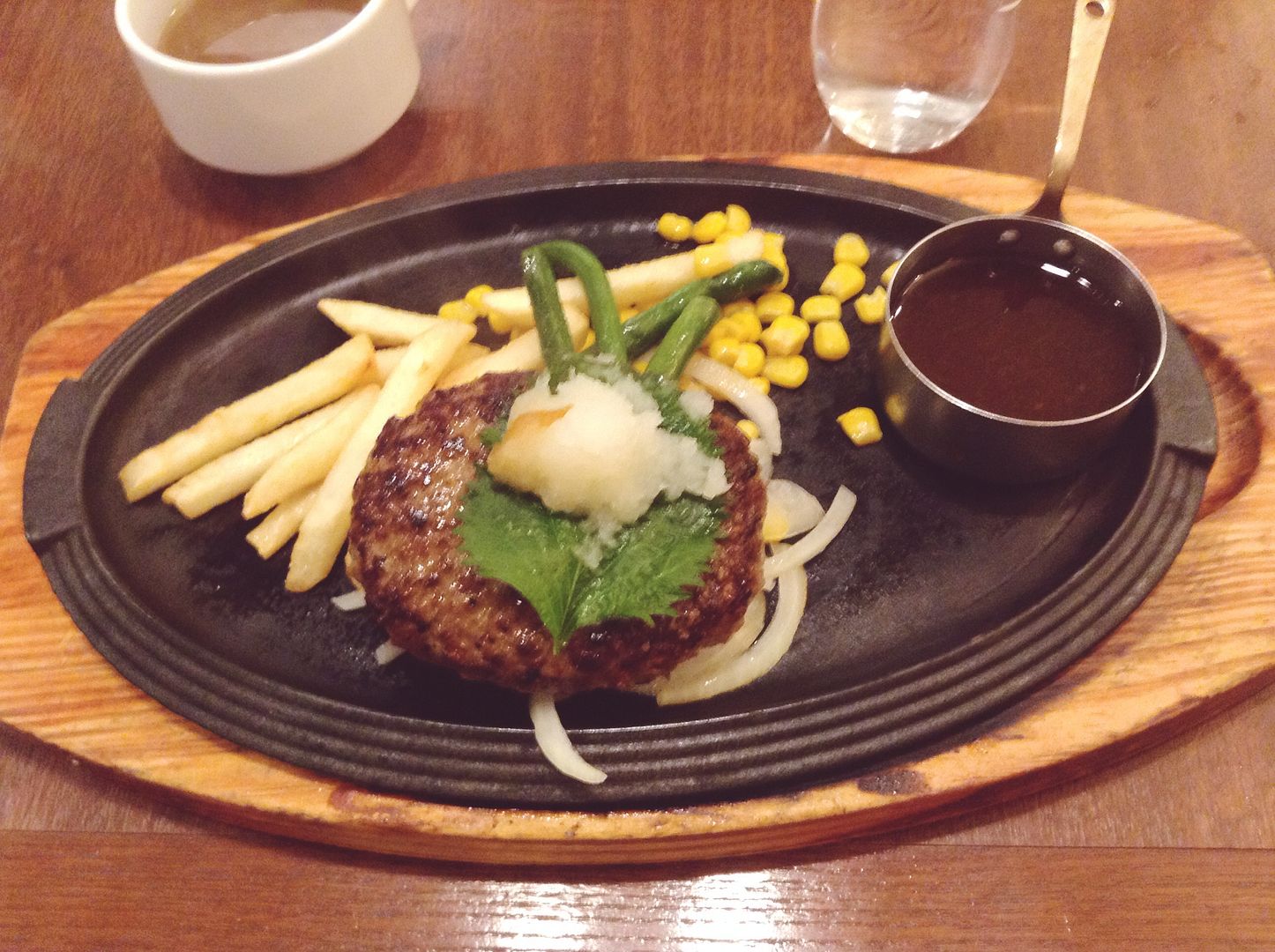 Sorry, every time I say "we", it means me and a staff from Turkey who was in Japan for training.
I shall introduce her …
Seldem aka SERUKO from Turkey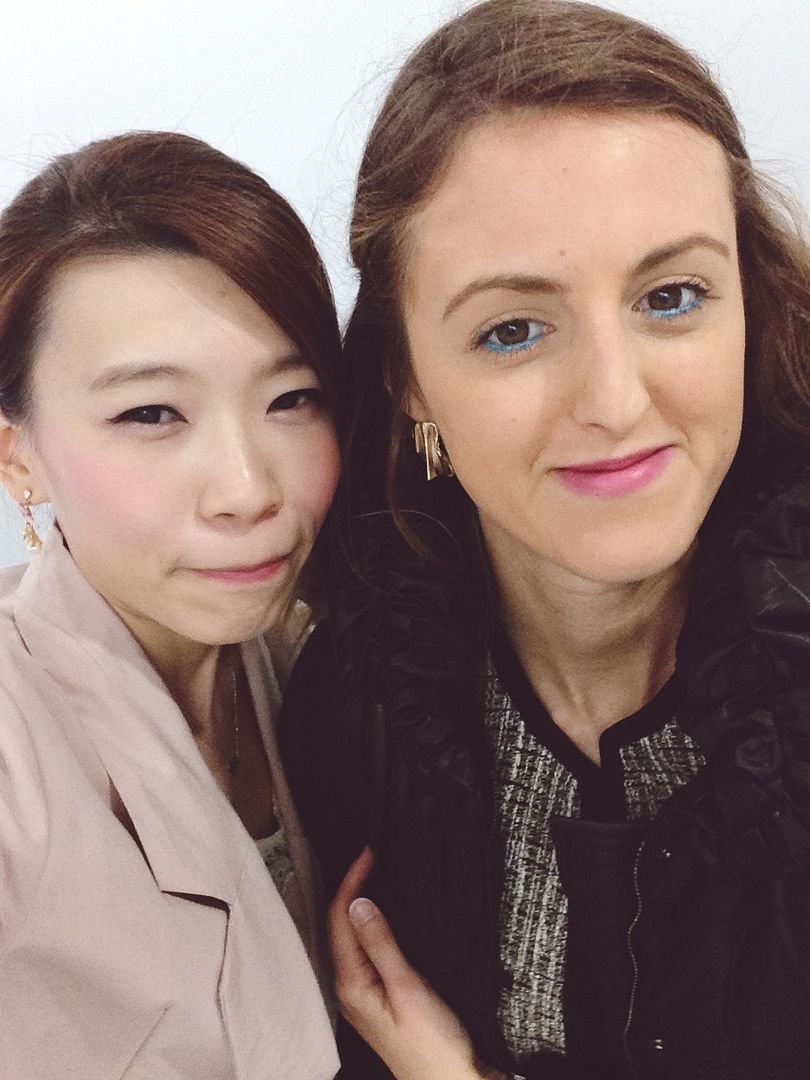 and my outfit of the day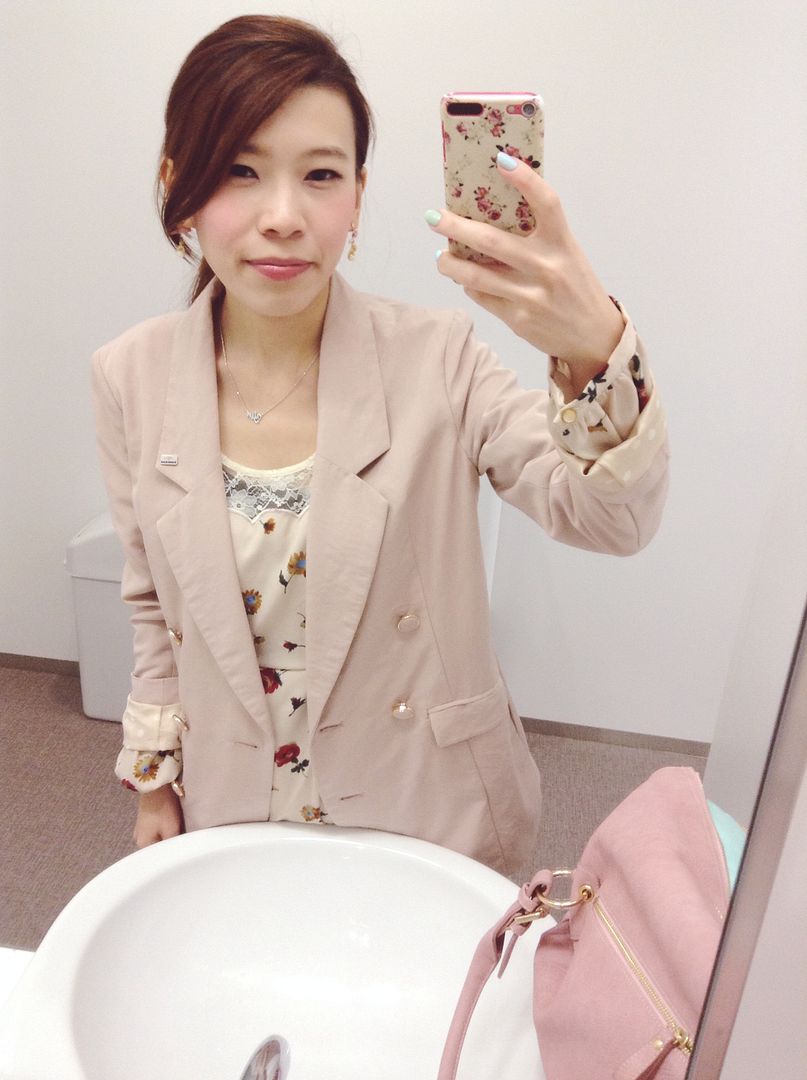 Pastel Pink outfit to match the spring season!
On the 3rd day, we were treated to lunch again.
Had COCOICHIBANYA's Curry Rice.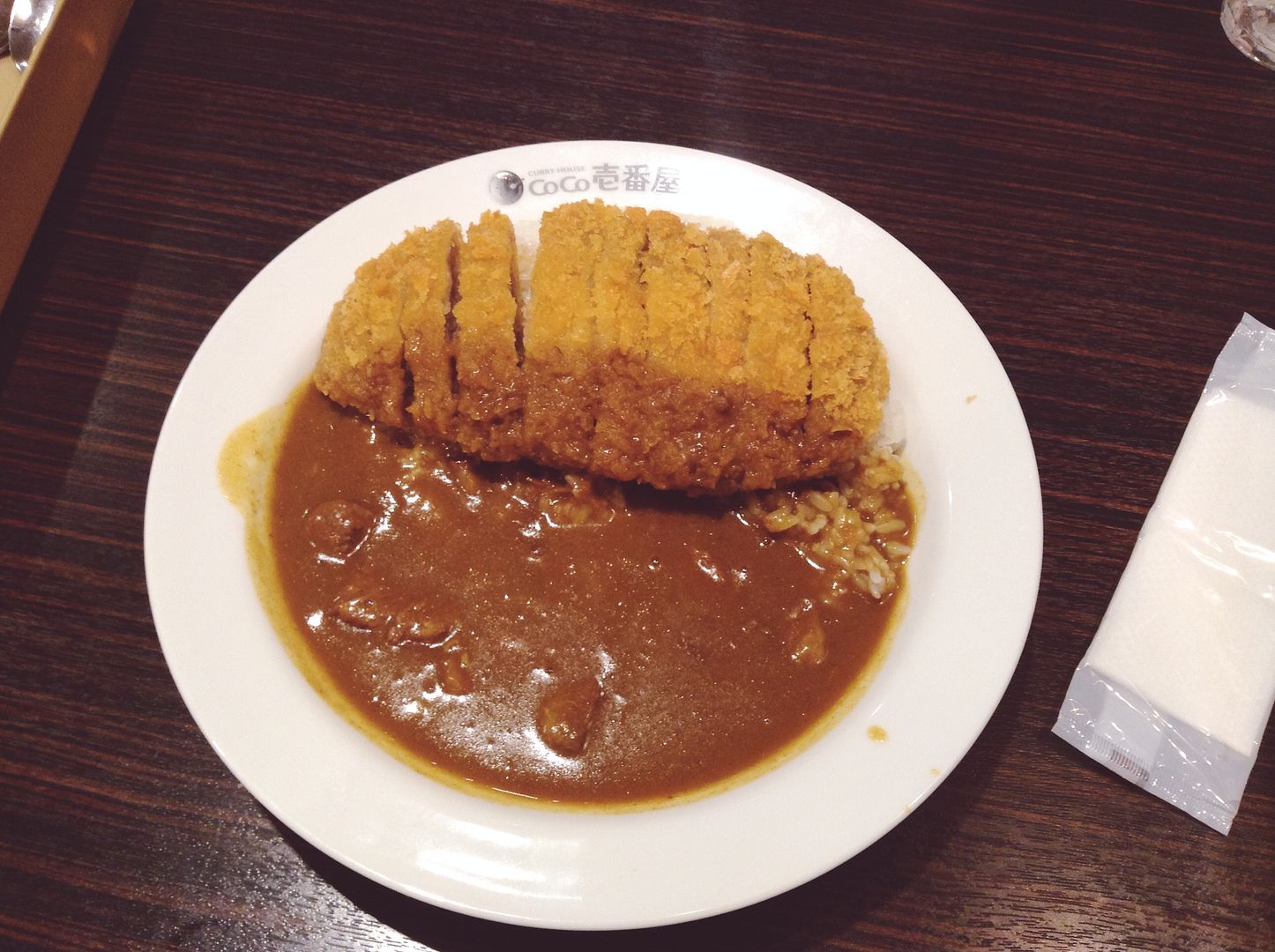 YUM YUM!
We have this in Malaysia now!
So go try it!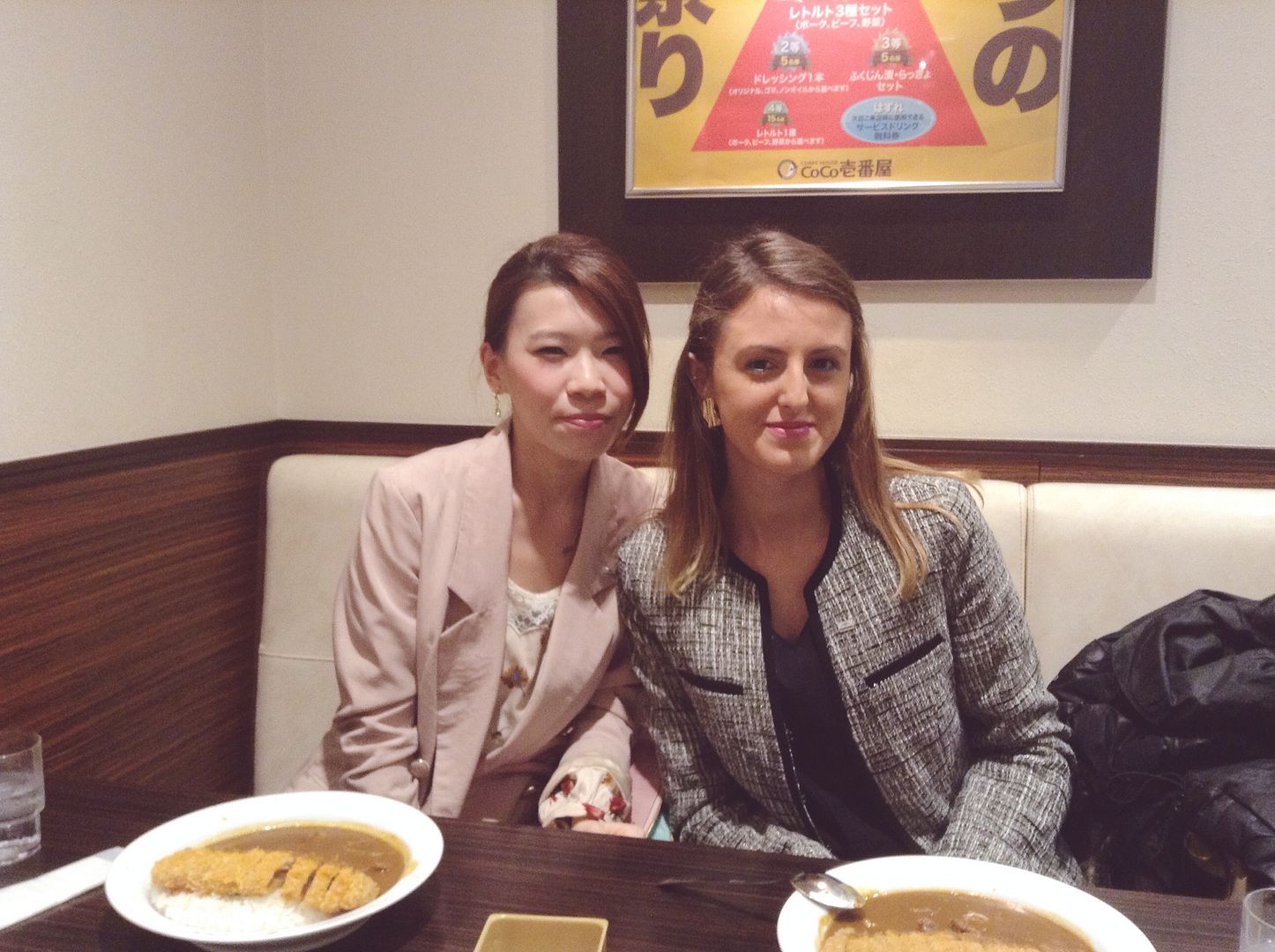 On the 4th day, during my trip to Nara with a senior for salon visit, we had Fuugetsu's Okonomiyaki!
I was craving for that and my senior granted my wish! Thank you so much!
Had soba too!
On the 5th day which is also the last day of training, I went salon visit with another senior and had sushi for lunch.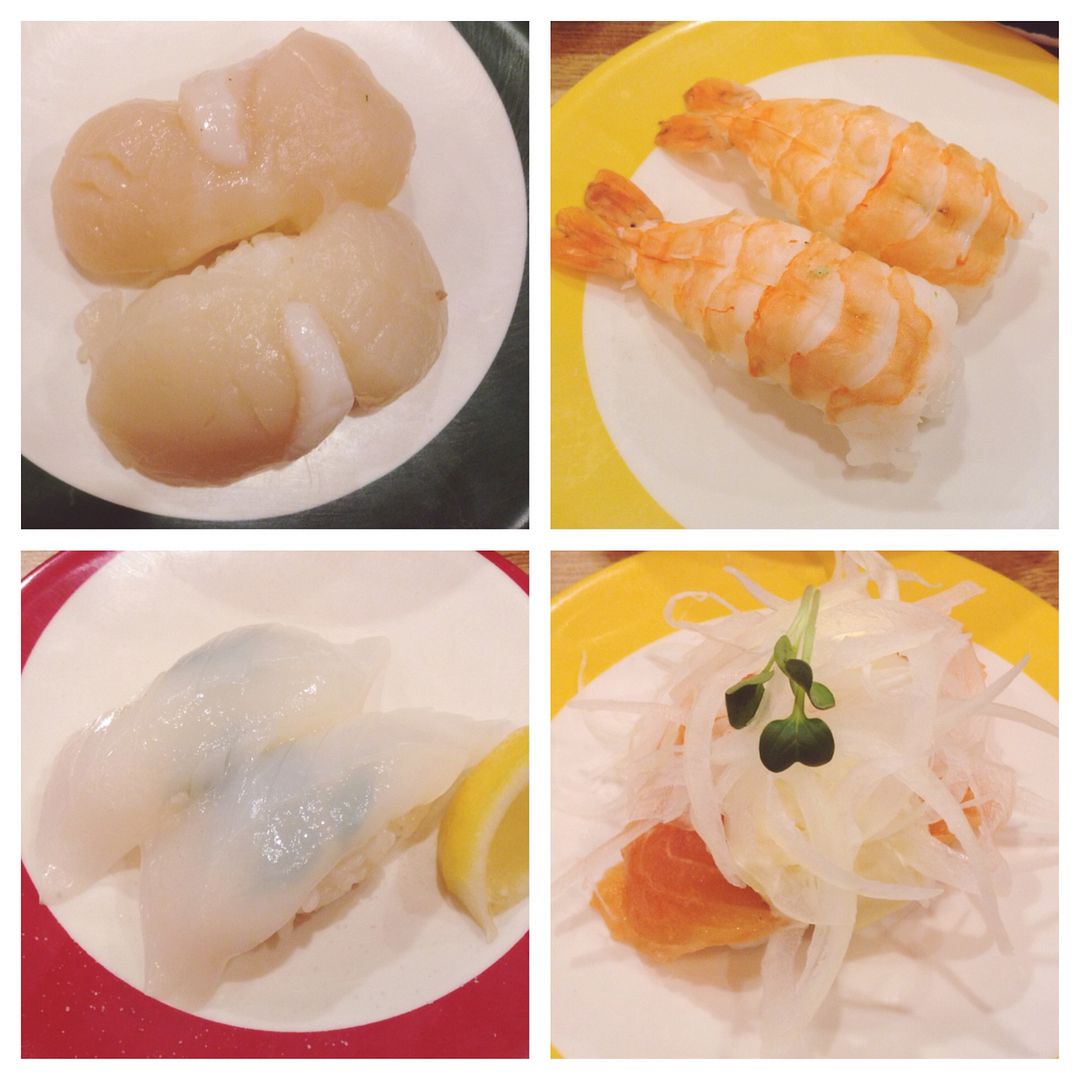 All my cravings are gone now as I had them all in Japan.
The only one food that I didn't get to eat was Takoyaki!!
Takoyaki is a MUST EAT FOOD in Osaka!
And the last meal in Osaka…
The last day ended early and me and the Turkey staff went and hang out together around our hotel area.
Did some final shopping and had dinner at Yoshinoya..
Yoshinoya is famous for their GYUDON (Beef rice)!!
Cheap and yummy!
But this trip was a little disappointed since it was not that yummy..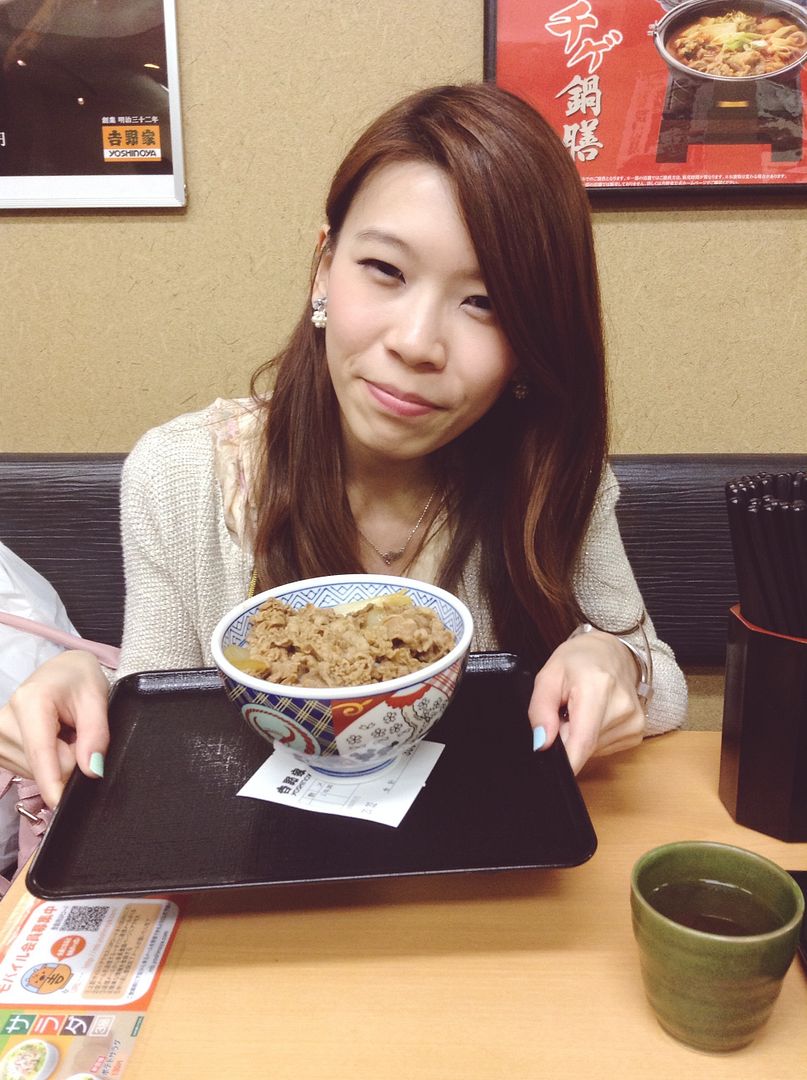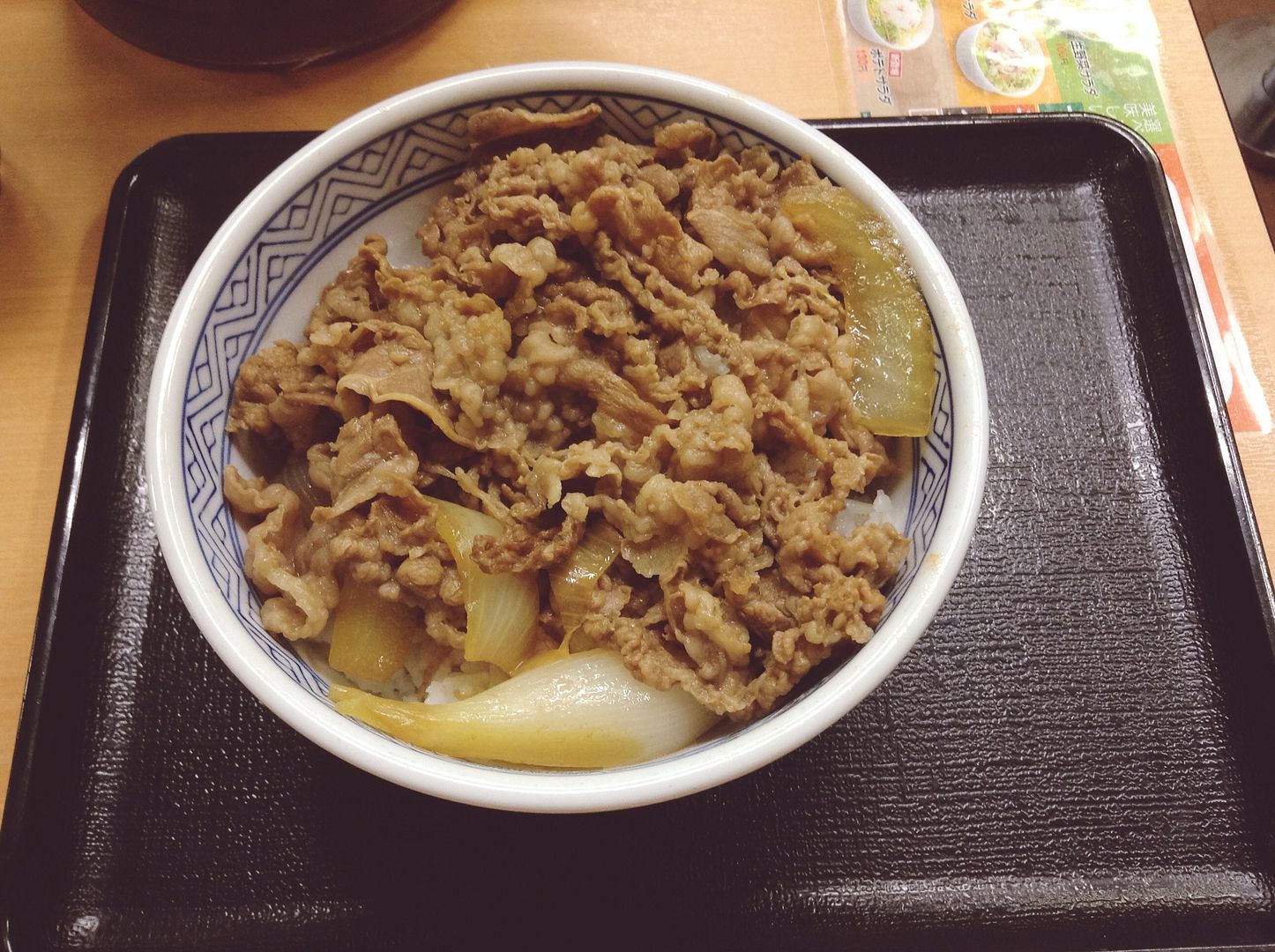 So the next day I was on the 1st flight back to Malaysia.
A tiring trip but a fruitful one.
Met many people and got to experience the working life in Japan.
Just a thing that I wanna say after this trip….
I'm glad that I did not choose to work in Japan.
Those of you who are familiar with Japanese culture should know why.
So that concludes my Osaka Spring trip!