Brew & Bread, Kota Kemuning
A definite Coffee Bar for Coffee Lovers!
It's a shame to say that I'm NOT a coffee lover, still I love this place.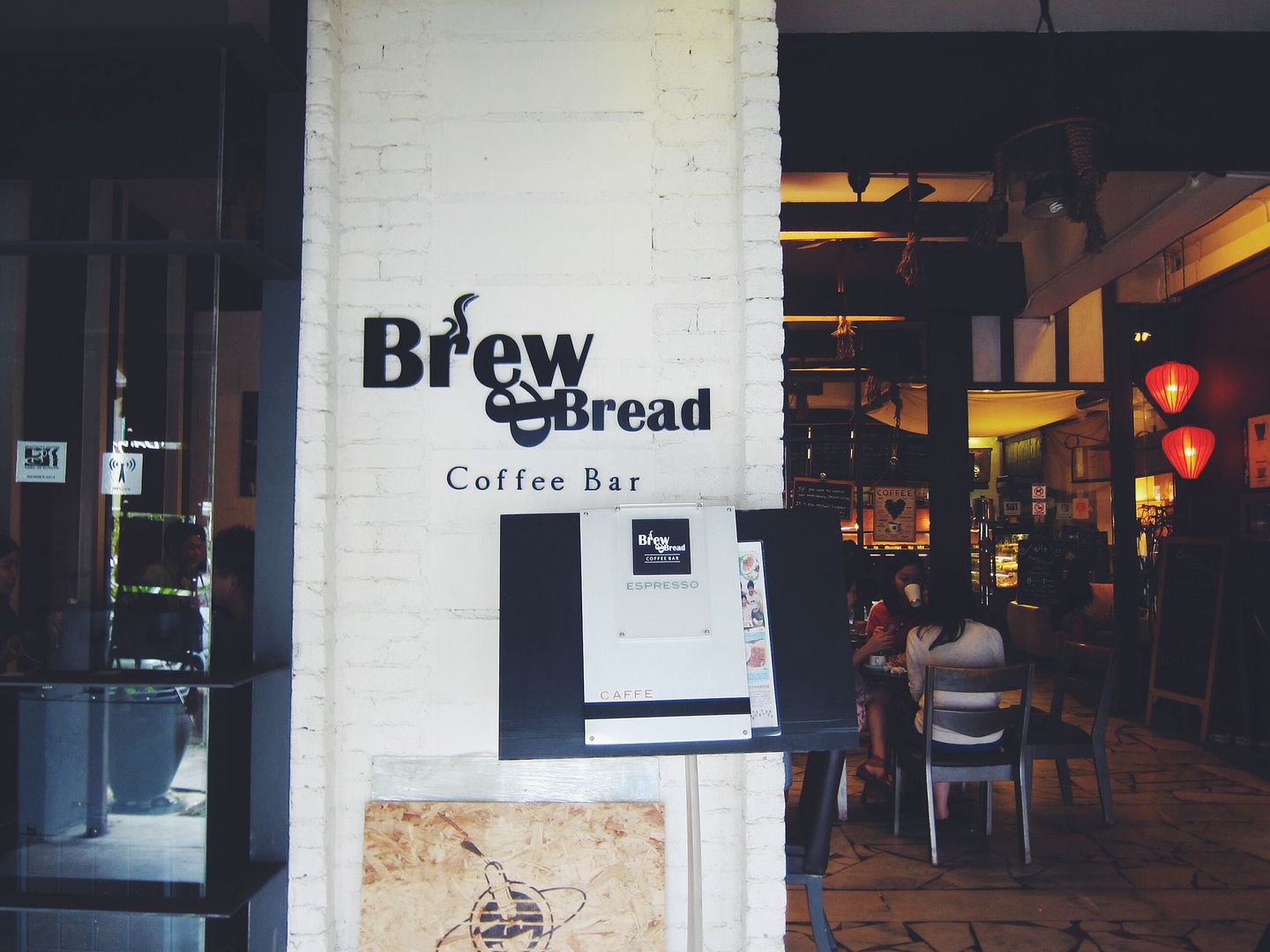 Since it's a public holiday, the lil bro suggested that we could hang out at cafes for lunch and so we did a little research on which cafe we should go this time and..
We decided on this one after taking a few things into consideration such as menu, time and etc.
Since we will be there late, we thought that we should look for cafes that serve all-day meals from breakfast to dinner and not just brunch meals or light meals.
After some research, this one fits our requirement perfectly and we thought we should give it a try.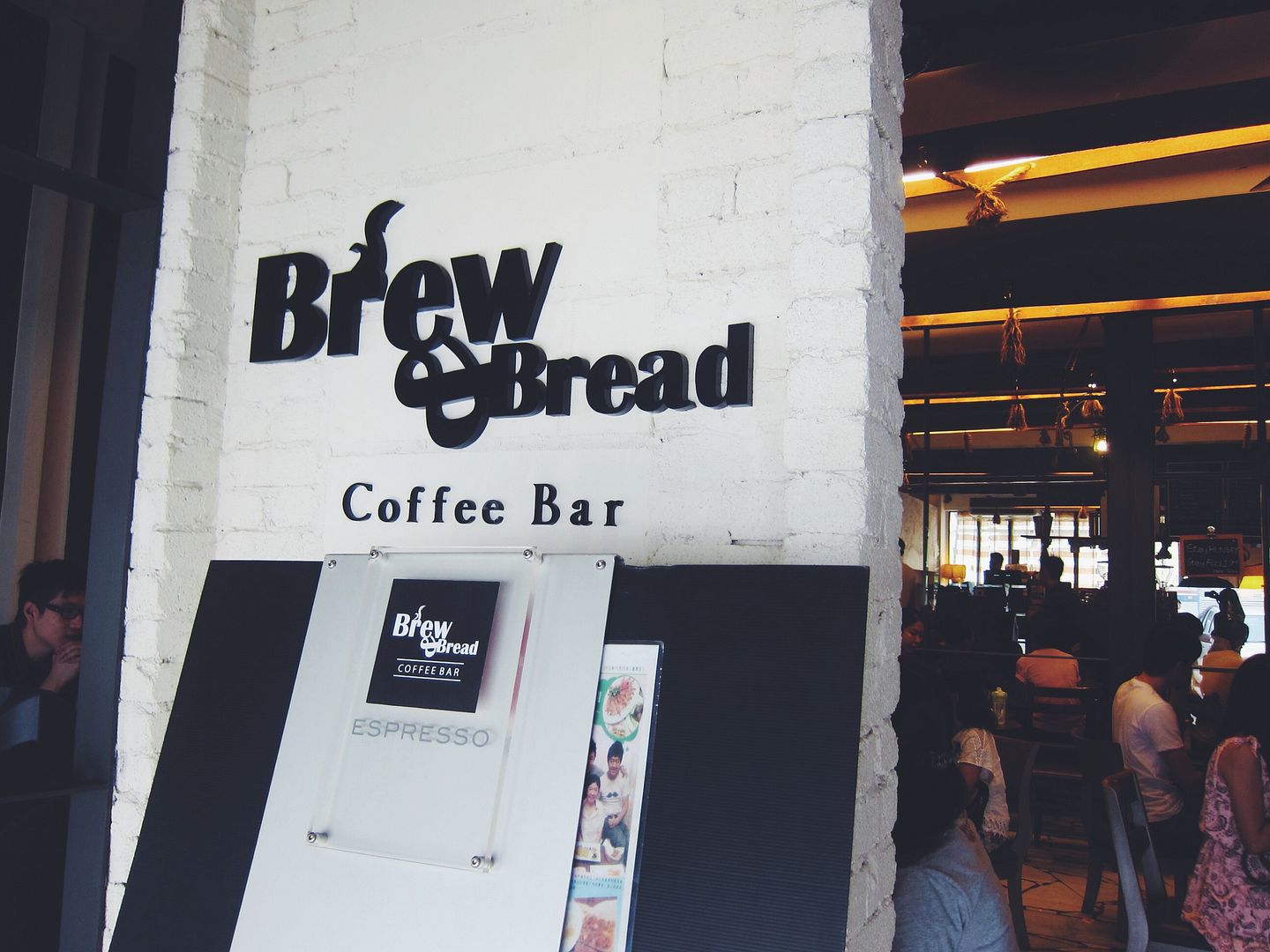 Since it was a public holiday, it was full-house.
This is the smoking seat (I supposed) from the entrance.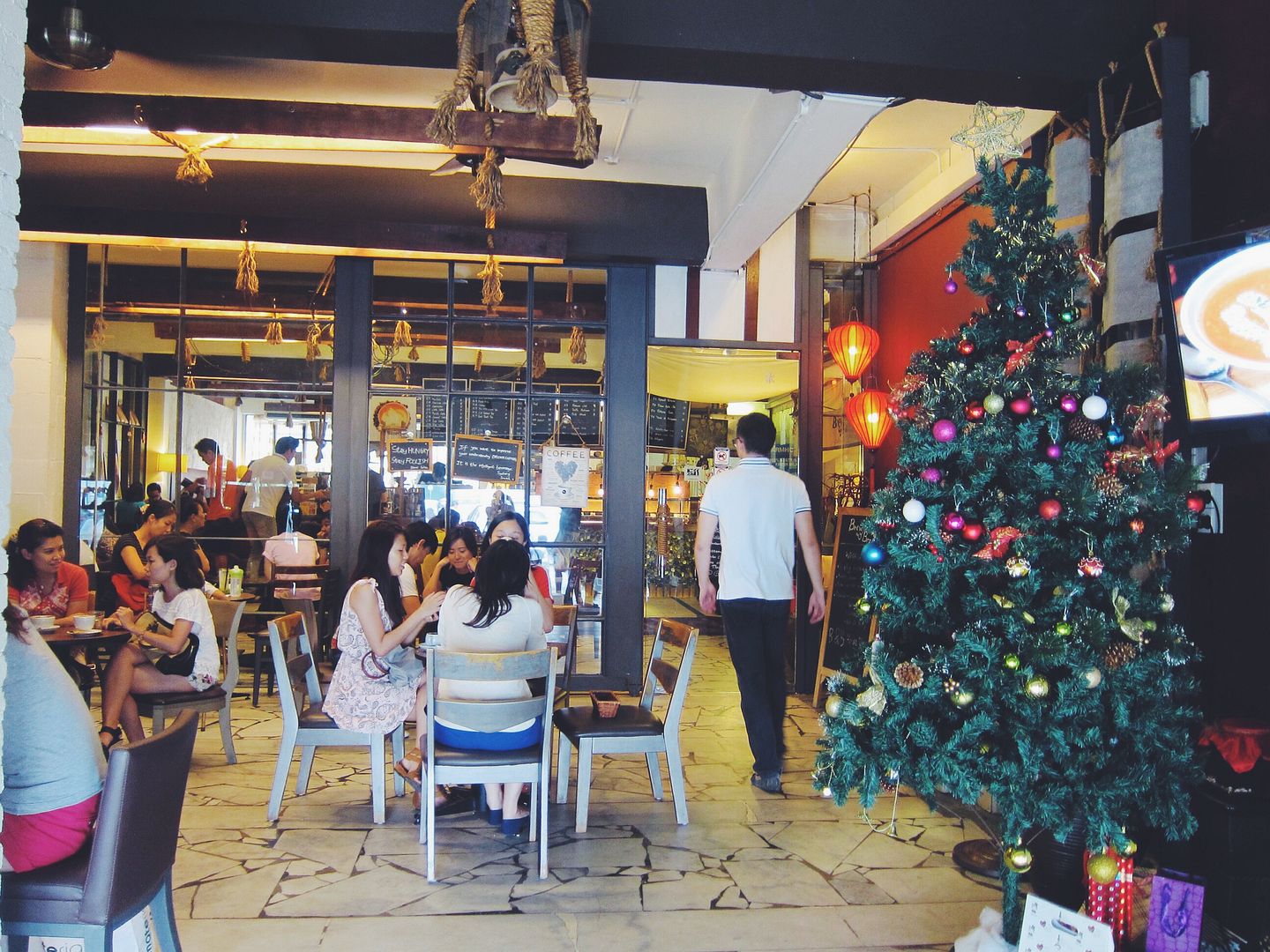 A cafe with really nice ambience which makes you wanna stay here all day long.
Here's a coffee chart where all coffee lovers should memorize like how you memorize your ABCs! haha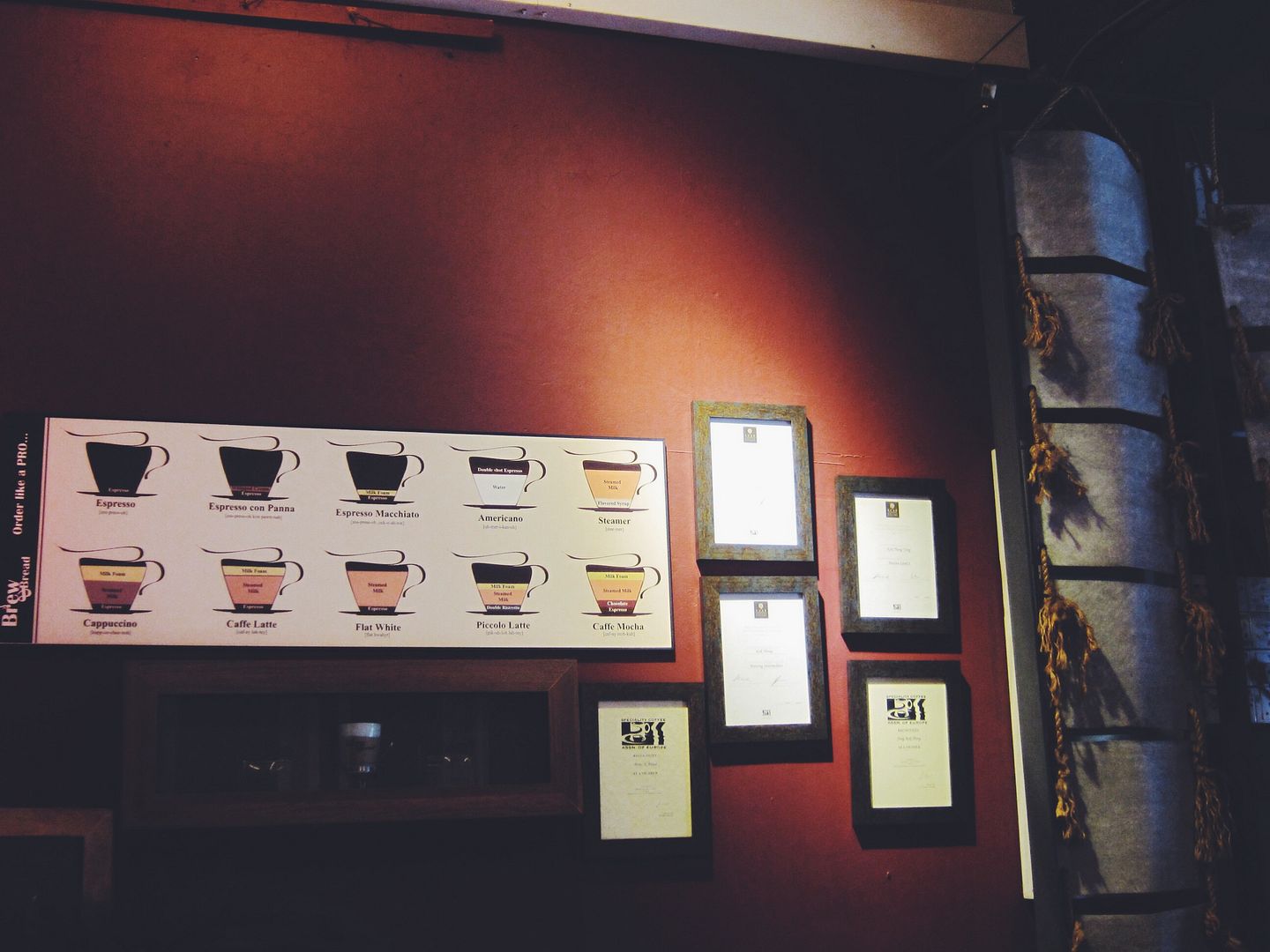 Check the 'Whats New' here so you know what is new?!
This is how the inside looks like and I kinda love the setting inside here.
The wood elements which can be widely seen here simply keep you calm.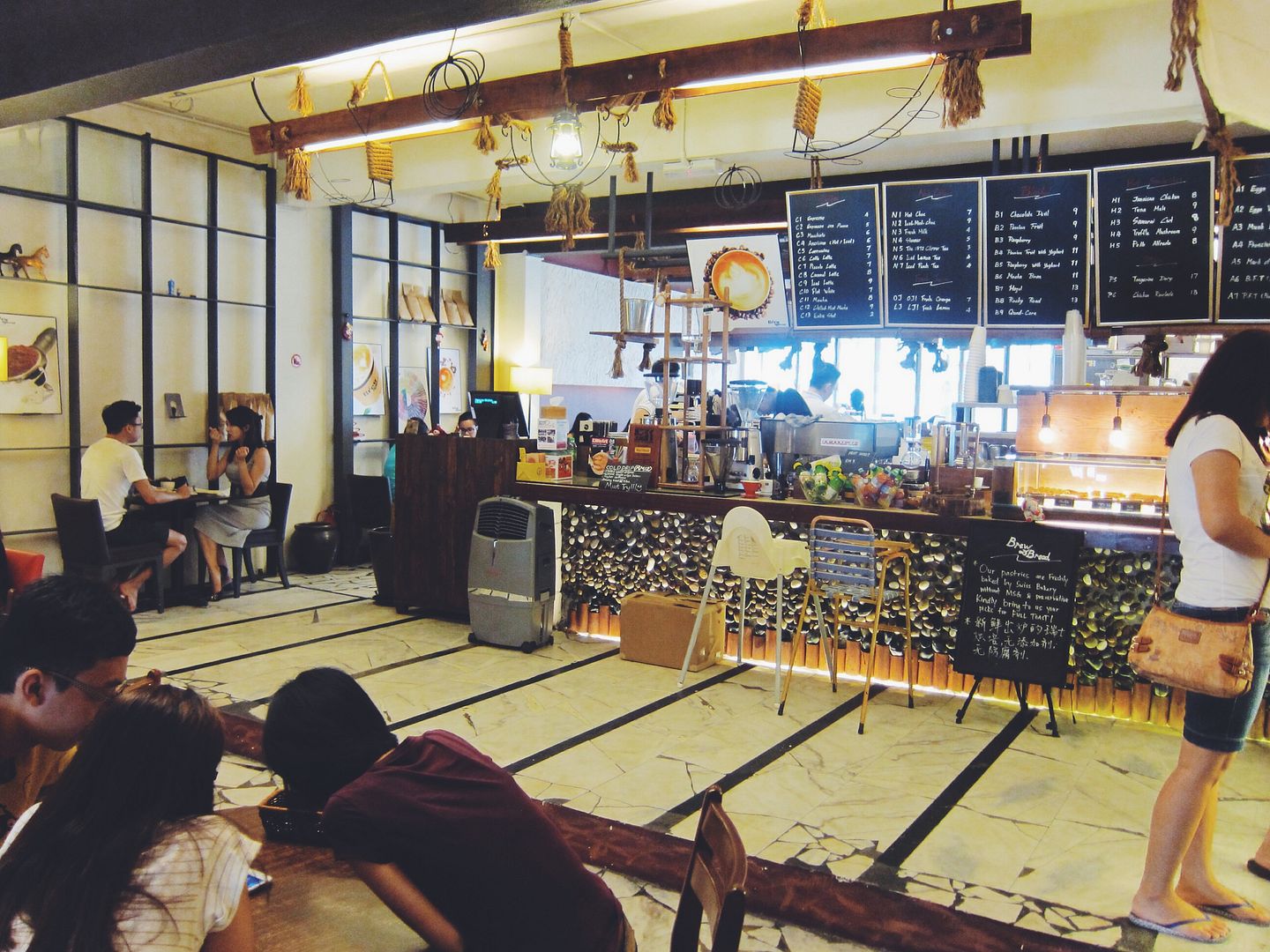 Here's the seating area at the end of the shop.
 I think that every corner gives you a different feeling and mood changes according to the place you're seated.
We were initially seated at the smoking area and then we changed our seats to this back area which is more comfortable (that's what I think).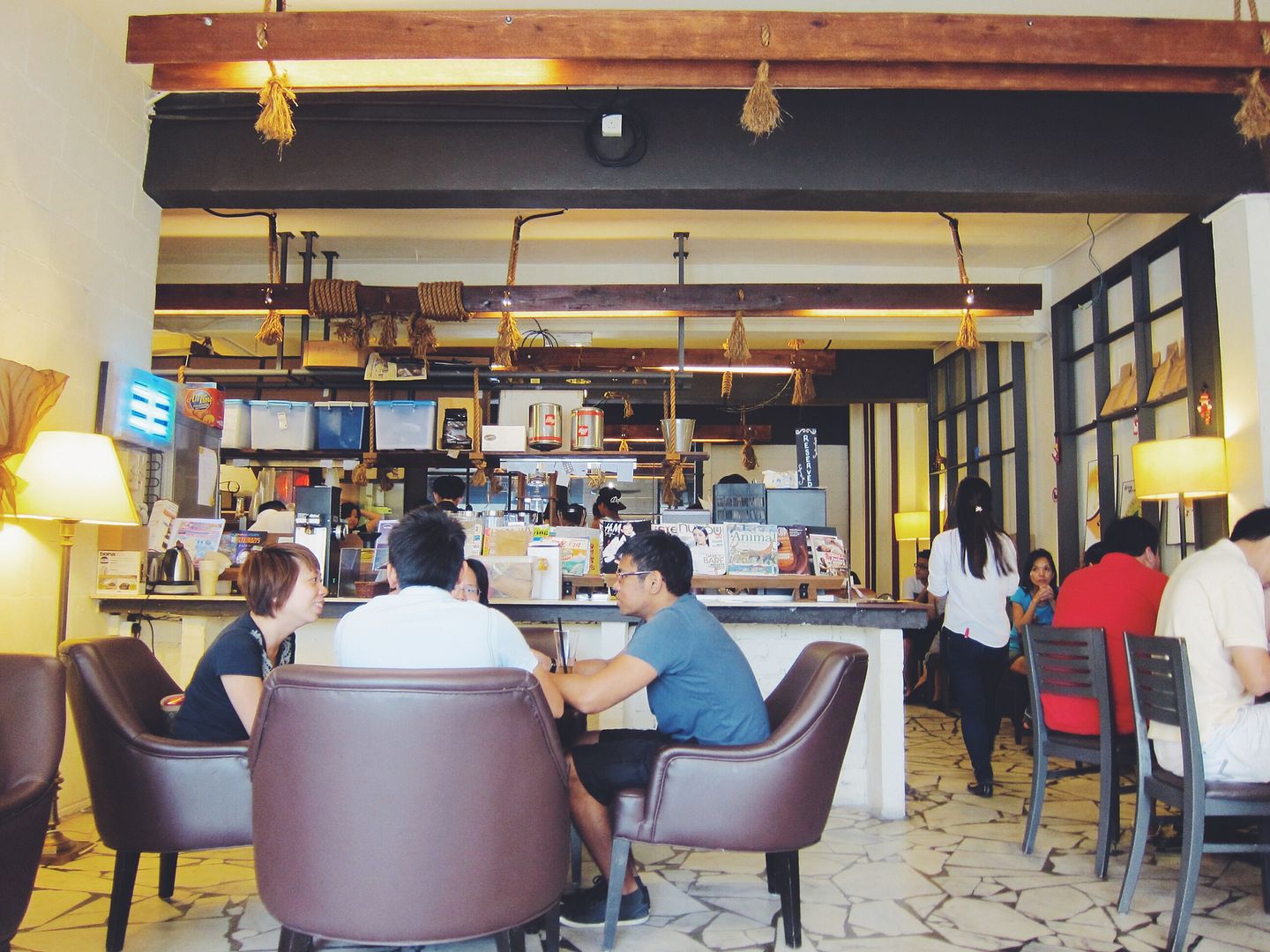 When I was browsing through the menu, the moment I saw the 'yogurt' word, I know what I should get that and there's no need in checking on others anymore. (Did you know that I'm a health conscious person?haha.. Not really true but for some reason, I just simply love yogurt drinks.)
I had this Raspberry with Yogurt (RM11)
I can tell you this is one healthy drink, ok! Plus it's seriously very YOGURRT YUMMEH!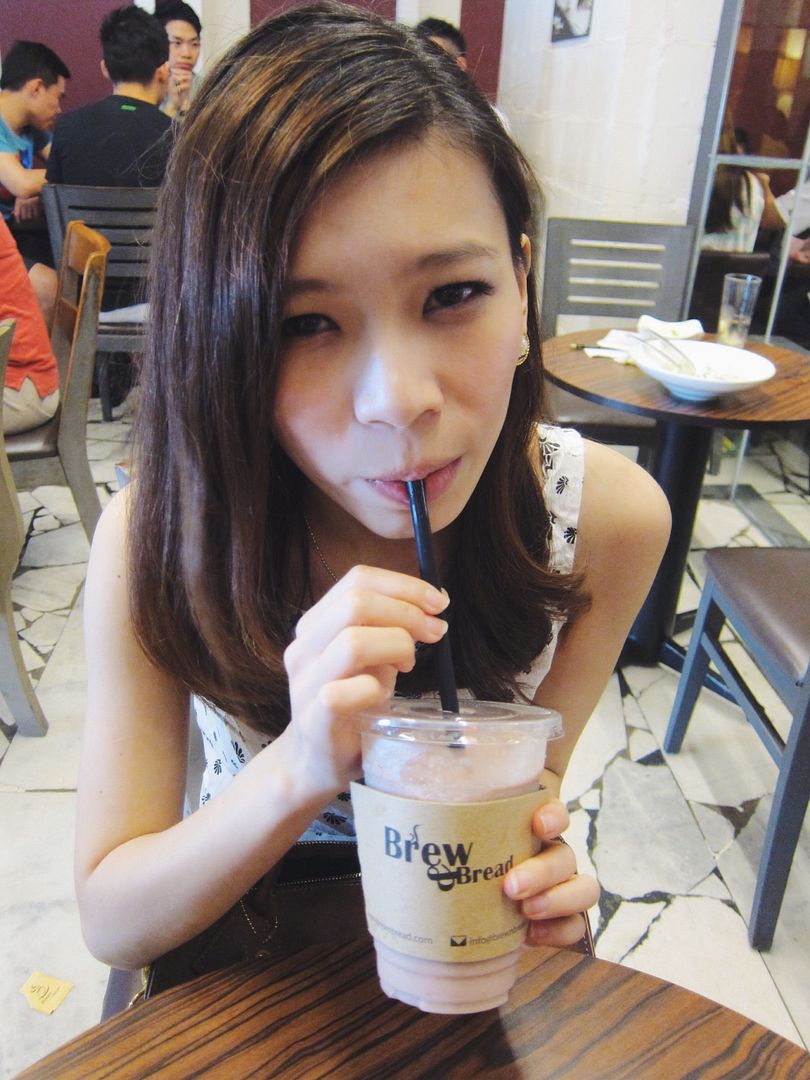 The cousin who came along had the Passion Fruit with Yogurt (RM11) 
which does not have that strong yogurt taste but more of a refreshing taste I would say.
The lil' bro who is a coffee lover (I assume) had this Picolo Latte (RM7) which is brewed by a professional Barista.
According to the lil' bro, he said that if the art doesn't sink after having sips of it, this means it is done by a Barista with great skills.
I don't know how true but somehow I decide to believe it.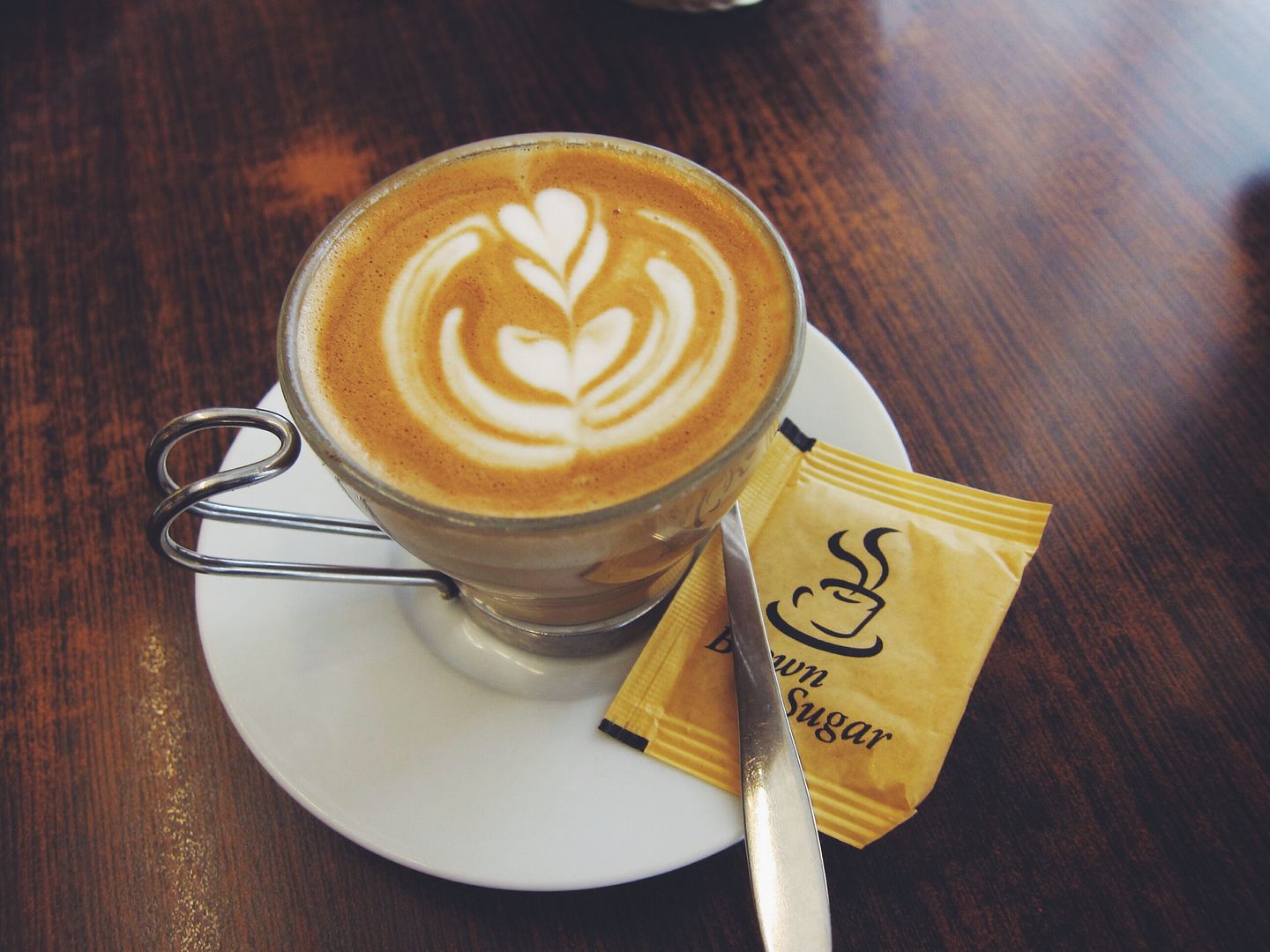 He had a few sips and it seems like it was kinda true.
The art did not sink at all!! What a MIRACLE for me as I cannot figure the reason behind this.
As for the food, we ordered the ones which has good reviews and indeed it was really good and satisfying.
Cream of Mushrooms (RM7)
is served in big chunks of mushrooms which is very different from the so-called mushroom soup that we use to have.
This one is a real cream of mushroom which I will give it a 4/5 for some particular reason which suits my taste.
Also ordered sandwich known as the Jamaican Chicken (RM8) which is totally AWESOME!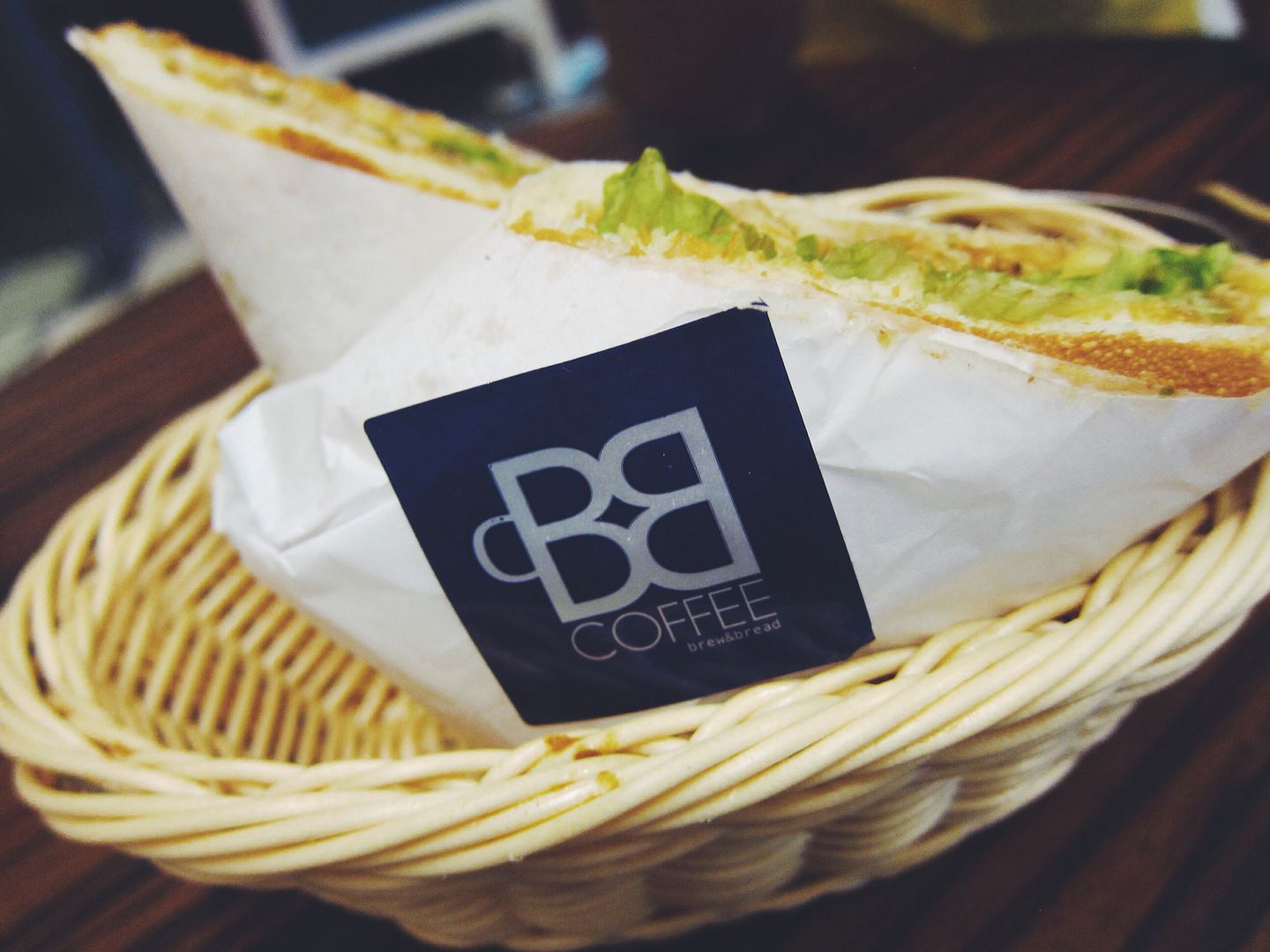 Crunchy and chewy all the way as you can find fillings like chicken meat, lettuce, crunchy apples (instead of cucumbers) and probably mushrooms.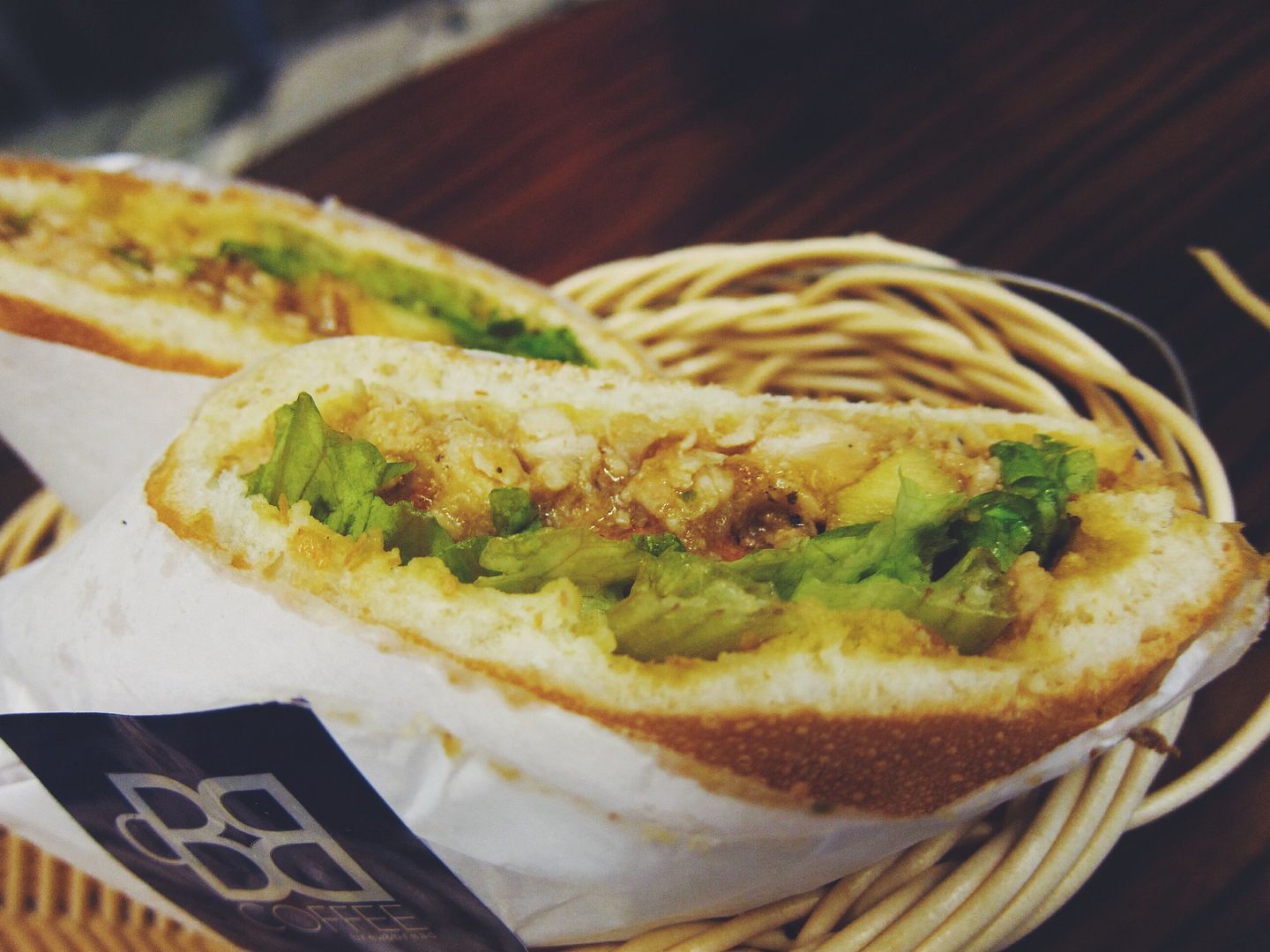 Bread lovers will definitely love this as much as I do!
Such a happy girl who gets to munch on her all-time favorite bread!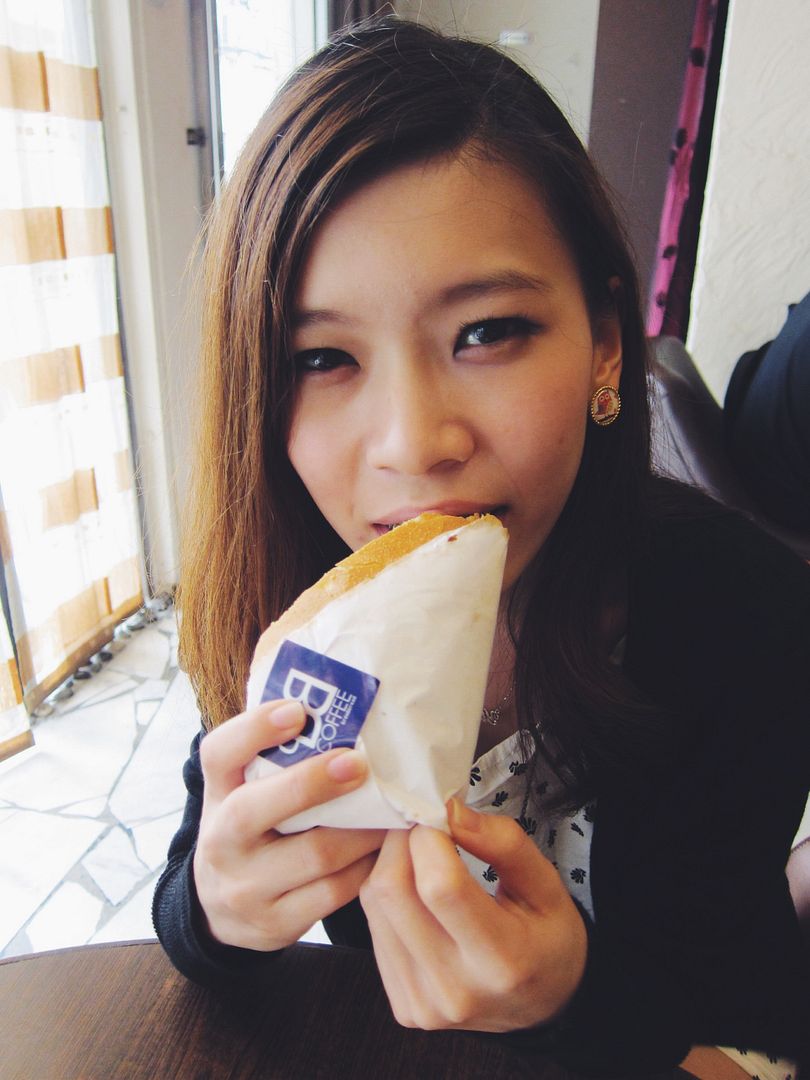 We wanted to try the B&B's signature Egg Waldorf but sadly they were all sold out!
So  we had the Eggs Benedict (RM18) which was really good too.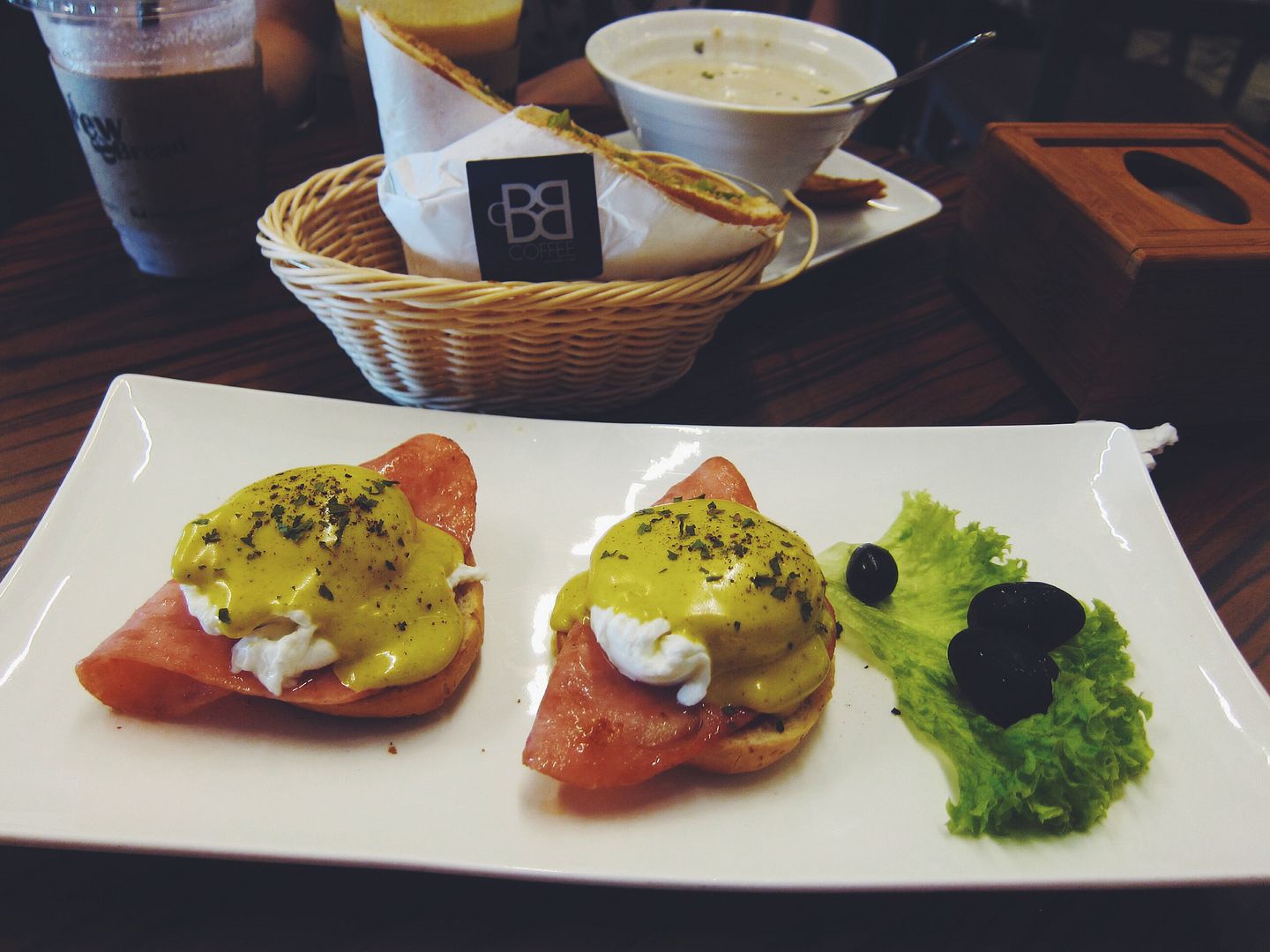 Very nicely done!
Oh yeah! FYI, the one in black on the lettuce is not OLIVE. It's one kind of grapes.
All of us thought it was olive and was about to abandon it and the lil bro tried it and we found out it was actually grape.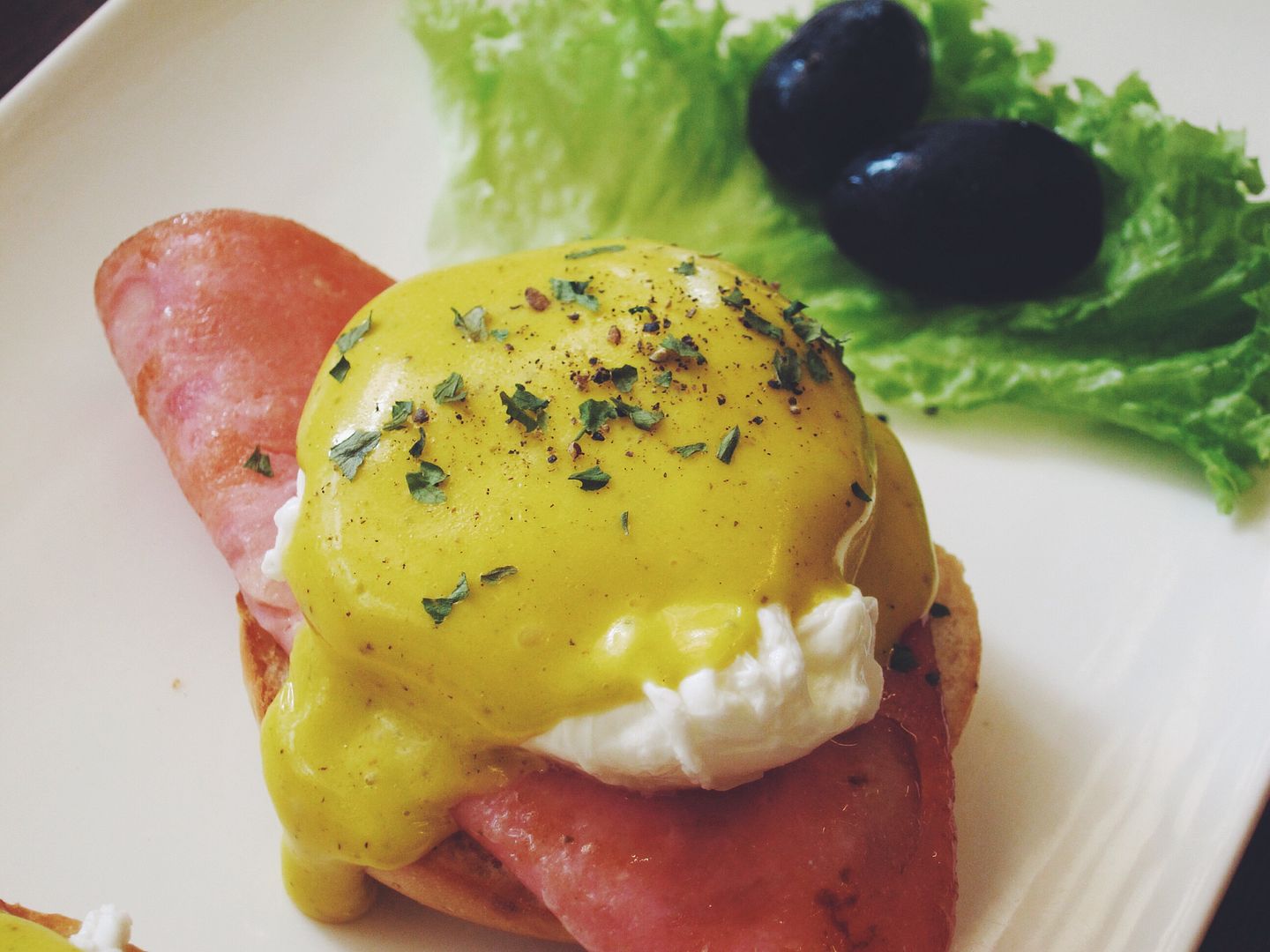 Since I was craving for pasta, I ordered this Prawn Aglio Olio (RM15) which tasted just OK for me.
It tasted a little more spicy than the usual Aglio Oglio, I think.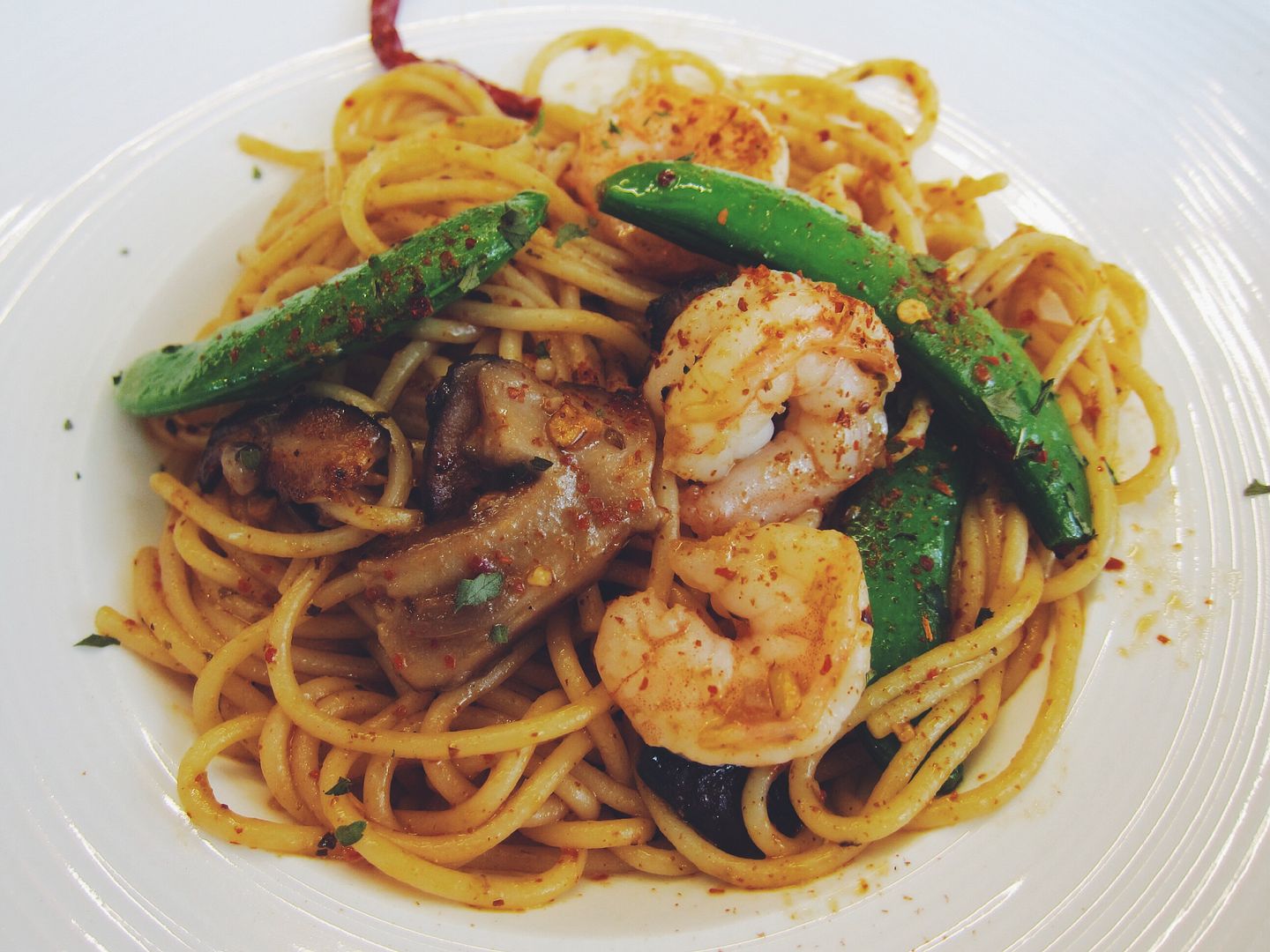 Remember I did say that desserts is a MUST in meals/cafe?!
We ordered the homemade Belgian Chocolate Marquise (RM7)
which has REAL chocolate taste. When I say REAL  I mean REAL as in as though you were having chocolate melting in your mouth.
Really GOOD! Highly recommend this one if you're a chocolate lover though I would prefer cheesecake more (although they have it but it was in yogurt which I read some reviews saying it didn't tastes good which is why I decided not to take the risk of trying it).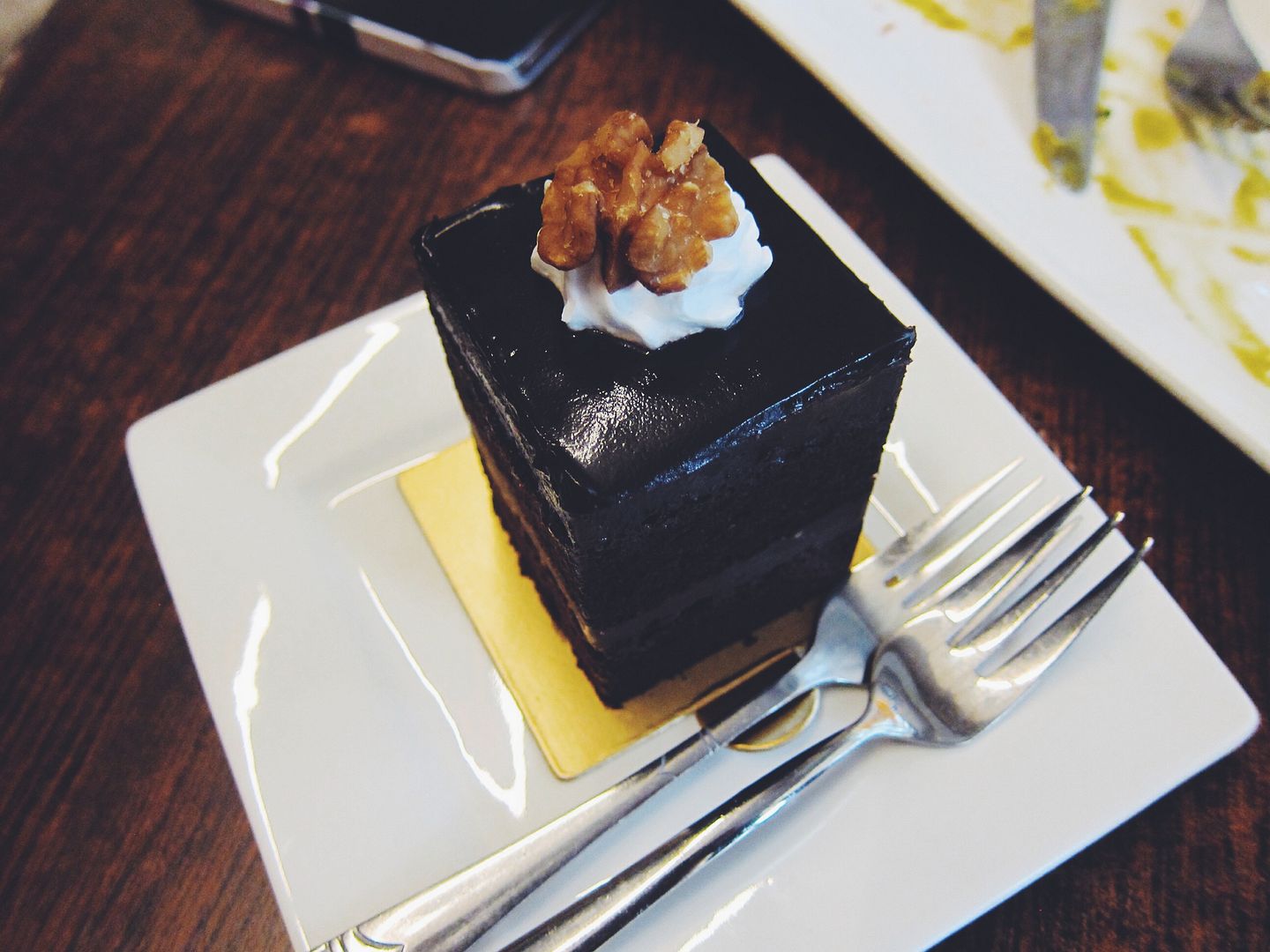 There were walnuts in it too.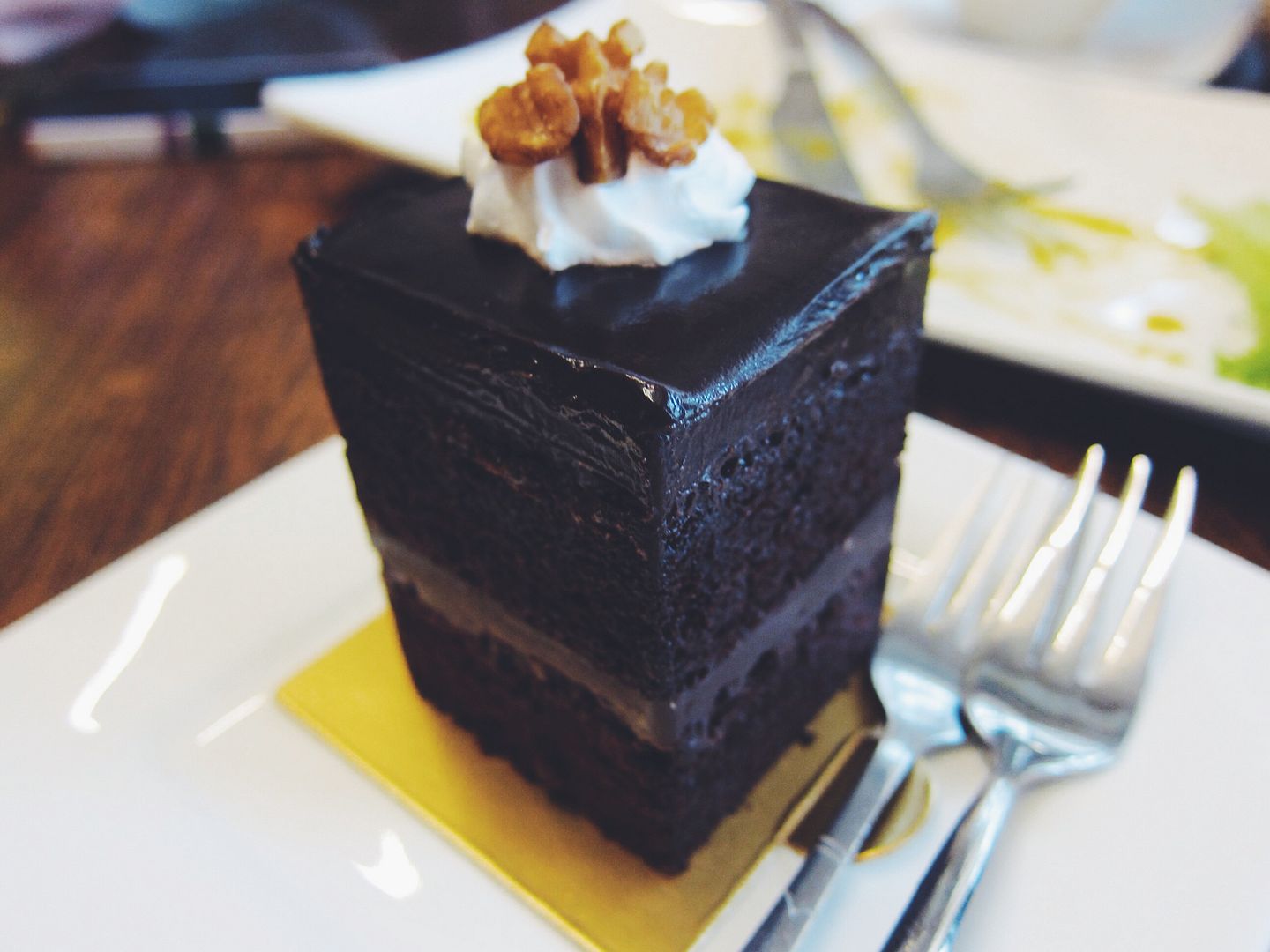 Check this place out if you come by here.
Reasonable price and good food and what's best is that there's no GST & service charge!! *HURRAYY
One of the cafe after Lewis Gene which I would like to go back to visit again.
Check out their operation time here and make sure you don't go during their off day.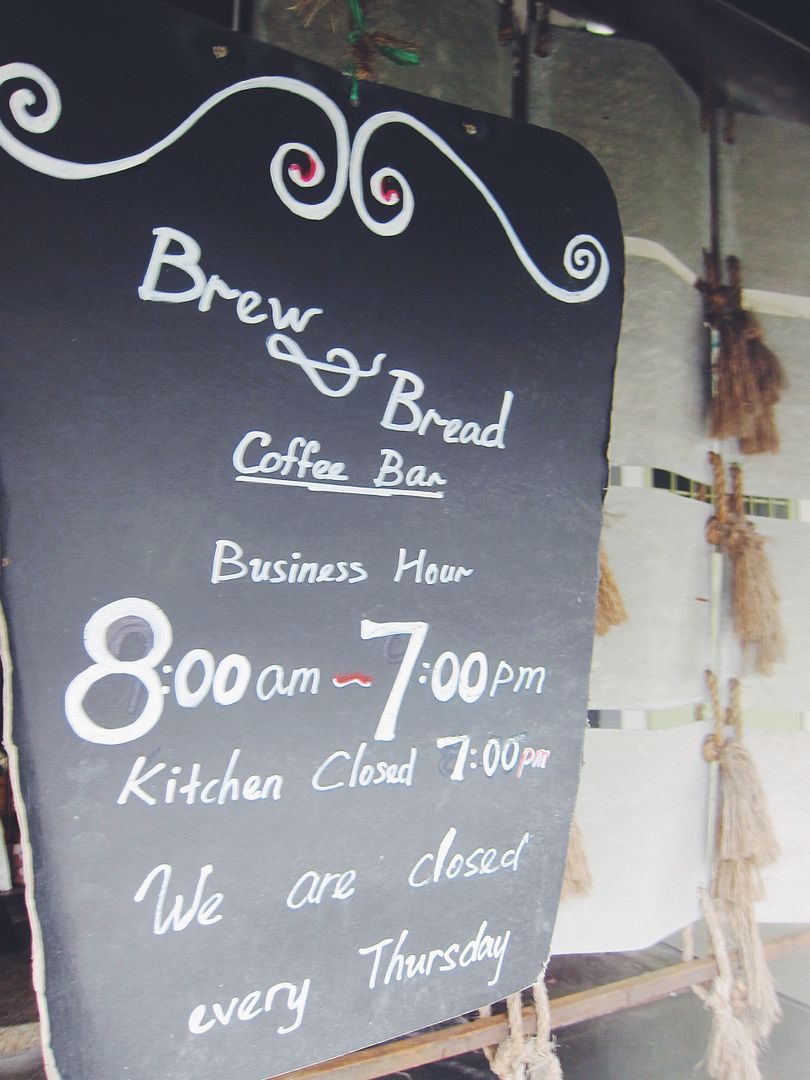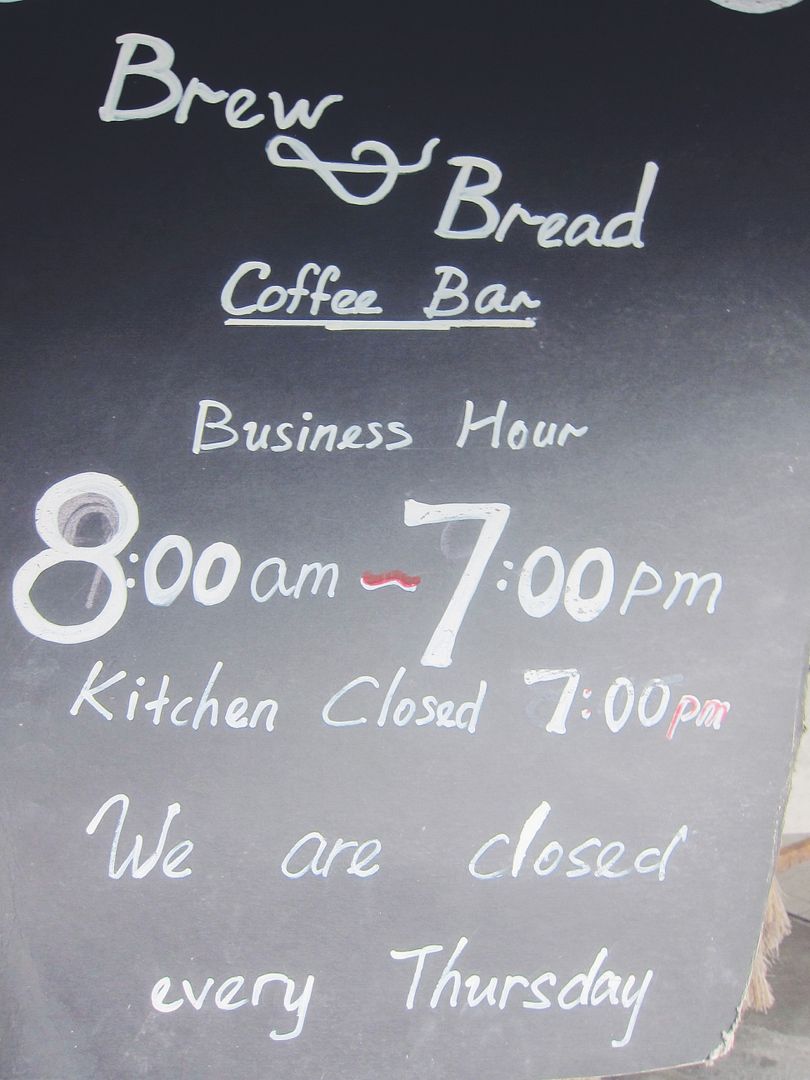 Brew & Bread Coffee Bar
10, Jln Anggerik Vanilla M31/M, Kota Kemuning SA 40460
Open: 8am-7pm; Closed on Thursday. 
+603-51315201
http://www.brewnbread.com